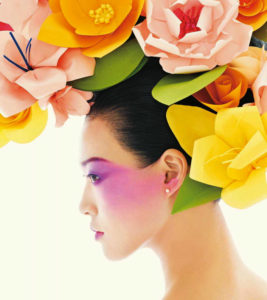 Chris Craymer for Vogue China Beauty, February 2013
I grew up with a love of scent, from the Love's Lemon shampoo in my shower to the blue jar of Noxema by my sink. Gradually I began experimenting with perfumes and although my collection was small compared to today's, I knew I had more bottles than most of my friends who were happy with one or two. I enjoyed perfume but it was just something I sprayed before going out the door. I wish I could go back in time and recognize the exact moment when my life-long love of scent turned into a thing, a creative outlet that would become important to my world. Sometimes we can remember those life changing moments. I clearly remember the first time I saw my future husband. I was sitting behind him in a meeting and saw a starched white shirt, tan neck, jet black hair trimmed perfectly at the neckline and thought, immaculate. Conversely, I sort of glided into the perfume world. I don't have as clear a memory of when my casual buying of perfume at the local Macy's counter was rocked by the discovery of niche perfumes but I do remember the perfume that captured my attention. It was called Chinatown by Bond No. 9. Somehow around 2006 I stumbled across the online fragrance community at Makeup Alley, a precursor to the fragrance forums that would develop later on Facebook. It's the moment I look back on as the before and after point of falling headlong into the deep end of perfume obsession; chasing the newest thing, discovering niche houses, ordering samples off Ebay.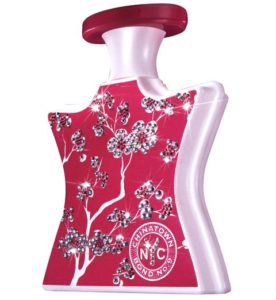 Chinatown image Bond No 9
Bond No. 9 released Chinatown in 2005. This was one of the earlier scents as the brand was introduced in 2003 and still was small enough to be considered "niche". Today Bond No. 9 has approximately 118 perfumes but Chinatown still remains a standout and in my mind, at least, with its beautiful bottle, immediately recognizable with its bright pink color emblazoned with delicate white peach blossom branches.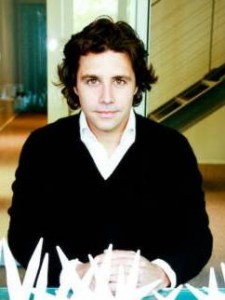 Aurelien Guichard
The perfumer for Chinatown was Aurelien Guichard, who coincidentally created my second favorite Bond No. 9 perfume, Silver Factory. He is a prolific perfumer and has created for several brands, especially Robert Piguet.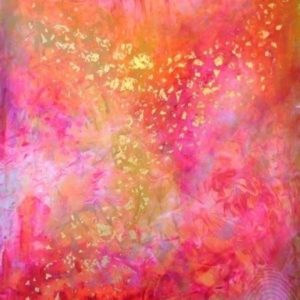 Painting by Jessica Seroka and for sale here
The descriptions of this new perfume by the "in the know" girls on Makeup Alley left me desperate to try it. I still remember spraying Chinatown for the first time and for a small moment my world tilted a little off its axis. There was a swirling of my senses with receptors flashing memories of streets I'd walked and could now visualize. As I breathed in I saw colors of vivid pink and gold gilt, although I didn't know what synesthesia was at that time. It felt as if fireworks should be filling the skies around me. It was a little like falling in love.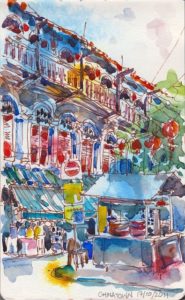 Paul Wang, Flickr, Singapore Chinatown
I have always loved travel. I especially love travel when a place becomes identifiable by its strong link to a particular scent symbolic of the place. I've seen a few Chinatowns in various cities and I can tell you none of them smell as good as this Bond No. 9's version, but it was evocative of the idealized version of the place. I smelled heartbreakingly fluffy pink peonies, sweet golden peaches, velvet gardenia and tuberose, a rosewood box filled with spices, and joss sticks burning before the alter in a Chinese temple. It was an explosion of scent but with a certain je nes sai quois that gave it an eastern vibe, this thread of the exotic that turned it from a pretty floral perfume into a stroll down Keong Saik Road in Singapore's Chinatown where I was living.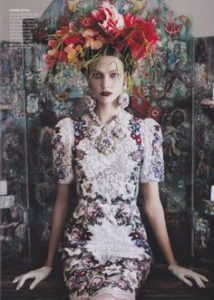 Karlie Kloss in Vogue July 2012
The notes listed for Chinatown are peach blossom, bergamot, peony, gardenia, tuberose, orange blossom, patchouli, cardamom, vanilla, cedar, guaiac wood, and sandalwood. The opening envelopes me in a cloud of soft peach blossom but there is already an Asian feeling, with smells like rosewood and cardomom. Buried in the scent I get the smell of spent wax candles, reminiscent of walking in some of the Chinese temples where candle offerings have been left to burn. The white flowers begin to unfold and although gardenia and tuberose are usually divas for me it's all about the peony. Big soft clouds of peony and peach blossom take on a slightly powdery air. There is a sweetness but it's held in check by notes of wood, spice, and the honeyed wax smell.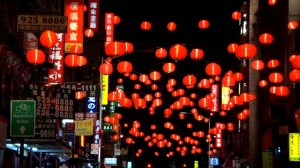 via flickr
What made Chinatown such a revelation that first time was the juxtaposition of the beautiful florals and sweet scent with the occasional funky smell, which added that feel of walking down a street in Chinatown where any smell can be encountered, both pleasant and curious. This trail of the unidentifiable and foreign is what gives Chinatown the Asian mood and turns it from pretty to something interesting and engaging. Bond No 9 Chinatown was magic; a scent that could trigger emotions of happiness, nostalgia, and curiosity. A fragrance that literally transported you to another place, a literal vacation in a bottle. It was like a drug that opened the mind to creativity and wonderful feelings and it was totally legal! All was lost. I wanted that feeling again. And again.
-Cynthia Lesiuk, Cafleurebon reader since our first month in 2010 and author of The Fragrant Journey
Co-art direction-Michelyn and Cynthia(Chinatown is a CaFleureBon Modern Masterpiece)