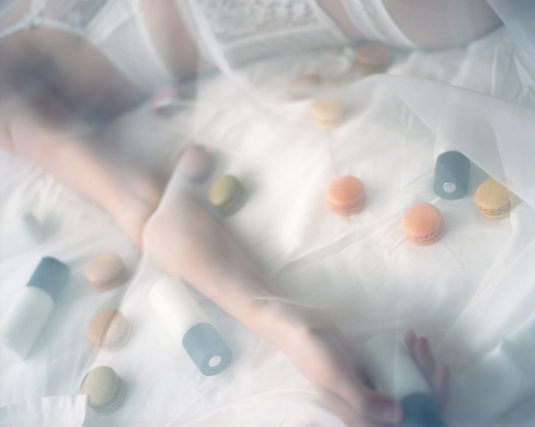 Courtesy of A Lab on Fire© Promo for A Lab on Fire Paris LA
As a precocious eight year old who didn't care for my parents' fragrances I naturally decided I could do better. I stole a half dozen glasses and some random Durkee's spices from the kitchen and took them into the yard. I stuffed different combinations of flower petals, leaves and spices into the glasses and topped off the tumblers with water from the garden house. I lovingly placed them in my cool, dark, secret cave underneath the back stone porch. I even had plans to use clay from the bank of the brook behind the house to make perfume bottles. It was a portent there'd be niche fragrances in my future.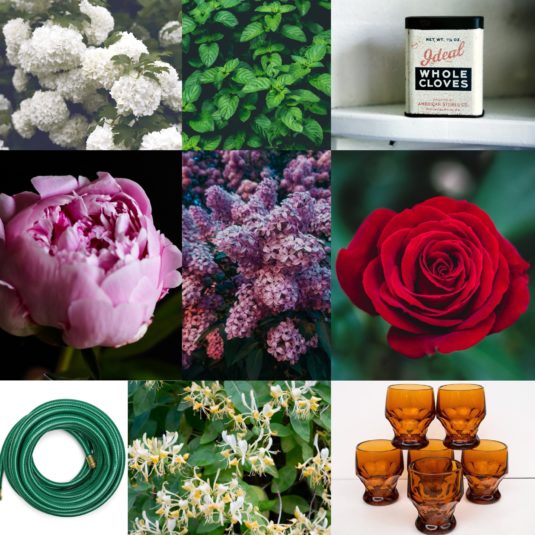 Backyard homemade perfume collage by Marianne©
Fast-forward five years and I was finally allowed to go into "the city" (a.k.a. Manhattan) alone with my friends. My feet somehow took me directly from the bus station to the perfume counters. The salespeople were very indulgent as I went from counter to counter inhaling whatever I could.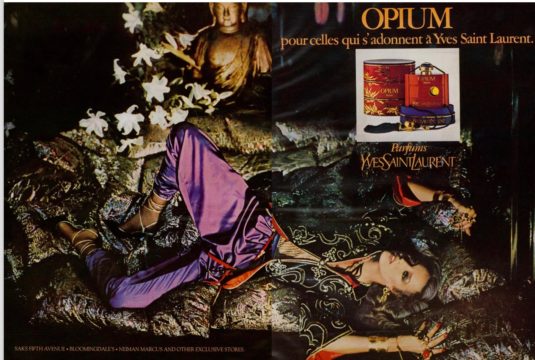 Jerry Hall shot by Helmut Newton for YSL Opium ad, 1977
It was the era of Opium and I was in heaven. I wanted to experience exotic, spicy and fantastical… everything my suburban tween life was not. Finally I went to college in the city, saved my money and bought my first real perfume, Coco Parfum by Chanel. That and Lagerfeld (stolen from a boyfriend) became my signature scents.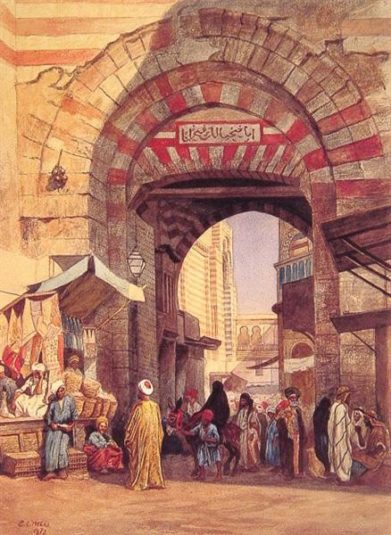 The Moorish Bazaar, painting by Edwin Lord Weeks, 1873
After those early years of olfactory inquisitiveness you'd think my fragrance obsession would have continued to grow but I never felt the need for a change from the two bottles on my shelf. My senses were all being satisfied in different ways. I was an avid baker and traveler. I smelled rose oils in the souks in Aleppo, piles of spices at Berber markets in Morocco, and aged leathers at flea markets in Buenos Aries. However, I would only bring home unusual spices, oils and herbs for cooking and baking. It didn't cross my mind to bring home the scent of these places to wear.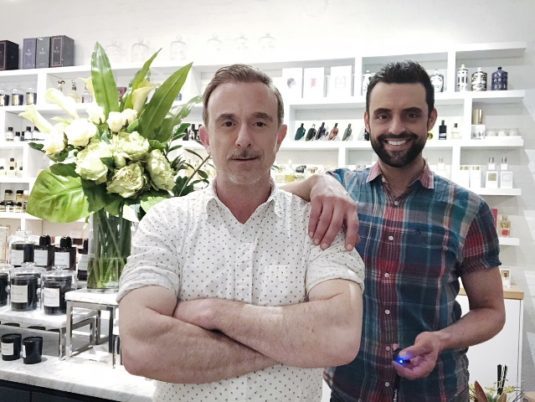 Eric Weiser and Stamatis Birsimijoglou of Twisted Lily©
Then things changed. It was time for a refill and I was bored. I was working at a magazine and it was buzzing about independent, niche perfume houses. I was intrigued and started cruising the internet to see what it was all about. Who knew there was so much information available about vintage perfume formulations and niche perfumers? I found myself on ÇaFleureBon and felt like I was reading a travel magazine all about wonders that I had never known existed. I read an item about a new store that was dedicated to niche perfumery, Twisted Lily that happened to be in Brooklyn, right on my route home from work.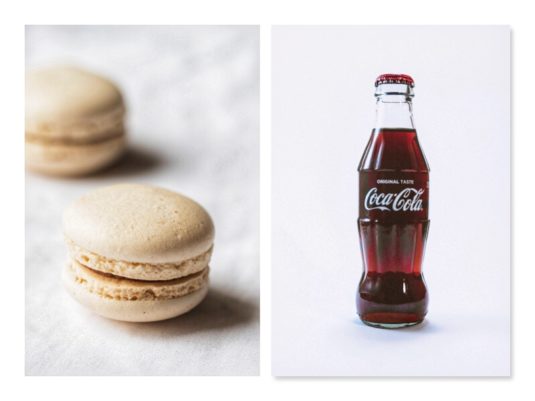 Macaron and Coke Collage by Marianne©
Walking into Twisted Lily for the first time was like getting off the plane in a country you've never visited before but have been studying up on and anticipating seeing with your own eyes. I gingerly walked around and tested a few things. The co-owner Eric kindly asked me if I had something in mind and I explained I was new to the niche game. We had a talk about what I liked and didn't like and he brought over a number of things to try. As he sprayed A Lab on Fire Paris LA on the test blotter it had happened: I'd already started to fall in love. I brought the mouillette up to my nose and it began to tingle in a way that made me giggle. The gentleman explained the concept of the perfume was Los Angeles as experienced by a Parisian. I completely got it. I am a New Yorker who loves L.A., mostly for the prettiness and sense of whimsy that I don't find here at home.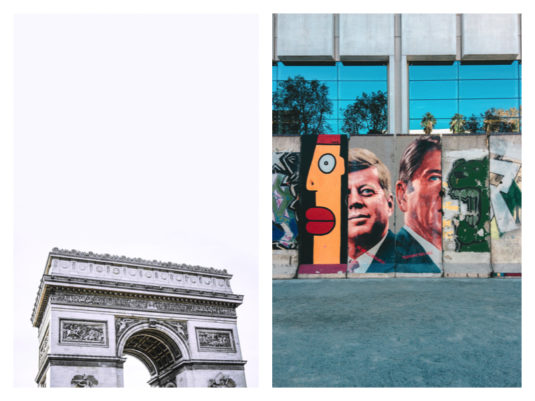 Paris LA collage by Marianne (arc de triomphe and Los Angeles Street Art
He handed me the chilly metal canister and told me to imagine a meeting of macarons and Coca-Cola as I sprayed it on my wrist myself. Pow! It started off with the fizz of a swig from a cold bottle of soda while the zing of ginger and lime gave an initial bite. Pretty quickly it settled into a creamy wave of almond and vanilla with a spicy, sweet floral line hovering over it. As a baker I felt like it was just as I'd use a touch of herb or spice in a delicate cake. By the time I was home for the evening it had mellowed further into a sweet down comforter of musk and amber. Perfect to fall asleep to. A Lab on Fire Paris LA was pretty, quirky and fun and it was going to be mine. I went back that weekend and bought a bottle. Little did I know that would be the first of many, many niche purchases to come. Notes: key lime, ginger, "cola accord"; neroli petals, coriander seeds, and thyme; and base notes of "macaron accord," amber, musk.
–Marianne Butler, Contributor
Please welcome Marianne to ÇaFleureBon. We first met at Sniffapalooza Fall Ball in 2015 and lost touch I followed her on Instagram @spritzi_McGillacutty, and thought "we have a new writer". Luckily, she agreed! –Michelyn Camen, Editor-inChief
A Lab on Fire Paris LA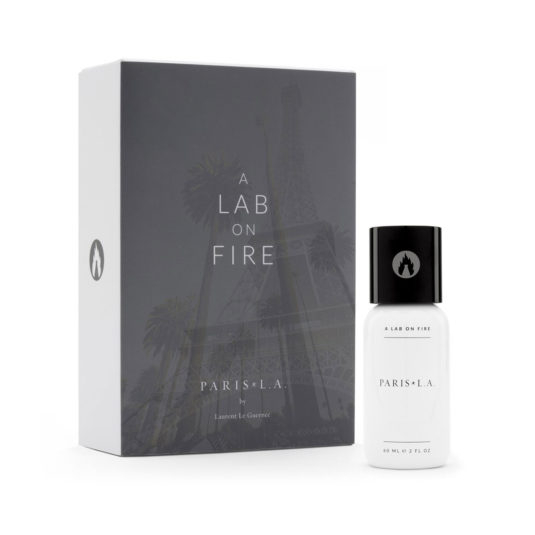 Thanks to Intertrade Europe we have of A Lab on Fire we have a 60 ml bottle of for one registered reader in the USA only so be sure to register if you have not done so. To be eligible please let us know what appeals to you about Marianne's fragrant awakening of A Lab on Fire Paris L.A., did you ever feel that sometimes a perfume can be too serious. When did you realize fragrance could be fun? Draw closes 9/12/2018
Follow us on Instagram @cafleurebon @spritzi_McGillacutty @alabonfire
Available at Twistedlily.com bien sur, dude
We announce the winners only on site and on our Facebook page, so Like ÇaFleureBon and use our Blog feed…or your dream prize will be just spilled perfume.