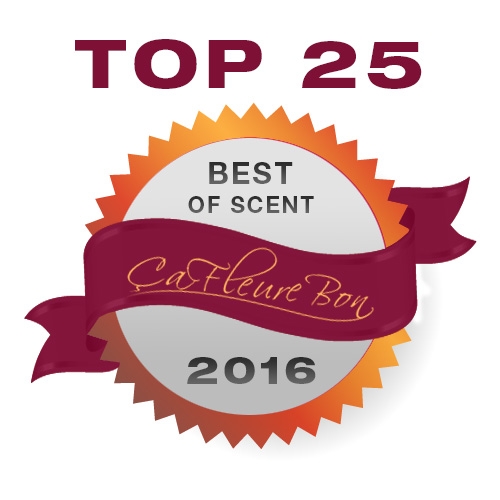 Over the past two days you have heard quite a lot from Ermano and me, (The Best of 2016) and (Top 25 plus), so it's time to read what our Contributors and Editors, who hail from all over the world, chose as the top fragrances of 2016. Here is the team's Top 36. It seems none of us can keep to just 25.
2016 was a year of contrasts, but perfume was the constant for me. When the world seemed to be spinning out of control, I always could find solace in my bottles of scent. Here are the three that made a huge impression on me in 2016.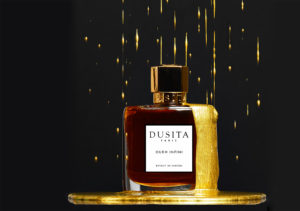 Parfums Dusita: Oudh Infini Pissara Umavijani has done the impossible. As a confirmed oudh hater, I was shocked and delighted to find an oudh I can really love! As smooth as a silk velvet scarf. Stupendous!
Zoologist Civet: The bottles are in the mail, and I am thrilled! I blew through my sample and can't wait for a full bottle of this vintage inspired beauty by perfumer Shelly Waddington and Creative Director Victor Wong to arrive.
Chanel Boy EDP by Olivier Polge caught me completely by surprise! It was a "tough love" for me, but after wearing it for a solid week; I realized I was totally obsessed with this unisex fougere. Like crazy-obsessed. Now I can't imagine being without a bottle. Robert Herrmann, Contributor
David Jourquin Cuir Venitien
J. Lesquendieu Glorilis is a welcome return for a venerable perfume house that had, quite unfairly, been all but forgotten. Glorilis is the jewel in the crown of J. Lesquendieu's first releases. Resinous and warm, sumptuously rich yet perfectly balanced, Glorilis demonstrates what using top-quality ingredients in a great recipe can achieve.
DSH Perfumes Chinchilla: The multitalented and lovely Dawn Spencer Hurwitz has put out so many beautiful perfumes it is awe-inspiring, but Chinchilla just might be her sexiest. This luscious honey-and-musk scent has just the right retro-animalic touch to feel come-hither without being overt. If this doesn't make someone want to snuggle with you in all the wrong ways, nothing will.
Beaufort London Fathom V: British Perfumer and musician Leo Crabtree's homage to Shakespeare's The Tempest, Fathom V is no simple aquatic. Beaufort's newest perfume encapsulates the play's poignancy, violence and haunting beauty. One of the most original, arresting openings I've ever encountered in a fragrance – drowned, cold lily breaking against earthy moss — makes Fathom as indelible as the play that inspired it.
David Jourquin Cuir Venitien: My choice for best feminine perfume at Tranoi also makes my top perfumes of the year. Cuir Venitien is deliciously plummy high-end suede set against face powder and a very adult rose. Perfume Anne-Sophie Behagel's use of Prunol is quite irresistible: a stone fruit note that is peach one moment, plum the next. Wear this to feel all dressed up without the effort.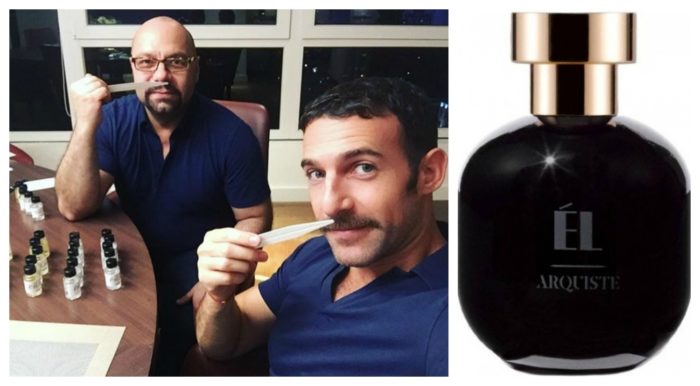 V.P. of Fine Fragrance at Givaudan Rodrigo-Florex Roux, Creative Director Carlos Huber of Arqusite and the much lauded Èl
Arquiste El (Carlos Huber and Rodrigo-Flores-Roux): Rarely have concept and result married so perfectly. Èl is the embodiment of 70s beachside machismo: a musky, spicy, bold fougere with a modern touch of brutality that keeps it from feeling vintage. A complicated list of notes that include oakmoss, cinnamon and orange blossom conspires to produce a scent that is like swagger in a bottle. I rarely think of scents as distinctively male or female, but girl, dab this on and it just may put hair on your chest! –Lauryn Beer, Editor
For me, 2016 was the year that niche and designer fragrances collided for an ever more fragrance conscious public to devour. Be that good or bad…one thing is for sure, my nose has been far from bored. Here are my standouts for the year: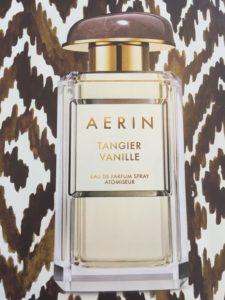 Aerin Tangier Vanille
Tangier Vanille (Aerin Lauder) – One of the best new vanilla's I have come across in a while. It's Oriental in vibe with a nice healthy dose of bergamot and rose accented with a deep enticing vanillic musk and sandalwood for good measure. It's warm, sweet, and utterly romantic.
Armani Code Profumo (Perfumer Unknown): This is one that grew on me thanks to its nutmeg note. Group it with a huge bunch of tonka beans, amber, and lavender in a leather bag and you have an overall handsome package. Oh, and the bottle – very striking as well.
Still Life in Rio Olfactive Studio: (Perfumer Dora Baghriche and Celine Verleure) is a glorious little study of having a refreshing Coconut and Spiced Rum Spritzer in a cloud of yuzu after just drinking a Lemon Drop. It's a bit sweet and summery, and certainly reminiscent of needed refreshment during a hot (and most likely drunken) night in Rio. –Aaron Potterman, Contributor and Vintage Fragrance Expert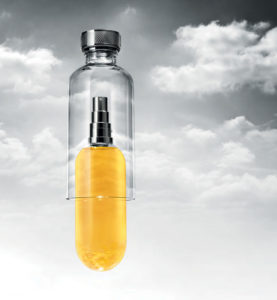 Cartier L'Envol
For me it's been an interesting year of fragrance releases. Overall I think the quality of releases has been very high even if the number of highly innovative or directional fragrances has been relatively small. Some of my favourite releases for this year (in no order) are:
Cartier L'Envol where perfumer Mathilde Laurent built a base of ambery resin and musk around a honeyed mead accord. It's highly subtle and it keeps me coming back for more.
After years of anticipation Louis Vuitton finally launched its fragrance collection in September. The collection was by no means the game changer many of us expected but I did find solace in Dans La Peau. To create this floral-leather fragrance, perfumer Jacques Cavallier-Belletrud looked to Louis Vuitton's iconic cuir de vachette végétale naturelle for inspiration.
Another favourite for the year was Ella by Arquiste. Although it was designed with women in mind, Carlos Huber and Rodrigo Flores-Roux's 1970's Acapulco-inspired fragrance is a head-turning chypre, which works on my skin just as well, if not better, than its masculine counterpart El. –Clayton Ilohala, Guest Contributor and Author of What Men Should Smell Like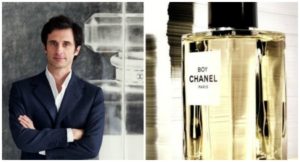 © Chanel Olivier Polge and BOY CHANEL
Boy CHANEL just happens to be my favorite release of the year. It's a very modern aromatic fougere fragrance but it has roots in classic style of perfume making. Somehow wearing Boy Chanel has got me excited for everything perfumes by Chanel again. Take it way Olivier Polge
Maison Francis Kurkdjian' Grand Soir was love at first sniff on a blind buy. It's an amber, but clean, very refined amber and very easy to wear. It perfectly captures the idea of an evening in the City Of Light. Francis Kurkdjian is one of the world's most talented perfumers and Grand Soir is as bright a star of 2016.
I connect with Tom Ford Vert Des Bois on so many levels. First off it's so Tom Ford Private Blend, it has a very Tom Ford sophisticated classiness about it. Plus it's the ouzo accord of anise/licorice that completely wins me over. –Sebastian Jara, Contributor and Fragrance Reviewer for Looking Feeling Smelling Great
Bloom (Patrick Kelly, Sigil Scent): Immediately there are gender biases, floral biases, and language biases which have turned people on or off before they have given the actual sense of smell a chance to investigate. Pity. Going beyond unisex, Patrick has created an intrasex perfume; one faceted with hallmarks of both traditionally feminine and masculine characteristics with one kinetic, thought provoking- unifying perfume. Without question, BLOOM is rose; the question becomes which rose and when? For in the moment a velveteen blood and gore red rose has unfurled, droplet of cinnamon dew upon its petals, a jam like peach rose has frenetically shaken the former from the stem, co-mingling with its royal consort jasmine. A sugar skull bright entheogen of tuberose- BLOOM is as clean and clear about its inherent sexiness as it is about the fact it could be worn by anyone at any time.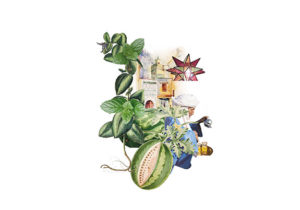 1832n 08w Terroir de Marrakech (Delphine Thierry for Richard Lüscher Britos): 32°N 08°W is a most gloriously green water accord muted mint- not sugary and sticky sweet as the fabled drink. The feeling is as if one had spritzed away any leftover sand and scald from the northern tip of the continent. Nuances of date and fig are present, not Turkish Delight, but Moroccan hospitality, again, offering fruit for the house guest.
Wanderer by Editor and Perfumer Dr. Elise Pearlstine
Wanderer (Elise Pearlstine, Tambela): Encapsulating the aspen/fir zone and sacred materials found in yogic circles to the early morning wild roses, Wanderer contains the fiery determination which brings healer and the to be healed together clove/spiced burst welcomes a crisp high mountain morning; the deep forest lungs breathe in rose. Wanderer is not the hitchhiking, gritty stories of aimless journeys, it is the stillness of the soul as one travels through life. Wanderer calls the nomad home.
Phoenix Botanicals Lilac Rain (Irina Adam) was inspired partially by a long, wet spring and the lilacs it brings, a dream she had of a purple blooming clove tree- complete with foggy mountain top and also as a tribute to Prince's passing on April 21, 2016. It is composed with straight up lilac (syringa vulgaris), there is a moment when that is all there is, and my brain is split: on the one side, I just want to enjoy this perfection… on the other, I am scrambling to disassemble the accord- except Irina has found a "rare and precious locally grown Lilac flower absolute" from a farm in upstate New York where they are enfleuraged.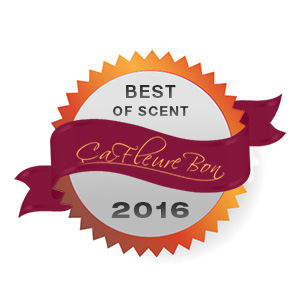 Thorn & Bloom Limestone (Jennifer Botto) The heart of limestone is jasmine and champaca, both demure and refusing to take anything but the smoky, rough edges off of choya nakh and cilantro. Vines of jasmine climb the limestone exterior, a brief blooming- the skin is sweetened, although indolic or narcotic has been left for another time. Limestone contains what some may call a masculine edge, although for myself, it is merely the scent of fortitude. All rests in frankincense and muhuhu (African sandalwood, providing the perfect bark on these plastered trees) as the stone wall imagery fades. Left behind, a mineralized, slightly citrus aroma on the skin which until Limestone, I never realized I coveted. I do not often choose scents which conveys a sense of strength (emotional, not sillage), yet it is one I will return to both on days when I need bolstering and in the winter days when sun cannot be found. -einsof, Natural Perfumery Editor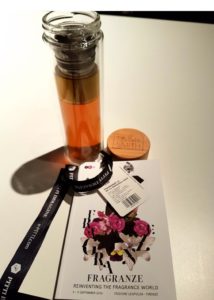 Danu's Press badge
For me, 2016, although difficult has marked an embarking on new and uncharted territory in my explorations of fragrance. I attended my first Pitti Fragranze so it is from my connections made there that I draw my favourites from 2016. Living as I do at present in the extreme Southern Hemisphere we do not see new releases until quite a while after the rest of the world. The only answer I can come up with is to live part of the year in Europe, easy solution. So here are my top choices, very difficult to narrow it down.
Meo Fusciuni's Italian Perfumer and Creator Guiseppe Imprezzabile whole portfolio caught my attention, the new release being Odor 93, a hypnotic, almost indefinable, ethereal wisp of a scent that instantly captivates and draws you into a world between worlds. A fragrance of great subtlety yet with an intensity that cannot be ignored. Wafts of the lightest and darkest florals, enticing but slightly dangerous in a way not quite understood by us mortals underpinned with an earthiness that threatens to swallow you whole. That is what attracted me and it will most certainly be the next one of his collection gracing my skin.
Angela Ciampagna, Cineres Collection, new release Ignes, once again I am drawn to those fragrances that challenge my perceptions as they unfold lyrically on my skin, and this creation is no exception. Surprising at every turn, its ability to shapeshift is outstanding, a heart of Balsam and Patchouli always sitting in harmony with a base of classic warm sensuality. Earth and Fire in union. Angela's creations are a window to the self.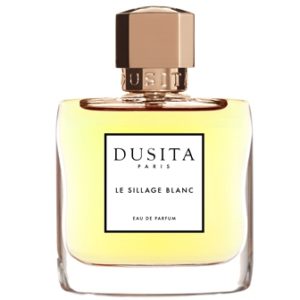 Dusita Paris Le Sillage Blanc
Parfums Dusita's Perfumer Pissara Umavijani, Le Sillage Blanc. Newly released yet already a firm favourite. Playful, enquiring and alluring. Embracing in one proud composition an array of notes I find irresistible. It appeals also as it leans towards the masculine and fresh, yet residing hidden amongst the neroli and leather, oakmoss and galbanum it has a slightly dirty quality which again intrigues me as I love nothing more than scents which as they rise off my skin pique my curiosity, this is no exception.
Inspiritu Solstititium (Perfumer Luca Calvani) A cathartic unravelling, this fragrance is incense at its very best, drawn always to the mythic and sacred, I am bought to my sinners knees by this paradox of pious Cathedral smoke rising over cold stones with a spicy, earthiness that speaks of something altogether warmer, wonderful spice caressing the heart of woods, all designed to blur the lines of the sacred and profane.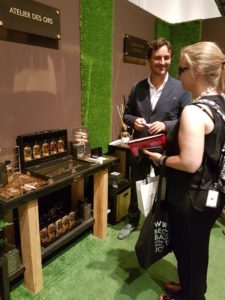 Danu with Creative Director Jean-Phillipe Clermont at Pitti September 10, 2016
Atelier Des Ors Iris Fauve (Perfumer Marie Salamagne) is pure unadulterated bottled elegance; this house never fails to deliver a refined expression. I was surprised by this fragrance as Iris has not always been one of my favourite notes, but here I am taken on an entirely new voyage of discovery. Opulent and sensual with an animalic edge, it takes Iris to a whole new perspective that I find exciting and a revelation, just goes to show there are hidden aspects to all things. –Danu Seith Fyr, Guest Contributor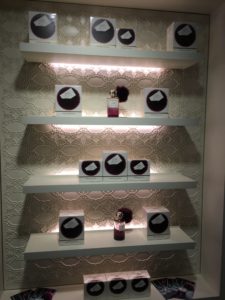 Annick Goutal Tenue de Soiree (photo by Hernando)
Annick Goutal Tenue de Soiree by Mathieu Nardin delivers up a sensual and sophisticated gourmand chypre with orris and patchouli. This takes Annick Goutal to another level.
Ella by Arquiste definitely made my best of 2016 shortlist. Having spent time in Acapulco in the early 60's through mid-70's I get what Carlos Huber and Rodrigo Flores Roux are after, sex!
Jo Malone Myrrh & Tonka (Cologne Intense Collection) by Perfumer Mathilde Bijaouli juxtaposes sensual tonka with resinous myrrh and is truly an outstanding release this year. Mysterious and decadent. My favorite Jo Malone in a quite a while, with all day longevity and sillage.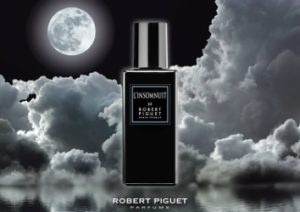 L'Insomnuit by Robert Piguet: A resinous Dark Iris with sandalwood and tonka which is particularly beautiful. Boozy and haunting. Originally launched at Harrods, it's now stateside at Bergdorf Goodman- Hernando Courtright, Sr Event Contributor and Brand Ambassador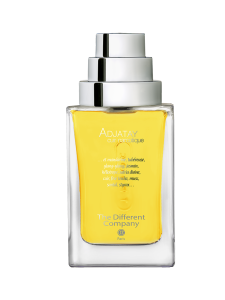 Adjatay, The Different Company: Six months later, I'm still obsessed! Perfumer Alexandra Monet brought Creative Director Luc Gabriel's inspiration to life, combing sultry tuberose with a rock-star leather accord for a fragrance that is gorgeous, sexy, and devastating on men and women alike. There is nothing more to ask for in a perfume. The Different Company gives perfumery another classic.
20 Ans, M Micallef: Who knew patchouli could smell so good? Perfumers Geoffrey Nejman and Jean-Claude Astier took M Micallef's luscious gourmand base in a spicy new direction, magically coaxing elegance out of patchouli, and wrapping it all up in orange blossom and jasmine. I bought three samples in less than two weeks. A perfect offering for the 20th anniversary of one of my favorite houses.-Tammy Schuster, Sr Contributor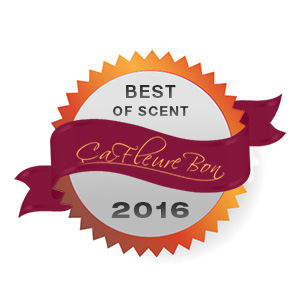 Atelier de Ors Iris Fauve (Jean-Phillipe Clermont/Marie Salamagne): Iris Fauve is a dream of springtime. The perfume begins with the fragrance of bearded iris – fresh cool, lightly powdered with a hint of rosemary and fern-leaf, warming to a velvety, spiced blend of cinnamon, bergamot, orris and Liatris.
Kerosene Follow (John Pegg): Follow smells more like a cup of rich, sweetened, dark-roasted coffee than any other fragrance I've tried. There is definitely enough sillage (and longevity too) to attract nearby coffee lovers and have them following YOU!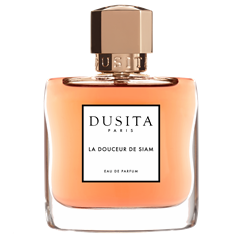 Parfums Dusita La Douceur de Siam: Pissara Umavijani opens a door into a cool wet, tropical night. I am enveloped in the scent of rain bruised blossoms, golden champaca, roses and ylang ylang combined with the green freshness of dripping leaves.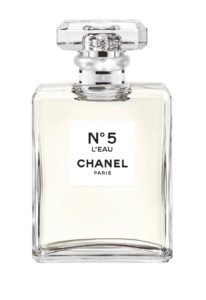 CHANEL No 5 L'Eau
Chanel Nº 5 L'Eau: Olivier Polge set out to bring a new, vibrant transparency to the masterpiece Chanel Nº 5. I believe he has has truly succeeded putting a fresh face on the classic while maintaining the "olfactory heritage" of 95 years of Nº 5.
M. Micallef Secrets of Love Sensual (Limited Edition): Another great fragrance for me this year from perfumers Geoffrey Nejman and Jean-Claude Astier. Green galbanum, light, acerbic lemon and refreshing grapefruit color the woody opening of Sensual. Nutmeg and resinous aromatics peak through the green tendrils. The fragrance recalls innocence, at once erotic and spiritual – a shy first love.
Gail Gross, Sr Contributor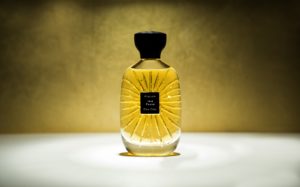 Worldwide: Courtesy of Atelier Des Ors a 4x winner for 2016, the soon to be released Iris Fauve (only one winner and that includes your comment from yesterday and the day before)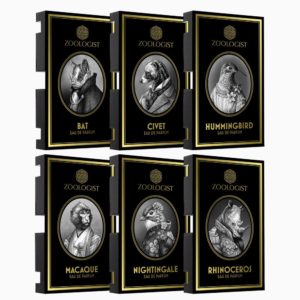 Worldwide: Thanks to Victor Wong of Zoologist, a 4 x winner for 2016, a 2017 six scent sampler including Bat and Civet (only one winner and that includes your comment from yesterday and the day before)

Worldwide: A sampler of all Lüscher Britos fragrances ALL NATURAL 3x winner for 2016 (only one winner and that includes your comment from yesterday and the day before)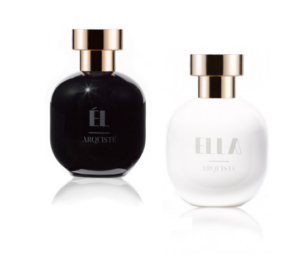 Arquiste El and Ella
EU, Australia, North America and Canada: This is very rare because Carlos Huber of Arquiste this year's 6x winner is offering a reader's choice of either 100 ml El or Ella
Worldwide: Thanks to the lovely Pissara Umavijani of Parfums Dusita (4x winner) your choice of La Doucer de Siam, Oudh Infini or Le Sillage Blanc.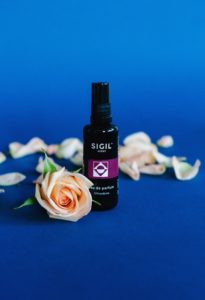 USA Residents Only: 50 ml Sigil Scent Bloom ALL NATURAL a 2x winner of 2016 (there is only one winner and that includes your comment from December 27)
Draw open to all ÇaFleureBon registered readers be sure to register or your comment won't count.
Please leave a comment with what you thought of our Contributors and Editors top 25 plus picks for 2016, Our Best and Worst of 2016 and Ermano and Michelyn's Top 25 (plus12). You must include an all-natural as one of your choices and where you live. You can list as many as you like of the above eight that you qualify for. Now, dear reader, what was YOUR favorite of 2016. Draw closes January 1, 2017
We announce the winners on our site and on our Facebook page, so Like Cafleurebon and use our RSS feed…or your dream prize will be just spilled perfume