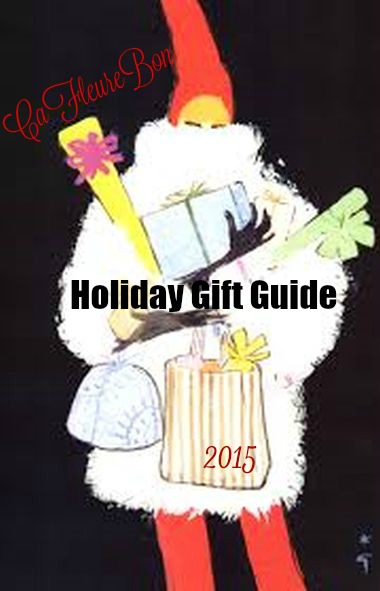 Rene Gruau art
I don't usually recommend buying fragrance as a gift because it can be hit or miss. One year, I bought my mom an expensive perfume that she used as room spray, so unless they are easy to please, be careful giving fragrance to folks who don't really wear scent, or to acquisitive perfume people who most likely have sprung for the MUST HAVE NOW bottle without telling you. Writing and testing all things scented 365 days a year, I chose what is at the top of my list to give or to get. 10 in all…
Best Perfume Gifts That Aren't' Perfume
Glade and Airwick plugins make me gag. I love the mix of the macabre and surreal imagery on Fornasetti Profumo's 'R.I.P.' Room Spray Piero Fornasetti took the the enigmatic face of Lina Cavalieri and combined it with a skull for a new hypnotic twist on their classic design. Otto, the aromatic scent redolent of incense, orris, cedarwood and Mediterranean herbs is Fornasetti Profumi signature was composed by Master perfumer Olivier Polge. RT: 3.4 oz /$125 Available at Twisted Lily and fine specialty shops worldwide.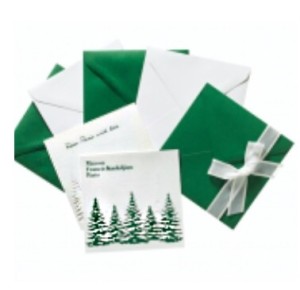 Three weeks ago I received a lovely thank you card from one of my favorite Bergdorf Goodman Sales Associates, Govanny Torro. Inside was a Maison Francis Kurkdjian Limited Edition Carte de Vouex/Scented Card that filled my home with the most beautiful aroma of snow and fir trees. I confess, I have no plans on sending this to anyone. I keep it in my pajama drawer or put it near my desk when I want to feel festive. Master Perfumer Francis Kurkdijian is a magician because the card, still wrapped in plastic has the projection of a room difuser and continues to waft its incredible scent. Available only on www.franciskurkdjian.com/ 5 cards and envelopes RT 25.00 €
I love shiny objects, so bring on the bling, especially ones that hold M.Micallef Perfume. A website exclusive, the travel atomizer is refillable and holds 7 ml of your favorite M.Micallef fragrance (choose from 20, use the drop down menu) Available in rose gold or silver tone. RT 18 € (no this is not a typo)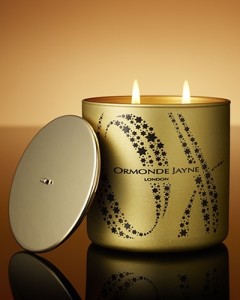 Creative Director Linda Pilkington of Ormonde Jayne and perfumer Geza Schoen have created three of my favorite perfumes, Tolu, Frangipani and Vanille Orris. This holiday season light my fire with the Ormonde Jayne Limited Edition Scented Etoile Candle handpoured in the studio, with a high percentage of essential oils. This Black and Gold beauty entices you to stay home for the holiday,preferably with someone you love. So cozy with Oriental/Gourmand notes of mandarin, cardamom, cinnamon, bay, amber and tonka. RT $108.00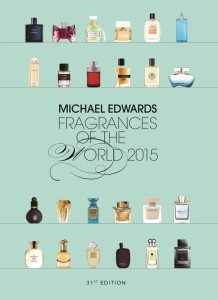 For perfumistas-in-training who don't know an Aquatic from an Oriental, or the seasoned collector looking for comprehensive reference material, we suggest turning to the man who wrote The Fragrance Bible, Michael Edwards. No database in cyberspace can come close to Mr. Edwards' accuracy and knowledge. The 31st edition of Fragrances of the World features 1600 fragrances and 14 classifications. More than just a reference book, the category and classifications are helpful in determining what perfumes you may like based on your personal preferences. "Your signature fragrance is Chloé but would like to try something new for day wear? That's a classical rose floral. You might like La Fille de Berlin by Serge Lutens", Michael advises. So next year choosing a scent for a friend or relative won't be as difficult. Available on Fragrancesoftheworld.com/ $210 USD
Now for the Perfume
Rules are meant to be broken, especially when I make them, so this year our Cyber Monday CaFleureBon Holiday Gift Guide is different than in the past. Our readers love perfume. Since I really DO read all your comments, these are the four perfume sets that I think everyone will want.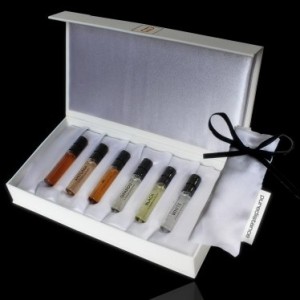 Creative Director Jan Ewoud Vos of Puredistance founded his niche House in 2002 based on the principles of timeless beauty, elegance, quality over quantity and small is beautiful. His eye for art and collaborations with master perfumers, Annie Buzantian, Roja Dove, and Antoine Lie have given us six perfumes that go the distance; I, Antonia, M, Opardu , Black and White. The brand is difficult to find in the US –currently at Luckyscent ( my wish this holiday is that it will find a home in New York). Did I mention that the team of Jan Ewoud Vos Marije Tempel, Mary Gooding, Iris Vos, Kalina Kordynska, and Nele Tammiste are some of the nicest people in perfumeland? 2 x 6ml/ $65 Available at www.puredistance.com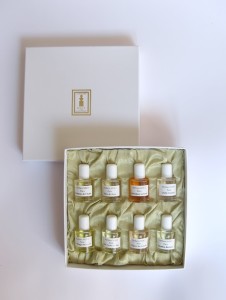 Creative Director Claude Marchal bijoux perfumery in Paris, Parfums MDCI, founded in 2001 is on my bucket list to visit one day. Although we have never met, Claude's core values of bringing beauty to the world, not only in the fragrances he offers, but with the unique resin bust presentation really speaks to my soul. He is a modern day Medici, supporting the art of fragrance. His perfumes, created by 'the who's who' of master and young perfumers (Pierre Boudon, Francis Kurkdjian, Bertrand Duchaufour, Patricia de Nicolai Jeanne-Marie Faugier, Amandine Marie, Richard Ibanez, Stéphanie Bakhouche and Cecile Zarokian. His generosity is amazing, because when you purchase a bottle (either the resin bust flacon or 75 ml) he includes a coffret of either 12 x 8 ml or 5x 8m at no charge with your purchase. The gift to give, but the one I know you will keep it is the 12 x 8ml set. 140 € available at http://parfumsmdci.free.fr/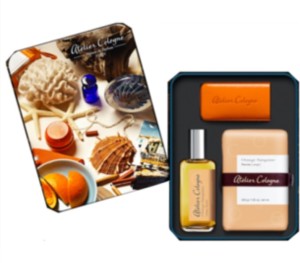 I haven't met anyone that hasn't fallen for at least one Atelier Cologne. We have reviewed every one since the House was founded by Sylvie Ganter Cervasel and Christophe Cervasel in 2010 (the year we were born as well). The Nécessaire de Voyage includes a refillable 30 ml spray atomizer, a leather case that can be personalized and hand milled soap. Available in Orange Sanguine, Pomelo Paradis, Vetiver Fatal, Rose Anonyme, Jasmin Angelique and Oud Sapphire. RT $75-$90. Available at www.ateliercologne.com and Atelier Cologne Boutiques in Nolita, Brooklyn, Paris, and Hong Kong
New to niche or love to try before you buy? Tara Swords of Olfactif.com offers curated monthly selections including a new men's sampler. Each set contains 3 fab fragrances, in 2.25 ml glass sprayers and the cost of your subscription can be deducted from your purchase of a full bottle. Six months of hard to find perfumes? Sign me up.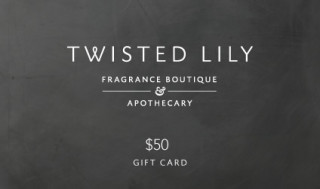 Coveting a niche, artisan or artisan perfume? Twisted Lily Fragrance Boutique in Brooklyn, offers 96 brands so there is bound to be a fragrance you are lemming. How about a $50 Gift certificate to indulge your addiction? (Excludes samples, cannot be combined with other promotions).
–Michelyn Camen, Editor in Chief aka Scenta Baby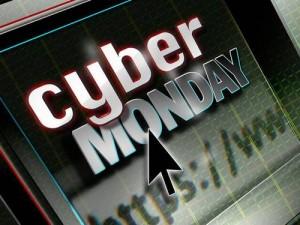 For our Cyber Monday Holiday Gift Guide Draw (The 8 below):
WORLDWIDE: Ormonde Jayne Limited Edition Etoile Candle
WORLDWIDE: Michael Edwards Fragrances of the World 2015, autographed by Mr. Edwards
WORLDWIDE: $50 Twisted Lily E Certificate
WORLDWIDE: M.Micallef refillable travel spray (chooses color and scent for your comment)
WORLDWIDE: Discovery Set -12 X 8 ml of Parfums MDCI perfumes, includes Invasion Barbare Promesse de l'aube Rose de Siwa La Belle Hélène Chypre Palatin Le Rivage des Syrtes Vêpres Siciliennes Péché Cardinal Cuir Garamante Cuir Garamante Nuit Andalouse and Cio Cio San
WORLDWIDE Pure Distance Discovery Set- 6x 2ml of Puredistance I, Antonia, M, Opardu, Black and White
EU, US and Canada: Atelier Cologne The Nécessaire de Voyage (be sure to choose which of the Atelier Colognes you would like to win in your comment)
USA ONLY: 6 month Subscription to Olfactif.com (PS I know what is coming next month and you will NOT want to miss this)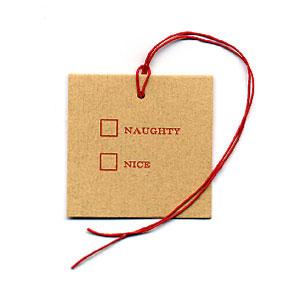 To be eligible you must be a registered reader (pesky, sorry but if you don't do this your comment won't count) please leave a comment telling me the worst scrubber or the best perfume you ever got as a gift. Or you can choose to write me a Dear MC Scenta letter telling me why you deserve to win your top choice and along with the members of the CaFleureBon Team, will choose the one that is most creative (i.e. the reader who sucks up the most, and that reader will win one of their faves) or the most heartfelt. Be sure to list all the prizes you want. The more you list the better your chance of winning and all prizes ones you list and those you don't will be separated and entered into a random draw. International readers can only choose worldwide prizes; let us know where you live. MC Scenta and her loyal Elfs will do the best they can to make your wish come true. Draw ends December 3, 2013.
We announce the winners only on site and on our Facebook page, so Like Cafleurebon and use our RSS option…or your dream prize will be just spilled perfume.