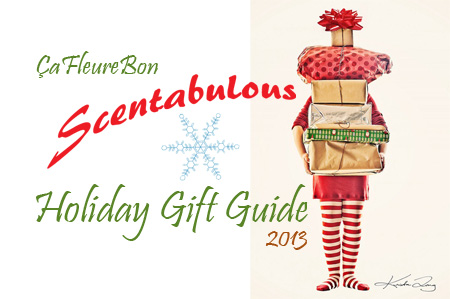 The gift-giving holiday season is rushing upon us like a freight train. Hannukah and US Thanksgiving were neck-and-neck, and since Thanksgiving was so late this year, we will have less than a month until Christmas. Yes, we blog about perfume 365 days a year, but buying fragrance for another person can be tricky. We suggest other scented, luxurious indulgences for your gift-giving; a look beyond the bottle, only a click away. No one should have to wander aimlessly in a crowded mall besieged by agressive SAs and bargain hunters. Our 2013 Scentabulous gift guide has a great selection of scented goodies from Niche, Indie perfume and beauty brands that are sure to please even the pickiest person on your naughty-or-nice list.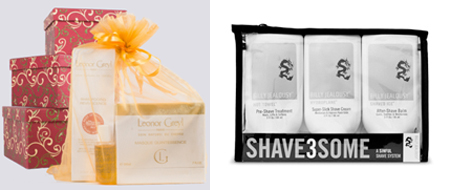 Holiday Grooming: Leonore Greyl and Billy Jealousy
The holiday season with its endless parties squeezed in between family gatherings is not a time for a bad hair day. Unless you travel with a stylist 24/7, chances are you are going to have hat head, bed head, and/or static head. That's why the luxe haircare line from Leonore Greyl Paris is, well, the Holy Grail. French women have been using this botanical line, long before "no-poo" and going green were the trend. We love the Soin Naturel du Cheveu Masque Quintessence, a hair conditioning masque that will revive even the most depressed locks, and the Shampooing Reviviscence for dehydrated and brittle hair will gently clean your tresses and add luster to your curls. A bit of Huile Secret de Beauté natural oil for hair and body added to the hair will add a bit of shine and softness, and a sweet, subtle aroma. Damaged hair will disappear as fast as a plate of hors d'oeuvres at a party, and these appeal to our noses, too, with soft, soothing notes of Seringa (mock orange) and quince. The Holiday Gold Collection with 7 oz jar of masque, 7 oz shampoo, and .84 oz oil, $169 at Leonore Greyl ($227 value), while supplies last.
Shaving has become a high art of grooming in recent years, especially with the celebrity trend for on again off again beards. Now that Movember is over, those scruffy beards will need tending to. We found a kit of shaving essentials from Billy Jealousy, the Shave3Some, that includes a Hot Towel pre-shave treatment, Hydroplane Super-slick shave cream, and Shaved Ice after-shave balm. Travel-friendly, with 3-oz. containers of each in a clear zippered bag, this is an essential gift for all the fellas on your list. Of course we had to try them on our legs; manly, yes, but we love them, too. The pre-shave gets hot like magic, the non-foaming, delicately scented shave cream made our skin super-slippery, and the surprisingly non-mentholated, citrusy balm soothed our skin delightfully. $40 for the set at Billy Jealousy.
Soap Operas: Ormonde Jayne and Agraria
There are bath people and shower folks. You can be reasonably certain that everyone on your gift list takes a bath or a shower. Michelyn enjoys both. She stocks up on Ormonde Woman Hydrating Bath/Shower Creme, a paraben free formulation with no mineral oils or artifical coloring. The mysterious scent is unlike any other, evoking a primeval forest in the land of the Fae. If Mab the Winter Queen gives holiday gifts, we think everyone in her Winter Court would want this. 150ml /$42 at Ormonde Jayne London.
Sometimes we are just stuck for a little prezzie that is practical but still festive and lovely to look at. The Nob Hill luxury bath bar collection from Agraria appealed to Tama's San Francisco roots, and they smell great, too. Give the set of Bitter Orange, Lemon Verbena, Balsam, a Lavender & Rosemary soaps, or break it up for individual stocking stuffers. They are made with olive oil, vitamin E, shea butter, yucca oil, kukui oil, and sea fennel and are non drying. An added bonus is that they are so beautifully packaged you can be lazy about wrapping. Michelyn loves the Bitter Orange bar, and refuses to remove the packaging; it's that pretty and the subtle scent of orange, cloves and cypress wafts through the bathroom. Set of four 8.2 oz. bath bars, $60 at Agraria.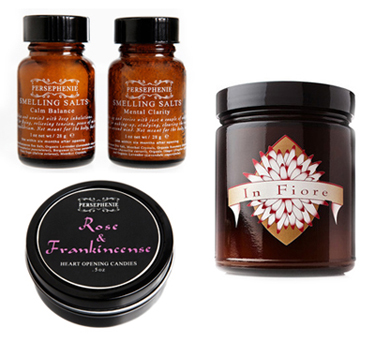 A Very Indie Christmas: Persephenie and In Fiore
Do you have an overworked, overstressed, crankypants on your gift list? Are holidays with the family more trauma and drama than dinner with the Royal Tenenbaums? Give them (or yourself) Persephenie Smelling Salts, one for Mental Clarity and one for Calm Balance. Sea salts infused with naturally aromatherapeutic essences are housed in handy little brown apothecary bottles. A few whiffs and even the Lohans would be zen. We also love Rose and Frankincense Heart Opening Candies, as pretty to look at as they are wonderful to eat. Pop a piece in your mouth and as it dissolves, savor the exotic, sweet flavor that reminds us of Turkish Delight. Delicious. Smelling Salts $29 for the set of 1 oz bottles; Rose & Frankincense candies $14 for ½ oz tin at Persephenie.
Winter, with its frigid air and artificial heat dries our skin. Sometimes we need more than just regular lotion to keep our skin from looking like a dry river bed in Africa, which is why we love In Fiore Body Balm in the Vetivert scent by San Francisco skincare savant Julie Elliot. This benevolent balm made of hydrating natural oils and essences spreads on easily, instantly relieving the itch of thirsty skin, and the slightly green, earthy fragrance will complement any winter perfume (by the way, boys use balms too). We slather it on our elbows, knees, and the backs of our beleaguered hands, and anywhere we want softer, nourished skin.This is a gift that can easily go into the "and one for me" category, so get two. In Fiore Vetivert Body Balm $85 for 240 ml jar available on both coasts at Beautyhabit and Twisted Lily.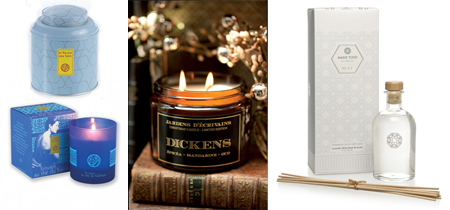 Home for the Holidays: Palais des Thés, Jardins D'Ecrivains, Marie Todd
There is something about perfumistas…most seem to enjoy exotic teas and scented homes. Imagine our delight to discover that the esteemed tea company Le Palais des Thés makes matching teas and coordinating candles! Our choice for a wonderful gift duo is Thé du Hammam. Green tea and flower petals are flavored with scents from the Hammam: roses, dates, berries and orange flower water. The flavor is slightly floral, with a warm, nutty undertone, and delicious on a chilly morning. Burning the candle while you are enjoying a cup of tea feels wonderfully decadent, and the fragrance is terrific. 4.4 oz tea in decorative tin, $23; 6.88 oz candle in glass container $45 at Palais des Thés.
When Michelyn burns something its usually dinner, so she rarely lights candles. She discovered Jardins D'Ecrivains, a line of niche candles and fragrances by happenstance. Stashed in her editorial closet were over a dozen lovely smelling candles and during Hurricane Sandy she grabbed her flashlight and began to light them one by one so that she could read during the long nights without power. While most of the candles smelled gorgeous only the Jardins D'Ecrivains 100 percent soy candle illuminated the room and just like the Miracle of Hanukkah, it lasted eight nights of no electricity. For the literature lover and perfumista on your list, we recommend Jardins D'Ecrivains Dickens, a limited edition for Holiday 2013 with notes of fir, oud, mandarin and spices. Its a little pricy, but don't be a Scrooge, it will waft for ages, from Christmas Present to Christmas Future. 2-wick, 500 gram candle in a lidded container, $95 at Beautyhabit and Twisted Lily.
The readers of CaFleureBon span at least 25 time zones. While it may be 10 AM in the Netherlands it is 4 AM in New York and 1 AM in San Francisco, which means we don't get a lot of shut eye as comments and content are always updated. When the bags under our eyes look like luggage we turn off our smart phones and try to sleep. Jewelry designer Marie Todd (you may remember her as Lisa Marie Todd, A Fly Girl on the show In Living Color) has a home fragrance line with aromatheraputic diffusers. We chose Rest, a delightful blend of soothing lavender and calming vanilla wafts through the air like a lullaby. Give this to your favorite insomniac.7 oz diffuser with reeds in glass bottle, $60 at Marie Todd.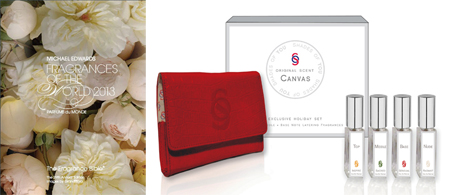 It's All About the Perfume: Michael Edwards and Original Scent
For perfumistas-in-training who don't know an Aquatic from an Oriental, or the seasoned collector looking for comprehensive reference material, we suggest turning to the man who wrote The Fragrance Bible, Michael Edwards. No database in cyberspace can come close to Mr. Edwards' accuracy and knowledge. The 2013 edition of Fragrances of the World has 260 pages filled with thousands of entries, by Fragrance category and Fragrance House including vintage treasures to current releases. This year featured lavish photography by photographer Gary Heery in collaboration with Saskia Havekes of Grandiflora Sydney. It's a coffee-table book that is both useful and pretty. Priced at $195 and up depending on recipient location, at Fragrances of the World.
We decided to include one perfume present. We all know a perfumista or two thousand who want to create their own special fragrance. Original Scent's Holiday Scent Canvas is a collection of perfumes meant to be layered. To celebrate the holiday season, these limited edition perfumes have been created with all those wonderful winter notes we love, in lightweight, long-lasting formulas that are not going to bother the perfume hating co worker in the next cubicle. Inspire has sweet orange with hints of cinnamon and clove; Sacred is frankincense, myrrh and pine for a meditative aroma; Sensual has cozy, rich amber and vanilla; and Radiant is a sheer musk with hints of tobacco and leather. Michelyn wears one part Radiant to 3 parts Sensual, or emulate Tama who wears them all at once. Limited Edition of .25 oz bottles of four fragrances in a lovely case, $109, at Original Scent while supplies last.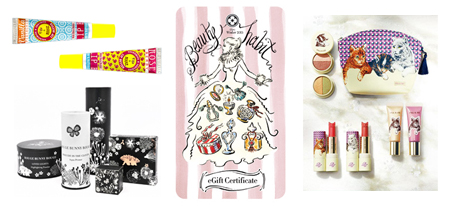 $100 Beautyhabit E Certificate
Anyone who has met Michelyn probably has guessed she has a beauty habit, ok addiction. At last count, she has 85 lipsticks, which is almost double her entire perfume collection. Her makeup and skin always looks flawless (she watches hours of Kim Kardashian smoky eye tutorials and is a beauty editor as well as a perfume blogger). The first website she bought potions and lotions from is www.beautyhabit.com and it was one of In Fiore's face oils. Teresa Mitchell and sister Paula Vasquez have one of the best e-stores in the world for skincare, make-up, home fragrance, natural and organic products and perfume. Most of their offerings are artisanal and hard to find and in their 17 years of business, Teresa and Paula are always one step ahead of what is new and unique. So how would WE spend our $100? Michelyn would buy Tama Paul and Joe's Limited Edition Eye and Cheek Color Set in Gingerbread, $65 (so she can gussy up for her kitty Buster). Her 20 something year old nieces have outgrown chapsticks and would love the retro looking Figs and Rouge all natural lip balms Rose Berry Lip Butter ($9) and Vanilla Pistachio Lip Butter ($9) and with a few dollars left she'd buy Twistband Hair Ties ($1.50 each) in coco, steel and blueberry for herself. Tama would buy Michelyn Objects of Desire Cotton Makeup bag ($22) to stash her beauty stuff, Rouge Bunny Rouge's Makeup Melt Cleanser ($48) which wipes away even waterproof make up and is enriched with chamomile, lavender, clove and eucalyptus oil and some Kai Hand Cream for her sister ($19 for 2 oz). The leftover goes toward a bottle of Parfum D'Empire Osmanthus Interdite for herself (hint hint).
Art Direction: Tama Blough
-Tama Blough, Senior Elf and Michelyn Camen, Scenta-Claus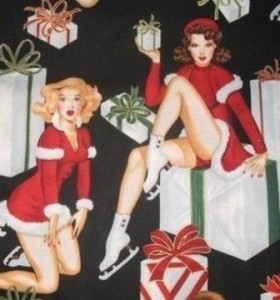 On the12 Days of Christmas CaFleureBon gives to you:
WORLDWIDE: Ormonde Jayne Ormonde Woman Hydrating Bath/Shower Cream (150 ml)
WORLDWIDE: Michael Edwards Fragrances of the World 2013, autographed by Mr. Edwards
WORLDWIDE: $100 Beautyhabit E Certificate
USA ONLY: Leonore Greyl Holiday Gold Collection: full-size (7 oz) Soin Naturel du Cheveu Masque Quintessence and Shampooing Reviviscence and travel size (.84 oz) Huile Secret de Beauté
USA ONLY: Billy Jealousy Shave3Some: Hot Towel, Hydroplane, and Shaved Ice in travel bag (3 oz each)
USA ONLY: Agraria Nob Hill Bath Bar set: Lemon Verbean, Balsam, Bitter Orange and Lavender & Rosemary (8.2 oz each)
USA ONLY : Persephenie Smelling Salts in Mental Clarity and Calm Balance (1 oz each) and Rose & Frankincense Heart Opening Candies (1/2 oz)
USA ONLY ALL NATURAL : In Fiore Body Balm in the Vetivert scent (240 ml)
USA ONLY: Le Palais des Thés: Hamman tea tin (4.4 oz) and Hammam scented candle (6.88 oz)
USA ONLY: Jardins D'Ecrivains Dickens scented candle (500 grams)
USA ONLY: Marie Todd Reed Diffuser in Rest (7 oz)
USA ONLY: Original Scent Holiday Scent Canvas set (four .25 oz bottles with case)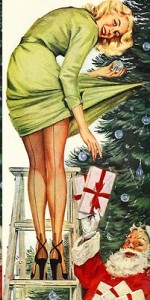 To be eligible please leave a comment telling us the worst scrubber perfume you ever got in your stocking. Or you can choose to write us a Dear Scenta letter telling us why you deserve to win your top choice and Tama and Michelyn will choose the one that is most creative, i.e the reader who sucks up the most, and that reader will win their fave. Be sure to list all the prizes you want..the more you list the better your chance of winning and all prizes ones you list and those you don't will be separated and entered into a random draw. International readers can only choose worldwide prizes; let us know where you live. Scenta Claus and her loyal Elf will do the best they can to make your wish come true. Draw ends December 6, 2013.
We announce the winners only on site and on our Facebook page, so Like Cafleurebon and use our RSS option…or your dream prize will be just spilled perfume.