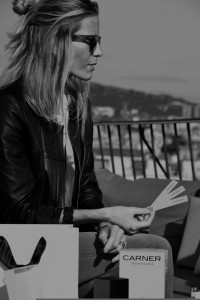 Creative Director Sara Carner Carner Barcelona
I have been always a perfume lover; but my first scent memories are those of smells.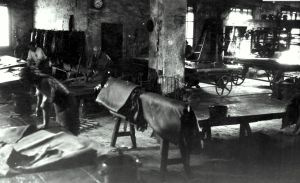 The Family's Leather Factory
I grew up within a family of leather manufacturers, where words like entrepreneurship, hard-work, quality and craftsmanship are part of my heritage. My great grand-father started a leather business back in the 19th century. With each generation, the company evolved and later focused on the production of specialized quality piece to meet the demands of the luxury fashion business. During my childhood I was surrounded by the smells of tanned leather and wood barrels, and these distinct aromas were the inspiration many years later for my perfume CUIRS, a tribute to the world of Spanish Leather. I smile when I think of what my grandfather would think about this…"How a zero glamour factory can turn into a nice scent?"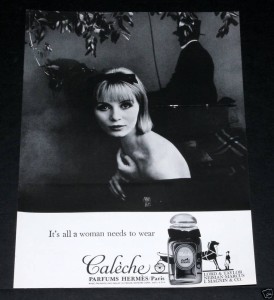 Vintage Hermes Ad Caleche by Guy Robert
At the same time, I lived in a house in the countryside surrounded by Mediterranean vegetation, geraniums, fig and almond trees, pines. My early love for nature is inherent in CARNER Barcelona perfumes. I became a perfumista, early on, first as a little girl collecting empty perfume bottles of my mother and later, during college when I fell in love with Hermes fragrances, which even today are one of my references when I think about great perfumery.
I studied Economics and I majored in Business, and I followed a "traditional" professional path in finance and consulting, experiences that nothing had nothing to do with perfumes, but that helped me acquire a financial background which is so important when starting my own company . I soon realized that it was a bit boring and that I wanted to move to a more creative and dynamic industry, one that I can put my soul into and my one that allowed me to express my emotions. What better than fragrance? So intimate, so personal, yet can reach so many.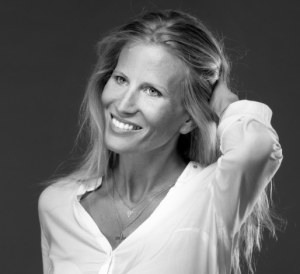 Sara Carner of Carner Barcelona
So I did just that. My journey began when I left Barcelona and headed to New York City. I have an MBA from Columbia Business School where my studies focused on Brand Management of Luxury Products.The best thing that Columbia taught me was "Think Big", everything done with enthusiasm, hard-work and discipline can succeed. After Columbia, I began working at CHANEL, and that is where I started to think and develop on the idea of creating my own perfume collection. At CHANEL I had the chance to work with great professionals and I believe it was the best school ever; the strength of the brand since the early 1920s continues and I was inspired by what Coco Chanel represented and still represents. After Chanel I worked at Shiseido where I learned more about the commercial/ distribution part of the business. Also, during my time in New York I was surrounded by a very creative and entrepreneurial group of friends who continued to encourage my ambition of jumping into my own adventure.

After some time in New York, in 2009, I decided to head back to Barcelona. Three things were clear; one, I wanted my collection to be "top" both in ingredients and materials. Two, I wanted to instill my memories and emotions in the essences, transmit my feelings in the bottles. I did not want only a nice collection of perfumes, I wanted to communicate through scents. Third, I wanted the collection to be somehow linked to my beloved Barcelona. As founder and Creative Director I believe that being faithful to these values define CARNER Barcelona. Our quality and craftsmanship, is crucial in a niche market that is so very crowded. Originality and authenticity makes the difference; people can feel the passion behind the brand and that is key.
D600 composed by Christophe Raynaud and Tardes composed by Daniella Andrier
In order to develop special and unique perfumes I needed the best partners. So I knocked at Givaudan's door, luckily enough the manager of Givaudan Barcelona, Rafael Lombard, found my project interesting and we started working together. My two first perfumes, Tardes and D600 where developed simultaneously. Tardes created by Daniella Andrier, a Master perfumer, is about the importance of nature during my childhood; you can feel the warmth of a summer Mediterranean afternoon through its notes.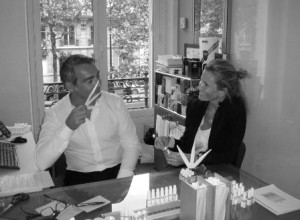 Perfumer Christophe Raynaud with Sara Carner
D600 is a modern perfume, more Barcelona, more cosmopolitan, developed by Christophe Raynaud, a perfume master. For me working with such amazing noses was an invaluable gift, not only because I was ensuring the quality of the scents but also because they gave CARNER instant credibility.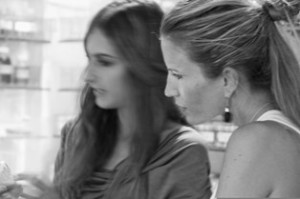 Sonia Constant and Sara Carner
Later on, I worked with Sonia Constant, no description is needed, (you just can read Michelyn's article about her amazing talent here). She developed Cuirs and Rima XI, both of them top 5 of the FiFi in two consecutive editions at the Elements Showcase. Cuirs, as I explained before, is a soft leathery perfume that evoques the antique artisanal ateliers of leather. Rima XI is about the sensuality and contrast found in one of my favorite poems of Bécquer, a XIXth century Spanish poet.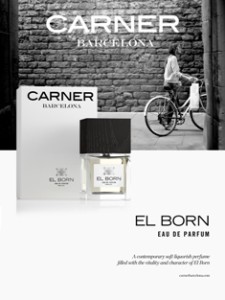 El Born Eau De Parfum
The latest perfume of the collection is El Born, a tribute to one of Barcelona's most intriguing and fascinating neighborhood; it was composed by Jacques Huclier. The idea of developing a perfume that captured the essence of the El Born neighborhood came to me one summer afternoon while having a drink at 'La Vinya del Senyor', in front of Basilica Santa María del Mar. El Born with its contrasts and its romantic medieval environment inspired me.
.
I got carried away by the excitement of investigating every nook and cranny of the neighborhood and finding the smells that characterized it. Before starting to mix essences and work on the formulation with the perfumer it was indispensable to detect the smells of the neighborhood. Together with Jacques Huclier, perfumer and Rafael Lombard we got into the micro world that is the Born, sniffing all of its corners without stop… From Vía Layetana going down along l'Argenteria street, where the goldsmiths settled in the Middle Ages and where you are taken over by a constant smell of coffee, up to the basilica of Santa María del Mar, the most beautiful example of Catalan gothic style, where the smells of iron, humidity and incense are predominant. Going up Montcada Street where during the 14th, 15th and 16th centuries the rich Barcelona merchants settled their palaces in which nowadays we can find museums and art galleries. From there got caught up by the winding and extremely narrow backstreets where the arches, balconies with drying clothes, little shops, artisan workshops and fashionable restaurants fill up the pleasant bustle of the medieval streets. At the end of the day we prepared a compilation of all of the smells: coffees, sweets, chocolate, aromatic herbs, anise, liqueur, fruit,and humidity. A lot of contrast, a lot of strength! They're elements that inspired us for the new perfume.
Something I always want to make clear is the reason why I work with French noses since CARNER is a Spanish brand. We have great perfumers in Spain, no doubt, but if I wanted to give the brand international focus, credibility and distinction I felt that I needed to work with pefumers with the most training and as of today, they are French. As a woman I do feel a special affinity for Sonia Constant and Daniella Andrier and admire what they have achieved in what is predominately a man's world.

Wood Stopper used on CARNER Barcelona flacons
If there is one fragrance signature that defines the Carner collection it is wood, simply because I love the scent of wood, especially sandalwood. I find it sensual, sophisticated, yet intriguing and intense. I wanted to reinforce visually the importance of this ingredient that is why I chose a wood stopper for the bottles. Wood has become the signature of CARNER over these last five years. We work with a Catalan company that develops the cups from sustainably managed European forests.
When I look back at my decision of starting my own Perfume company and all that was involved in launching CARNER Barcelona, I have no doubts I made the best decision. I feel privileged to be able to work in a profession that fulfills me and in which I can translate my culture and feelings through scent to the rest of the world.
– Sara Carner, Creative Director and Founder of Carner Barcelona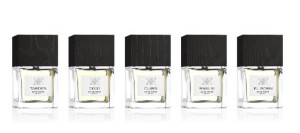 CARNER Tardes, D600, Cuirs, Rima XI and El Born
Thanks to the generosity of Sara Carner we have a worldwide draw for a reader of their choice of 50 ml D600, Tardes, Cuirs, Rima XI or El Born OR a deluxe sample kit of all five Carner Barcelona fragrances. To be eligible, please leave a comment about what moved you, where you live, or a memorable quote from this article about Sara Carner as a Creative Director (if you have a favorite CARNER perfume we would love for you to share that too!! Sara will be reading your comments, so show her some love. You can follow @carnerbarcelona and @cafleurebon on Instagram. Draw closes November 1, 2013
Editor's Note: ÇaFleureBon was one of the first perfume blogs to review CARNER Barcelona. In April at Esxence 2011 we met Sara Carner in Milan where she debuted Tardes and D600. We called out that this born in Barcelona perfume line was one to watch; it has been a great pleasure to have had this opportunity to get to know Sara as a Creative Director, but also as mother, a wife and a fragrance lover just like us.-Michelyn Camen, Editor in Chief
Increase your chances of winning by LIKING CaFleureBon Creative Directors in Perfumery;your comment will count twice.
We announce the winners only on site and on our Facebook page, so Like Cafleurebon and use our RSS option…or your dream prize will be just spilled perfume.