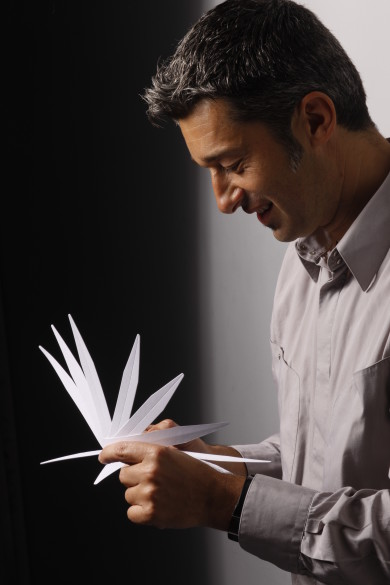 Pierre Aulas Founder of Ego Facto Perfumes
Opéra or Perfume ? This was the dilemma of my youth. I am a classical singer for years. I sang in the Paris Orchestra choir for 6 years. Wonderful experience of being conducted by the best maestros (Giulini, Ozawa, Sawallisch, Davis …) and singing with the best soloists all over the world. During the same period I was entering the perfume industry and had a crucial choice when I was 29 years old, which path to choose.? Singer or perfumer? I decided to pursue perfume because you can continue to sing as a perfumer but you cannot continue to create fragrances as a singer!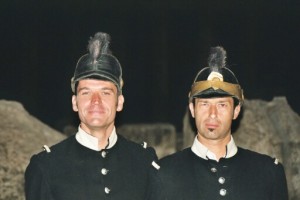 Pierre Aulas is a Tenor, Opera singer and a perfumer (Here in a performance of Carmen)
At the moment I still sing as a tenor amateur in different choirs. I even performed Carmen on stage a few weeks ago in the Bordeaux Theater! For me there is real link between music and perfumes; we use a lot of similar words-notes, accords, both are telling a magical story and the final aim is to touch the emotion of people around you. With Music and Perfume you can speak with people with an invisible language.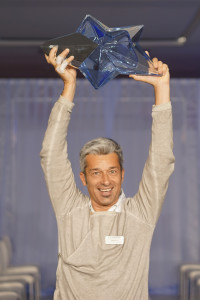 Pierre Aulas was instrumental in The Thierry Mugler Perfumes Franchise- Holding ANGEL EDP
I discovered the perfume industry almost by chance. I was not from Grasse, my father was not a nose… nothing predestined me for this career. At 26, I took on a job in marketing development for a large retailer's cosmetic products, and became familiar with fragrance composition companies and perfumers as I asked them to work on my product lines. My natural gift for working with scents was noticed by Grasse-based Company Mane, who hired and trained me. My abilities in both marketing and fragrance quickly positioned me as the perfect middleman between brands and "noses". The next job offer for me was by Swiss giant Firmenich, as Key Account manager in fine fragrance. I accepted, but on the condition that I work on Thierry Mugler perfumes, a brand I found exciting, creative and daring in terms of fragrances. This new turning point in my life gave me the opportunity to meet Vera Strubi, former Thierry Mugler Parfums president, whose boldness and insight never cease to amaze me. She is the person I respect the most in this industry. She is my blue Fairy, my blue Angel .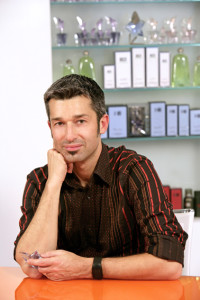 Pierre Aulas: Mugler Cologne, Angel and Alien
For ten years, we worked together and brought a number of projects to fruition. Our great complicity, based on genuine respect and a similar sense of smell, resulted most notably in the creation of Mugler Cologne, Alien, Angel les Jardins d'Etoile, La part des Anges, the A* men saga… It was also Vera Strubi who encouraged me to depart from the path I had begun.
In 2001, I founded Art of Nose Consulting, my own olfactory development consultancy. My first client, naturally, was Vera. Then came other brands, and I started working as an olfactory artistic director for other very challenging brands: Chloe (Chloé, Love, Eau de Chloé), Azzaro (Chrome United, Azzaro pour Homme Night Time), Roberto Cavalli, Swarovski, Paradiso, Just Cavalli), Balenciaga ( Balenciaga Paris, Balenciaga essence, Flora Botanica, Rosa Botanica, B Balenciaga and recently Shiseido (Ever Bloom) and Miu-Miu.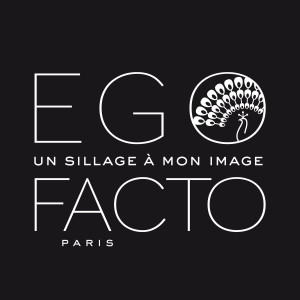 Ego Facto Live Video Courtesy of Esxence 2015 TV
Ego Facto's birth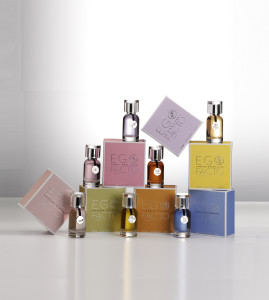 Along with my work as an olfactory consultant, in 2010, I decided to launch my own perfume brand and I am fortunate as the Creative Director of Ego Facto, to have the support from my fans and friends in the world of perfumery. I decided to champion original juices with a lot of character. I was eager to achieve, more than just to create my own brand and the visual world around it, and to allow anyone to identify with a fragrance that was truly their own. One brand, seven fragrances, seven personalities, an ode to self-assertion, a true statement of Ego. I even developed a proprietary quiz that you can take online and discover facets of your self.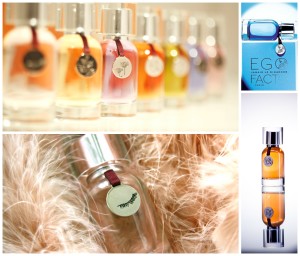 If you are a romantic choose Fool for Love
Have strong personality, choose Me Myself and I
The "not -so -innocent ingénue" might wear Poopoopidoo (my newest fragrance)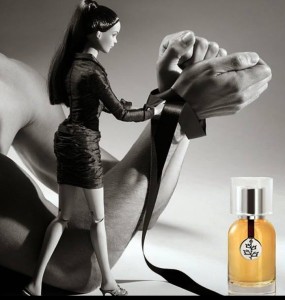 Prends Garde à toi
If you consider yourself a gypsy or free spirited try Prends Garde à toi (Be careful)
A woman or man of mysterious man or woman, Jamais le Dimanche ( Never on Sunday) Berkan's Review here
A strong man (or woman) would enjoy Sacré Coeur
And for those modern day Don Juans and Mata Haris, there is Piège à Filles (Girls' trap)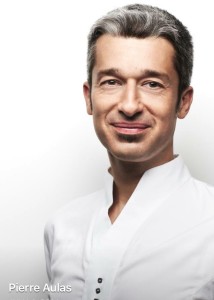 Pierre Aulas Creative Director
Artistic Creative Direction
For Ego Facto I am the Creative Director and am very fortunate as I built some very strong relationships with master perfumers over the years. I want the best from them and it is collaborative as I am convinced that creating a perfume is like creating a baby together. It needs love from both parents
For instance, for the creation of PooPoopidoo, I decided to work with Dominique Ropion.
I "olfactively" met Dominique when we created together Alien for Thierry Mugler. We made so many trials during more than two years that I can say I really know Dominique very well. He is a perfectionist and a natural ingredients' lover. For my perfume he mixed with a very good balance a wonderful orange blossom from Tunisia with a rice powder and a very well selected "animalic musc". Dominique shares some characteristics with PooPooPidoo. He is not so shy and innocent, but appears to be. ….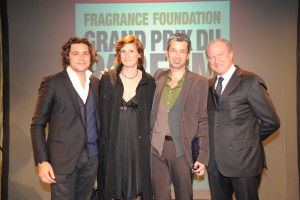 Jamais Le Dimanche won the Grand Prix du Parfum in 2010 (FIFIS) Fragrance Foundation Award (Aurélien Guichard, Anne Flipo, Pierre Aulas and Alberto Morillas)
It was also a pleasure to work with Alberto Morillas because I knew him from my previous job at Firmenich and I knew how refined and well balanced his creations are. I worked with him on Mugler Cologne (I am still very proud of, even if it is not a big success) and Lancôme Miracle years ago. The original idea for Jamais le Dimanche in fact came from a House scent which was a mix between Amber and Incense. Each time I smelt it I was thrilled. That's why I asked Alberto to transform it into a fragrance and add on top a challenging and surprising accord of Marijuana leaves.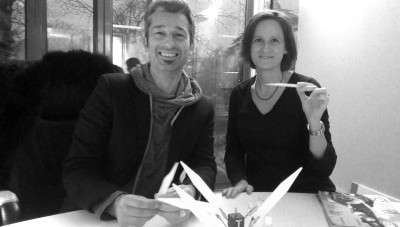 Pierre Aulas with Anne Flipo
For Piège à Filles I thought it was interesting to ask a female perfumer to create a fragrance that was macho! I knew Anne Flipo through her delicate and subtle floral creations; that why I loved the challenge of asking her to create something totally opposite! She did it with brio when starting from a feminine structure (almond and heliotrope flower) and twisted it with a hot blend of spices.
The duo Olivier Polge / Laurent Bruyère was perfect for Sacré Coeur, because Olivier is calm and even tempered when Laurent one was like a wild horse ! This is very much present in Sacré Coeur because we mixed in the same fragrance very masculine and reassuring ingredients like tobacco, patchouli and leather with the aroma of Chablis Premier cru white wine that makes a surprise on top.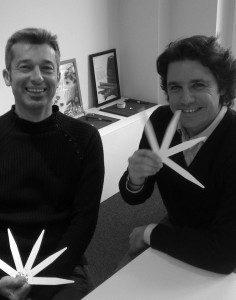 Pierre Aulas with Perfumer Aurélien Guichard
For Me Myself and I and Prends Garde à Toi, I was the first to ask Guichard father (Jean) and son (Aurélien) to work together. It was funny to see how they work together…Jean was the builder and Aurélien the crazy breaker!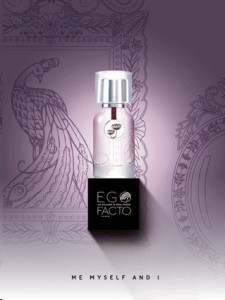 Ego Facto Me Myself and I
In Me Myself and I the ultra-feminine tuberose is married with a smoky vetiver but the best idea was to add a hemlock flower on top … like a poison…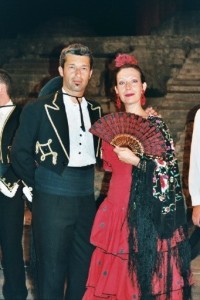 Pierre Aulas performing in the Opera Carmen
Prends Garde à Toi is inspired by the Carmen Opéra . One of the most famous Soprano's aria is " l'amour est enfant de Boheme, si tu ne m'aimes pas,….. Prends garde à Toi ". So we built this fragrance so it would evoke the freedom and sensuousness of the gipsy. (Jasmine flower from Egypt and cedar from Virginie). But as you need to be courageous to be Carmen's lover, we added a natural essential oil of nettle on the top… it is the first time nettle was used in perfumery.
At the moment I am working on the future Ego Facto fragrances with great perfumers. I have so many good mods but the problem will be to choose which to launch first. But hushhhhh this is too early to unveil my secrets. Let's wait till mid-2016. Yes, CaFleureBon readers, I will let you know soon.
Pierre Aulas, Creative Director of Ego Facto Perfumes
Editor's Note: Pierre calls me his American Carmen but my favorites are Fool for Love and Poopoopidoo (which makes me a not so innocent ingénue with a romantic heart, go figure). In the US Ego Facto is available at Luckyscent

Thank you M. Aulas, (he is a legend and his participation in this series is an honor). Pierre is extending a WORLDWIDE reader's choice draw for any 50 ml bottle of Fool for Love, Me Myself and I Poopoopidoo Prends Garde à toi Jamais le Dimanche Sacré Coeur or Piège à Filles
You must be registered and you must use your user name or your entry is invalid. To be eligible, please leave a meaningful comment about what moved you, or a memorable quote or what you learned from this article about Pierre Aulas as a Creative Director, your choice of the fragrance you would like to win and where you live. If you have a favorite perfume we he has consulted on, we would love for you to share that too!! Draw closes 11/15/2015
If you want your comment to count twice, please like CaFleureBon Creative Directors in Perfumery on FaceBook.
We announce the winners only on site and on our Facebook page, so Like Cafleurebon and use our RSS option…or your dream prize will be just spilled perfume.