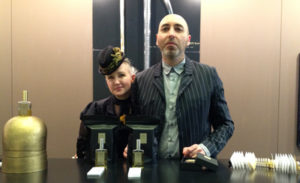 Naomi Goodsir and Renaud Coutaudier at Esxence 2014 (Tama Blough)
It was former Managing Editor Tama Blough, she sadly passed away 1/9/2015, who first met the dynamic team of artist/ designer Naomi Goodsir and Creative Director Renaud Coutaudier at Esxence 2014. Tama (as all of us at CaFleureBon), was not only impressed by the evocative perfumes, but by the two special people behind them. In an olfactive landscape that is drowning us with loud hype, the two partners are quiet; they let their perfumes and aesthetics speak to lovers of artistic fragrances. Beginning their path to Perfumery in 2012, and to the present 2016, there have been four perfumes, a limited edition riff and one new perfume soon to debut. We love Creative Directors who take their time and do not feel pressure to churn out scent after scent, only bringing to market what is exceptional. Ms. Goodsir and M. Coutaudier do not like being photographed, therefore only two photos are used of their faces; one by Tama Blough and one by Julien Rasquinet. Naomi and Renaud keep a low profile but create haute parfums. –Michelyn Camen, Editor in Chief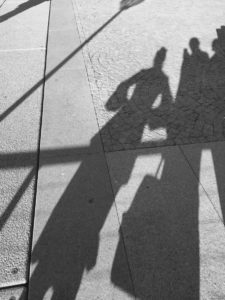 Shadows Naomi Goodsir and Renaud Coutaudier
Renaud Coutaudier: Our perfumes are truly an extension of Naomi's creations that includes: hats, bags and body accoutrements. As far I can remember since meeting Naomi, I've always wanted to create and offer her own perfume. In September 2012 it became a reality at Pitti Fragranze, when we introduced our first 2 perfumes – Bois d'Ascèse & Cuir Velours (both by Julien Rasquinet). We had no idea how they would be received, as they are very personal compositions and were launched without any expectations.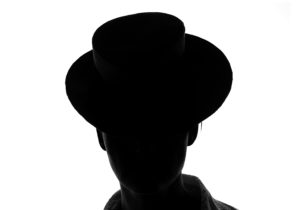 Naomi Goodsir Black and White
I first met Naomi over 10 years ago – through a mutual friend, whilst I was in Sydney working on a collection of candles for an Australian designer. We kept in contact and if I was in Sydney or she in France we would meet. Naomi studied fashion design in Sydney and went on to become a milliner, creating couture head pieces for more than a decade. Her style and savoir-faire enabled Naomi to collaborate with numerous fashion designers in Australia and abroad, conceiving unique head pieces for their catwalks and collections. In March 2012 she created head pieces for Kanye West's défilé in Paris. Naomi's move to France from Australia, was quite gradual. She realised that to go forward with her life (both work and personnal), it was essential to move to France the heart of haute couture (and where I lived…). In January 2015, Naomi Goodsir was named – as part of "The Best New Talents 2014" for her sculptural headpieces by Vogue Italy.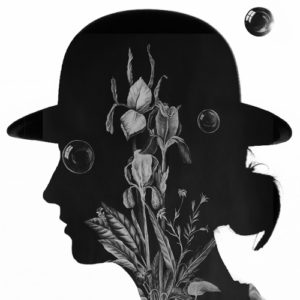 Iris Cendré Naomi Goodsir portrait by Jean-Philippe Roubaud, 2015.
Naomi has always stated that she never really wanted to be a milliner (modiste in French), but creating hats was easier and more 'free forming' over construction of clothes. She was never thinking either, about fine perfumery. It was a gradual natural progression – which is the best way.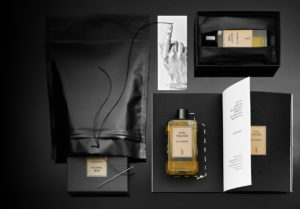 Bois d'Ascèse © Goodsir pty ltd – All rights reserved.
Naomi grew up in Sydney and then spent her formative years in the countryside of NSW, surrounded by green hills and bush. She is a horse rider and often competed in official eventing tournaments. She also spent a short time 'jillarooing' in The Northern Territory. During her childhood, she was surrounded by animals (dogs, a penguin, kangaroos, horses, cockatoos, water dragons, sheep, rabbits, chooks, bee hives etc…). Her Father Donald Goodsir OAM, was an avid bird (ornithologist) and animal lover – involved in the historical and natural preservation of Australian flora and fauna. Mr Goodsir was the first Australian author to write a pictorial guide for children on Australian birds – as there were none at the time "Fascinating Australian Birds. His passion for the country has greatly influenced Naomi. Bois d'Ascèse is quietly dedicated to him.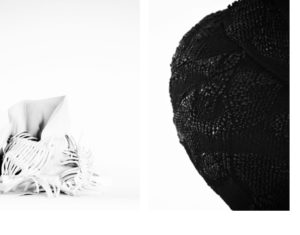 Tzuri Gueta 2014 Comissioned by Naomi Goodsir handmade silica and french lace
The years since Naomi's been in France she's been invited to showcase her accessories in several exhibitions : . In June 2013, Naomi's Proposition handbag was selected by the legendary priestess of style Lidewij Edelkoort to be part of the Fetishism in Fashion exhibition by MoBA 13 – Mode Biennale Arnhem, in The Netherlands – alongside some of the worlds most acclaimed haute couture designers.. In July 2013, she was invited to AltaRoma (Rome Haute Couture week), organised by Silvia Venturini Fendi, to be part of an exhibition at The Biblioteca Angelica, in collaboration with A.I – Artisanal Intelligence. A few hats were presented, including The Bones High collar made of leather and silica.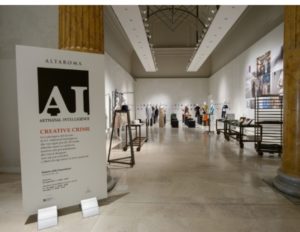 Creative Crime curated by Clara Tosi Pamphili, Palazzo delle Esposizioni.
In July 2015, Rome – A.I. – Artisanale Intelligence / AltaRoma /Rome Fashion Week , Creative Crime curated by Clara Tosi Pamphili, Palazzo delle Esposizioni. An Anthology of the Works of A.I., that collected more than 100 staged stories in archive, together with the presentation of unrecorded new designers, free to express their creativity.
Naomi also enjoys collaborations working on different creative fields whislt sharing savoir-faire : . Jean-Philippe Roubaud – Contemporary artist based in France. September 2013 Musca Depicta a limited edition of Bois d'Ascèse eau de parfum. Oil painting fly on glass as an hommage Ambogiotto di Bondone « Giotto » and to the city of Florence. September 2015 Souvenir du Monde Flottant, Iris Cendré (Goodsir) Graphite on paper (drawing). Iain D McKenzie – Awarded film Director/Photographer based in Los Angeles. March 2015, presentation of Musca Depicta, a short cut expressing Bois d'Ascèse limited edition Musca Depicta , as an hommage to Australia and Naomi's souvenirs. Nose Paris – Concept store alternative perfumes & cosmetics, France:In her own style Naomi Goodsir reinterpreted a new edition of the 1697 Perfumer's attire – the imaginative codes of Art Grotesque .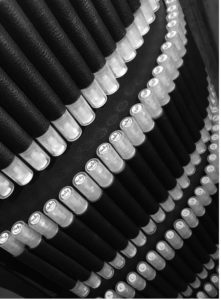 An Apron Reinterpreted by Naomi Goodsir through a leather apron holding 300 perfume samples
A hand made apron that holds 300 perfume sample vials, made of leather and alligator. A Doctor bag made of alligator, leather and canvas. A hand made East London felt bowler hat with grossgrain ribbon and feathers. This creative partnership, follows Nose's previous collaboration with Wes Anderson and his award winning movie The Grand Budapest Hotel .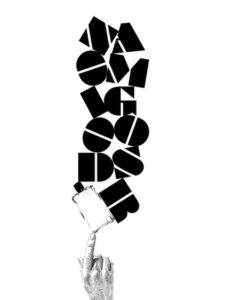 The Art of ……balancing BW drawing with hand, bottle and logo
Naomi Goodsir: I believe Renaud is a like-minded person. He's worked in the perfume industry, as a creative director for over 15 years. Renaud has collaborated with several fashion designers, including IRIE in Paris, Collette Dinnigan, Kym Ellery in Australia and before our perfume he previously commissioned perfumers such as Isabelle Doyen, Julien Rasquinet and Vincent Ricord. Renaud's family has a long history with Africa. I guess in some sense he wanted to follow the same "tracks", so he worked for a number of years as a safari guide in Tanzania – East Africa. From my side, I think he was inspired by some of his favourite writers, Joseph Kessel and Ernest Hemingway. So we both share a huge love and respect for an omniscient presence and beauty found in nature.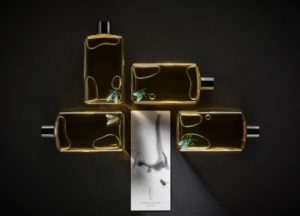 Limited Edition hand painted fly – hommage to Giotto, by Jean-Philippe Roubaud, 2014
As Renaud was based near Grasse, it became more apparent to include perfumes in the creative universe. So together we decided to express our sensibilities through the creation of our own fine perfumery. (It took a lot of convincing from Renaud, as I try to be fully implicated in everything I do – and I knew nothing about perfume! My understanding of perfume was very limited, but from what Renaud's taught me – it's education and the ability to learn to trust your gut instinct).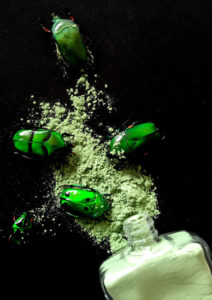 Love Green, Love Iris
In 1966 (Renaud's birth year) his Mother offered to his Father, a bottle of Eau Sauvage by Dior and since then this perfume has remained the only fragrance he wears. This masterpiece was formulated by Edmond Roudnitska. It's also at Roudnitska's house in Cabris where our perfumes found their origins. Sometimes life brings you back to form a full circle.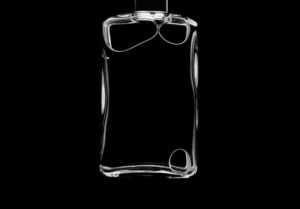 A perfume has to reflect a unique and personal universe. They are 'invisible fragrant accessories', which we believe (and hope) express in a beautiful and delicate manner, the world that I inhabit.We see our perfumes as an alternative offer. Artistic in a way, if you consider that the authors are independent perfumers, free to create and to express their vision of my creative microcosm. It's a collaboration based on trust, exchange of ideas and sensibilities. At the end Renaud and I make the evaluation without any specific target market – just to please ourselves first and foremost. We are also very close to French contemporary artists with whom we work, to introduce our perfumes in a discerning way and to collaborate on some artistic projects.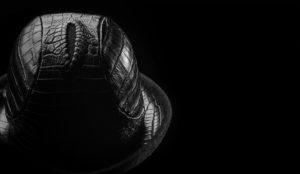 Crocodile leather
Our Eaux de Parfum, are formulated around a noble raw material. Sometimes there's a story involved but other times the simple expression of a material is enough to give us the direction for a composition. As an example – I used to own a tiny Catholic 1920's church made from Cypress Pine in the middle of the bush, in northern New South Wales. One summer, there were horrific bushfires – the sky was filled with ash with wind whipping smoke all around. But essentially, it was incense that was the inspirational note for Bois d'Ascèse.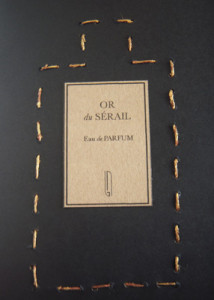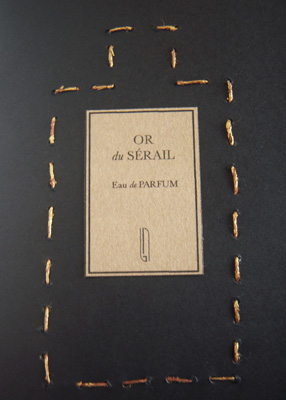 Cuir Velours (leather) by Julien Rasquinet is a deep and textured perfume, that evocatively encases the skin like soft velvet suede. Bois d'Ascèse by Julien Rasquinet is a captivating and reassuring smoke. Or du Sérail by Bertrand Duchaufour is a generous golden faceted oriental tobacco.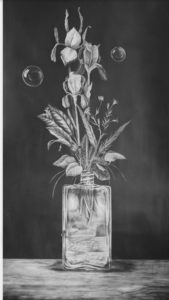 souvenir de monde flottant Naomi Goodsir Iris Cendre 2015
Iris Cendré by Julien Rasquinet, was created at the beginning of 2013 and launched in September 2015. It is exactly what we though of an Iris butter. Rich, not too powdery, grey and green.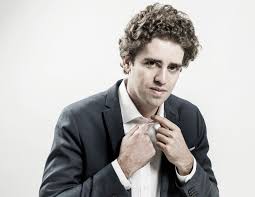 Julien Rasquinet
Julien Rasquinet is a young and talented perfumer with a lot to express. We were so proud of him when he was appointed by IFF. He deserved it.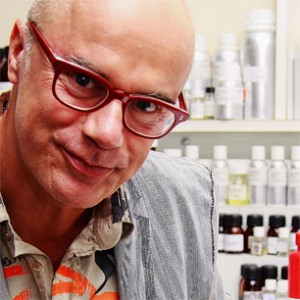 Bertrand Duchaufour
Bertrand Duchaufour, just like Julien, has a witty sense of humour – a huge talent with a great appreciation for the arts whose a humble free minded perfumer.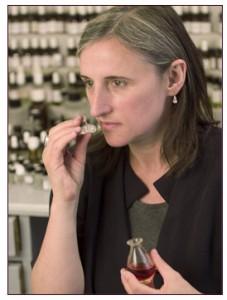 Isabelle Doyen
We have known Isabelle Doyen for years, as a friend and as a major perfumer who has inspired many others. To date, we have been blessed to be able to work with exceptionally talented noses whom we greatly revere, like and respect.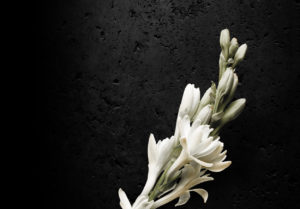 In case anyone is wondering our next perfume …. It is soon to be launched and called Nuit de Bakelite; it is a collaboration with Isabelle Doyen .
Credits: Jean-Michel Sordello & Naomi Goodsir Parfums unless otherwise stated
Naomi Goodsir & Renaud Coutaudier, Naomi Goodsir Parfums.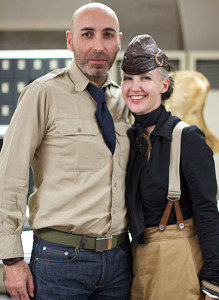 Renaud with Naomi (photo by Julien)
Thanks to Naomi Goodsir and Renaud Coutaudier we have a worldwide draw for a registered reader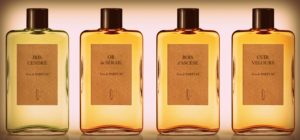 You must be registered and you must use your user name or your entry is invalid. To be eligible, please leave a comment about what moved you about Naomi Goodsir and Renaud Coutaudier, what you learned or a memorable quote from Renaud and Naomi and your choice of the fragrance from the current collection, Bois D'Ascese, Cuir Velours, Ors du Serail, Iris Cendre, (Cafleurebon's best of 2015), and where you live. Draw closes 9/12/2016. Increase your chances of winning by LIKING our Facebook page CaFleureBon Creative Directors in Perfumery; your comment will count twice.
We announce the winners on our site and on our Facebook page, so Like Cafleurebon and use our RSS option…or your dream prize will be just spilled perfume