Linda Pilkington Of Ormonde Jayne London
There was never a time when I sat down and planned to create a "Perfume House" – as hard as it may be to believe, it has all come about through little more than happenstance. Walking along Bond Street twelve years ago I bumped into to a good friend, Bruce Anderson, who I had not seen for years and who was now working for Chanel Fine Jewellery. Our history went back a long way, he had even sold my parents a diamond bracelet which they gave me for my 21st birthday present. We talked about old times and Bruce remembered I used to make scented candles and other scented concoctions and it prompted him to ask if I could develop a special scented candle for his Chanel Boutique. It was a great opportunity and I really didn't want to let him down. Several months later and after a lot of meetings I finally received approval and the first order. In my innocence, I wrote the invoice in my best handwriting in orange ink, sealed with a wax stamp! Later I was called by the accounts department who informed me they can't pay an invoice like this and to form a company with a registration number.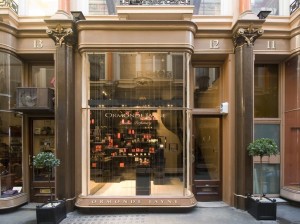 Ormonde Jayne Boutique- 28 Old Bond Street
And that is how Ormonde Jayne came about. My husband came up with the name, taking my middle name and combining it with the street we lived on in Primrose Hill – we wanted something personal, easy to remember and English – and I designed the logo and registered it…. all so I could write an invoice for Chanel! The work I had put into this first Chanel candle creation had cost a great deal of time and money. It crossed my mind that if I could make this work as a business, this would be the ultimate career. Essentially, I needed to be surrounded with like-minded people with high expectations and demanding briefs to keep me on my toes and push me to achieving something extraordinary. Before long I had several high profile designers and hoteliers on my books but the next step was to do a trade show to attract buyers from the high-end stores. A larger investment was needed to build a rather chic pop up Ormonde Jayne store and once again my husband stepped in and gave me an interest free loan of £5000. Then I hit Bond Street undercover to look over all the beautiful chic stores and made my notes. It paid off; Ormonde Jayne picked up first prize for the best stand design at the show and I received orders from Neiman Marcus, Bergorf Goodman and Takashimaya in Manhattan, as well as Harrods, Selfridges and Liberty's in London.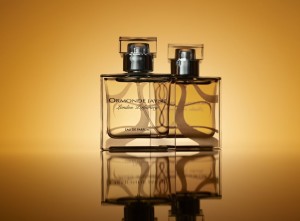 Brimming with confidence I now set out to think long and hard about what I could do to make Ormonde Jayne different from the other perfume houses. I had the ideas, the know-how, I also had a studio and all the equipment but I needed something extra special to set us apart. This is not something you can brainstorm, it has to happen organically and the moment came when a client wanted me to re-create a perfume like Fracas. Of course I didn't want to do it as you can still buy this fragrance today, but I also didn't want to lose the client. My promise to her was that I would find a flower as heady as tuberose but more rare, a flower not widely used in the perfume industry. This was my moment, when it all became clear to me and I knew what I should be doing for Ormonde Jayne. I would research and find unusual flowers, resins and woods not necessarily used in the modern international perfume industry. But, of course, the perfume still had to be drop dead gorgeous. The level of constructing a perfume was up until then all done through using the Poucher book with the formulations in the back, how to recreate tuberose, spring jasmine, cedar wood but I needed to go beyond.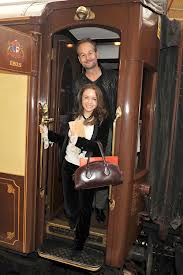 Linda with Perfumer Geza Schoen
As luck would have it, an excellent perfumer, Geza Schoen, came into my life. He had read about Ormonde Jayne and wanted to know if I had an alcohol license. At the time, he had seventeen years of experience creating perfumes and now he wanted independence. It was a perfect match, I needed help and he needed a studio to work from, crimping machines, filters, distilled water and denaturized alcohol . We hit it off straight away, the dynamics worked. Not only did he love my ideas but was positively happy to be involved and loved the fact that money was no object when it came to the formulations; they simply had to be the most elegant perfumes in the world. That was twelve years ago (2002), and it took two years to put the first four perfumes together (Ormonde Woman, Tolu, Champaca and Frangipani), as we searched for ingredients not widely used in the perfume industry, we found oudh (Ormonde Man), hemlock (Ormonde Woman and Man) , all fabulous and mysterious oils . I know when we found the right ingredients because I felt an intense sense of excitement and anticipation.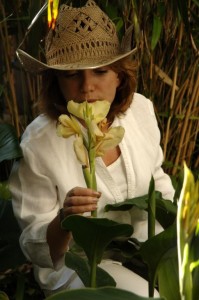 Linda Pilkington searchs for unusual flowers and ingredients
The creative and original ideas that form Ormonde Jayne have all developed from my passion for travel. Probably my best ability is my switched on brain and beady eye and pursuit of perfection. It can be a moody song with romantic lyrics, the perfect colour of coral, a shimmering stretch of sand and sun, the inside of a vintage Bentley together with a good stretch of the imagination and my relentless passion for "only the best will do" make for an Ormonde Jayne perfume.
Once the bee is firmly buzzing around my bonnet, my thought pattern does not switch off. I think it over then re-think it again, write notes and develop the idea over a long period. I already know what the scent will smell like, the entrance, the dry down. I know the basic accord of the formulation, the oils I will search for but the most important aspect is the philosophy of why it has to be like it is. The private area, the part of the perfume I can't and do not want to explain to anyone except Geza. I talk the idea through with him and we develop the idea to the next stage. Because of his expertise, he can tell me very quickly if the basic accord is going to work or not. I will always explain my reasoning and he gets it straight away. No constraints, no financial confinements, no timings, just pure creativity.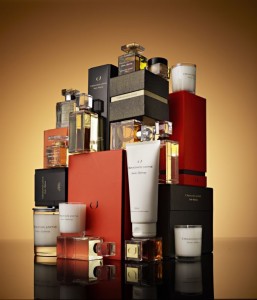 Ormonde Jayne-distinctive fragrances and packaging
Ormonde Jayne was one of the first perfume houses to use Oudh (Ormonde Jayne Man) in an international fine fragrance, I travelled far and met some incredible people along the way, I've learnt so much by taking the hands-on approach at every level. The studio is now bigger and better and right by Regents Park in London. Ormonde Jayne is a British perfume house; the candles oils and perfumes are all created by me, Linda Pilkington, translated by GezaSchoen and put together by our wonderful team of craftsmen at our own London studio. We stay in touch with our clients and have a dedicated Customer Service team to make sure everything is running smoothly.

My latest creation for Ormonde Jayne was the launch of The Four Corners of the Earth in November 2012 on The Orient Express (Montabaco, Tsarina, Nawab of Oudh and Qi). It is a new angle but not a great departure from what we are known for. Our four scents embody the spirit of Russia, the Middle and Near East, China and Latin America. The collection pays homage to the ever changing city of London, a crossroads from where we can view the world, a unique location where diversity can be celebrated on every corner and created by a London based perfume house, Ormonde Jayne.
– Linda J Pilkington, Founder and Creative Director of Ormonde Jayne
all photos are copyright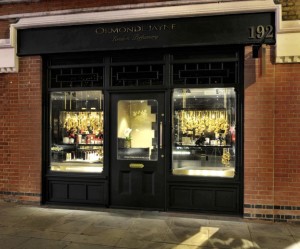 Ormonde Jayne second boutique 192 Sloane Square
Editor's Note: I have corresponded with Linda for nine years, ever since I began writing about niche fragrance. As other niche perfume houses come and go, churning out scents at a ridiculous rate, Linda Pilkington continues to be committed to quality and originality. I have worn Frangipani since it first debuted and recently rediscovered the plush, lush beauty that is Tolu. I wear Ormonde Jayne's bath oils as personal scents and a favorite is the creamy and carnal Champaca. My friendship with Geza Schoen dates back from the introduction of Escentric Molecules (01) in 2005 and there is such a wonderful synergy between them, which is part of the reason Ormonde Jayne is a House that every American perfumerie and specialty store wants to carry in the US (At this time, Linda has no plans to distribute the fragrances stateside). When I started CaFleureBon, Linda Pilkington was one of the first to cheer us on, help us celebrate our first birthday in 2011 and we are so grateful for her support and generosity. A big thank you to Jason Waterworth of UP Public Relations as well – Michelyn Camen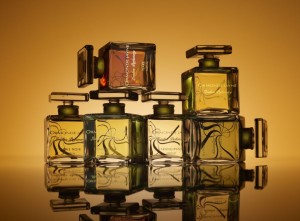 Thanks to Linda Pilkington we have a worldwide draw for one reader for your choice of one of the following nine Ormonde Jayne's iconic EDPS: Ormonde Woman (2002), Ormonde Man (2004), T'aif (2004), Tolu (2002), Champaca (2002) , Frangipani (2003), Osmanthus (2006), Isferkand (2005) or Orris Noir (2006). To be eligble please leave a comment with what you learned about Linda Pilkington as a Creative Director and your choice of one of the above fragrances by September 20, 2013.
Please Like CaFleureBon Creative Directors in Perfumery on FaceBook and your comment will count twice
We announce the winners only on site and on our Facebook page, so Like Cafleurebon and use our RSS option…or your dream prize will be just spilled perfume.