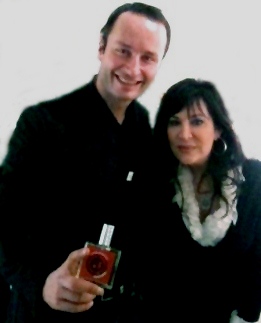 Etienne de Swardt and Michelyn Camen: Elements Showcase January 2011
The first time I met Etienne de Swardt, the founder and Creative Director of Etat Libre D'Orange we talked about roses, sperm and blood. That was the Spring of 2007 at a Beauty Breakfast at Henri Bendel in New York City. Etat Libre D'Orange was one of the few new perfume brands featured alongside the cosmetics and hair care showcased to editors. Standing right next to Etienne was perfumer Antoine Maisondieu and one of my favorite actresses Rossy de Palma. Being more star struck than scent struck I somehow managed to have coffee with Rossy. Rossy de Palma Eau de Protection, the blood tinged rose perfume created by Antoine Lie and Antoine Maisondieu, was my signature scent for a year (Chandler Burr wore it too) and proof that a celebuscent could be unique, strangely beautiful and wearable. Etienne and I met again three years later; I was with Pierre Guillaume of Parfumerie Generale, who wanted to say hello, for another Henri Bendel event (Hosted by Sniffapalooza 2010), with Etienne and Tilda Swinton. There was a display malfunction so we didn't have time to chat. Etienne launched Archives 69 (see photo) at the first Elements Showcase 2011 and we had another reunion. The booth was so busy we had no time to talk.
Managing Editor Mark Behnke in his review of Tilda Swinton Like This May 20, 2010 wrote: "Whatever your opinion of the line of fragrances produced by Etat Libre D'Orange, boring is not one of the adjectives one hears used often in describing them. In the case of Sécrétions Magnifiques, revolting might be the choice, as the smell of semen and blood is re-created. More often the descriptors used are "interesting" and "unusual". I am a fan of many of the Etat Libre D'Orange scents because they don't fear to travel the fine line between unique and unwearable".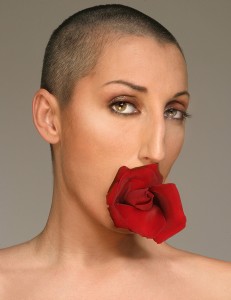 Rossy de Palma- Movie Muse to Pedro Almodóvar, Fashion muse Thierry Mugler and Perfume muse to Etienne de Swardt
I am an admirer of Etienne de Swardt and his laissez faire style which is as unique and fearless as Etat Libre D'Orange's often controversial fragrances. He has a boyish charm, a certain humility, doesn't censor what he says nor is he a linear thinker. During our three hour phone conversation, he told me to take as much creative license with his story as he gives the brand's graphic designers and perfumers. With a story this intriguing, I remained as faithful as possible to his words.-Michelyn Camen, Editor in Chief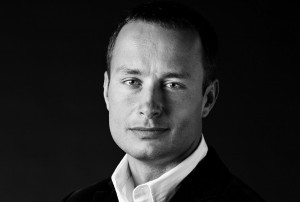 Etienne de Swardt
At the beginning I wasn't a creator of niche perfume brands, I was the nasty bastard giving briefs to perfumers at LVMH where I was an executive with Parfums Givenchy men's perfumes. It was a good learning experience and it gave me marketing and an insiders knowledge of the industry. Then I became a trend consultant to LVMH. My job was try to feed new ideas and concepts to perfumers and marketers that were edgy and exciting. – to create interesting and daring themes for them to explore. I presented quite a few new concepts including the idea of Tom Of Finland, (which I later used in ELDO) but the LVMH marketers weren't excited by the concept; it was so edgy and provocative, but the executives thought it was too risky. It was frustrating because I presented many ideas,which was my job and why I was their consultant, but the Company thought they were too edgy. For example, I proposed to LVMH marketing a perfume named Lucifer, because I thought Lucifer was an amazing idea. Actually, in Greek Lucifer means "bringing light to human beings". I thought that it was a beautiful masculine theme. I proposed the name to Givenchy—and they were in love with that name. Everybody was so excited – but in the end, they said it was too dangerous for the American market, to sell perfume people associated with The Devil (even if it meant "bringing light to human beings").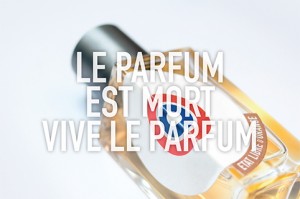 The last concept I presented to LVMH was also the idea that was my first venture as an independent called Eau my Dog (Eau Mon Chien). It was the perfume concept I created with Louis Vuitton and presented to Yves Carcelles (who was then the CEO and Chairman of LVMH) who loved the idea of launching a non-traditional perfume that would be exciting and provacative. I was trying to be disruptive, which is my model: why not do a perfume for dogs? They said let's set it up, I made a business plan and production, but at the last minute they backed out. The year was 1999.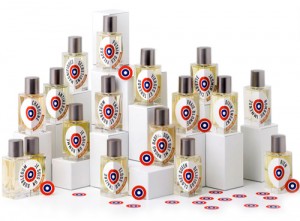 I believed in the idea, as did an old friend, Olivier Echaudemaison, (who was my mentor and after business school introduced me to LVMH and recommended me for the job at Parfums Givenchy where I also worked on Alexander McQueen). I asked Olivier if he would like to join me, and he said it's a beautiful idea — go for it. He was artistic director of Guerlain, and he stayed a silent partner, but he gave me credibility. LVMH gave me back the idea, and we raised 12 million euros. Eau My Dog was launched May 2000 at Saks, Isetan, Le Bon Marché… 50 countries and 1000 selective doors. It was ahead of the times and the economy took a nose dive. But I didn't give up. In 2006 I launched Etat Libre D'Orange; I was working on the idea of creating a gallery of perfumes.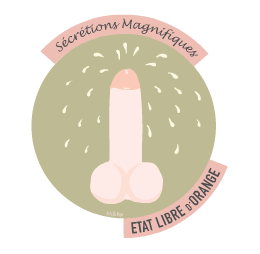 I learned a lot from my years at LVMH and one important lesson is that you have to be true to the DNA of your brand. The DNA of Etat Libre D'Orange (meaning Free State of Orange — going back to my South African heritage) comes from my past. I wouldn't be driven by money and focus groups. As a Creative Director it means being true to myself – authentic, shocking and sensual, even if it meant creating disruptive and unlikable perfumes from time to time. Sécrétions Magnifiques was the first in the ELDO line, maybe it is the most memorable, and still to this day evokes strong emotions. Blood and Semen in a perfume may disturb some people, but it told the story I wanted to tell, an animalic and oedipal story about olfactive and gustative sex.
If we want to sum up our sprit, it is sincerity, existentialism, and the French notion of philosophy. It means, if you want to stay alive, you have to create, and if you do not, you don't exist. It means going against the grain. We are not just a fragrance brand; we are a true state of mind, of fun, of emotion.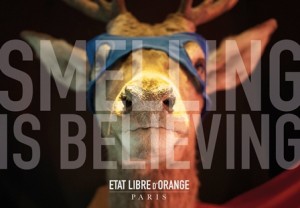 The storytelling at the beginning is more attractive than the perfume. To get a good perfume, you need a range of emotions, outside of the usual expectations. If I go to the limit, the storytelling is above the scent. In French we say "parolier", a lyricist. You have a singer, but you also have a guy who creates the song story. Saying the words, being the parolier, that is my job.
It's how I remember the New Balance brand – the function of the fashion – it's storytelling over a formulation. 50% goes into the formulation, but you have to nurture beauty with strong storytelling. The source comes from words and ideas and at the end, it's more vital. You'll get a beautiful product if you have the budget. Usually that can vibrate with the storytelling.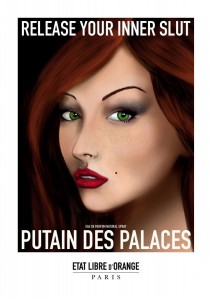 ELDO is a brand that excites many Perfumers who want to break out of the corporate constraints of their Companies where they have so many limitations-marketing and budget constraints as well as having to please so many people; Perfumery by Committe. Antoine Lie was the first nose I worked with (Secretions Magnifique) then Antoine Maisondieu did Jasmin et Cigarette. When I choose perfumers I am a bit of a perfumer slut (I am only kidding, I had a lot who were not on core fragrances). For example: Putain de Palais and Natalie Feisthauer, (who is now a Senior Perfumer at Symrise) wanted to do that scent. She said, "I want to be that slut". And she's so conservative! I said, be my slut and go for it.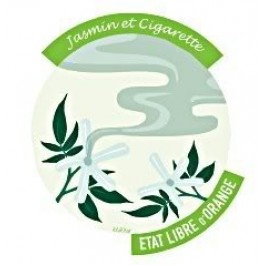 I am not as hands on as some other Niche perfume creative directors. Most of the time, I give true freedom to the perfumers who create our fragrances; because I believe that they understand the individual story I am trying to tell with each perfume. It's based on the project. It's the way they talk about the idea and the theme we pick up. For Jasmine et Cigarette, I asked Antoine Maisondieu about his vision of femininity. For him, it was jasmine twisted with tobacco. I asked if he could illustrate – he said, "Do you remember that film Blade Runner by Ridley Scott? We talked about the film and ideas, and then it was in his hands.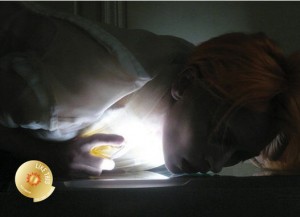 Like This won a French FiFi in 2011
This is what happened with Like This Tilda Swinton – a duet between Tilda and Mathilde Bijouai. I lit the match, and they sniffed and created by themselves. I said, do it the way you feel it. It was truly sincere and emotional — that's what I call the freedom and the existentialism of Etat Libre D'Orange.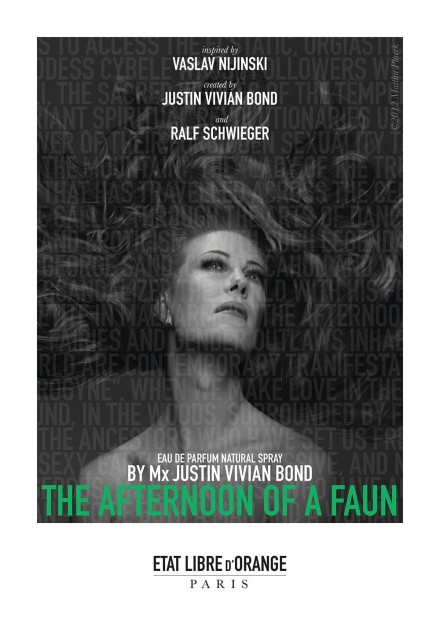 For our latest fragrance The Afternoon of a Faun – I organized a meeting with Justin Vivian Bond (transgender avant garde singer/songwriter, actor). I met him and he loved the idea of doing something with Nijinsky. I suggested he meet with Ralf Schwieger. He met Ralf; there were no restrictions. In many ways this is typical; many of our fragrances are a result of a chain reaction. When I work with perfumers, as the "parolier"– a kind of ignitor – a catalyst. I have the spark, the emotion and concept, and the others translate. If there is not a chain reaction at the end, if the spark was not good, the fragrance didn't go further, then it ends. If I pick up a good inspiration/theme and give freedom and make the introductions between people, it goes on without me. I try to pick up a theme that can provoke a chain reaction on people. . Back to Ralf, I have worked with him this year on two fragrances Fils De Dieu and Afternoon of the Faun. Ralf is open minded and truly eclectic. He's an artist who can express and capture the emotion of the concept.

My influences? Comic books, music, cinema – I'm very much a kid from the 80s. My mother was a Greek, Latin and French teacher and my grandmother taught mythology and cinema. My brother is a cardiologist – he saves lives – my mother was a teacher with true knowledge of old texts, like my grandmother. Their influences are there too, but I am very superficiel (meaning of superficiel in French – it means trap and seduce at the same time). ELDO may seem frivolous and inconsequential, but it's really more than the surface. Unexpected and not suspected – at the end, by being extremely superficial, I can pick up and master the art of superficiality – like perfume which stays on skin.
One crucial thing – it has to stay fun and maybe cross some lines. My next fragrance will do that in a big way. That is the spirit of Etat Libre D'Orange and my spirit. That's the key point.
– Etienne de Swardt, Founder and Creative Director of Etat Libre D'Orange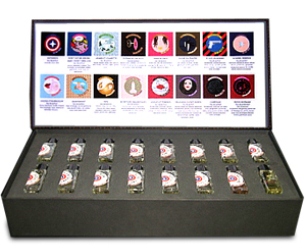 Thanks to EuroScents USA, the American Distributor of Etat Libre D'Orange we have the ultimate ELDO draw for a Limited Edition Prestige Deluxe Coffret that includes 10ml X16 of the iconic scents: Antihéros, Encens & Bubblegum, Don't Get Me Wrong Baby, Divin'Enfant, Jasmin et Cigarette, Rien, Putain des Palaces, Sécrétions Magnifiques, Vraie Blonde, Vierges & Toreros, Eloge du Traître, Delicious Closet Queen, Je Suis un Homme, Charogne, Nombril Immense, Rossy de Palma. $150
To be eligible for the Coffret: leave a quality comment with everything you found interesting about Etienne de Swardt as a Creative Director. The coffret is CaFleureBon's pick for the avid fan or the newbie to the brand.
If you have a favorite Etat Libre D'Orange Perfume, or you would rather win a full bottle instead of the coffret, leave a comment as above, and in the spirit of ELDO provoke or seduce us. Be sure to name the Etat Libre D'Orange fragrance from the 30 listed here. Draw closes December 6, 2012
LIKE CaFleureBon Creative Directors in Perfumery Facebook page. Your comment will count twice.
Editor's Note: All images are used with permission of Etat Libre D'Orange
We announce the winners only on site and on our Facebook page, so Like Cafleurebon and use our RSS option…or your dream prize will be just spilled perfume