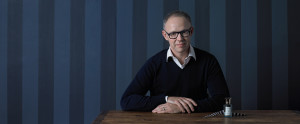 Dom De Vetta, Creative Director of Shay & Blue
Born and raised in London, I grew up in a bilingual British-French family surrounded by rich cultural references and classic fragrances. As a child I was surrounded by the great French fragrances in my grandparents' Kensington flat. I remember my grandmother and grandfather wearing Mitsouko, Apres L'Ondée, Jicky, Cristalle, Pour Monsieur, Eau Sauvage and Caron Pour Un Homme, to name but a few. I majored in English and French literature at Oxford University, and then spent my twenties living in Paris, creating for Lancome. I moved on to work at Chanel for many years, in London, Paris and later, New York City. I was one of two people behind the concept for "Les Exclusifs de Chanel", and worked on the creation of the line with Jacques Polge and Christopher Sheldrake. I worked for Jo Malone London for several years, replacing the founder Jo Malone and her husband. I set about reinvigorating the brand by setting a fresh new creative vision and employing talented nose, Christine Nagel to create fragrances like Cologne Intense for the house.

Dom named the Company after his Grandmother Grace Shay and his favorite color-blue
One day I woke up and, as if from nowhere, all the elements of my past came together as he had an overwhelmingly strong vision to create a new perfume house that would marry great classic fragrance constructions with a contemporary modernity. Everything that is old and beautiful is new again. Turner, Picasso and Matisse understood this. That in order to do something that is new, and great, first you must understand what came before you. For them, that meant understanding the masterly way that Dutch art masters used paint to create stunning effects of light and dark. For me, as Creative Director of Shay & Blue it means understanding the achievements of the great perfume masterpieces of the past – so that you can then reinvent them for the future, for the modern world.That is why I believe that great fragrances today must stand on the shoulders of the giants that came before them. I believe that this is true when you are creating anything. Great artists and writers have always known this… you must understand the genius in past achievements before you can move forward.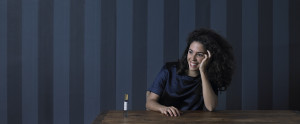 Julie Massé studied under Master Perfumers Christine Nagel and Pierre Bourdon
It means that a large part of the way I work is through conversation, dialogue or "an exchange" as the French like to say. So Julie Massé, the Shay & Blue perfumer, and I are constantly engaged in an exchange of thoughts and ideas. A really rich creative process is a dialogue between people with something interesting to say. Backwards-forwards as a kind-of rhythm is our unique way of creating.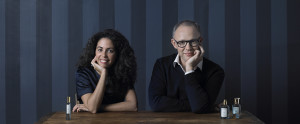 Dom DeVetta and Julie Massé
Literally, Julie and I are constantly travelling backwards and forwards on the Eurostar, between London (where I live) and Paris (where she lives). But there is also a back-and-forth duality in what we say and the ideas we exchange – man/ woman, experience/ youth, old/ new, classic/ modern. Exchanging viewpoints and ideas with Julie is essential.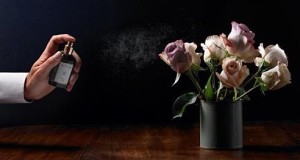 As a team, we talk in depth about the great fragrance classics and how to modernise them. We unpick their greatness, we deconstruct them, admire their constructions, but then we flip them over into reimagining how to modernise some of those principles and ideas. Many of the old masterpieces from the 1920's, 30's, 50's are unwearable today, too old-fashioned. But still incredibly beautiful… so the question for us becomes can you reinvent and reimagine them… refashion their extraordinary beauty in a modern, interesting way? What we are not about is "Shock", that whole vogue for saying "I am going to shock you by offering you the smell of bodily fluids and cigarette ash", it seems so gimmicky to us, so hollow and empty… we are interested in looking at what makes something an extraordinary beauty, a real masterpiece.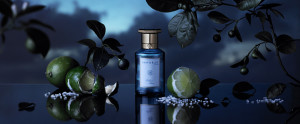 Shay & Blue Sicilian Limes
The other thing that is instinctive for me in the way that I work is a sense of the visual. I am guided by a richly decadent aesthetic. I am interested in talking about construction. Layers. But mostly I talk in the language of the visual, of light and dark – I am a very visual person. I paint.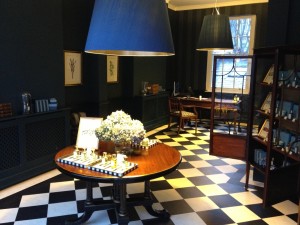 Shay & Blue London Boutique located 80 York Street, Old Marylebone London
While my language is visual, Julie's is smell – and the marriage of the two works well. For some time I've had enough of minimalism… you know, that minimal open-plan loft-type aesthetic, it is so over for me. I think the next generation wants richness, depth of colour and texture – this strong, personal view or impulse is something then that Julie and I try to translate into scent, it's something she and I talk about a lot.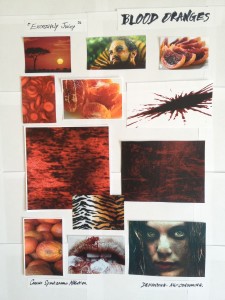 Concept Board for Blood Oranges
What does that mean, concretely? It means employing concepts and words like "visual", "painterly", "texture", "light" and "dark" when talking with Julie. It also means I bring a lot of pictures, imagery to our working sessions together. Big influences include the painter Turner, Dutch masters and their use of light and dark, 18th and 19th century visual influences. I think you can see this in our work. Blood Oranges has a colour, obviously, but also a sense of duality, both visually in its imagery, but also in the fragrance itself where you can smell the light and the dark.
Concept Board for Atropa Belladonna
Similarly Atropa Belladonna is purple-black dark, with the merest flash of light like a dark Dutch canvas from the 18th century. I started painting in oils when I was eight years old, it is a big part of who I am.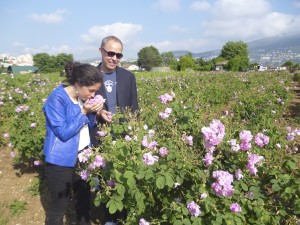 Dom and Julie in Grasse
I think a few strong things come out of our collaborative creative process. One is a respect for traditional skills. We champion handcrafted methods, both in Grasse and in England. If your entire philosophy is that you want "to stand on the shoulders of giants" then it's hard to do this without high-quality ingredients and production methods. So wherever we can we use the best naturals, the same May Rose from Grasse that has been used in fragrances like Chanel No .5, Grasse jasmine, white narcissus, finest citrus oils from Italy. And, back in England, mixing and macerating by hand, maturing the scents in vats for over three months, and then pouring and filling by hand. This is the kind of stuff that just doesn't happen any more in the hyper-industrialised world of mass-production.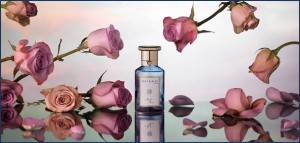 Shay & Blue Amber Rose
Another result of this creative way of working is that the notion of duality, or contrast, comes through strongly in everything we do. For example, Blood Oranges is both dark and fresh… Almond Cucumber both refined powdery and aquatic… Amber Rose both majestically floral and gently milky. The duality comes out in the look of the brand, too.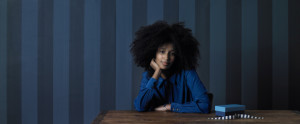 Julia Sarr-Jamois
Julia Sarr-Jamois is my creative muse for everything visual at Shay & Blue. She is an invaluable sounding board, just as when I was at Chanel I was used to Karl Lagerfeld's way of working by bouncing ideas off Amanda Harlech, the Chanel muse. Julia is so inspiring, she's 23, she's out and about in East London every night, she knows where it's at and so she helps me to sense what's coming next.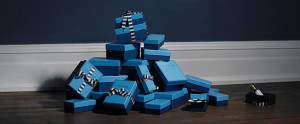 Shay & Blue Signature packaging
She has helped me refine the look of the brand, the boutique, the boxes, the ribbon.. and I think the result reflects some of her exquisite style, a sense of the old and classical being new and exciting again.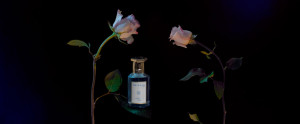 What has finally become clear for me with experience is that your way of working is everything. In a world of mass-produced, tacky, samey "stuff" you have to work with your heart and your soul if you want to create something beautiful and worthwhile.
Shay & Blue Photos copyright
Dom De Vetta, Creative Director and Founder of Shay & Blue London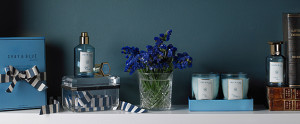 Editor's Note: CaFleureBon announced Shay & Blue's new fragrances and candle line the day Dom opened their Boutique in Harvey Nichols, February 25, 2013. Dom DeVetta is working 24/7 establishing the brand with minimum staff. After his tenure with global companies such as Lancome, Chanel and Estee Lauder (parent company of Jo Malone London) this is an enormous endeavor. With his vision and drive, there is no doubt that one day ,in the not so distant future, Shay & Blue will be an internationally lauded brand.
–Michelyn Camen, Editor In Chief
Thanks to Dom we have a reader's choice draw for a 100 ML of one of the six natural spray fragrances, all are hand crafted and made in England with real flowers, fruits and spices and are offered on www.shayandblue.com: Attropa Belladonna, Blood Oranges, Amber Rose, Sicilian Limes, Suffolk Lavender or Almond Cucumber. To be eligible please leave a quality comment about what you learned and found fascinating about Dom DeVetta as Creative Director and be sure to include your choice of one Shay & Blue perfume should you win.
Please LIKE CaFleureBon Creative Directors in Perfumery on Facebook and your comment/entry will count twice.
The draw closes April 4, 2013.
We announce the winners only on site and on our Facebook page, so Like Cafleurebon and use our RSS option…or your dream prize will be just spilled perfume