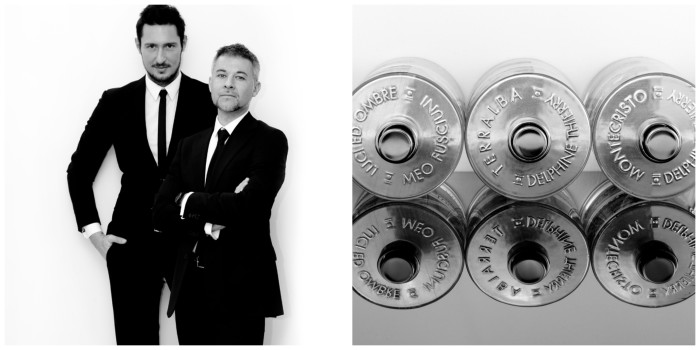 Riccardo Tedeschi and Alessandro Brun Masque Milano Fragranze
Riccardo Tedeschi and I are the founders and Creative directors of Masque Milano. We think that the best way to introduce the concept of our Masque Fragranze line we have to introduce ourselves first.
Alessandro Brun: I was born and raised in Milan. As a child I loved listening to music and writing poetry with my mother. I also spent long hours watching my father – a glass-blower artisan – in his workshop, creating enchanted artefacts in blown glass. I am really grateful to my parents, inherited his parents' intellect and artistic skills and educated me to find gratification from manual work. The first smells I remember are the essential oils my mother would add to her potpourri – she was particularly fond of Italian lavender and bergamot – the bathroom of my grandfather, with that characteristic smell of the intense fougeres he would wear all the times, and my grandmother's orchard, where she would send me to pluck the spices for her "arrosto" (Italian-style roasted veal). I am really glad I have scented memories that will always remind me of my beloved ones. In 1995 I had the chance to spend a year of study in England. That was an experience that changed my life forever. I fell in love with the land of Albion, its climate, pubs and Gothic literature. On returning to Milan I earned a PhD in Management Engineering at Politecnico di Milano, where now I am Associate Professor. I have been invited to deliver lectures in several countries – the United States, China, Russia, Iran, Japan, Thailand, to name a few. Traveling provided me a broader global experience. My main academic research focus is on luxury goods, and in the past 15 years I had the opportunity to collaborate closely with companies such as Lamborghini, Gucci, Bulgari, Cartier.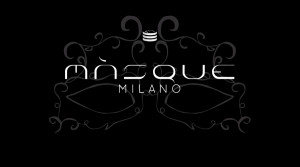 My aspiration has always been to create a company from scratch. To get first-hand knowledge of the Italian artisan heritage, I personally embarked in some manual works, exploring leather first – learning the technique of saddle-stitching – then moving to goldsmith's art, resulting in designing and creating handmade jewellery. After such personal experiences, I got even more convinced that each workshop has a heritage of priceless knowledge, which must be preserved and utilized … the world ought to experience the excellence of the Italian make.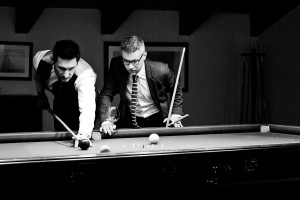 They also like playing pool!
Riccardo Tedeschi: I was born in Assisi, a middle-age burg between Florence and Rome. I grew up in the heart of this Italian countryside until the age of 25. Passionate about visual arts, literature, music and mathematics, I studied classical guitar at the Conservatory of Perugia and then earned a master's degree in Electronic Engineering from the University of Perugia. It was a lovely summer evening in Florence when I met an Australian girl named Natasha. It didn't take too long before she convinced me to follow her to Melbourne and enrol at Monash University. In Australia I discovered the exciting world of perfumes: Natasha's appointment at MOR Cosmetics revealed me a new fascinating and unexplored dimension. I understood I found my inspiration and my path. Returning to Italy, I moved to the bustling city of Milan where I worked as a consultant. My first client was the French group "LVMH parfum et cosmetique", and the project provided me the opportunity to understand the operations of prestigious perfume brands such as Dior, Guerlain, Kenzo, Givenchy and Acqua di Parma. In the same period, I earned a Masters Degree in Business Administration from the Business School of Politecnico di Milano and I met Alessandro, an eclectic and young professor who soon earned my respect and admiration. The friendship between Alessandro and me grew strong, and our shared passion for art and perfumes encouraged us to establish our own Maison, free expression of creativity.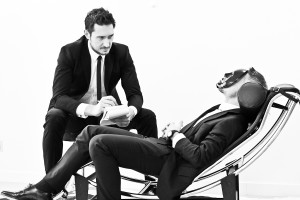 The student analyzes the teacher
Alessandro: Riccardo was a brilliant student, and during the lecture breaks he would often ask me questions on how to set up a new business in luxury perfumery. There was immediate and profound empathy between the two of us. Ever mindful of the African proverb: "If you want to go fast, go alone. If you want to go far, go with others", we soon resolved to embark in a business venture together. MASQUE was born on April 1, 2010 with the headquarters in Milan. The beautiful rapport between me and Riccardo allowed us to ground our enterprise upon solid principles. The first and most important principle is to "be passionate". "Do what you like. Like what you do." This is why we started it all.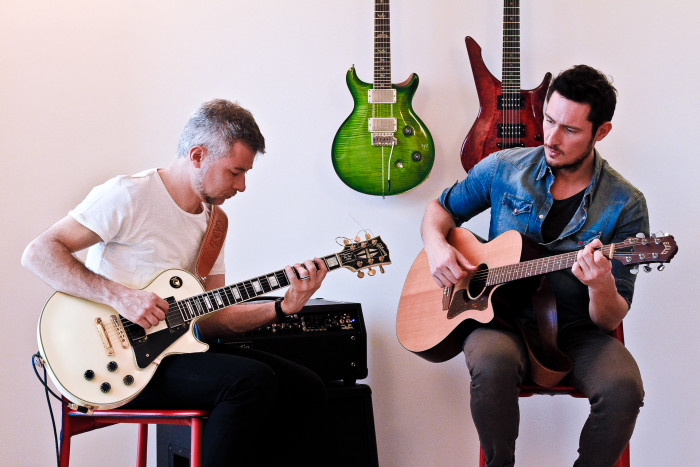 Alessandro and Riccardo jammin'
We share the passion for fragrances, design, music and craftsmanship, so we created something that would allow us to express all of our passions at once. And if there is something that we don't like, we just don't do that. We don't pursue short-term profits, as this would inevitably force to compromise with quality, to reformulate or to cut other corners.
Riccardo: Another guiding principle is to be sincere . Do not pretend to have what you have not. Do not pretend to be what you are not."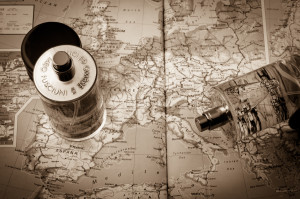 Profumo not Parfum
Committing to earnestness has relevant practical implications: …if our company were established in 1975, we would not switch the 9 with the 7 to make our house look older – just, say, because our ancestors had (an-altogether-different) family business. …being an Italian company, we don't convey the message that we do "haute parfumerie française".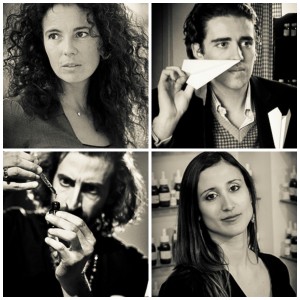 Upper Right Delphine Thierry, Julien Rasquinet; Bottom: Meo Fusciuni, Cecile Zarokian
…as we are not noses, we do not use "shadow perfumers". We are conscious of the relevance of the nose's contribution in the creative process. Mastering the knowledge of thousands raw materials and skillfully weighting them in the perfect proportions is a skill that only comes with long years of study and application – nobody can't just do that in his/her spare time, concocting in the living-room of their apartments, or in the back-office at the company.
…if a perfume brand employs aromachemicals, or other synthetic molecules, should just plainly admit that. A company should never claim it uses only the finest natural ingredients when it doesn't. It shall not claim that its perfume contains a certain rarest and outrageously expensive material – like oud, ambergris, musk tonkin etc. – when it doesn't.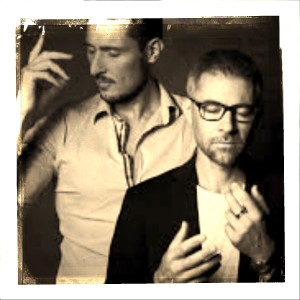 Riccardo Tedeschi and Alessandro Brun (Facebook) re imaged by The Silver Fox
Alessandro: We endeavor to always "be ethical". We pay our suppliers on time, every time, as we would like our customers to do with us. We respect nature and scarce resources. If one of our customers has a problem with our products, we never focus on whether it was our responsibility; rather we work with the client to solve the problem in the effective way. We abide by our pledges, and don't make promises we cannot honor. "Always be gentlemen."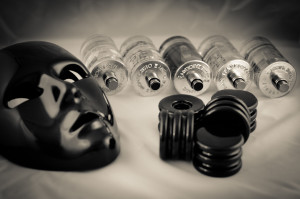 Riccardo: Whatever Masque Fragranze is, we definitely are "part of it". Admitting to be the Creative Director, rather than a single-handed, do-it-all independent perfumer, is not something to be ashamed of. There are specific professionals – besides the nose – which need to be giving their paramount contribution to the fragrance creation process. But playing a minor role in the fragrance creation process is yet another big mistake to avoid – just submitting a telegraphic, quite dry and anonymous brief to several fragrance companies, being cold and detached – let alone being totally absent – during the elaboration of the brief, letting them do the whole job, and just awarding the production to the company with the most appealing sample (or lowest price/kg formula?).
That's why we take so much care in selecting the right nose. Clearly explaining the brief and working together in order to find out the most appropriate raw materials. Pondering on the first accords, fundamental to "create the mood". Fine tuning the creation, discussing untold variations. Being satisfied only when obtaining the perfume that perfectly represents the olfactory scene we imagined.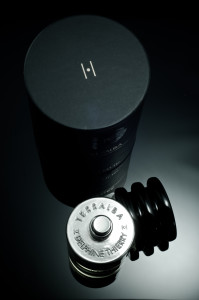 Terralba by Delphine Thierry
Alessandro: Me and Riccardo keep repeating to one another that we always have to "be consistent". We picked our own style and made sure that the whole collection be an unwavering expression of this style. This is oh so simple as "we are part of it". Our perfumes simply tell what we are.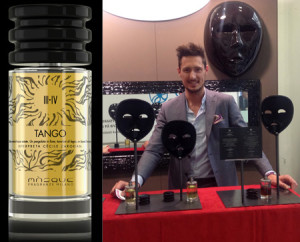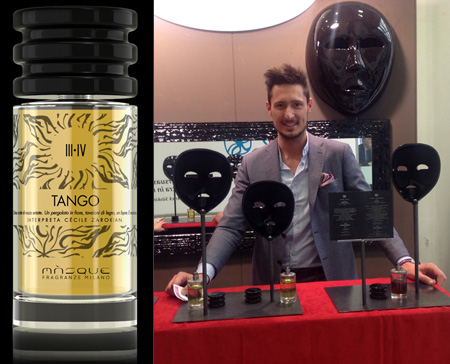 Tango/ Riccardo Tedeschi Esxence 2014 (Photo: Tama Blough)
Compare, for instance, Montecristo and Tango. Delphine Thierry and Cécile Zarokian have two almost opposite personalities, had apprenticeships with different masters and as a consequence their olfactive signatures are quite different. Yet in so many occasions there were perfume lovers that, by smelling Tango, recognized the "Masque signature". We are always very proud to hear that, because we really believe there is such a signature.
Riccardo: Another peculiarity of what we do is the determination of being "recklessly brave". "Do not be afraid to dare." We don't want to stay on the beaten track. We do not chase market's tastes – lest we would end up by doing something dull, unremarkable, without character. We keep repeating this to our noses, until something unprecedented, surprising, almost unexpected comes out. These are the moments in which smelling a mod just sprayed on a mouillette is an epiphany. Only then we know the creation process is finally over.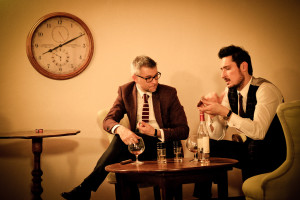 Alessandro: We grew up in Italy, a land with a humongous artistic heritage, educated to recognize and appreciate the beauty of things and to "pay attention to details". Design and materials. Words and colors. Every minutest detail declares how obsessed we are with the smell as well as the other senses. Also packaging matters. No matter whether minimalist or opulent, retro or hyper-modern, defining the design of the package is an important step in the creation of a single fragrance or a fragrance line. In this case, we do not share the conventional wisdom not to judge a book by the cover. We believe that every true masterpiece should be kept in an appropriate shrine.
Riccardo: One priceless value we both inherited from our parents is to "be humble". The world is full of incredible people. As passionate as we are. They pursue their own avenues – not necessarily something we would do. This is why we always respect the toil of others. We try and never criticize, accepting different viewpoints: in diversity there is richness. When we are listening to anybody, we listen with interest and an earnest belief that we can learn something from them. You will. "Learn to see."
When we are wrong, we just plainly admit it. We learnt a lot from our mistakes.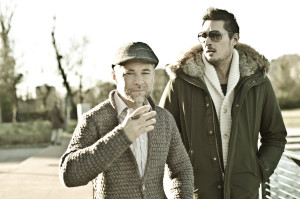 Alessandro: We must admit we are quite "stubborn". And we do not consider this a weakness. Sometimes things are not going as expected. We don't give up at the first failed attempt. Maybe it is not us. Maybe it's them who did not understand. Maybe it just wasn't the right moment. Or somebody that doesn't want this to happen, as it would unsettle their status quo. But if we really believe that our idea is the right one, we go on. Sooner or later we will succeed.
Riccardo: There is an attitude that is quintessentially Milanese: "be ambitious". With our perfumed opera, we aim at creating the best perfumes in the world. More than that. We are experiencing an unprecedented era in the history of perfumery. A revolution is taking place, made by a new awareness and a larger-than-ever number of connoisseurs, parfumista communities and smelling events, trainings and books, encyclopedic perfume reviews, a flourishing of indie perfumers… the sense of smell is gaining the well deserved attention. A new chapter in the book of perfumery is being written right now. And we want to be a part of it.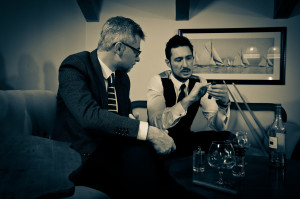 Alessandro: In order to put all of the above values into practice, just another attitude is needed: "take your time". Lofty ambitions require great efforts, a well-conceived plan, and – most important – time. We started working on the current fragrance line well before establishing our company. We had to find reliable suppliers first. We tested them on a simpler product line. Then we had to develop our own method. To find the right noses. And to work with them, side by side, on every step of the creation process.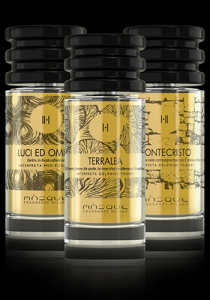 Luce Ed Ombre, Terralba and Montechristo
The first two fragrances were already in progress; Terralba (Act I, Scene I) Montechristo (Act I. Scene II) were launched in early 2013 a third fragrance, Luci et Ombre in late 2013 (Act II.Scene I) later that year. In 2014, Tango (Act III, Scene IV) and Russian Tea (Act I. Scene III) we now have 5 fragrances in the line. We plan to complete the "opera" with around 16-20 fragrances, and it will take us probably other 6-8 years to complete such an undertaking.
Riccardo: People we encounter often ask us why we took the inspiration from the "Opera". We both are Italian as can be… Enjoying la dolce vita. We often decide to work on a fragrance, or on the design of a new pack, in a restaurant while dining, rather than sitting in the office for long night hours. Not so long ago, we were in Rome for the launch of Russian Tea. After the event, we had to discuss about a new fragrance and – being a warm autumn night – we decided to do that while strolling. Serendipity brought us to the Pantheon. We went on discussing business, standing in the cobblestone, that magnificent building standing mightily in front of us.
In the centre of the square, a lady sitting on a stroll was playing traditional tango pieces with an accordion. The music was fascinating us. We remembered what many a foreign friends told us: you are lucky as you had the chance to grow up in an open-air museum. Couldn't they be more right? Soaked in our tradition of art and architecture, music and ballet, whatever we do now reveals our origins. We are both musicians since more than 20 years, we collect musical instruments and love to go to "la Scala" (Milan Opera House). When we started developing Masque Fragranze, it came so naturally for us to develop a concept around a form of art rooted in Italian culture and tradition: the Opera. What makes a fragrance a masterpiece, but the power to evoke olfactory memories? A fragrance line, then, really is a collection – rather than a bunch of fragrances under the same brand – when the different olfactory memories are linked by a common thread. "Like acts and scenes in an Opera."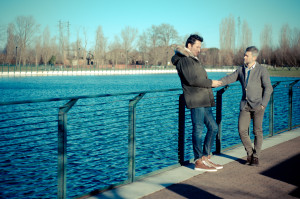 Alessandro: One of the most important part of our role, as creative directors, is the interaction with the perfumers, so we think it is important to explain how we work with noses. In our professional activity, we often meet new and emerging noses. Sometimes we are attracted by the creation of a still unknown perfumer, and we try to imagine whether his/her creations would fit with our perfumes line. We never submit a "brief" to an unknown nose. More than that, we do not believe in the concept of "brief". What we do is to "scout" the right nose, the one that will be the best possible interpreter of one of our olfactory scene. Hence, the journey for the creation of a new fragrance starts with a sort of "interview" – or "casting" – to the nose. We visit the artist's lab, we listen to the tale of his or her personal life and professional experiences, we try to understand his/her signature approach to perfumes concoction, and then we ask him/her to guide us in the smelling and understanding of his/her olfactory opus. If, after this "casting" process, we are convinced that the nose before us fits with our philosophy, we proceed by describing our visionary project, offering a collaboration, appointing him or her to the creation of a new fragrance – that of the most appropriate scene.
In our casting for the noses to interpret our scenes, we do not search for the ultimate technically talented skilled professional. It is empathy and passion that we seek. The ability to be deeply involved in the project, understand the brief, feel completely immersed in it, to the point that the creation of the perfume should came naturally at a certain point – without following any predetermined technical rule.
Riccardo: Well, we told you the founding principles of our company, why we created a line focusing on the concept of Opera and how we work with noses. I guess it's now time to say goodbye. Not before creating a little bit of anticipation on what will come next, though!
You certainly would have noticed that we opened the third act with Scene 4 – the passionate dance (Tango). Of course, there are 3 scenes preceding the Tango. The third Act is the one of "sentimental relationships". We are working on three pivotal moments of a sentimental relationship. What we can reveal now is that 4.1 will be "L'Attesa": those last moments of solitude when you are waiting for the arrival of your soul-mate, while 4.2 is "Innamoramento": a beautiful Italian word that cannot be plainly translated as "falling in love". Innamoramento is whatever you feel during "the fall"… your senses are amplified and also the sense of smell is providing lofty thrills. 4.3 is a scene of passion and decadence.
Allesandro Brun and Riccardo Tedeschi, Creative Directors for Masque Milano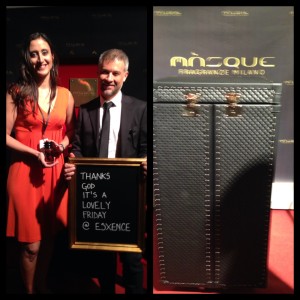 Photo Masque Milano "Thanks God It's a Lovely Friday @ Esxence 2015 Michelyn
Editor's Note: Masque Milano was both the Silver Fox's and my choice for best Niche House of 2014. Cecile Zarokian was Best Perfumer for 2014 (along with Vero Kern) Russian Tea (Julien Rasquinet) and Tango were both in our Top 25. I met both Alessandro and Riccardo at Esxence in Milan and they are both passionate and dedicated to the art of fine Italian Profumi. Each cap on every perfume bottle bears the perfumer's name, which is a testament to their commitment to shine a light on the noses whom they work with; Delphine Thierry, Julien Rasquinet, Cecile Zarokian, and Meo Fusciuni. I also was able to spend some time again with Cecile Zarokian who was the first to be featured in our Young Perfumer Series; I met Cecile several times at the Elements Showcase in NYC previously.Thank you Alessandro and Riccardo for the pecial candid photos of you both playing pool, smoking cigars, Riccardo as Dr Freud just for this article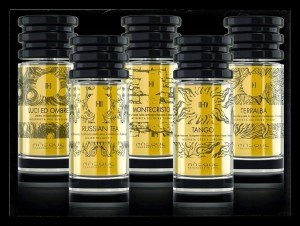 Thanks to Alessandro Brun and Riccardo Tadeschi we have a world wide draw for any 100 ml bottle of Masque Milano Fragranze of your choice Montechristo, Terralba, Luci et Ombre, Tango or Russian Tea. To be eligible please leave a quality comment with what you found fascinating quotes or what you learned about Allesandro Brun and Riccardo Tedeschi of Masque Milano Fragranze and where you live. Please leave your choice in your comment
Please LIKE CaFleureBon Creative Directors in Perfumery on Facebook and your comment/entry will count twice.
The draw closes April 13, 2015.
We announce the winners only on site and on our Facebook page, so Like Cafleurebon and use our RSS option…or your dream prize will be just spilled perfume