Left to Right: Mother and Child Paintings Diego Rivera, Pablo Picasso and Katie M. Berggren
"A mother's heart is a patchwork of love." ~Author Unknown
Chances are, shortly after you arrived on this planet, you were placed into your mother's arms. Your first breaths of life were filled the scent of your mother's embrace: her chest, her hands, her hair, her tears. This is the perfume of a mother's love.
To celebrate Mother's Day, we reached out to some of the most passionate and creative professionals in the fragrance industry and asked them to reflect upon and share about their moms. Did she influence their creative process? Did she contribute their success? What does their mothers' love smell like ?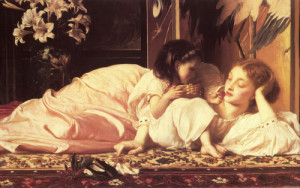 Mother and Child by Frederic Leighton
Roja Dove, Perfumer and Intl. Ambassador of Great Britain- Creativity: "My mother was extraordinarily supportive and always told us, 'We should follow our hearts.' I was supposed to go into a different world than the one I've ended up in, but mother also felt that we must do as we should. So, when I was a young boy, maybe 13 or 14, going out and buying bottles of perfumes, my mother might have thought that a little strange, but she never stopped me. She always encouraged me. I think that often parents don't understand how the smallest of gestures alter your life forever. And certainly this one goodnight kiss my mother gave me, I have no doubt, is what put me on the path I live today. I am always very, very proud to say, 'I am my mother's son.' "
Sergio Momo, Founder and Creative Director of Xerjoff: "My grandmother was gifted by an admirer of hers a gift box with an extract of Andrèe Fraysse's Lanvin Arpege and body powder I believe. Many years later, my mother kept the half empty Arpege flacon for herself for playing and later in life for collection. Since, I remember my mother has always kept a flacon of Arpege in her bedroom so I guess this is the scent which more reminds me of my mum, (that said, she is now wearing Casamorati Fiore d'Ulivo, Lua and JTC Fatal Charme). Arpege, although still a wonderful aldehydic floral perfume, according to my mum has slightly changed its formula (unfortunately like many other masterpieces). That on a side, I love its full elegant floral oriental character, full sillage and personality. A special day perfume as I remember, my mum did not wear it every day, but only on weekends and special occasions during winter time. Chanel No.19 and Mitsouko were her perfumes for the warm months."
John Pegg, a/k/a Kerosene, Perfumer House of Kerosene: "My most vivid memory of the scent of my mom has to be when she and my dad would go out for the night. My brother and I were old enough to be left home alone and I just remember that fresh sprayed "perfumey" smell left by both of them. The scent trail from my mom was very light, but musky with lots of vanilla tones. I have no idea what perfume it was, but I'm sure it was a cheaper Kmart perfume as we were not well off financially back then. The scent is still pleasant as I can still smell those days even now. As far as this influencing me, I would say it probably hasn't for my current creations. But recalling that scent definitely helped when it came time that I wanted to create a scent just for her on her birthday this year. I combined tonka for a sweet musk undertone with notes of vanilla and anise, since she loves black jelly beans. I just love my mom!'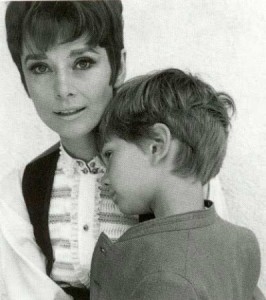 Audrey Hepburn and son Luca
Brent Leonesio, Founder and Perfumer of Smell Bent: "I've always thought my mother was incredibly glamorous. She had this big white closet off her bedroom when I was growing up and whenever she would go out for dinner, I would be filled with awe as she would emerge from it. Part of the glamour was the trail of her perfume. It was delicate and pleasing, it was grand and it was her smell. She has worn Paris, that triumphant rose and violet pop song by Sophia Grojsman, since 1984. And it is still one of my favorite perfumes. It will always remind me of her and those Saturday nights as I'd see her dressed up, looking and smelling like a movie star, on her way to adventure."
Ineke Rühland, Founder and Perfumer INeKe: "My mother, Annie Rühland, has always been an enthusiastic gardener, particularly of the floral variety. This has probably influenced my perfumery more directly than any fragrance she might have worn. I grew up with garden cuttings of lilacs, peonies and snapdragons in the house. Even in years that were financially-strapped (and there were a few), she would always find the funds for tulip bulbs. Now I have my own small garden, and grow many different scented botanicals as inspiration for my fragrances. My mother continues to exert some influence. A few years ago she was singing the praises of her "Winter Daphne" (Daphne odora), and so we planted two different varieties here. She was right … the scent is completely yummy. It has a saturated sweetness that's tempered by a citrus/fruity facet, and packs a real punch for its rather small, demure flowers. Maybe one day I'll figure out how to use it in a fragrance. She's always been my biggest booster. Thanks Mom!"
Victoria Jent, Perfume Blogger EauMG:"I come from a family with no interest in perfume. This means that I have no scent hang-ups or associations with certain signature fragrances. I actually like it this way. In a sense, I have an olfactory clean slate. Saying that, I do have scent memories that I associate with family members. My grandmother is one of my favorite people. She's a glamorous dame; I've never seen her without red lipstick. I may not have inherited my perfume obsession from her but I did inherit her style. We both have a love of animal prints, metallic leather and black cashmere. Other than being known for her glamour, my grandmother is best known for her cooking. You see, she is a natural born cook. And she has years of experience. My hobby is perfume. Her hobby is flavors. Those two hobbies often intersect. My favorite childhood memories include my time in the kitchen with her and our trips to Persian markets. The aroma of dried fruits, spices, honey…When I first sniffed Serge Lutens Arabie, I immediately thought of my grandmother. For me, Arabie is a memory fragrance. These days we live far apart, we still share recipes and of course, I frequently miss her. When I do, I generously spritz Arabie…"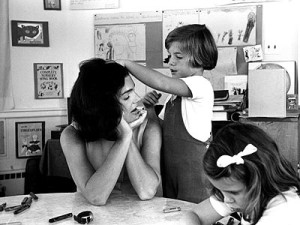 Jackie Kennedy with John-John and Caroline
Laurie Erickson, Founder and Perfumer of Sonoma Scent Studio: "My Mom does not wear fragrance often, so I associate cooking and gardening scents with her rather than a signature perfume. She bakes wonderful breads and cookies, and we always had some yummy aroma wafting through the house when I was growing up. Mom introduced me to gardening with scented flowers when I was young, so I now associate roses and sweet peas with her. She still has a garden full of flowers and shares homegrown bouquets with lucky me."
Josh Meyer, Founder and Perfumer Imaginary Authors: "My mother's perfume was Chanel No. 5 and Shalimar. Both of those perfumes smell very "perfumey" to me, which is exactly what I try and avoid when I make a fragrance. As much as I appreciate the classic feminines, I don't want to re-create them. I want to make something new to offer a new olfactory reward. When I became a perfume fanatic (prior to creating scents) finding frags which didn't smell like I'd grown up with, that was perfumey, was my number one criteria back then too. Now that I'm making scents, I feel like I have a broader spectrum of what non perfume smells like, but the theory is still very much the same."
JoAnne Bassett, Founder and Perfumer of JoAnne Bassett Natural Perfumes: "My Mother always wore Youth Dew. She wore all of the body care products with that scent also. Another favorite of hers was Evening in Paris, the old version from the 1950's. She started me on fragrance by giving me a gift set when I was 5 years old. She inspired me to create the full body care line of products with my perfumes. Now I only create them for the Custom Couture Perfumes I make."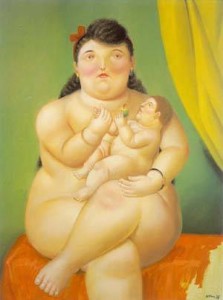 Mother and Child 1995 by Fernando Botero
Tanja Bochnig, Founder and Perfumer of April Aromatics Natural Perfumes: "Even though I do not wear or like synthetic perfumes, the one that always reminds me of my childhood and of my mom wearing it is Chamade from Guerlain! Now she wears my natural perfumes and her favorites are Unter den Linden and Rose L'Orange from April Aromatics!" And even though I do not drink coffee, the smell of coffee in the morning also brings me right back to "Mutti"… our house always smelled of fresh brewed coffee in the mornings and I love that smell…"
–Michael Devine, Senior Contributor
Art direction: Michelyn Camen, EIC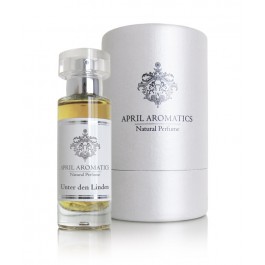 Thanks to the very generous Tanja Bochnig who is creating fragrant memories with her own daughter, we have a 30mL bottle of April Aromatics Unter den Linden to giveaway. To be eligible leave a comment on a scent memory of your Mom or perfume experiences you've shared with your mother. The draw ends May 13, 2013.

We announce the winners only on site and on our Facebook page, so Like Cafleurebon and use our RSS option…or your dream prize will be just spilled perfume.