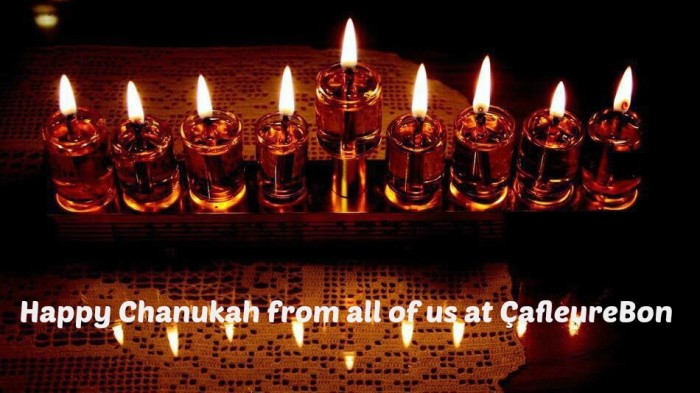 It's that time of year again when the menorahs come out we get ready for the next 8 nights of the annual CaFleureBon Chanukah (or is it…Hanuukah. Chanukka, Hannukah, Hanuka, Channuka, Hannukkah, Hanuka maybe it is Chaka Khan) celebration! Oh, the lovely memories of childhood it brings. It was something I always looked forward to with both anticipation and dread.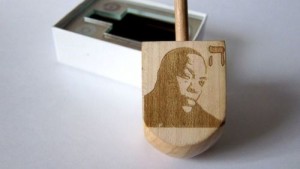 Where Hanukah meets Hip Hop..How about a nice Dr. Dre-idel
There is no easy way of describing my feeling on it, so I'll sum it up something like this…"Yay, presents!" followed by, "Ack, family time and boring old stories, get me outta here!" It was indeed a plight filled with delight. In my family it went and still goes like this; every night we would start by reading/remembering stories, prayers, eating, and then getting a present. Of course the first two were pretty yawn inducing, but, being a good boy, I participated half pretending I was interested. Frankly, all I cared about was the food and the PRESENTS! Hey, I gotta be honest here, people.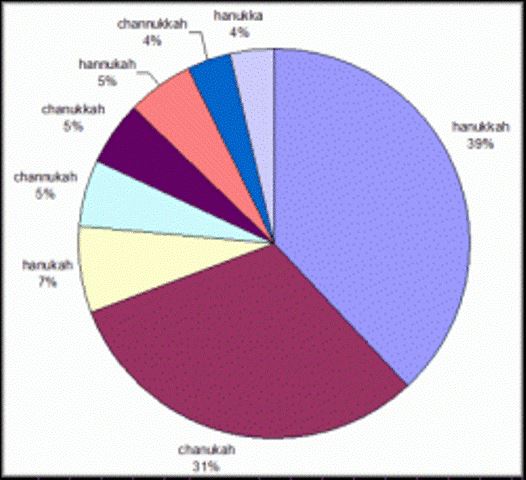 8 most common ways to spell the Holiday aka one for every night
So, every night we would go through it all and I would ultimately (read, finallllllly) get a present. There were, of course, the obligatory Gelt chocolates to start the gift giving -that would count as one gift-hip hip hooray. Then each night would pass and I get another…oh like…underwear one night and then socks the next. Of course, we all know how GREAT presents like those are…NEXT. It goes without saying, but in the back of mind all I could think was, "What about something I actually want? Hmmm, is that ever going to happen?" Let me tell you, the waiting was torturous for me AND everyone involved. See, the way my family did it was by saving the best for last. In other words, I had to wait all that time to get the main thing I hoped for. What was a boy to do? It was horrible! I would constantly have this little voice in my head saying, "Patience, Aaron, patience!" I really did try to listen to that little voice. I swear I did.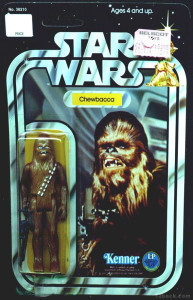 1983 Chewbacca toy
One year that sticks out is 1983. The one thing I wanted more than anything in this world was a Chewbacca stuffed animal from Return of the Jedi. Seriously, I wanted that thing so bad I could hardly stand it! I had to have it!!! I just had to!!! I raised a raucous and voiced my dismay every single night to everyone's annoyance (so much for the patience, Aaron, you greedy little twerp. Oy, did I just say that?). Anyway…when the final night finally came around, guess what I got. Yes, yes indeed, it was my Chewbacca stuffed animal! My parents and the Universe answered my little prayers! I was the happiest little boy in the whole world. Hooray for Chanukah, Hanukahh (there are eight ways of spelling it, now if you happen to be Jewish it makes perfect scents I mean sense)!
Star Wars the Force Continues… Can anyone buy Aaron Tickets? He really deserves them
Now I look back on it and find it funny that this year for Chanukah what I want most is tickets for my Dad and me to watch The Force Awakens and a Chewbacca stuffed animal for my son (a spoiled rotten Yorkie). Hahaha, its funny (and really miraculous) to think how everything cycles around. Yes, someway somehow in one way or another, it (the Holidays, the memories) all comes back around year after year bringing a smile to my face consistently.
So, in the gift giving spirit of Chanukah (no matter which way you want to spell it), we would like to present to you 8 nights of prizes and a Hip Hip Hanukkah video that sums up a lot of what I (and many others I am sure) felt growing up.
So, to close I and everyone here at ÇaFleureBon would like to say "Happy Chanukah and Happy Holidays to you all!" May the strife in our lives be brightened by the light of hope and the faith that all will be alright.
Oh yeah, and that we smell more fabulous than ever too…
-Aaron Potterman, Contributor and Vintage Perfume Expert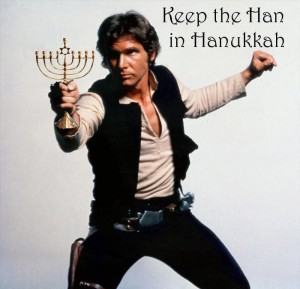 Harrison Ford is JEWISH (his mother, so that puts the HAN in Hanukkah)
Editor's Note: Our Eight Crazy Days and Nights of Hannukah have been a yearly tradition. Always music and perfume chosen by our team. 2010 and DSH Perfumes Hanukah Cannelle, Michelyn's Chanukah or is it Hanukah Featuring Adam's Sandler's The Chanukah Song 2011, 2012 Former Managing Editor Tama Blough's (We miss you) We Spell it Chanukah and Smellbent Lady Dreidel (featuring The Bare Naked Ladies Hanukkah oh Hannukah), 2013 Former Editor Nancy Lichtenstein Hanukah Hold em Rules set to swing and 2014 Former Natural Perfume Editor Einsof's SmellBent review of Gimel A Break ( Hey Brent ..keep those Hanukkah smellies coming). Hanukkah begins 12/6/2015 at sundown and ends December 14, 20015 Sundown.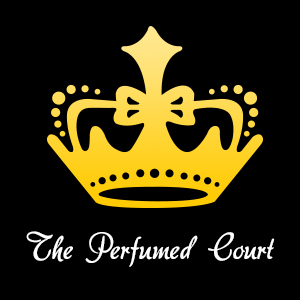 Thanks to Diane from The Perfumed Court we have a special draw… worldwide for a 8 ml (of course for any perfume on the site (excluding vintage) of the reader's choice. Remember you must be a registered reader to be eligible. Please leave a comment with what you liked about Aaron's personal reminiscence of Chanukah, how you spell Chanukah, where you live and your 8ml decant choice. Draw closes December 9, 20015.
We announce the winners only on site and on our Facebook page, so Like Cafleurebon and use our RSS option…or your dream prize will be just spilled perfume.