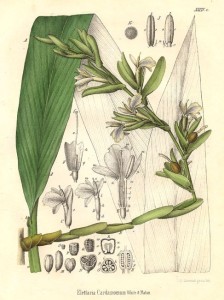 Cardamom Botanical Drawing (Otto Carl Berg & Carl Friedrich Schmidt, Leipzig, 1858-1863)

Cardamom is the Queen of Spices and has grown lavishly under the tropical canopy on hillsides in the Ghat Mountains on the Malabar Coast of southern India to be harvested by hand and shipped around the world. The cardamom familiar to India and the western world is called green cardamom and it, along with several other types such as giant cardamom, black cardamom, and bastard cardamom, have been used for cooking, perfumery, incense, and medicine since very early in history.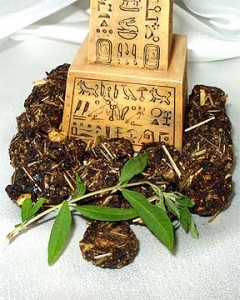 Kyphi incense
Ancient Egyptians used it frequently for perfume along with frankincense, myrrh, cinnamon and cassia, and had a recipe for an ointment called "Oil of Lilies" that included the scent from 1000 lilies. It is often mentioned as one of the ingredients of the ancient incense kyphi. Cardamom essential oil is one of the oldest essential oils known in perfumery and in the apothecary. Cardamom is the third most expensive spice after saffron and vanilla.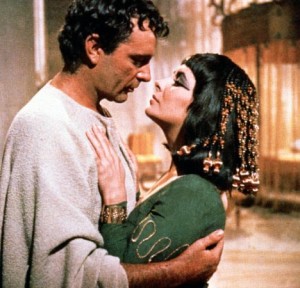 Waft Cardamom (like an Egyptian)
Why is cardamom called the Queen of the Spices? Maybe it is its association with queens. The large-leaved plant with purple and white flowers had a place in the Hanging Gardens of Babylon, one of the Seven Wonders of the Ancient World. The terraced garden was built by King Nebuchadnezzar for his wife who was homesick. Cleoptara burnt cardamom incense whenever Mark Antony visited.
Eletteria cardamomum is the popular green cardamom and has an exotic aroma with warm, spicy and highly aromatic nuances. There is an initial sharp camphor note, somewhat like eucalyptus, that quickly evolves to a sweet, spicy-woody, balsamic scent that can have lovely floral tones. It can be long-lasting in a blend and must be used with skill so that it doesn't overwhelm a perfume or add too much sharpness. The warmth and sweetness of cardamom can provide a lovely backdrop to floral perfumes such as muguet and rose scents. It also warms Oriental perfume bases, and is used in the heart notes of chypres perfumes. Although it is called the Queen of Spices, it is a favorite ingredient in masculine scents. Cardamom is available as an essential oil but there is also a solvent-extracted absolute and a CO2 extraction.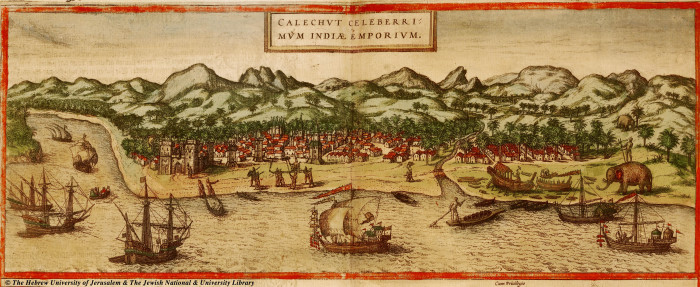 In the company of the King of Spices, black pepper, cardamom was an important commodity of the early spice trade that also transported frankincense, myrrh and other resins and precious aromatics. Caravans with as many as 4,000 camels would carry treasures of the East in the form of spices to markets in Babylon, Carthage, Alexandria, and Rome. Later traders would sail ships along the Indian Coast and through the Red Sea into Egypt and thus through the rest of the world. The Spice Route was second in importance only to the Silk Road and the spices it transported were often as valuable, or more so, than gold or precious metals. In addition to Arab and Portuguese traders, the Vikings discovered cardamom on one of their raids and brought it back to Scandinavia where they enjoyed it in festival cakes. According to The Economist the spice trade, founded on spices like black pepper, cardamom, cinnamon, nutmeg, cloves, and ginger, has been the foundation of the world economy's oldest, deepest, and most aromatic roots.
Cardamom plants require very warm and humid climates and are perfect understory plants for humid mountainsides. As a member of the Ginger family, they also have tall leaves, thick rhizomes and a unique flower. The flower stalk or panicle comes out from the base of the plant and in the Malabar variety will grow along the ground but there is also a Mysore variety that has vertical panicles. Cardamom plants will bear seeds in pods clustered near the ground and continue bearing for 10-15 years. The seeds need to be gathered at exactly the right time, if too early the pods will shrivel and if too late they will shatter. They are then dried, traditionally in the sun but sometimes by fire or in traditional hot houses. The pods are naturally green and, if dried correctly, will retain a green color. However, some markets prefer a light colored pod and producers will bleach cardamom pods to achieve a creamy or golden yellow color to the husk. Outside of India and Asia, Guatemala is a big producer of much of the world's cardamom.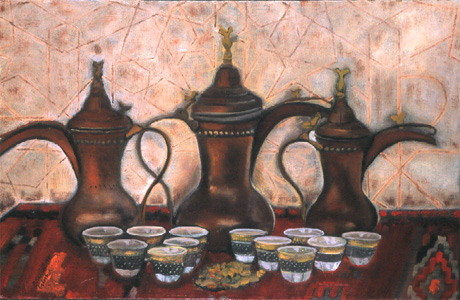 Gahwah is served to welcome guests in Arabic countries
The Queen of Spices is best used in sweet dishes such as pastries, cakes and baked goods; however it is often used in some meat dishes and curries where the spices are mild. It's an important ingredient in the spice mix garam masala. There is a Bedouin coffee called Gahwah that is made with freshly crushed green pods and often combined with mace, nutmeg, and/or saffron. In many Arabic countries, cardamom is symbolic of welcoming (traditionally male) guests; there is a ritual to making the coffee and cardamom is closely associated with hospitality. The green coffee beans are first roasted and powdered with mortar and pestle then the cardamom pods are broken and dropped into the pot with the coffee. Often the blend may be as much as half cardamom and half coffee or more. Its common use with coffee in hot climates reflects the belief in the cooling properties of the spice. It is believed that Arabs consume one half of the world's cardamom annually.
Cardamom is frequently used to aid in digestion, and is often consumed after a meal as a breath freshener and digestive aid; it may even prevent tooth decay . The seeds have a distinctive tingling feel on the tongue when chewed and a tenacious sweet aroma. Many people chew cardamom to freshen the breath and, in Sweden, it is thought to mask the residual aroma of too many alcoholic drinks. It's used in over 30 traditional Chinese medicines and is a famous Ayurvedic medicinal plant for digestive disorders, for detoxifying, stimulating the senses and may benefit those suffering from asthma or bronchitis.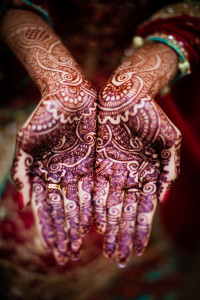 It is called Ela "golden grains of paradise" in Sanskrit and is mentioned in ancient Sanskrit texts, as well as during the Vedic period (about 3000 BC). Cardamom has been used for thousands of years for its sexual powers. It is known in many cultures to have aphrodisiac properties and is included in the ingredients to be poured in "the sacrificial fire on the occasion of a Hindu marriage ceremony." Asian cultures use cardamom as nature's Viagra- to cure impotency and premature ejaculation.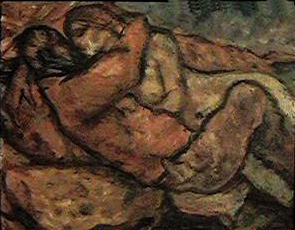 The 1001 Arabian Nights makes frequent reference to cardamom's use as an aphrodisiac . One might associate it with Venus but it is more closely allied with Mars due to its warming and stimulating effect. But it is Mars exhibiting a lighter, feminine side with sweet heat. It is frequently found in women's love charms, or perhaps more accurately 'lust charms'. Ancient Romans used cardamom to stimulate desire. Does cardamom sweeten the words of love and soften the heart of the other? Add some cardamom spice to your life and find out.
–Elise Pearlstine, Monthly Contributor
Art Direction: Michelyn Camen, Editor In Chief
For our draw we have selected 10 perfumed prizes that use cardamom in unforgettable ways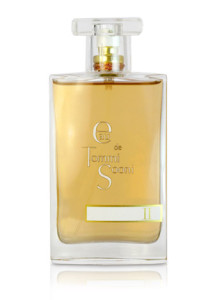 From Tommi Sooni-100 ml Eau de Tommi Sooni II- A floral oriental perfume with Elletaria cardamomum. "Cardamom combined with rhubarb create a sweetness and distinction in the opening of EdT SII. This is a very appealing combination and I doubt it could be replicated if the cardamom was substituted with a different ingredient"- Steven Broadhurst Creative Director ( EDT Tommi Sooni II is a winner of CaFleureBon Best of Scent 2011).
From the lovely Nasreen of Parfumerie Nasreen in Seattle 600 ml of Amouage Memoir Body cream Velvety smooth and delicately scented with Amouage Memoir for Women …the mystical chypre with top note of cardamom. Mars meets Venus. USA AND CANADA ONLY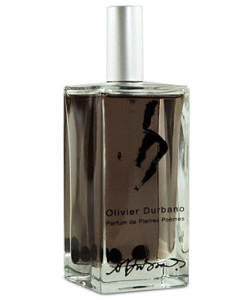 From Olivier Durbano 100 ml of Black Tourmaline perfume- Olivier's third rock poem wafts sweet cardamom and smoky frankincense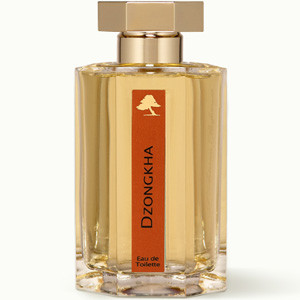 L'Artisan Parfumeur 100 ml of Dzongkha Bertrand Duchafour's homage to the Himalayan town of Bhutan, between India and China. Chai tea and Cardamom rests on a stone notes of iris and incense.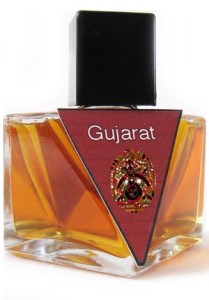 Ellen Covey of Olympic Orchids Artisan Perfumes created Gujarat with an overdose of green cardamom oil from Elettaria cardamomum, from Guatemala. 30ml of exotic tropical flowers and resins. A Bollywood Extravaganza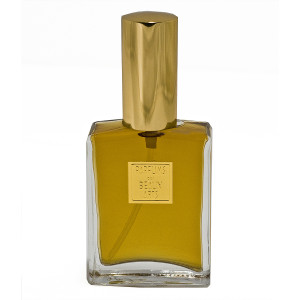 Dawn Spencer Hurwitz of DSH Perfumes created fragrances for the Denver King Tut museum exhibit in 2010. Kyphi & Cardamom is worn by both men and women and evokes the ancient incense of the Pharaohs. Cardamom Co2 and cardamom seeds 1 dram mini flask bottle.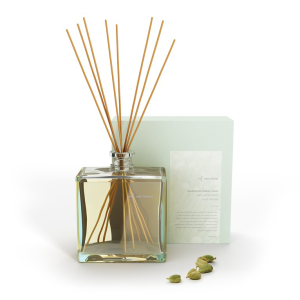 From our friends at redflower and owner Yael Akalay, the newly repackaged 13.5 oz Intensely Scented Organic Diffuser in Cardamom Amber is a honeyed resinous scent that wafts for nearly a year. Cleopatra would approve..Antony too. MC's favorite winter home fragrance. ALL NATURAL— USA AND CANADA ONLY
From Tallulah Jane Halona ALL NATURAL body oil with certified organic cardamom from Sri Lanka. Ginger and spice, naughty and nice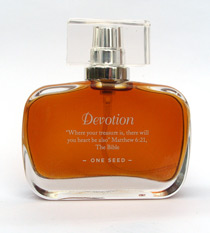 From One Seed Company 2 x 5ml of ALL NATURAL Devotion A Spicy Floral gourmand with CO2 Extracted Cardamon ALL NATURAL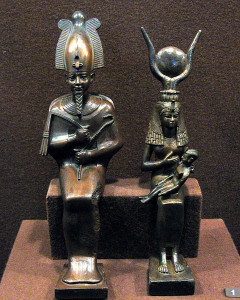 Osirus and Isis (holding Horus)
To be eligible for our draw, please leave a QUALITY comment on what you learned about Cardamom in perfumery along with as many of the 10 you would like to win (One choice must be all natural AND make sure you meet Country specifications on Memoir Body Creme and redflower Amber Cardamom organic diffuser). Draw closes January 13, 2013.
We announce the winners only on site and on our Facebook page, so Like Cafleurebon and use our RSS option…or your dream prize will be just spilt perfume.