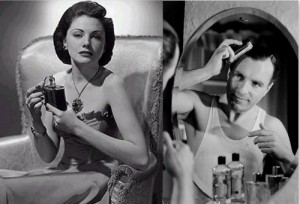 2012 was a year when 1000 + new fragrances were launched worldwide. Managing Editor, Mark Behnke tested 483 new perfumes this year and I tested 520. There were weeks when we felt like Lucy and Ethel at the candy factory struggling to keep up with a conveyer belt of never ending samples of new fragrances. Are we jaded, tired and dreading 2013? Surprisingly no. There were many standout scents this year, but for me the year will be memorable for perfume people more than the perfumes. Social networks and scent events helped create a global community. Our best friends in fragrance were often folks we never met but felt like family, sharing samples and sending decants to Facebook friends throughout the world. Information and access had never been easier. We began to think and talk about fragrance in new ways.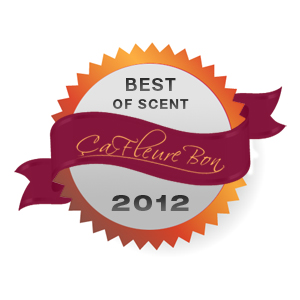 Mark Behnke, is a human scent blotter. And me? Perfumers have been known to say, "we love you but can you leave the room, you are scaring people". We have such different skin chemistry you would think our Best and Worst lists of 2012 would be wildly different. As you will see they are not.
–Michelyn Camen, Editor in Chief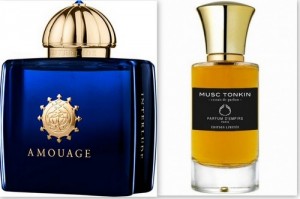 Amouage Interlude for Women and Musc Tonkin
Fragrance of the Year
Michelyn: I agonized over this category this year. It is unusual for me to vacillate, but it is this indecisiveness that brought me to Amouage Interlude for Women, a strangely beautiful, sometimes jarring perfume that is a work of incredible intricacy by perfumer Karin Vinchon Spehner. Is it a floral chypre, a gourmand, a wood or spice perfume? It depends on the moment you place your wrist to your nose, as this scent defies categorization and affects me on a deep emotional level. And that is what great perfumes do. Interlude for Women was created "as a reflection of all the trials and tribulations one overcomes to attain personal satisfaction and achievement." It was very much a mirror of the world we live in.
Mark: Interlude for Women was on my short list for Fragrance of the Year but it lost out to Parfum D'Empire Musc Tonkin. Marc-Antoine Corticchiato has created one of the most amazing musk fragrances ever and he did this without using a single bit of actual musk. The accord created here is something truly special and I believe Musc Tonkin is going to be one of those sought after perfumes as the 1000-bottle limited edition is already almost sold out. Musc Tonkin is mostly for those who love musk but if you are a believer in the magic of olfactory art Musc Tonkin needs to be on your sample list.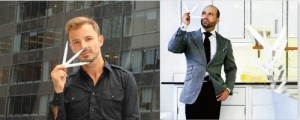 Jerome Epinette and Rodrigo Flores-Roux
Perfumer of the Year
Mark: Jerome Epinette really made his presence known this year as he did three fragrances each for Atelier Cologne, Byredo and Luckyscent plus NEST Fine Fragrances Midnight Fleur. Each perfume he created hewed to the aesthetic of each brand but all of them had an uncanny ability to illuminate new aspects of notes I thought I understood well. For taking me to school all year Jerome Epinette goes to the head of the class.
Michelyn: Jerome had an exceptional year as did Ralf Schwieger, but I selected Rodrigo Flores-Roux who deserves to be honored as the "Global Ambassador of Fragrance". He is a wealth of knowledge (his friends call him Rodripedia), remarkably intelligent, articulate, charming, passionate and he represents all that is great in Contemporary Perfumery. Boutonniere No. 7 for Arquiste, No. 2 Modesty for Six Scents, Tom Ford Private Blend Jonquille de Nuit, and Lys Fume are all splendid and showcase his deft hand at creating memorable florals. Rodrigo has been creating fragrance since the late1990s, and is the only Latin American Master Perfumer. When he mentioned he puts a little bit of Mexico into every perfume he creates when talking about constructing the gardenia accord for Boutonniere No. 7, it hit me…this man is my hero and instead of a gardenia on his lapel I would like to pin a medal.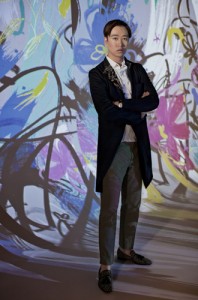 Creative Director of the Year
Michelyn: When I began my series, Creative Directors in Perfumery there was no doubt who I wanted to feature first… Christopher Chong, Creative Director for House of Amouage. It has been through Christopher Chong's leadership that Amouage is now one of the most respected niche fragrance brands in the world. As Creative Director, he is very much hands on. Christopher sets the mood, theme and story for the perfumers. This year, he launched four exceptional fragrances – Interlude Man and Woman, Beloved and Opus VI and each were very different examples of scented storytelling.. In every scent there is a piece of his heart and soul,respect for the Omani culture and the brand's heritage. The Portrait of an Artist as an Accomplished Young Man.
Mark: Christopher Chong is also my choice. For all of the reasons you stated above; but most of all, for me, he insists on making perfume that dares to attempt to be something great. In 2012 he achieved it four times by my reckoning.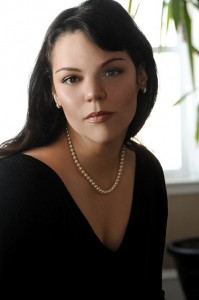 Natural Perfumer of the Year
Mark: Charna Ethier of Providence Perfume Co. made 2012 the year she truly lived up to and exceeded her potential. Hindu Honeysuckle and Divine Noir led the way but it was Moss Gown which brought all of her skills to bear and showcased the artist within.
Michelyn: Charna is my choice as well (for the second year and was CaFleureBon's 2010 "rising star"). I don't agree that she exceeded her potential, because I suspect 2013 will be another superlative year.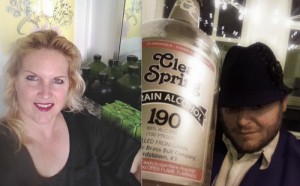 Dannielle Sergent and Josh Lobb
Rising Star
Michelyn: Dannielle Sergent of Cognoscenti is a painter, designer and architect and a perfumer on the rise. She premiered her brand Cognoscenti –For those who know line at the Artisan Fragrance Salon in San Francisco this past summer and won numerous awards including the equivalent of Best of Show. Her three numbered scents, No.1, No,16 and 19 are sophisticated, well-constructed and unique. Dannielle is one of the talented perfumers emerging from the West Coast and gets my vote. So now you know.
Mark: This is always my favorite year-end accolade to think about. For 2012 my Rising Star is Josh Lobb of Slumberhouse. Josh created in Pear + Olive what I thought was going to be my Fragrance of the Year. Sova showed that Pear + Olive is not an anomaly. Josh is an artist with a unique aesthetic allowing his work to speak for itself. Its voice got a little louder this year.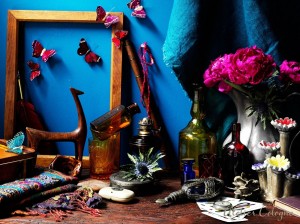 Atelier Cologne
Niche House of the Year
Michelyn and Mark: Atelier Cologne released five fragrances during 2012 and all of them were among my favorite perfumes this year. Four of them made Mark's top 50. I love that they are beginning to be seen beyond the usual niche outlets as Sephora will expand the people who love this house. I'm looking forward to having more people join the cologne absolue party.

DSH Perfumes and Slumberhouse
Artisanal/Indie House of the Year
Michelyn: If the Indie world didn't have Dawn Spencer Hurwitz of DSH Perfumes they would have to create someone in her likeness. Dawn is the most creative person I know and the embodiment of all that is good, kind, and gifted. In a year when we were overwhelmed with multiple launches posing as collections, her collaboration with the Denver Art Museum's YSL Retrospective Exhibit was an example of what a collection should be. Each of the six perfumes honored Yves St Laurent's singular creative career as one of the greatest influencers in the world of fashion, culture, and perfume. Experiencing The DSH – YSL Retrospective Perfume Collection as a whole, told the story of St. Laurent's creative life in a way that was a sensorial timeline. Dawn is one of the few perfumers who could have pulled it off and she did. Dawn launched her new website, opened her Art Scent Museum which has been many years in the works and made the season seem merry and bright with her 12th holiday scent, the luscious Cordial. During it all, she and husband Edwin were blessed with Xander, their 6 month year old son, who is her greatest achievement.
Mark: slumberhouse is my pick mainly because Pear + Olive was better than every fragrance I tried this year but one. Josh Lobb is creating a body of work that shows what a singular talented artist can achieve.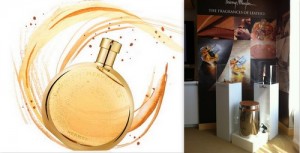 Best Flanker
Mark: Hermes L'Ambre des Merveilles was the first flanker worthy of being called Merveilles. I like the others fine but for the first time L'Ambre des Merveilles felt like an extrapolation of the original and not an imitation.
Michelyn: Thierry Mugler Parfums de Cuirs proved that maceration in leather made Angel, Alien and Womanity smell even better. A*men.
Best Floral
Michelyn: Senior Editor Tama Blough once referred to Tommi Sooni Passerelle as "Fleur de Fleur de Fleur" and I knew exactly what she meant. Imagine that you are standing inside one of Monet's Giverney garden paintings. This is a perfect analogy since Passerrelle means "bridge" in French. Steven Broadhurst and perfumer Brett Schlitter accomplished their goal of creating a fragrant bridge strewn with Australian flowers that is built upon the traditions of classic French perfumery. A perfume of such beauty is a joy forever


Mark: If we had a category for "Note of the Year" it would undoubtedly have been gardenia in 2012. We were treated to an amazing amount of diversity in the gardenia fragrances released but my favorite and thus my best floral is Arquiste Parfumeur Boutonniere No. 7. Creative Director Carlos Huber, Perfumer Rodrigo Flores-Roux, and Evaluator Sophie Bensamou created a gardenia which hummed with human quality underneath it all.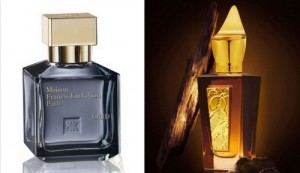 Best Oud
Mark: Maison Francis Kurkdjian Oud for the most interesting oud-containing perfume of 2012. It shows that a master perfumer knows how to realize the potential of even the most well-trodden paths.
Michelyn: Al Khatt Xerjoff Oud Stars – Like MFK the House of Xerjoff came pretty late to the party which I hope is over in 2013. That being said, all six are excellent examples of the high quality fragrances that you would expect from the House Sergio Momo built. Al Khatt was the standout with its use of Laotion Oud, tempered by a breathtaking opening of jasmine sambac and hint of sweetness in the drydown. Smooth. Now can we move on, please?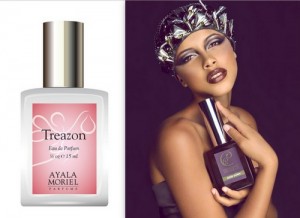 Ayala Moriel Treazon and Providence Perfume Co. Moss Gown
Best Natural Perfume
Michelyn: I have a love/ mostly hate affair with tuberose fragrances which can be screechy on me (it was after I applied a tuberose fragrance that a famous perfumer once asked me to leave the counter because I was frightening potential buyers). Ayala Moriel ParfumsTraezon is one of the few that work for me, so based on that miracle alone it is my choice for natural perfume of the year. After the initial blast of frozen mint; this scent heats up in a matter of minutes with spicy notes of anise and cinnamon, followed by a milky sweet drydown of Vanillla, Massoia Bark and benzoin …double bolt the door and hand me a cigarette please.
Mark: Providence Perfume Co. Moss Gown showed the kind of experimentation that the natural perfume community is blessed with. Charna Ethier wanted to make a perfume which captured a book she read to her daughter. The emotional connection along with the fearlessness to use notes like sunflower essence and boronia come together to make perfume that felt like its own fairytale, along with the happy ending.
Best Designer/Mainstream Fragrance
Mark: Chloe L'Eau d'Chloe was the rare sequel which was better than the original
Michelyn: Perfumer Olivier Polge blew me away with Viktor and Rolf Spice Bomb, a surprisingly sweetly spiced scent laced with tobacco.
Best Celebrity Fragrance
Michelyn: Dita von Teese Femme Totale Let's go retro, with a sultry scent that brings to mind the vintage florals of the 1930s when burlesque shows played to packed houses. Notes of jasmine, peony a pinch of pepper, and patchouli are wrapped within a musk scented corset. There is nary a candy note to be found. Femme Totale is glamorous, affordable and the only standout in a year of over hyped "pop" celebuscents that ranged from meh to ridiculous.
Mark: I agree. This was the only celebrity fragrance that showed any imagination or creativity in a year where you could've hoped for more from so many.
Best Bang for the Buck
Mark: The Scent of Departure collection from Gerald Ghislain was probably too large by half but MIA-Miami is one of the best citrus fragrances of the last two years and for the price it's a steal.
Michelyn: Last year, perfumer Ellen Covey of Olympic Orchid Artisan Perfumes Siam Proun won our Best of Scent for the "best scent you never heard of". This year's Ballets Rouges is a sexy, beautifully rounded rose chypre with a vintage vibe. At $40 for 30 ml it's a bargain. Nothing cheap about this "little red dress" of fragrance.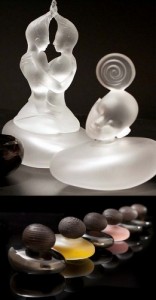 Madja Bekkali Parfums
Best Discovery of 2012
Michelyn: One of the benefits of being married to a Frenchman is that he is often my connection to the emerging niche brands that are part of a tightly knit community in Paris. The five Olfactive Sculptures/perfumes from Madja Bekkali Parfums Sculptures Olfactives (which launched in 15 European doors in 2010 with Je Fait Un Reve Pour Elle and Je Fait Un Reve Pour Lui) really impressed me. Noses Dorothy Driot, Marina Jung-Allegret, Bertrand Duchaufour and Cecile Zarokian worked with Mme. Bekkali and sculptors Isabelle Jeandot & Claude Justamon to create unique works of fine and olfactive art. 2012 was the year Mme. Bekkali launched Fusion Sacree for Pour Lui and Fusion Sacree Pour Elle by Bertrand Duchaufour (these are my personal favorites) and last month Mon Nom est Rouge by Cecile Zarokian debuted. Good news! This collection will debut in the US at the upcoming Elements Showcase in NY, January 28-29, 2013.
Mark: I think I was the last one at CaFleureBon to actually try the three fragrances Dannielle Sergent released under her Cognoscenti brand. As with Josh Lobb of slumberhouse when I wear any of the three Cognoscenti fragrances I experience a clear artistic aesthetic in every inhalation.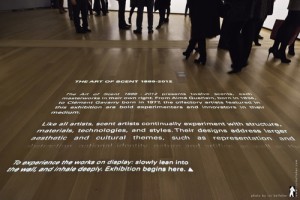 Best Scent Event
Mark: The Art of Scent 1889-2012 at the Museum of Arts and Design in New York City was the culmination of Chandler Burr's tireless effort to make an exhibit of olfactory art a reality. No matter what you think he has laid out an opening statement on what he thinks olfactory art is.
Michelyn: Mark, there isn't anything I could add to what you wrote other than "Bravo!" Chandler… I am MAD about you.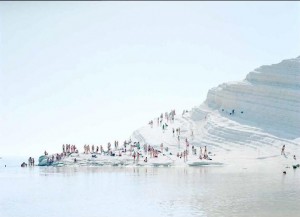 Olfactive Best Artistic Collaboration
Michelyn: Olfactive Studio Lumiere Blanche Celine Verleure, Sidonie Lancesseur and Massimo Vitali. This is the second year that Olfactive Studio won CaFleureBon's Best of Scent in this category (2011 for the first three fragrances). The photo used to illuminate Lumiere Blanche is from Massimo Vitali's Beach Series and perfumer Sidonie Lancesseur creates a radiant synergy between fine art and scent.
Mark: I can't wear Lumiere Blanche without seeing Massimo Vitali's light saturated picture as Sidonie Lancesseur's fragrant accompaniment transports me to that beach.
Best Trend of 2012
Mark: I mentioned this above but it is the return of niche to Sephora. With L'Artisan Parfumeur and Atelier Cologne making their fragrances available next to the latest celebuscents I hope that there will be more than a few people who will trade in their Madonna Truth or Dare for L'Artisan Mure et Musc.
Michelyn: The mainstream media publications seem to finally get that real men wear perfume. Shout out to the Goodsmellas: Carlos J. Powell (who also is the founder of Peace, Love and Perfume) , Rich Scardaville, Edward Gochman, Frunk Inator, Barney A Bishop, Andrew Buck, Cody Sulaimana and our own Contributor Michael Devine.
Best Advertisement/ Best Buzz
Michelyn and Mark: It was a disaster, it was brilliant, it was both; but no matter what Brad Pitt as the face of Chanel No. 5 got people to talk….almost as much as his wife Angelina Jolie's leg did at the Academy Awards. It also received worldwide media and late night television talks show hosts like Conan O'Brien were talking about perfume instead of politics. The parody on Saturday Night Live brought in huge ratings and that usually translates to big sales which is… Inevitable.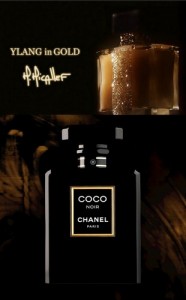 Best Bottle
Michelyn: Parfums M. Micallef Ylang in Gold's exquisite flacon must be seen in person to be fully appreciated. Each Swarovski crystal was set by hand and when the sun streams through my window prisms of light dance on the ceiling. It is the one bottle on my dresser that never fails to bring me joy just by looking at it. Ylang in Gold is a beautiful perfume in a beautiful bottle.
Mark: The best bottle of the year was Chanel Coco Noir. It had a visual weight and presence to it that the fragrance, unfortunately, didn't rise to.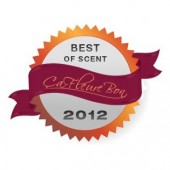 Best Name for a Fragrance
Mark: A Lab on Fire what We Do in Paris is Secret, not any more.
Michelyn: Jul et Mad's Stillettos on Lex (anyone who knows my passion for fashion, perfume, and New York City will understand why).
Hall of Fame
Michelyn: Diorissimo Eau DeToilette (rip), Created by perfumer Edmond Roudnitska in 1956. To understand its significance as one of the great fragrances of M Roudnitska's career, and the switch and bait deception that Dior pulled on an unsuspecting public in 2011, you may want to read Honorory Contributor Michel Roudnistka's eloquent article written about the inspiration and reformulation


Mark: Hermes Terre D'Hermes was an inflection point for men's fragrances as the combination of citrus and woody notes would be imitated slavishly by less creative minds. Jean-Claude Ellena's artistry and ability to produce a maximum effect from minimal ingredients is much harder to imitate. Unlike Diorissimo the moneychangers and the IFRA regulators haven't ruined it yet.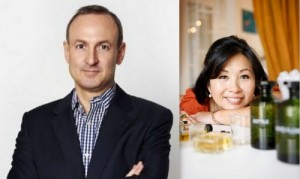 Chandler Burr and Yosh Han
MVP (Most Valuable Perfume Person)
Mark: Chandler Burr not only for the achievement of The Art of Scent 1889-2012 but also his Open Sky Untitled series. Many, many of us write and talk about olfactory art and how we want it to be seen. Chandler Burr has turned his talk into a reality.
Michelyn: It took an Aroma Village. Yosh Han is more than a perfumer; she's a citizen of the scented world, an invaluable mentor to and supporter of the growing West Coast Indie fragrance community.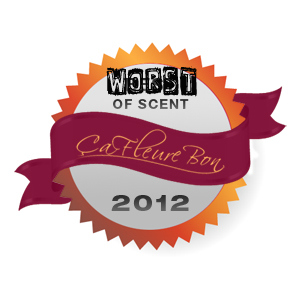 Two Words I Don't Want to Hear in 2013
Michelyn: Oud and/or Noir in the title of a fragrance…Enough is enough. Lighten up.
Mark: I'm with you on the Noir. I think the PR agencies that use that word understand it as well as Vizzini understands "inconceivable" in The Princess Bride. My other word is "collection" which again I'm not sure the people who use it understand its meaning. Way too often I felt consumers were turned into evaluators and that we paid for the honor of being in that position. At least when I beta test software I get it for free.
Most Disappointing Fragrance
Mark: Histoires de Parfum Olympia Dance Hall shows what happens when a perfumer creates over thirty fragrances in less than a year, something has to give.
Michelyn: Water Calligraphy from the Asian Tales by Kilian…All over China, you can find elderly men writing Chinese characters with water that only last a few minutes. Perfect description.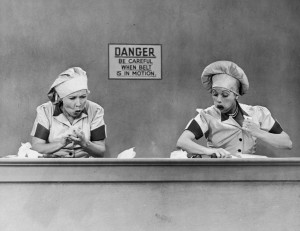 Ethel and Lucy aka Mark and Michelyn
Worst Trend of 2012
Michelyn: It was a year of endless multiple new releases. It is understandable if a new brand launches three-four fragrances but we were bombarded by too many new collections from established brands that kept coming at us in never ending waves. I was so overwhelmed that I probably am guilty of giving some hidden gems the short shrift.
Mark: I called it "collection overload". Every time I got another envelope containing multiple fragrances I died a little. Not one fragrance from a collection made my Top 25. Quantity does not equate to quality.
Hall of Shame
Michelyn: What stinks? The stench of M57, the scent created to celebrate the deadly missile created by Hamas during the eight day conflict in Gaza last month that killed hundreds of Palestinians and a number of Israelis. If that isn't reprehensible enough, the owner is charging double the price of most perfumes sold in Gaza where residents can barely afford food.
Mark: My choice literally stinks as Italian avant garde perfumer O'Driu created a perfume that you were expected to urinate in prior to wearing it. The whole thing smacks of shock instead of art plus I keep thinking what would happen if I ate asparagus before trying this? The final straw is the fragrance is boring before and after "treatment".




Nikki Minaj Pink Friday frightens Mark and fascinates Michelyn
Worst Bottle
Mark: Nicki Minaj Pink Friday looks like a combination of a carnivorous bunny and a scary clown robot. It scares me every time I see it at the mall.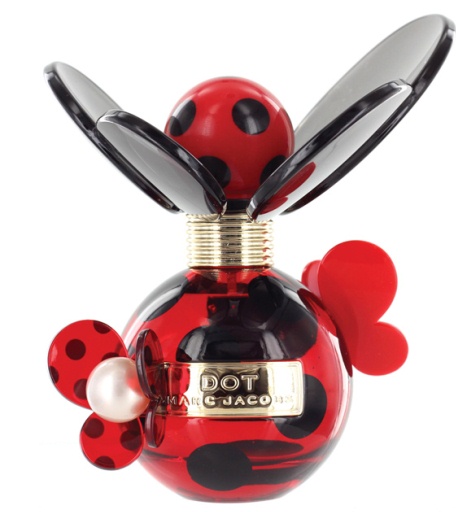 Quick…get the Raid
Michelyn: I can't stop looking at Pink Friday and it is soooo bad it is good. Maybe it's an alien from Nikki's Starships? The next American Idol winner?
What I thought was repellant was Marc Jacobs Dot which managed to turn a cute lady bug into a Kafkaesque nightmare. And it smells like bug juice.

Worst Ad
Michelyn and Mark: We don't really have a worst ad, I know many will want us to say Brad Pitt for Chanel No. 5 but we are of the school that there is no such thing as bad publicity and this campaign covers that for us.
Disclosure: Michelyn is Co-Founder of Sens Unik, a niche perfume distribution/sales agency and is the Sales Agent for Providence Perfume Co.
– Mark Behnke, Managing Editor and Michelyn Camen, Editor in Chief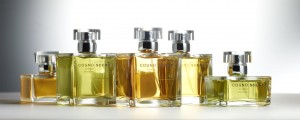 What would the year in review be without a great draw? Dannielle Sergent of Cognoscenti, who is both a rising star and the perfumer behind Mark's best Discovery wants you to be "in the know". There is a reader's choice for three bottles:
One 100 ml bottle and two 50 ml bottles of Scent No.1, No.16, or No.19 for three readers. To be eligible: Please leave a comment on our awardees, add your own best ofs' and worst ofs' in any of our categories or make up your own. Please also leave your choice of fragrance from Cognoscenti. Draw ends December 31, 2012
We announce the winners only onsite and on our Facebook page, so Like CaFleureBon and use our RSS option…..or your dream prize will be just spilled perfume.