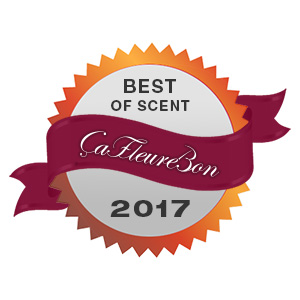 Best Fragrances of 2017
For as long as ÇaFleureBon has been giving our best fragrance awards(2010), (2011), (2012), (2013) (2014), (2015),(2016), there is always the question, was this a good year for perfume? This year it was the best of times and also the worst of times, add boring of times. This year, in Part 1, Ermano Picco and I present our Best Fragrances of 2017 (and less than impressive scents too).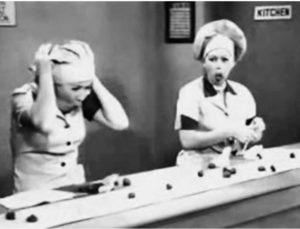 Lucy and Ethel can't keep up with the conveyer belt of candy
It is the first year that I felt overwhelmed by the number of new releases. I somehow I sniffed my way through 498 perfumes, and my colleague Contributor Ermano Picco of la gardenia nell' occhiello tested over 300; we felt like Lucy and Ethel in the chocolate factory, haplessly trying to make our way through hundreds of new scents that crossed our desks, especially in November and December. I am sure we missed some gems. Dear Perfumers and Fragrance Companies, late releases work for the Oscars because we tend to forget what was in the theaters earlier that year. We didn't forget, and in fact our noses were beginning to burn out mid- November.
Best Trends- Rhubarb used in surprising ways. Lovely Iris fragrances, ahead of Pantone's color the year Ultra-Violet? Lactonic, milky, creamy notes to comfort us in an unsettled world. Clary Sage also being used as a "healing" ingredient. Green is the new black; Natural perfumery is truly a global force. Neo-Synthentics and vintage inspired fragrances are strong this year as well. 30 ml sizes are becoming more available as are discovery kits. Parfumerie Generale Coffret 60 is a genius way to introduce you to Pierre Guillaume's greatest hits as is the beautifully presented and very affordable discovery sets from M. Micallef and Parfums de Nicolai that ship worldwide. I also have noticed that Poland is the new Paris, becoming a hub for artistic perfumes. –Michelyn Camen, Editor in Chief

Ermano Picco and Michelyn Camen
Time to move on: War of the (Tuber)oses. Many of the new 'pillar' perfumes launched by Designer Houses centered on tuberose and although there were some interesting takes, since they launched around the same time, many began to smell the same. Another peeve is when brands launch in Europe before the USA, or vice versa. Never underestimate the acquisitive nature of an avid perfumista. –Michelyn
Vanilla, caramel and chocolate. May we have gourmand 2.0 please? (Btw, gourmand means edible, not necessarily sweet & sticky)-Ermano Picco, Contributor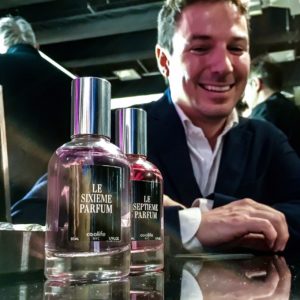 Luca Maffei, photo by Ermano
Hardest Working Person in Perfume goes to Luca Maffei of Aftelier Fragranze, who composed over 20 niche perfumes this year: (Irrévérent and Not a blue bottle 1.2, Histoires de Parfums, Terra Mia and Gelsomini di Capri for Carthusia, Vanhera, Laboratorio Olfattivo, Quelques Fleurs Jardin Secret and Quelques Fleurs Jardin Secret Extrait, Houbigant Paris, Bella Donna, Jul et Mad Paris, Rosso Epicureo, L'Oree, Les Frivolites and Lilas Exquis Jacques Fath, Savannah's Heart, Maison Olibere Paris, Le Sixieme and Le Septieme Coolife, Parfums, Archetipo, Mendittorosa Odori dell'Anima, 1001, Nobile 1942, Giuseppe, Naso di Raza and Muda and Palafitico, Comporta Perfumes).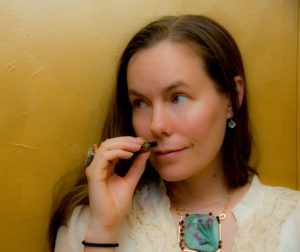 Most Passionate Perfumer: Dawn Spencer Hurwitz of DSH Perfumes is one of the most prolific perfumers in the world and works in many medias and genres. Dawn's love and respect for perfumes from the past shine this year especially her "Animalics". In 2017 she introduced Foxy, Une Robe Zibelline, and Habibi and each were spectacular.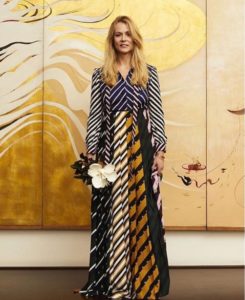 Saskia Havekes of Grandiflora
Best Niche House
Grandiflora- I was really pleased to see Saskia Havekes in Milan this year introducing her latest perfume. Boronia is a brilliant scent using the rare and the expensive absolute, and it also proves that the house is able to stretch the boundaries of the floral eponymous theme to unexpected interpretations.-Ermano
Cire Trudon– The venerable candle company's expansion into fragrance lit my fire. Perfumers Yann Vasnier, Lyn Harris and Antoine Lie composed five fragrances that stayed true to the 400 year old legacy but are surprisingly modern.-Michelyn
Best Indie House – Vero Kern of Vero Profumi who released this year Naja, the most unusual tobacco (a major trend over the last couple of years) uplifted by a bewitching fruity floral accord. –Ermano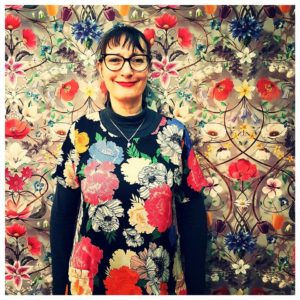 I give the award to Sarah McCartney of 4160 Tuesdays, who in just five years, has built a worldwide cult-following with wonderfully composed scents with fabulous names. This year she released Mrs Gloss Lemon Sherbet, Eau My Soul for the Facebook group of the same name, the 9 Our Modern Lives fragrances, the Rhubarb & Custard trio and Damn Rebel Witches for REEK.-Michelyn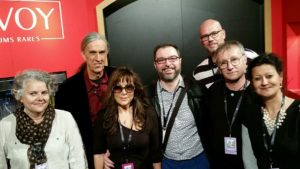 Parfumeurs du Monde: Perrine Scandel Michel Roudnitska, Eric Gigodot, Thierry Bernard, Isabelle Gelle with Michelyn and Ermano at Esxence 2017
Best Natural Perfume House: If there is any doubt still in the minds of fragrance lovers that natural perfume is not an art, especially in the French tradition of classical perfumery these 5 respected French perfumers: Michel Roudnitska, Perrine Scandel, Isabelle Gellé, Thierry Bernard, and Jean-Claude & Eric Gigodot proved otherwise. They joined forces to create their first 100% natural perfume collection under the brand name Parfumeurs du Monde. Each perfumer composed a perfume around one country and one ingredient that are close to their heart, following on their commitment to adhere to the Parfumeurs du Monde's charter of using only natural ingredients. Part of the profits will be given to Coeur de Forêt, a Paris-based NGO established in 2005 which supports small producers for the rehabilitation and protection of forests in Bolivia, Cameroon, Indonesia, Madagascar and Peru. – Michelyn and Ermano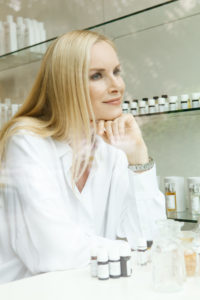 Tanja Bochnig photo by Pavel Becker
Best Natural Perfumer:
Tanja Bochnig of April Aromatics. Pink Wood was a finalist in the international contest OSA – Outsider Scents Awards, and it is a unique take on the rose-oud theme that explores the Mittel European woody traditions from the Black Forest with unexpected wild berries and resins combination that is one of the best expressions of nature into modern perfumery- Ermano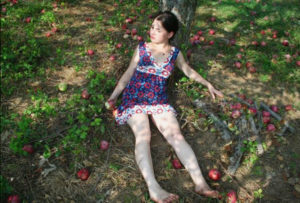 Irina Adam of Phoenix Botanicals: The 2x Art and Olfaction Finalist, natural perfumer Irina Adam of Phoenix Botanicals is at one with nature, with her own signature that shows in her symphonic use of naturals. This year, I loved Apple Iris Root and Lotus Pollinator.-Michelyn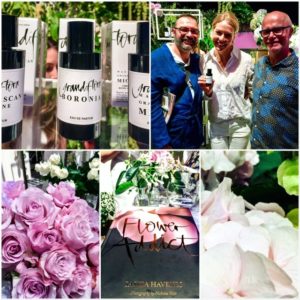 Grandiflora Boronia Saskia Havekes, Ermano and Bertrand Duchaufour
Best Perfumer: Bertrand Duchaufour proved again he is the Master of Niche with his work for Grandiflora. Boronia explores all the facets of this Australian star raw material into a spiced, solar, herbal interpretation on a traditional and somehow long forgotten theme of the Trèfle Incarnat. Bringing tradition to the future is the real modernity and he knows how to do it brilliantly.- Ermano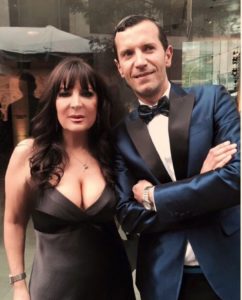 Michelyn with Yann at The Fragrance Foundation Awards-Photo Luca Maffei
While I love so many of Bertrand Duchaufour's perfumes, and Boronia is one of my top ten of 2017, in my opinion this was not his best year. Yann Yasnier is my pick for Best Perfumer of 2017 as he continues to demonstrate his ability to move seamlessly between the worlds of luxury commercial, niche and artistic perfumery. He brought a fresh new perspective to Jo Malone with the Bloombury Set and The English Oak Collection, Ex Nihilio Citizen X, Mortel for Cire Trudon and to the neo-gourmand Blondine for Frassai–Michelyn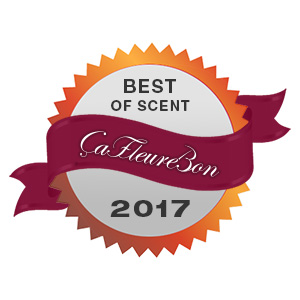 Best Fragrances 2017
Best Fragrance Of The Year: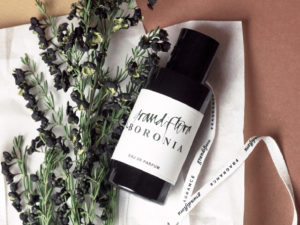 Photo by Clayton
Grandiflora Boronia-Ermano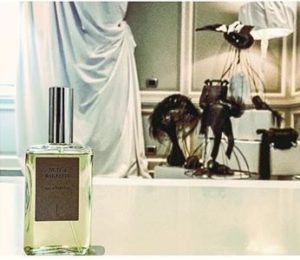 Photo by Ermano
NUIT de Bakelite (Naomi Goodsir, Renaud Coutadier and Isabelle Doyen)- in a year of many mediocre tuberoses, safe and screechy for the most part, Naomi Goodsir, Renaud Coutadier and the magnificent Isabelle Doyen created a tuberose very different than any I have encountered. It is the bud before the flower opens and becomes the heady queen of the night. It is the roots, the seed, grown in a bio-sphere in another galaxy. My nose to my wrist, I smell fractured shards of green tuberose, textured and deconstructed. NUIT de Bakelite is a DARING perfume and unlike any others.-Michelyn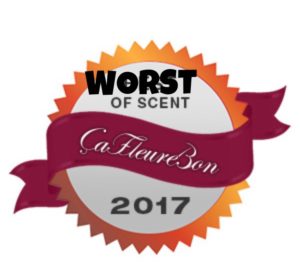 Worst fragrance (or most disappointing …)
I really had great expectations for both Chanel Gabrielle and Hermès Twilly. Both were like the second book from a new author and hence the real proof for perfumers Olivier Polge and Christine Nagel. Both are not really "worst fragrances", but they have disappointed me very much. They are pretty, conservative and blatantly cater to millennials in the worst possible way. Now I don't know if the blame should fall on the perfumers since from a technical point they are flawless, but perhaps on the marketing evaluators t (we should always consider the importance of evaluators!). I'd fire the marketing people tomorrow.-Ermano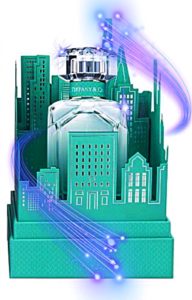 Tiffany & Co apped by Robert
Best Bottle:
I really loved the Tiffany new bottle. The design is classic and somehow simple, and yet it brings new sparkle to the visual codes of the house.-Ermano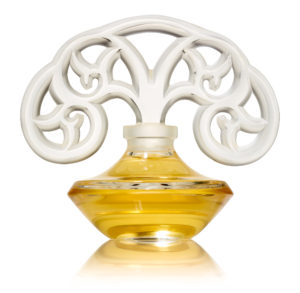 Shalini Jardin Nocturne Lalique Tourbillons flacon: A thing of beauty is a joy forever-Michelyn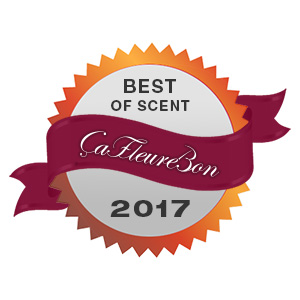 Best fragrances of 2017
Tie: Best Designer Fragrance – Frederic Malle Alber Ebaz Superstitious (Dominque Ropion) is as elegant and refined as a couture gown from the 50s, but not retro or dated… a masterful blend of roses, incense and aldehydes. Etat Libre D'Orange Une Amourette Roland Mouret-Daniela Andrier drapes and shapes Iris and Patchouli so that it slides over the skin like satin in this intiguing and sensual scent. Bringing Sexy back to the subversive house. -Michelyn
Tiffany Tiffany & Co. a beautifully crafted perfume from Givaudan perfumer Daniela Andrier. It's a less industrial, brighter, fruity-iodine sparkling take on the Andrier signature musky iris for Prada. –Ermano
Best Limited Edition Perfume:
LALIQUE DE LALIQUE Crystal Flacon | Limited, Numbered and Signed Edition 2017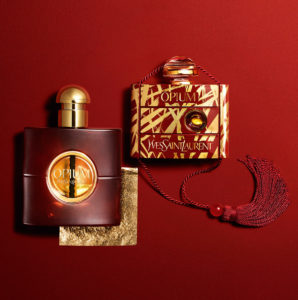 40th anniversary edition "Opium" Extrait de Parfum: This year Opium celebrated its 40th year. Artist Manuela Paul-Cavallier reworked the iconic bottle with touches of gold—a metal dear to Yves Saint Laurent applied painstakingly to mark the milestone 20 hand-numbered bottles were made available priced €2,000 for 15ml. This flacon ties with my best bottle choice as well.
Best Fragrance Event:
Casamorati Ballo delle debuttanti at Venaria Reale. It was indeed a major event in one of the most beautiful Castles in Italy bringing such youth, luxury and nobleness mix to the highest levels -Ermano.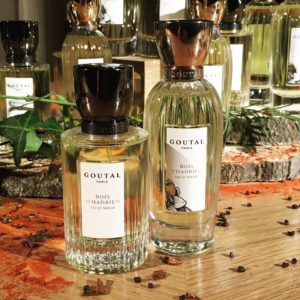 via instagram
Worst bottle:
Also speaking about bottles the year has been pretty safe and conservative, featuring lots of flankers reusing the same bottle with minor variations. One of the worst ones to me, more as a concept that as a result, was the Nuit et Confidences one by Annick Goutal (now brutally renamed to just Goutal). Who needs to make a boudoir bottle with charms and ponpons when Annick Goutal itself already had the most boudoir bottle (think Mon Parfum Cheri i.e.) in Perfumeland?-Ermano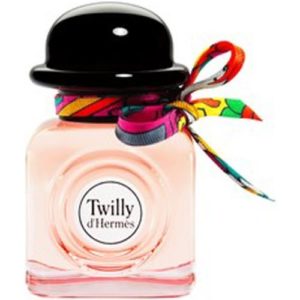 Hermes Twilly: I know many will disagree, but this bottle doesn't reflect the luxe classic flacons I expect from Hermes. I keep thinking Mr. Potato Head ran into Hercule Poirot and stole his hat. Dishonorable mention to Gucci Bloom's bland beige bottle. Boring.-Michelyn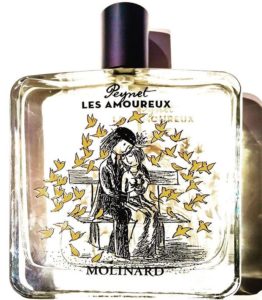 Best Bang for the Buck: Molinard Les Amouteux de Peynet. Beautiful citrus cologne, amazing bottle, nice price.-Ermano and Michelyn
Rising Star:
Abel "Sinclair" with its magnolia laden Golden Neroli is the proof this New Zealand perfumer has really learned how to master naturals to render abstract elegance. I hope we'll see him doing more and more in the future. -Ermano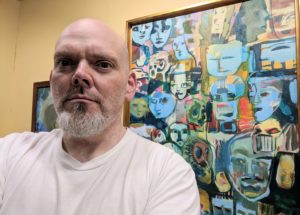 John Biebel of January Scent Project
January Scent Project: Artist, Fragrantica writer and perfumer John Biebel captivated me with his bold and fearless style that pays homage to the great fragrances of his mentors and to the past with his vintage style illustrated posters. He is an American perfumer that represents why I started the Profiles in American Perfumery series in July of 2011; he embodies the spirit and daring of our country's finest artisan perfumers. Eiderantler, Selperniku and Vaporocindro debuted in 2017 and he is in a class of his own (freely gives credit to Sr. Editor Ida Meister for her time and knowledge). That's class.-Michelyn
Best (fragrance) Book JC Ellena L'ecrivain d'odeurs -Ermano and Michelyn
Best Collaboration Etat Libre D'Orange – Chandler Burr for You or someone like you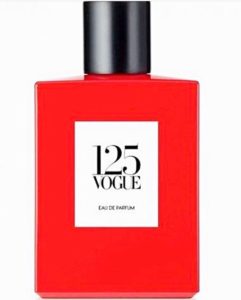 I have to recuse myself, because I really do think our Project Talisman project with 7 perfumers was the best collaboration of 2017, but of course that would be biased. CDG x Vogue 125 gets my vote. Vogue's First Perfume!!! Beauty Director Celia Ellenberg and Comme des Garcons creative director Christian Astuguevieille bottle 125 years of style, fashion history and photography.
Best Ad: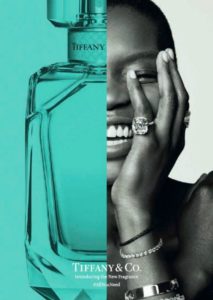 Tiffany & Co by Steven Meisel -Ermano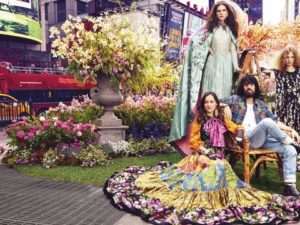 Gucci Bloom: Creative director Alessandro Michele was named WWD's Newsmaker of the Year and you can feel his off beat imprint on this incredible ad, shot in New York City's Time Square. As a New Yorker, turning 42nd street into a garden made me happy. The perfume is one of the better of the new pillar scents.-Michelyn
Worst Ad:
Also for ads this year boredom wins. Even Chanel which used to be a role model for creating ads with a story surrender to boredom with the totally uninspired ad for Chanel featuring Kirsten Stewart.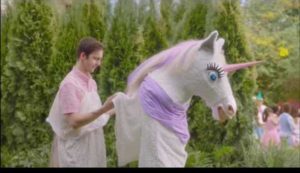 Gain Fling Unicorn Commercial- sniffing the guy in the front end of the unicorn costume
I agree with Ermano, many of the designer fragrance ads look the same. What was truly horrible was the ad for GAIN. Galoxide is a perfume? Now if you haven't seen it, a dad is at his daughter's birthday party and has to get into the hind quarters of his unicorn costume. He was not happy until he smelled the Gain Fling scent emanting from the dad who was the unicorn head. It is so BAD it's good. But wanting to smell like a laundry detergent. EWWWW-Michelyn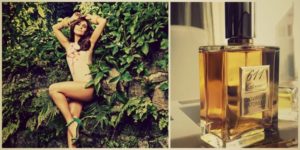 Giovanna Antonelli and 611 Extremo apped MC
Best Celebrity Fragrance:
611 Extremo (Cecile Matton)- A celebrity niche perfume house? Co-founder Lionel Guignard's partner Edson Fernandes, a designer met Brazilian mega star Giovanna Antonelli and "fell in love" with her spirit. 611 Extremo was my personal favorite, a spicy vibrant tuberose that made me feel I was in a garden in Rio-Michelyn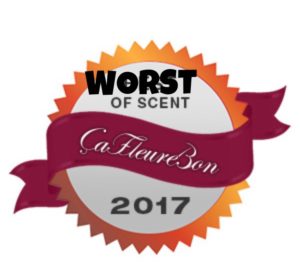 Worst Celebrity Fragrance:
The Italian market is not really into celebrity scents, and this year I didn't see any new around here, so that's difficult to me to name any.-Ermano
Somehow Kim Kardashian turns being robbed at gunpoint into money making machine (10 million dollars in just one day) with Crystal Gardenia -Michelyn
Best perfume you want to drink or eat: The new Antonio Alessandria Gattopardo. Patchouli, iris, rhum and a sicilian pastry make it something really gorgeous, like a rum infused almond pastry sprinkled with bitter cocoa. Totally bittersweet yummy!-Ermano
Best flanker:
Guerlain La Petite Robe Noir Black Perfecto. Not only it's a slightly darker and woodier take on LPRN, but it also involved amusing crossmarketing collaboration with Le coq sportif for a pair of classic gym shoes featuring the LPRN logo.- Ermano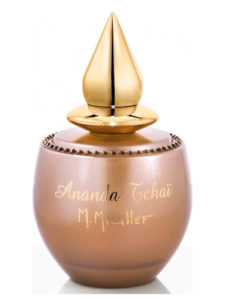 M.Micallef Ananda Tchai (Geoffrey Nejman and Jean-Claude Astier): In Sanskrit ananda means pure bliss and the 4th in the series is spiced tea infused with nutmeg and cardamom. Just beautiful.
Best Fragrance Name:
Witty and provocative, I found Peccato Originale "Gas Antisociale" the most daring name breaking the pretentious boredom ruling the market.-Ermano
"Perfume Sucks", and this year many did -Michelyn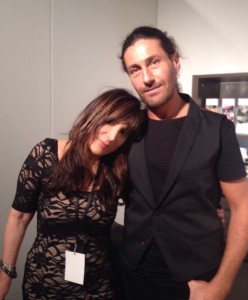 Michelyn and Olivier Durbano
MVP (Most Valuabe Perfume Person): In 2005 Olivier Durbano created his first perfume Rock Crystal. He is one of the most soulful and talented perfumers (and artists) in the industry. Olivier is a modern Renaissance man: a jeweler, artist, perfumer, designer, and healer. In 2016 he moved his home base to Grasse, where he opened his flagship store, repackaged his fragrances and launched Labradorite #13, another emotional Pierre Poeme. We need more people like Olivier who are passionate and fearlessly go their own way and stay true to their art.-Michelyn and Ermano
Best Buzz – Mugler Aura. A totally new Mugler scent is always an awaited event and Aura was no less. -Ermano
Fucking Fabulous. Only Tom Ford could unseat Gabrielle Coco Chanel from her throne. It was the fragrance EVERYONE was talking about in 2017.-Michelyn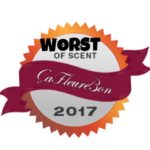 Hall of shame (…less than impressed…)
Let me confess I had more expectations from the new Beaufort London Revenants series. Iron Duke was a major letdown to me with its full frontal blast of scratching ambery woods. Definitely something not new but also with no interesting take on the inspiration to me. -Ermano
Still the forums are abuzz with CREED Aventus batch numbers. Also Fragrance owners who pretend they are perfumers really irk me, give credAnd it's time for Gwneth Paltrow and her perfumer to consciously uncouple. Goop fragrances are poorly made and just seem to ride the green bandwagon without any innovation. Overpriced and nothing new. Throwing marketing buzz words like vegan confuse me; I do not eat my perfume. Gender-fluidity, while the right concept is the wrong name; only Etat Libre d'Orange and Secretions Magnifique should be able to use it. For me, the worst offense is when owners and creative directors stand next to a perfume organ and say they are the perfumer for their line when indeed they are not. It happens more than you think. This is one of the reasons why Mark Behnke of Colognoisseur and I started our Perfume Signatures series-Michelyn
Hall of Fame: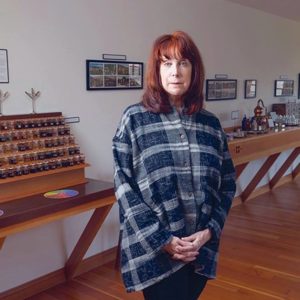 Mandy Aftel of Aftelier Perfumes: While so many are trying to hop on the 'green' trend, Mandy has been "The Queen of Green" for 25 years. Mandy Aftel had a stellar year in perfumery with one of the few tuberoses that was worthy of the name "Queen of The Night"- Velvet Tuberose. Readers know I say "Don't buy fragrance as a gift". I broke my own rule as I bought Aftelier Perfumes' Night Blooming beauty of a scent for a dear friend. This year Mandy opened her "Archive of Curious Scents" next door to her home where visitors are able to smell more than three hundred natural essences derived from fruits, flowers, trees, grasses, and other natural sources (and take three samples home), once again sharing her vast knowledge with the public. The Aftel Award for Handmade Perfume was announced by The Institute of Art and Olfaction and her book "The Art of Flavor". Co-authored by world renowned chef Daniel Patterson is a best-seller.
After leaving L'Artisan Parfumeur, Nick Steward, my pick for hall of fame made his comeback to perfumery with his own brand based on his stories and travel experiences portrayed by young perfumers Giorgia Navarra and Karine Chevalier. I particularly liked Istanbul and can't wait to globetrot some more in 2018.-Ermano
Best Creative Director:
Naomi Goodsir and Reynaud Coutadier for Nuit de Bakelite. I really loved the obsessive interpretation of Tuberose Naomi and Reynaud steered with Isabelle Doyen. I also like the connection with Louise Bourgeois and the total white Insomnia project.-Ermano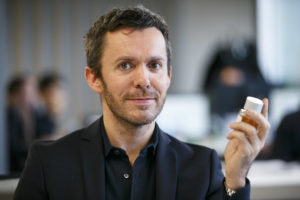 Nick Steward of Gallivant: The former creative director of L'Artisan Parfumeur gallivanted his way all over the world, literally, to each stockist for personal appearances (he must have enough frequent flyer miles now to circle the planet). Nick, who has worked with some of the best perfumers in the world, enlisted Giorgia and Karine to compose under his watchful eye and well trained nose 6 fantastic 'scents of place' for men and women. Not only do they capture the experience of travel but are designed for travel… 30 ml nomad sized flacons, perfect for slipping into your luggage, purse or backpack. Did I mention he is the nicest and one of the most knowledgeable people in all of perfumery? -Michelyn
Best Fragrance you never heard of:
Something you surely never heard of is Humus by Michele Bianchi, the winner of OSA 2017 which now he's producing in small batches from Russia. After Zoologist Bat by Ellen Covey, this perfume makes the most unusual use of geosmine (the salty, earthy, cold molecule responsible for petrichor smell) into an accord rendering the caramelized sugar beets under the Apulian sun-Ermano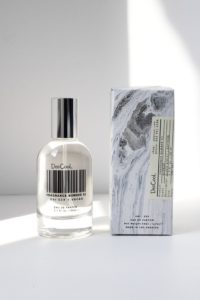 DedCool 04 by Carina Chaz. L.A. Based artisan perfumer Carina Chaz 04 is proof there is nothing dumb about Blonde. A dirty violet saffron soaked scent somehow got hidden in the blonde woods. Now you know. You will thank me later. Be smart and Blind Buy -Michelyn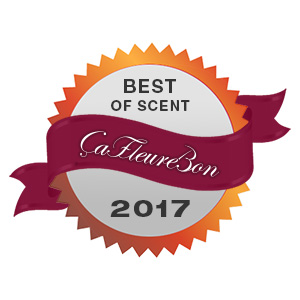 Michelyn and Ermano's Best Fragrances of 2017
What is surprising this year is that although we live 4 thousand miles away from each other and smelled them at different times, we had similar takes on 2017 Best Fragrances.
Antonio Alessandria Gattopardo –Boozy, opulently aromatic and gourmand, Gattopardo is the most original take on Patchouli 2017– Ermano and Michelyn
April Aromatics Pink Wood- One of the most innovative perfumes of the year, natural or otherwise, Tanja rendered rose and oud in an absolutely unpredictable and innovative way. It came third in OSA Awards, so I wish I could smell the other two like Ermano did. -Michelyn and Ermano
Gallivant Istanbul (Karine Chevallier) –We loved the spiced, aromatic powdery trail of Istanbul, so different from the predictable dried fruits, rose laden orientals you might expect. Istanbul enchants with its contemporary chic vibe- Ermano and Michelyn
Ineke Idyllwild: Ineke Ruhland's homage to Big Sur is one of the most elegant Aromatic Fougeres I have smelled. Ever.-Michelyn
Le Cri de la Lumiére: Marc-Antoine Corticchiato of Parfum D'Empire which was three years in the making. A study in simplexity; a seemingly simple combination of three notes artfully blended to create one of the "must-have" floral releases of 2017. This scent whispers, it is delicate and textured. You don't need to shout to make yourself heard.
Maison Francis Kurkdjian Oud Satin Mood Extrait – The extrait de parfum version turns up the volume of spiced, medicinal and sensual facets of oud, contrasting since the topnotes the sweetness of the rose-violet candied satin and the result is gorgeous-Ermano
Masque Milano Times Square (Bruno Jovanovic) – Memory and scent are forever linked. I was one of the big-haired, red-lipsticked, stiletto-wearing women who hurried through Times Square to catch the subway, smelling my wrists because the stench was so bad . Hot rubber, pink bubblegum and bosomy tuberose, over the top and crazily addictive. -Michelyn
Memo Paris Eau de Memo – Celebrating ten years of the Brand, this cologne explores the liveliness of a hesperidic bouquet backed by smooth, opaque suede brilliantly reviving a sporty-chic classic. Ermano
Mona di Orio Dojima (Frederic Dalman)- Frederic Dalman, the in-house perfumer, who joined the Maison in 2016 did not seek to replace Mona di Orio, rather bring his own style, respecting Mona's in his work. Dojima incorporates the trends towards creamy comforting fragrances as well healing ingredients like Clary Sage. The rice accord is extraordinary in its delicacy- Michelyn
Naomi Goodsir Nuit de Bakelite (Isabelle Doyen)–A bitter-green deconstructed floral exploring every facet of tuberose from stem to bud. -Michelyn and Ermano
Puredistance Warszawa (Antoine Lie) – I really enjoyed the way the subversive Antoine Lie is so versatile and can render a uber-chic, restrainedly elegant floral bouquet with fruity chypre facets that perfectly balance romance, class and sensuality.-Ermano
Roja United Arab Emirates – To me this is best oud in the Roja Dove line. The crispness of Taif Rose and the dark chypre context make it one of the most refined rose-oud I smelled this year-Ermano
Shalini Jardin Nocturne (Maurice Roucel)– Surprisingly another oud themed perfume on my list. Maurice Roucel turns a night in Dubai into a lush woody floral symphony. The saffron is slightly medicinal and the jasmine blooms on my skin. Stunningly uncommon sensuality. -Ermano
Tiffany & Co. By Tiffany & Co. – It's a less industrial, citrus brightened, fruity-iodine sparkling take on the Daniela Andrier signature musky iris for Prada. You will be wearing these five years from now-Ermano
Vero Profumi NAJA– The return of Vero Kern, her 10th anniversary perfume is a serpentine beauty. Like the snake itself, NAJA is filled with dualities. The snake is a symbol of rebirth and of healing as much as it is a symbol of evil. Osmanthus and tobacco, with a surprising prominent linden blossom note adds drops of honey instead of venom. Shamanic and mesmerizing.-Michelyn
Disclosure: From our personal collection. We put together our Best ofs and Worst of Scent obviously from what we actually smelled during 2017 and what was released in 2017.
.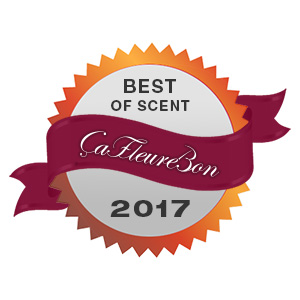 For our Best of 2017 Draw open to all ÇaFleureBon registered readers be sure to register or your comment won't count.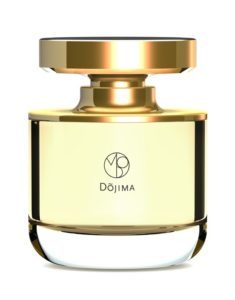 Worldwide: Courtesy of Maison Mona Di Orio 75 ml Dojima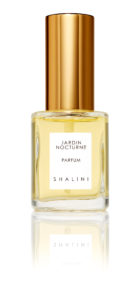 Worldwide: .25 ounces of Shalini Jardin Nocturne (worth $250)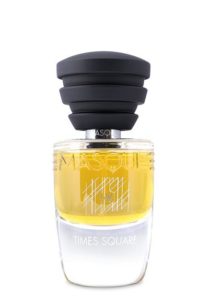 USA, EU and Canada: Masque Milano 35 ml of Times Square
Worldwide: 50 ml of Nuits de Bakelite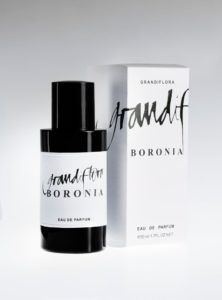 Worldwide: 50 ml of Grandiflora Boronia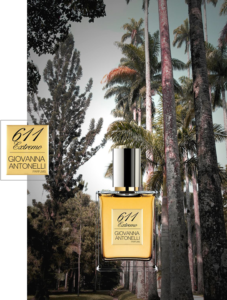 Worldwide: 100 ml of Giovanna Antonelli 611 Extremo
EU, USA and Canada: 30 ml of April Aromatics Pink Wood ALL NATURAL
Worldwide: 30 ml of Gallivant Istanbul
To be eligible, please leave a comment with what you thought of our choices for Best of Scent by Emano and Michelyn. Ida, Robert, Gail, Lauryn and Danu will be posting their lists in the upcoming three days. What were some of your favorites and least favorites from our list, where you live and as many of the 8 that are being offered. Draw closes January 1, 2018
We announce the winners on our site and on our Facebook page, so Like Cafleurebon and use our RSS blog feed…or your dream prize will be just spilled perfume