Eugene and Emyrs AU of Auphorie Perfumes
"O brave new world, that has such people in it" The Tempest (V, i) -William Shakespeare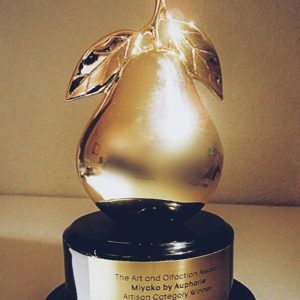 Perfumers Eugene (age 27) and Emyrs (25) Au, the co-founders of AUPHORIE catapulted into overnight scent stars when they won a Golden Pear in the 2016 Art and Olfaction Awards for Miyako as Best Artisan fragrance The brothers are self trained, hail from Malaysia and represent a Brave New World of Perfumery; the globalization of fragrance.
Hibiscus is the National Flower of Malaysia (photo AUPHORIE)
Michelyn Camen: As brothers growing up in Malaysia what were your earliest scent memories. Has your native culture influenced your work in terms of materials and perspective?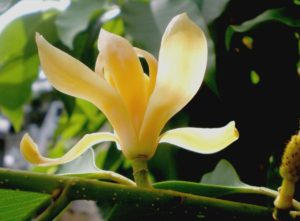 Champaca Flower (AUPHORIE)
Eugene and Emyrs Au: Malaysia has a hot and humid climate; therefore we grew up smelling a lot of rain and soil. Growing up in the tropical and Eastern background gives us a different angle to appreciate and perceive scents. There are many types of tropical fruits which have strong and special aroma, for example, Durian. Also there are tropical flowers which are uniquely fragrant, namely Champaca.
Malaysia is a multiracial and multicultural society. It is also a tradition of many ethnic groups in Malaysia to associate scents with everyday life, through the use of many kinds of fragrant flowers Malaysia also produces agarwood and it is rather popular among the people here..
MC: Many people dream about becoming perfumers, how and when did you begin composing fragrance. Are you self-taught? Who are some of your favorite perfumers?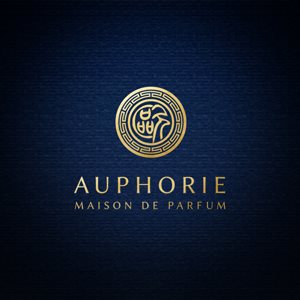 E& E A: We have background in food and beverages industry before we ventured into niche perfumery. We started experimenting with blending scents in 2014. We self-learned using resources such as books and the Internet, and most importantly, working with the ingredients that we sourced from many different places. In 2015, we founded Auphorie, the first niche perfume brand in Malaysia. We adore all fine fragrances by many perfumers but if pressed we will admit to admiring Andy Tauer and Cecile Zarokian very much.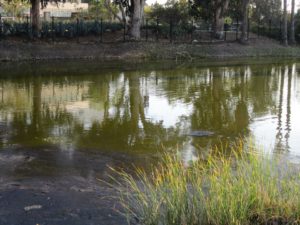 Tar Pit – Might be one of the weirdest and stinkiest thing we ever came across during our stay in LA, yet it was quite interesting
MC: Are your fragrances collaborative? What is each of your roles?
E& E A: We create fragrances together, from brainstorming ideas, choosing raw materials, blending fragrant juices, to evaluating the blends. We discuss and exchange opinions until we get the outcome that would satisfy both of us.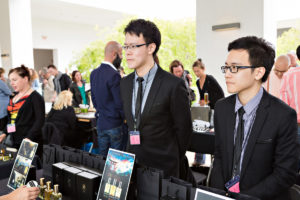 At the AIX Scent Fair(Photocredit-SMGPhotography)
MC: How has your culinary and fashion backgrounds (explain) inspired your Auphorie line.
E& E A: We think that culinary art and olfactory art are like the two sides of a coin. The knowledge and experience in blending and matching flavors help us a lot in constructing fragrances, especially in the aspect of choosing and pairing ingredients.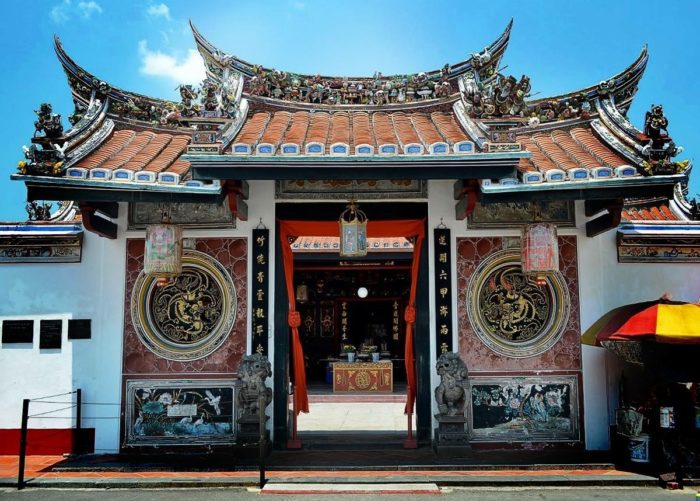 Cheng-Hoon-Teng, one of the oldest temples in Malaysia (photo Auphorie)
MC: Please tell our readers about your brand philosophy as fragrances as a form of time and destination travel as well as your charitable initiatives.
E& E A: It is part of our philosophy to employ a large proportion of rare natural ingredients into our fragrances which results in fragances that are "shibui", sophisticated, and hard to duplicate or mass produce. In the modern perfumery, we find that most of the fragrances today are made using mostly synthetic molecules to replace those expensive natural essences. We however insist on blending unique fragrances using many of the precious natural extracts, supported by a touch of genius aroma molecules. In this way, the perfumes would eventually leave a strong impression in the mind of people who encounter them. We believe that scents, being a key to unlock the past, are the most vital form of memories, and that scents can readily evoke certain images in our mind. This motivates us to make unusual fragrances that induce reminiscence, or that create connections. Inspired by the rich history and heritage of the Eastern world, we combine the golden legacy of the past with modern technology, to create scents that surpass the boundaries of time and space.
Fragrances are socially related, yet there are only a few perfume houses which dedicates themselves in social involvement. We are one of them who embrace social responsibilities; where at the heart of our brand is charitable giving. As the old saying goes, "The rose's in her hands, the flavor in mine." 10% of the profits will be donated to carefully select charitable organization, hoping that it will help towards improving the lives of the underprivileged. With such initiative, we offer our clients an opportunity to scent themselves and improve their own lifestyles by wearing our handcrafted fragrances and, at the same time, giving the roses of charity to those in need.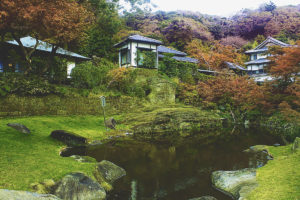 Engaku-ji (Engaku Temple), Kamakura, Japan (AUPHORIE)
MC: When composing Miyako what imagery did you have in your mind? Why choose the materials you did? Do you use a high percentage of natural ingredients?
E& E A: Miyako is a vivid imaginary of the once prosperous capital city of the ancient Japan. Golden osmanthus flowers are blooming, Yuzu trees exude fresh citrusy hints through the air, and leather notes come from the jackets worn by pedestrians, aroma of Jasmine green tea floating around from the tea house nearby, the scents of precious woods from shrines and temples spread through the air. We use many exotic and rare ingredients in a high percentage in this scent. Only by using such ingredients, this scent could be created and conveyed in a beautiful and unusual way.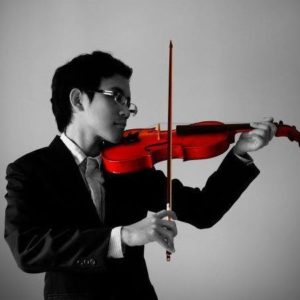 Emyrs Au of AUPHORIE
MC: Eugene in 50 words or less describe your brother Emyrs, Emyrs describe Eugene
E& E A: Eugene describe Emrys: Emrys is smart and cool. He is always there to inspire me. He is my perfect companion in doing business. He is always my beloved younger brother. I doubt there is anyone else who understands me as much as he does.
Emrys describe Eugene: Eugene is always calm and steady. When it comes to art, he has unique senses, sharp instincts and an endless flow of creativity. He is also a great elder brother in my life. I admire and respect him very much.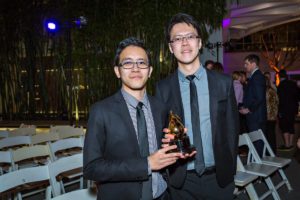 Art and Olfaction Awards ceremony(Photocredit-SMGPhotography)
MC: How did you learn about the IAO awards? How has winning the IAO award in the artisan category changed your lives?
E& E A: We learned about IAO awards from fragrance news site like CaFleureBon, which we read to learn about what is new in niche and artistic perfumery. The award brought us some exposures and allowed us to share our creations with more perfume lovers from all over the world. It also made us more confident in our craft. Now we are getting busy in creating our upcoming scents.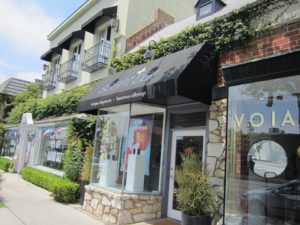 Scent Bar – A visit to Scent Bar is like a journey to the olfactive wonderland

MC: What advice would you give aspiring artisans?
E& E A: Hone your craft, believe in yourself, and never give up.
MC: As artisan perfumers, small batch perfumers how will you keep up with demand? What is next?
E& E A: We insist on making our perfumes in small batches only in order to ensure the quality. Since a large proportion of rare natural ingredients are used in our formulas, our perfumes are not meant to be mass-produced and we have no intention to manufacture them in large scale either, despite the increasing demand. We think this is what distinguishes between artisan perfumers and the rest. In the future, we will be putting all of our effort into creating more perfumes and more highly designed bottles that reflect on our styles and philosophy.
–Michelyn Camen , Editor in Chief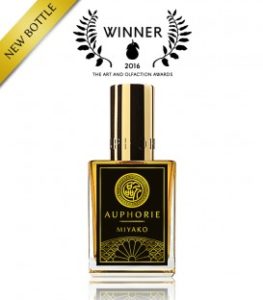 New Bottle debuts June 2016
Thanks to Eugene and Emyrs we have a 30 ml bottle of MIYAKO extrait (which is sold out at the moment) for a registered reader anywhere in the world. To qualify, please leave a comment with what excites you about Auphorie, Miyako in particular, your thoughts on Eugene and Emyrs as young perfumers and where you live.
If you want your comment to count twice please LIKE CaFleureBon Behind the Bottle on Facebook. Draw closes 5/26/2016
We announce the winners on our site and on our Facebook page, so Like Cafleurebon and use our RSS option…or your dream prize will be just spilled perfume