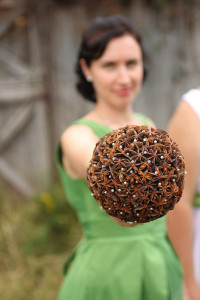 With its sweet taste and unique aroma, anise is instantly recognizable in fragrances. Anise is described as having a scent that is sweet, soft, and mild, and yet extremely powerful. Licorice, often considered identical to anise is, in its pure form, different with an intensely sweet but also rich with a root-like, slightly caramel fragrance. Star anise is the third in this triad of scent-similar but completely unrelated plants with a fragrance like and yet different, as it can have both sweet and salty properties. They can provide a unique note to perfumes, whether combined with vanilla and/or spice for a gourmand fragrance, or with woods and earthy scents.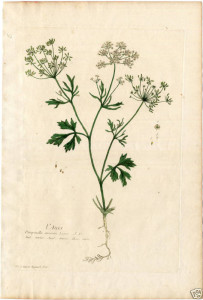 Botanical drawing Pimpinella anisum
Anise (Pimpinella anisum), also called aniseed, is an herbaceous annual related to carrots and fennel and other members of the Apiaceae or Umbelliferae family. It grows to one meter or more in height and bears its tiny flowers in umbels similar to Queen Anne's lace. Native to Greece, Egypt, and Asia Minor, anise was cultivated by ancient Egyptians, Greeks, and Romans. The word anise is used for both the herb and the flavor.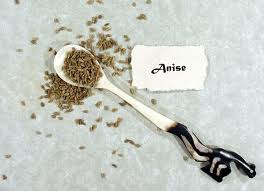 More than in fragrance, anise finds many uses in flavoring in food and drink, from the famous black jelly bean to European pizzelle cookies to Peruvian doughnut-like picarones,Italian Biscotti and the Mexican chocolate drink champurrado. After a really delicious Indian meal the little seed/candy mixes that are served to cleanse the palate and aid digestion include aniseed. Ancient Romans cooked anise into little flavored cakes and it may have been used in Biblical times for paying tithes and taxes. Anise is used on fishing lures to attract fish and both fishers and hunters use anise soap to cover up any bad scents from their hands.
Long known for its healing properties, anise is a go-to herb for many people when confronted with respiratory and digestive problems. Its sweetness is lovely in a soothing tea whether you are suffering from a cold or stomach upset. It was known as solamen intestinorum or "comforter of the bowels" to ancient medicinal practitioners.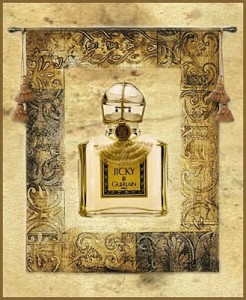 Jicky, the first modern perfume
Important in producing flavored spirits, anise is found in absinthe, anisette, pastis, Greek ouzo and Turkish raki, sambuca from Italy, and several South and Central American alcoholic beverages. Because it does not mix well with water these drinks may become cloudy upon addition of water—a phenomenon called the ouzo effect. The first modern perfume to use anise in its formulation is believed to be Guerlain's Jicky which was composed by Aimé Guerlain in 1889.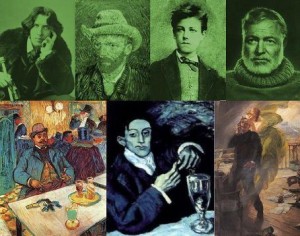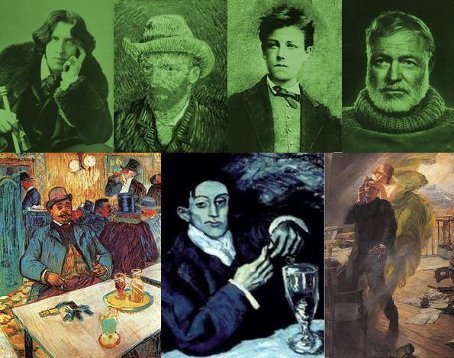 Clockwise from top right: Oscar Wilde, Van Gogh, Arthur Rimbaud, Earnest Hemingway, 'The Absinthe Drinker' by Edouard Manet, 'Green Muse' by Albert Maignan, 'Angel Fernández de Soto with Absinthe' by Pablo Picasso
Absinthe, made famous in Bohemian Paris (La Fee Verte or The Green Fairy) for its alleged pyschotropic properties is distilled from a variety of botanicals including anise, wormwood, fennel, and other medicinal and culinary herbs. Writers and artists such as Ernest Hemingway, Charles Baudelaire and Les Poetes Maudits , Toulouse-Lautrec, van Gogh, Oscar Wilde, and Pablo Picasso were known to drink absinthe using it as both a muse, sometimes to excess, and as a subject of their art and literature. Hemingway wrote about Absinthe in For Whom the Bell Tolls, "Whiskey… does not curl around inside of you the way absinthe does … There is nothing like absinthe." Oscar Wilde was alleged to be an avid absinthe drinker and he wrote "After the first glass of absinthe you see things as you wish they were. After the second you see them as they are not. Finally you see things as they really are, and that is the most horrible thing in the world".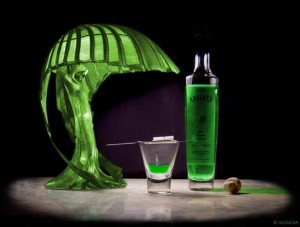 The traditional preparation involves adding water poured over a slotted spoon that holds a sugar cube. The water produces a characteristic cloudiness and releases the herbal aromas and flavors to bloom with subtleties formerly held in the alcohol. Absinthe was thought to be dangerously addictive and psychoactive due to the wormwood and was banned throughout much of Europe and the United States until the late 1990s..
Star Anise botanical name Illicium verum means true attraction
Star anise is from a very different source, an evergreen tree native to Vietnam and China, and has the beautiful and distinctive star-shaped fruit that is dried to produce the spice and fragrance. It is an important ingredient in many ethnic cuisines. The star-shaped fruits are harvested just before ripening when the essential oil content is highest and the aromatic fruits and seeds are used in teas, flavors, and are chewed to aid in digestion. The ornamental tree is often grown for its appearance, scented flowers, and fragrant leaves. In French it is known as La Badiane but the scientific Latin name Illicium verum means true attraction.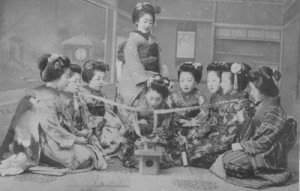 Japanese Women burning incense
Star anise is said to ward off the 'evel eye'; bring good luck in money and love matters; give clarity to health matters in the form of visions. Place the whole dried pods near your bed for protection, purification, and to prevent nightmares. The powdered bark of the tree is used in incense of Japanese temples, and the trees are planted around temples and on graves for consecration and protection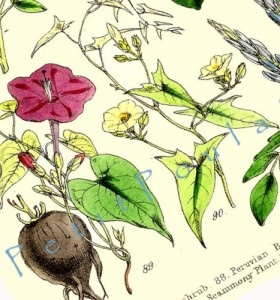 Antique 1853 Victorian Print of Licorice
Licorice (Glycyrrhiza glabra) is the final aromatic plant in this group. Unlike the others where the aromatic is obtained from the seeds (aniseed) or fruit (star anise), the roots of the licorice plant provide the unique flavor and fragrance. The roots are wrinkled and fibrous with a sweet and earthy odor. They are boiled to extract the flavor and then the water is evaporated producing a liquid extract or a solid block that may be packaged as bars and wrapped in laurel leaves.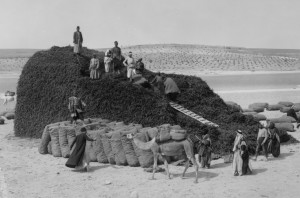 Syrian Trader harvesting Licorice
Also called sweet root, Licorice was found in the pyramids, and the Chinese have used it for 3,000 years. Archaeologists found Roman licorice along Hadrians Wall. Hannibal gave his elephants liquorice to chew as they crossed the Alps and Bedouins give their camels liquorice to quench their thirst. The ancient Hindus believed it increased sexual vigor when prepared as a beverage with milk and sugar. The Chinese maintained that eating the root would give them strength and endurance and also prepared special tea of it for use as a medicine. Like aniseed, licorice is many times sweeter than sugar and is a valuable ingredient in medicinal preparations so they taste better.

SenSen Breath Perfume ad from 1898
Licorice (liquorice) is also used as a flavoring, it can mask unpleasant tastes and odors and is famous for its distinctive candies most notably Sen Sen which was called a "breath perfume' when it was introduced in the late 19th century and was thought to help ease coughs and sore throats. Small pieces of the root may be used in breweries for adding flavor to stouts, porters and other dark beers. It helps produce the dark color and adds stability to the foam. For this reason, licorice extract may also be used in fire extinguishers to assist with the foaming action.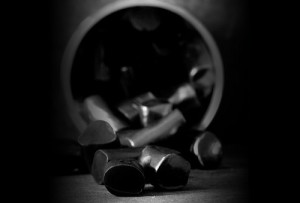 In magick and hoodoo these sweetly aromatic herbs have been associated with Mercury or Jupiter. Anise is associated with protection, purification and youth whereas licorice has been used to ease the path of the dead and can be buried in tombs and caskets to ease the soul's path to the next world. They are all associated with sexual passion and may be used in love spells: chew licorice to make you passionate and anise to make your lover dream of you or use either kind of anise for sexual potency. Licorice may be used in binding and love spells or sprinkled in the footprints of a lover to keep them from wandering.
Rituals—of fragrance, of cooking, of drinking, and of love—are associated all over the world with these three plants… Seed, fruit and root.
– Elise Pearlstine, Monthly Contributor and Perfumer for Tambela Natural Perfumes (contributions from Michelyn Camen, Editor in Chief
Art Direction: Michelyn Camen, Editor in Chief
For our ANISE, STAR ANISE AND LICORICE PERFUMES draw: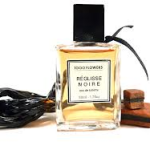 Merci to Perfumer Jessica September Buchanan for 15 ml 1000 Flowers Regalisse Noire with anise seed and star anise WORLDWIDE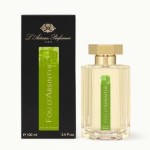 L'Artisan Parfumeur is offering 50 ml Fou D'Absinthe composed by Olivia Giacobetti with star anise WORLDWIDE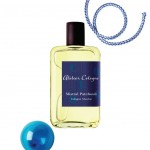 Thank you to our friends at Atelier Cologne for 30 ml Mistral Patchouli created by Jermome Epinette of Robertet. With Star Anise from China WORLDWIDE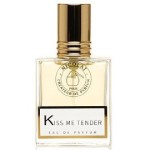 Parfum1.com has generously offered 30 ml of Parfums de Nicolai's Kiss Me Tender created by Patricia de Nicolai with anise seeds WORLDWIDE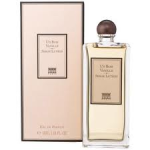 Fragrance.net is sponsoring 50ml of Serge Lutens Un Bois Vanille with licorice USA ONLY
Sens-Unik, the US distributor of UNDERGREEN is offering 100 ml UNDERGREEN Black created by Perfumer Fabrice Olivieri with notes of oud, coffee and liquorice. 100 NATURAL USA and Canada Available at BEAUTYHABIT.COM and Henri Bendel NYC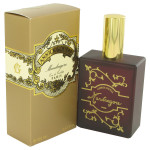 From FragranceX.com 3.4 oz of Annick Goutal's Mandragore Pourpre EDT created by Isabelle Doyen with star anise USA ONLY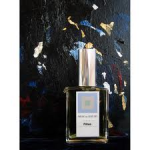 Our lovely Dawn Spencer Hurwitz of DSH Perfumes is offering one ounce of Prince EDP with star anise USA only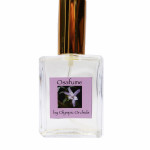 Seattle superstar Ellen Covey (Happy Anniversary Ellen!) of Olympic Orchids Perfumes is offering 30 ml Osofume anise (Pimpinella anisum) from Spain and Chinese star anise (Illicium verum) from China USA only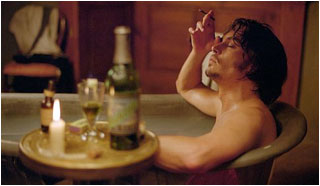 Gratuitous picture of Johnny Depp in the bath drinking Absinthe
To qualify for this draw please leave a comment about what you learned from this article and as many of the fragrances you would like to win (Country restrictions, so we MUST know if you are an International reader- EU or elsewhere, so leave that in your comment). The draw is random but we will try to match winners with their choices.
Draw closes August 23, 2013
We announce the winners only on site and on our Facebook page, so Like Cafleurebon and use our RSS option…or your dream prize will be just spilled perfume.