Sarah Colton author of Bad Girls Perfumes and two bad boy accomplices, CaFleureBon Contributor Ermano Picco and Silvio Levi of Esxence in Milan, Cale Fragranze d'Autore and Nose
"I wrote Bad Girls Perfume as a fun, fast, and furious read to help my Bad Girl friends (and their Bad Boy accomplices) up their game through the strategic use of perfume power. With this in mind, it's hard to think of a better audience than the readers of Ça FleureBon". –Sarah Colton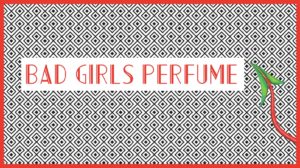 Bad Girl Perfumes
Before Gail's review of friend, author and perfume expert Sarah Colton book Bad Girl Perfumes, I want to share a conversation I had with Maria McElroy of Aroma M, in 2007, about the transformative powers of fragrance" and its relation to expressing our personality. I asked Maria how much does our character effect what fragrance we choose. Maria pondered "That's a really interesting question, for example would a librarian wear a dark chypre" We went back and forth on the subject, and agreed that perfume can change the perception we have of ourselves, and even proper girls with proper jobs have a wild side that with one spritz spells trouble.-Michelyn Camen, Editor in Chief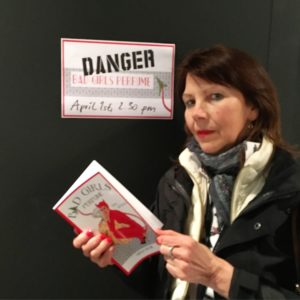 Sarah Colton Bad Girls Perfume at Esxence 2016 photo Helder Suffenplan
"…[W] hen Jicky spoke to me, not with words but with the unique power of her fragrance, I felt her looking straight into places of my soul even I couldn't see." Page 10
Fragrance can transform our feelings and perceptions about everything from laundry detergent to bubble gum. Fine fragrances, the perfumes we wear and cherish every day, have inherent power that can make us happier, sexier and more confident woman – and men. In Bad Girls Perfume Sarah Colton takes us on a tour of how "bad girls" employ and rely on very different fragrances to create and maintain personal image, facilitate seduction, aid in the "hunt", stimulate fantasy and prepare for all out war. She begins with her own journey of transformation from the girl that was Jean Naté, to the real woman brought to life and inspired by Guerlain Jicky.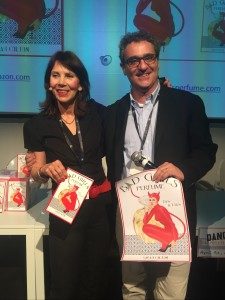 Sarah Colton and Silvio Levi at Esxence 2016 Photo Micheyn
"Perfume is the origin of Original Sin." p. 4
As the book unfolds Sarah's delightful, witty and thought provoking storytelling coupled with amusing cinematic anecdotes and solid historical information take us on a fascinating fragrant journey from the garden of Eden to the End of the World – and beyond.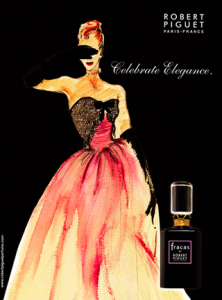 Fracas A BAD GIRL white floral
"…[I]t could be argued that the Sexual Revolution which defined the entire second half of the 20th century and is still going strong in the 21st, was triggered by a single white floral perfume in the hands of a very, very Bad Girl." p.25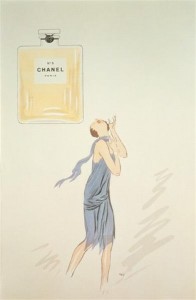 Chanel No 5 vintage ad 1927
After revealing her personal experiences in Chapter I – "Bad Girls Need Perfume" – the author goes on, in the second chapter of the book, to describe "The Two Faces of Eve". She explains and demonstrates how fragrance can at once alter our own self-image and change how others perceive us. The first face she refers to is the "Innocent Flower Persona" typified by scents like Estee Lauder Beautiful and YSL Paris. The alter ego, the "in Your Face" persona, is broken down into three sub-categories.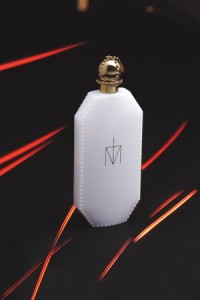 Madonna Truth or Dare
"In Your Face" White Florals like Robert Piguet Fracas and Madonna Truth or Dare are hard to miss. "In Your Face" Aldehydic Florals are typified by such classics as Chanel No5 and Lanvin Arpege.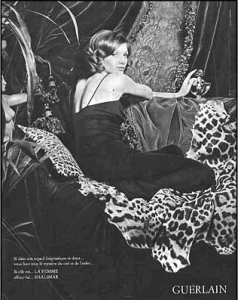 Guerlain ad Shalimar 1972
"In Your Face" Bad Girls know that one of the most important purposes of oriental fragrances is to excite, confuse, and ultimately exhaust their lovers." p.32
Among the "In Your Face" Orientals we find none other than Guerlain Shalimar and Giorgio Beverly Hills and Calvin Klein Obsession.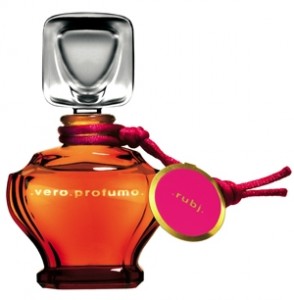 Vero.profumo RUBJ
Chapter three details the author's conception of two levels of seduction, Existential (Passive) and Operational (Active) and suggests perfumes appropriate for each level. On the passive side she lists, among others, Guerlain Mitsouko, Serge Lutens Rose de Nuit and Vero Profumo Rubj. For the actively seductive "bad girls", Bad Girls Perfume gives the operatic example of Bizet's Carmen and colors the seductress with the scent of Paloma Picasso's signature chypre, Byredo Gypsy Water and Molinard Habanita.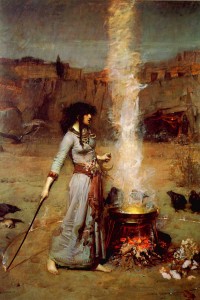 John Williams Waterhouse Magic Circle
"If I only offer here a furtive peek at the power of Bad Girl Witches and their use of perfume, it's because this formidable mixture is too dangerous a phenomenon to risk closing up between the pages of a book. My intention is therefore, and with great respect and humility, to simply blow open a window on one of fragrance's elemental strengths: its power to evoke the dark side." P 89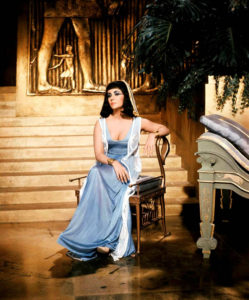 Liz Taylor as Cleopatra, the canny gold-digger of perfumery
Bad Girls Perfume continues with chapters on thievery, hunting and huntresses, and perfume personality matches for cougars, witches, gold diggers and mermaids. A classic example of a "Goldigger is Cleopatra. More contemporary is Liz Taylor. Gourmand and fruity fragrance such as the brilliant Rubini Fundamental, the 1992 Mugler Angel, Prada Candy, Arquiste for J Crew No 57 abound for today's Gold Digger (we know Michelyn's predilection for these types of fragrances and for her more than passing resemblance to La Liz, there may be something to this)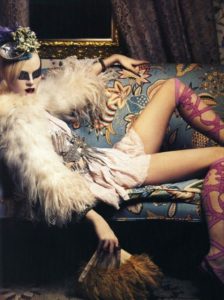 Steven Klein Karen Elson, Roberto Cavalli Spring 2004, Vogue Italia, March 2004
Fantasies open a fabulous secret world to hide from or run to, alone, or in company. Who or what could be our best accomplice, for such exploits? Perfumes, of course. As keepers of the gates to our wildest, deepest, and most intimate imaginations, perfumes can inspire, encourage, and accompany us through all our fantasies, as we act, or don't act. And although the best perfumes leave an indelible "trail," they will never betray our deepest secrets. Unless, of course, we want them to." p. 99
Fantasies and fantasy fragrances are detailed in my favorite chapter – seven.-Gail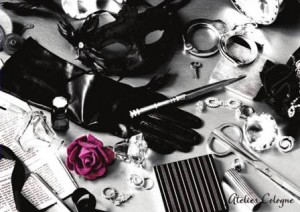 Rose Anonyme Atelier Cologne
"Currently, with colognes coming on so strong, many of my Bad Girl friends are approaching this succession of men, er, I mean colognes, the same way they do a "one-night stand." Nothing serious please, just give me an occasion to indulge my senses with no thought for tomorrow. Where previously she might have blamed her coolant needs on the heat, the moment, the summer, or whatever the hell she felt like, today's Bad Girl doesn't even look for an excuse beyond the whims of her delightfully fickle nature. She obsesses. She exults. She moves on. There have been others. There will be more. No commitment. No undesirable) consequences. Ah, is this not a perfect Bad Girls perfume life?" p. 138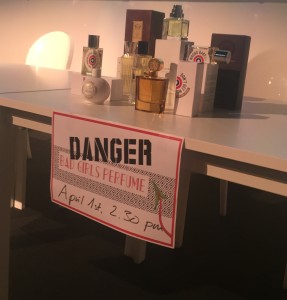 BAD GIRL PERFUMES photo Michelyn
Strategies for sexual warfare are laid out in chapter 8, followed by information about colognes and how to use them to stay cool while under various kinds of hostile fire. By all means don't skip reading "The End of the World" – and after! And make a point to check out the appendices. They are packed with great information.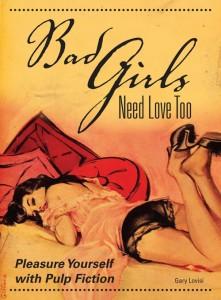 From Chapter 1-9, beginning to end Sarah Colton weaves a seamless tapestry of fact, fantasy and over 400 fragrances spanning the perfume landscape from the 13th century through early 2016. The author dedicates her book "To the people of the fragrance community and the wild imaginings of their spirit." I' hope you will enjoy reading Bad Girls Perfume as much as I have". And we did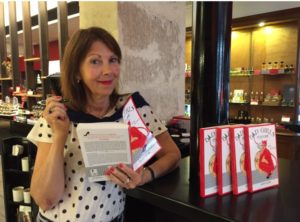 Sarah Colton signing copies of Bad Girls at JOVOY
Writer's Note: The author of Bad Girls Perfume, Sarah Colton, is an American free-lance perfume journalist living in Paris. She is the Paris Correspondent for Beauty Fashion Magazine of New York and the Perfume Magazine.com. She has written articles about the French perfume world, about perfume, perfumers, launches and trends for more than fifteen years. Sarah's articles have also appeared in other publications including Glamour and Redbook. Her first novel, Tilt 68, was published in 2007 and her new book, Bad Girls Perfume, was introduced at Esxence in 2016.
Bad Girls Perfume is available for purchase from Amazon.com Jovoy Paris and through Sarah Colton's Bad Girls Perfume website.
Disclosure we received copies of Bad Girl Perfumes, opinions are our own
Gail Gross, weekly contributor and Michelyn Camen, Editor in Chief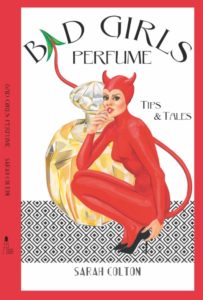 Art Direction:Michelyn
Thanks to the generosity of Sarah Colton we have three signed copies of Bad Girls Perfume to three registered readers as follows: A reader in the USA, and Canada, two readers in the Eu and elsewhere in the world (you must be registered to be eligible) Please leave a comment with what you enjoyed about Gail's and Michelyn's review of Bad Girls Perfume, or a quote, what is your bad girl or bad boy perfume and where you live by 8/29/2016.
We only announce winners on site and on our Facebook page – so like Cafleurebon and use our RSS feed option … or your dream prize will be just spilled perfume.