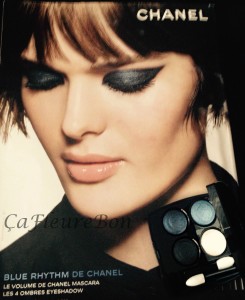 Les 4 Ombres Multi Effect Quadra Limited edition Shadows 244 TISSÉ JAZZ photogrpahed on CHANEL Ad September issue of Elle
Rampaging through my makeup stash, there is one color that is under-represented –Blue. I love Blue; my eyes are blue, the sky is blue, the ocean is blue, my favorite dress is blue, but as eye shadows I tend to shy away (I have images of Mimi from The Drew Carey Show in my mind that are difficult to shake). With the weather warm and summer still in full swing, I put aside my preconceived notions that blue is for brown eyed gals and have been wearing CHANEL TISSÉ JAZZ 244 this past week. Is it me or is the very thought of deep Autumn shades (the burgundys, plums and deep reds) make you sweat as we are in for at least a few more weeks of temperatures near 90 degrees.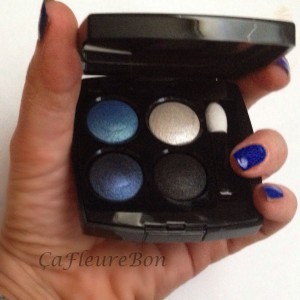 Blue is a very French color. It is very much a CHANEL color. Think of the Breton stripe tops, that Mademoiselle Coco Chanel turned into a fashion sensation for women in 1917. It is also very American especially when used as a noun-"The Blues"; and the Blue Rhythm Collection evokes American Jazz.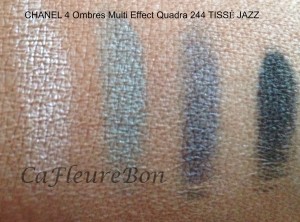 The highlight color is creamy white with silvery undertones. It works well applied sparingly to my cheek bone; but as a shadow it isn unusual.
I fall in love right away with the metallic teal with its silvery undertones that is appears deep aquamarine on my eyes. I use this as a wash on my eyelind or wet as a liner to set off a neutral day look. There is shimmer, there is glamour the texture is very fine with no fallout . I would buy 244 TISSÉ JAZZ for this color alone. Use the STYLO FRESH EFFECT EYESHADOW in 117 Azulejo as a base and your inner Mermaid will be happy
The third color looks cobalt in the pan but on my eye more of a dark navy with duochrome anthracite. Used wet, it is a great alternative to black eyeliner. Apply it dry and its a great shade to smoke out neutral eyes for evening
The fourth color is near black with slight midnight blue undertones, the texture is smooth and semi matte. Use it as a base under Color 3 for added drama. Les 4 Ombres Quadra Shadow 244 TISSÉ JAZZ is a limited edition/ SRP: $61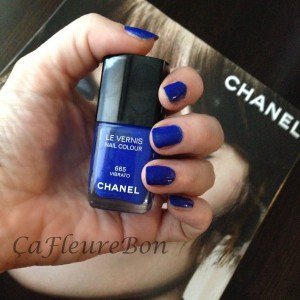 The Star of the Blue Rhythm de CHANEL collection is Le Vernis 655 Vibrato (limited edition) an electric cobalt blue that is seasonless. It is an unusual color for CHANEL and it covers the nail without streaking in one coat, add another and it shines. $27
Buy? Mais oui!
Available at CHANEL.com
Disclosure: product provided by the company; opinion my own
The photos are my own and I used the back cover of CHANEL's AD in September Elle as a 'canvas"
–Michelyn Camen, Editor in Chief