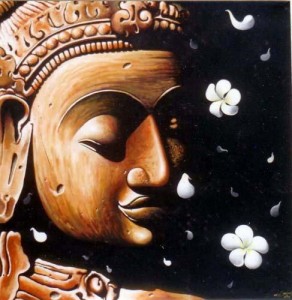 Editor's Intro:Tuesday 17 May-Wesak or Buddha day
The most important of the Buddhist festivals Wesak celebrates the Buddha's birthday, and, for some Buddhists, also marks his enlightenment and death.The day of his birth is unknown but in most Buddhist cultures it is celebrated in 2011 between May 11-May17.
Siddhārtha Gautama (Sanskrit: सिद्धार्थ गौतम; Pali: Siddhattha Gotama) was a spiritual teacher who founded Buddhism. [In most Buddhist traditions, he is regarded as the Supreme Buddha (P. sammāsambuddha, S. samyaksaṃbuddha)] of our age, "Buddha" meaning "awakened one" or "the enlightened one."
Guest contributor Anya McCoy the President of the Natural Perfumer's Guild helps CaFleureBon celebrate this day and its spirit of peace all year round with a special article and draw.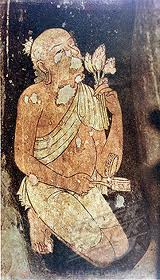 Buddha's Temple/by Anya McCoy
Years ago, a friend who had collected Oud for years gifted me with a very special distillation. I dabbed one drop on my wrist, and went into the garden to work. I had to quit and go inside and lay down, as the oil affected me. I'm not the airy-fairy type who "swoons" by any means, but this stuff really did something to me. I found out from my friend that aloeswood is smouldered in Buddhist temples, and that the monks have a special grade that they use to put them into meditative trances.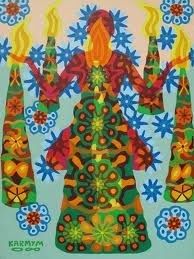 When I created Temple perfume, there was a strong intent behind it: I wished to bring a bit of Buddhist nirvana, and a deep peace to those who would wear it. I used Buddhist and Ayurvedic herbs in tincture, pure and natural Oud from Laos from Guild Supplier Enfleurage in it. Feedback from customers was unanimous from those who had actually visited Buddhist temples in Japan: my Temple perfume captured that fragrance.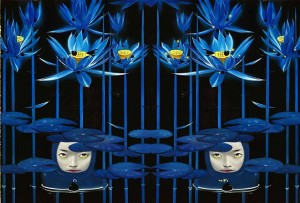 Lotus was the flower of Buddha. The blue water lily, Nymphaea caerulea, which is called the Blue Lotus but is truly not related to white or pink lotuses, has been recognized from ancient times as not only a gorgeous scent, but a flower that has powers of altering the wearer in the kindest and most soporific of ways, much in the manner of Oud. I have some rare and precious Blue Lotus absolute that I snatched up at $600/ounce, since it rarely appears on the market.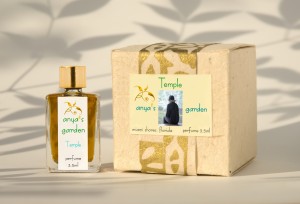 Do you want to be calmed? Are you in a stressful time in your life? Would you like to try to treat yourself to a glimpse of Nirvana via fragrant extracts that honor Buddha? In honor of Buddha's birthday, I will create a one-of-a-kind flanker of my Temple perfume, and incorporate some of the beautiful Blue Lotus in the perfume.
Temple is only offered in one size, due to its rarity, a 3.5ml mini, and I will be happy to gift a CaFleureBon reader with it. Good luck in the draw! Draw closes May 23, 2011
–Anya McCoy, Guest Contributor
"Thousands of candles can be lit from a single candle, and the life of the candle will not be shortened. Happiness never decreases by being shared."
Buddha quotes (Hindu Prince Gautama Siddharta, the founder of Buddhism, 563-483 B.C.)
Editor's Note: Namiste and Shanti to all.