1911 Chicago International Aviation Meet via Flickr
Dateline – January 23, 1911. The year 1911 saw Chicago, "That Toddlin' Town", burgeoning with commerce and bursting with optimism. Amazing advances in aviation were part of the daily news. In the Windy City, there was the 1911 Chicago International Aviation Meet where Lincoln Beachey set a world altitude record of 11,642 feet. Across the globe, 1911 was a year of "firsts" – the first Indianapolis 500, the first performance of Puccini's Madame Butterfly. Roald Amundsen was the first man to reach the South Pole. In New York City the horrors of the Triangle Shirtwaist factory fire reawakened the American social conscience from the hypnotic excesses of the "Gilded Age".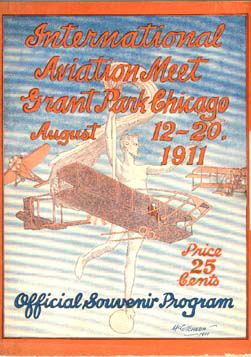 The official 1911 Chicago International Aviation Meet program
While abuses were still rampant, a new, socially progressive era was dawning. Small business owners were encouraging employee education and making efforts to provide safe environments for their workers. One such company, John Blocki & Son, the first retail perfume shop in Chicago, introduced, on January 23, 1911, a new perfume that would prove to be one of the firm's most popular fragrances. Blocki Sanrovia perfume, was named for the village of Roviano, a favorite destination of the perfumer John Blocki on his many visits to Italy.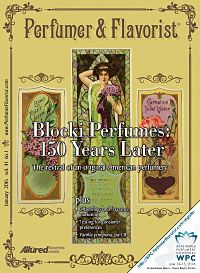 Blocki on the cover of P&F, formerly the American Perfumer magazine. Courtesy of BLOCKI.
John Blocki (1845-1934) was born near Königsberg, Prussia and immigrated with his family to the United States, settling in Sheboygan, Wisconsin in 1850. At the age of fourteen he began training as a chemist. In 1862 he relocated to Chicago, joining the drug company of Fuller, French and Fuller. Three years later, when John was only twenty, he opened his own wholesale drug firm, Blocki, Dietzsche & Co., specializing in perfumes and imported essential oils. Subsequently John Blocki established the perfumery, Blocki & Son, moving the enterprise, in 1903, to a magnificent retail space at 189 Michigan Avenue in Chicago.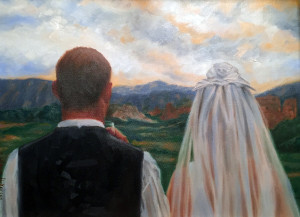 Wedding Photo of Tammy and Tyler Kraemer
Fast forward – January 23, 2018. The rebirth of the 1911, Blocki Sanrovia perfume will take place on January 23, 2018, exactly 107 years after the introduction of the original. In 2013, John Blocki's great-great grandson, Tyler DeLaBar Kraemer and his wife Tammy took on the daunting task of reviving the family business. This was not merely a matter of stenciling a "ghost" brand or revisiting a forgotten trademark for quick profits.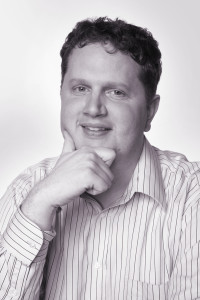 Kevin Verspoor
The considerable reputation of Blocki, one of America's oldest perfumeries was at stake. Tyler and Tammy Kraemer worked carefully with perfumer Kevin Verspoor, spending the extra time and money needed to build accords that embraced a vintage aesthetic of complexity while at once appealing to modern tastes. Their first three fragrances, For Walks, In Every Season and This Grand Affair, were offered for sale in 2015 and were immediate successes. Passionate about vintage perfumes, Kevin was in his element, breathing new life into the Blocki heritage. His enthusiasm led him, while working on the first three perfumes, to complete a fourth, which would be named Blocki Sanrovia perfume. When Tyler smelled #4 he knew it would be a great addition to the line.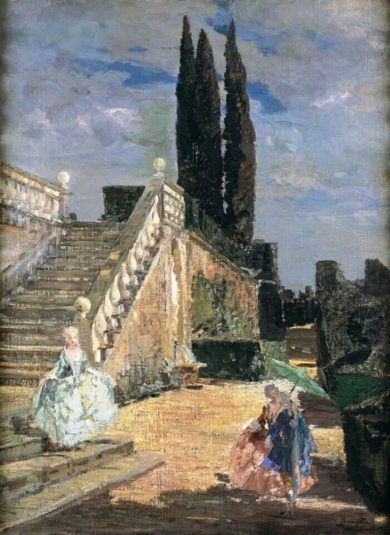 Emma Ciardi La Scala dei Cipressi©
Blocki Sanrovia Perfume opens with a zest of California lemon and bergamot, projecting the sweet freshness of iced Italian Limoncello and the honeyed nectar of Valencia orange. The first breath is bracing in its freshness, a cool breeze through a grove of citrus, reminiscent of vintage Italianate colognes.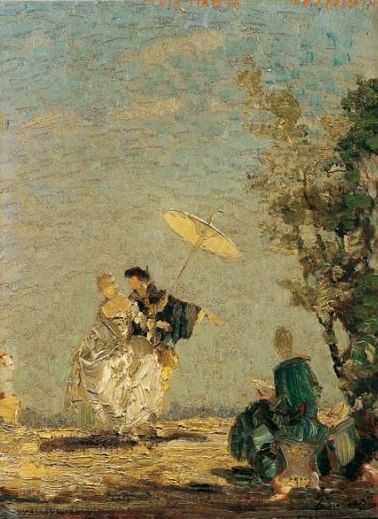 Emma Ciardi (1879-1933) Italian Impressionist Painter
Within minutes traces of geranium and lavender add an herbal twist to the tart lemon and honeyed orange, soothing my skin with impressions of sun drenched gardens of aromatic herbs. As the perfume marries my personal chemistry, the sweet, seductive nature of jasmine embraces the citrus and herbal scents, creating a heartbreakingly beautiful warmth. There is something so familiar about this phase of the perfume – an image not fully in focus, vignettes of long ago afternoons on sunlit hillsides or in lush meadows by the sea. At about 40 minutes the fruit filled, honeyed scent of an old garden Damask rose briefly becomes part of the olfactory landscape, wafting a freshly cut quality via hints of residual lemon.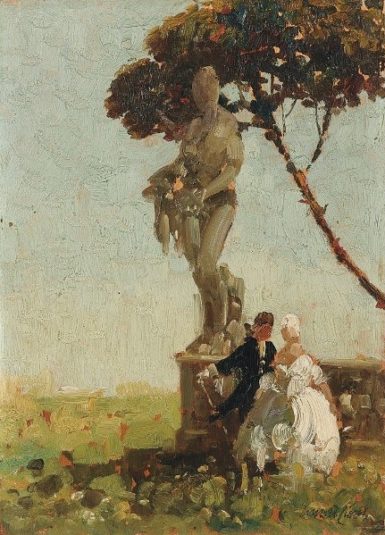 Emma Ciardi
It is at this point that I begin to sense one of my favorite fragrance ingredients, Santalum spicatum, AKA Australian Sandalwood. Some may prefer the buttery roundness of Mysore sandalwood, but I love the slightly sharp, mineral qualities and woody floral facets of the former. In Sanrovia, the Australian sandalwood is woven seamlessly into the texture of the fragrance, supporting and emphasizing the best features of flowers and fruits.The heart of the perfume remains in place for five hours and more before the sun begins to set on the groves and gardens of Sanrovia. A touch of dark labdanum and shadows of vetiver color the sandalwood as the perfume slowly dries down, lingering on my skin for several more hours, vanishing at last into a mist of fragrant memories.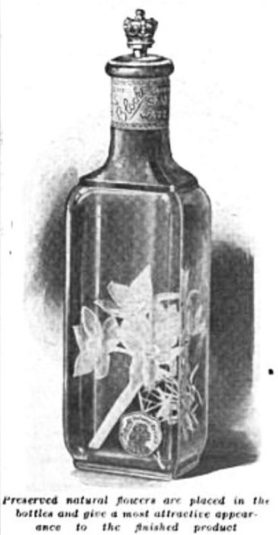 Via BLOCKI Pinterest John Blocki, Flower in a Bottle, US Patent, Jan. 1, 1907
John Blocki, chemist, businessman and perfumer, was a pioneer in the American fragrance and beauty industry. He was a social innovator, advocating for women's independence, selling his perfumes through woman-owned beauty shops and hiring women to bottle and label his products. The perfumer was also a conservationist and an inventor. His unique packaging, featuring preserved flowers in bottles of perfume, earned him a US patent.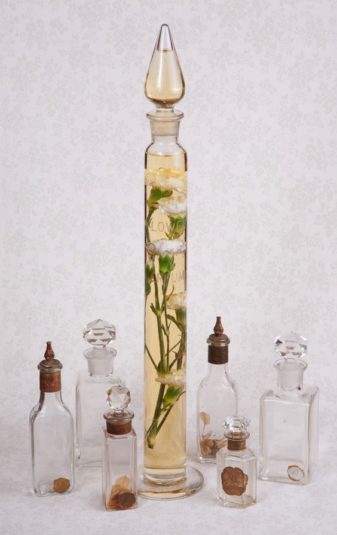 Vintage John Blocki & Son perfume bottles and tall display bottle via BLOCKI Pinterest
The spirit of John Blocki, and the flower essences he loved, lives on in the 2018 Blocki Sanrovia and in every new bottle of Blocki perfume.
Notes: Lemon (from Italy & California), bergamot, Valencia orange,geranium, lavender, jasmine, Jacque Cartier (variety of Damask) rose,Australian sandalwood, labdanum and Haitian vetiver.
Disclaimer: Many thanks to Blocki for the generous travel size of Blocki Sanrovia perfume. My opinions are my own.
Gail Gross – Senior Editor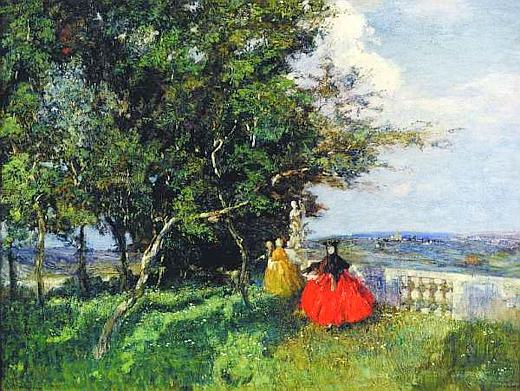 Art Director – Michelyn Camen, Editor in Chief: I chose the art of Emma Ciardi (1879-1933) Italian Impressionist Painter to bring to life Gail's beautiful review and to pay homage to John Blocki's trip to Italy and to his advocacy for women.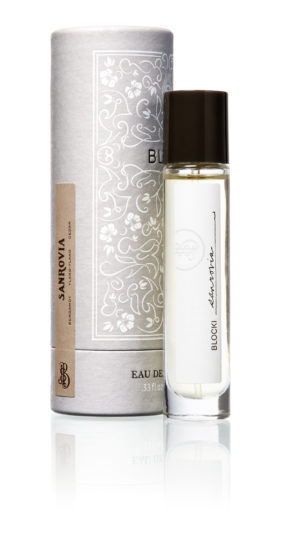 Blocki Sanrovia Perfume
Thanks to the generosity of Blocki, we have a draw for two 10ml travel size bottles of the new Blocki Sanrovia perfume, available to two registered reader in the US so be sure to register or your comment will not count. To be eligible, tell us where you live and what appeals to you about Blocki Sanrovia perfume based on Gail's review. Also let us know if you have tried any Blocki perfumes or a year that is significant in your life. Draw closes January 27, 2018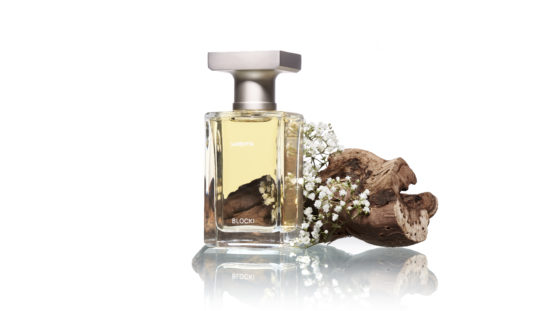 Note: BLOCKI Sanrovia will launch on January 23, 2018 at www.blocki.com and at selectU.S. stockists. Read Elizabeth Rose' fascinating interview with Tammy Kraemer at aveparfum.com.
We announce the winners only on site and on our Facebook page, so Like ÇaFleureBon and use our RSS blog feed…or your dream prize will be just spilled perfume.