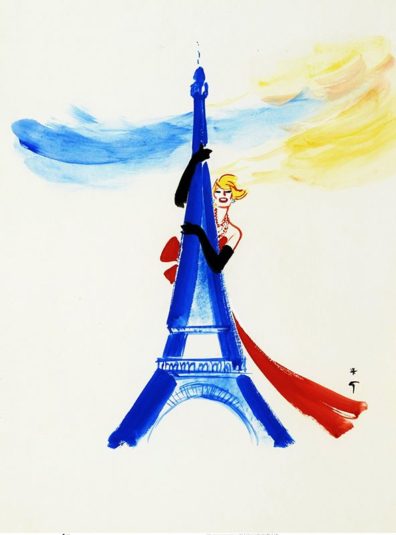 René Gruau©
"Bastille Day" (pronounced Bast-ee) is known in France as "Le 14 Juillet" (July 14th), it is our day of Independence (from the Monarchy). On the 14th of July of 1789 , the peasants stormed the Bastille jail, and it became the starting point of the Revolution, which lasted a few years, until Napoleon became the first Emperor of France, and then the Republic of France, as we know it now (we are currently in its 5th version). But today, the French do not really think history, they just want to have fun, being happy, feel free and patriotic, dance in the street with family and friends, watch fireworks and celebrate France!" – François Damide, Founder of Crafting Beauty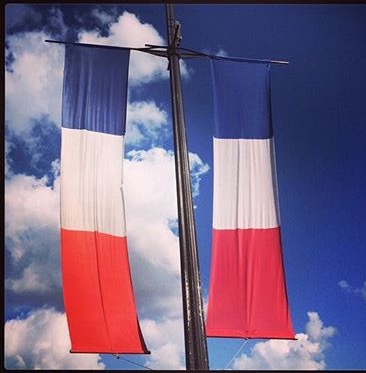 Bleu, Blanc et Rouge Parfums-The French Flag photo via Neela Vermeire
"The flag came out during the French Revolution it's a reunion of the white which is the color of the Royals, the blue and the red the colors of the city of Paris" –François Duquesne, Founder of Maison Duquesne Inc
In honor of Bastille Day and Liberté, Egalité, Fraternité" we chose three Bleu, Blanc et Rouge Parfums: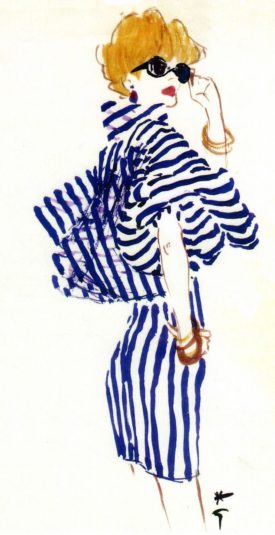 René Gruau©
Chanel Bleu (2010, Jacques Polge): Blue symbolizes la liberte. It is the colour of the people, of Paris and of freedom, so who better to represent it in fragrance then that most French of all couture houses, Chanel? Chanel Bleu, which came out in 2010, has the right touch of free-spiritedness to represent the first shade of the tricolour: a woody fougere, an aquamarine aquatic, a spicy citrus. Throw in a handful of burnished spice, a touch of incense, and rest it all on an earthy, warm base, and you have a fragrance liberated from conventional categories. In parfum strength, Bleu is all about that base: darker notes of vetiver, cedar and sandalwood lean into a foundation of patchouli and spice. On the other end, the EDT is a chipper, spicy aquatic: nutmeg and pepper dominate the opening and ginger and cedar jostle for attention. The EDP, the best structured of the three iterations and the most unisex to my nose, balances those spicy and aquatic notes while giving that resinous, woody base breathing room in the dry-down. This Bleu has unusual depth for an aquatic, and a sassy freshness not often found in classic fougeres. Don your Breton pullover, splash some Bleu on your wrists, and feel free to belt a few bars of La Marseillaise. Notes: Lemon, pink pepper, mint, nutmeg, "Deep Blue Sea" accord, grapefruit, jasmine, ginger, cedar, vetiver, frankincense, sandalwood, patchouli, labdanum. –Lauryn Beer, Sr. Editor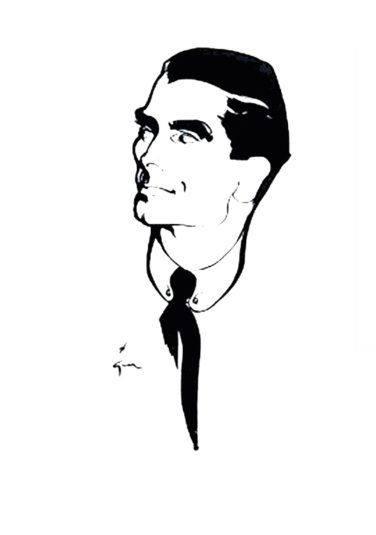 René Gruau©
Blanc as the central slice of the French flag stays for egalité, equality, so an obvious connection in my mind was the delightful spiced woods in Lumière Blanche, one of my favorite from Olfactive Studio (2012). Not only do men love the citrus tinged sparkling cardamom initial blast, but also women surrender to the almondy sandalwood snuggle; so well balanced by perfumer Sidonie Lancesseur just one step before the obvious edible. Equally enjoyable for les garcons et les filles.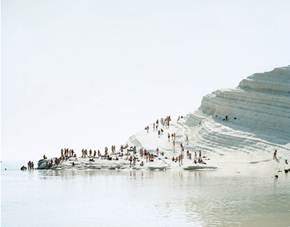 Massimo Vitali
Also the picture creative director Céline Verleure chose from Italian photographer Massimo Vitali portrays a fascinating place connected with equality. The saturated radiance both this woody-oriental and the Turkish steps (Scala dei Turchi, Sicily) exude is a symbol of cultural melting pot that saw Greek, Romans, Arabs and French leaving their contributions. That's the best equality and integration meaning I can think of, the idea each culture has its precious two cents for humanity. – Ermano Picco, Editor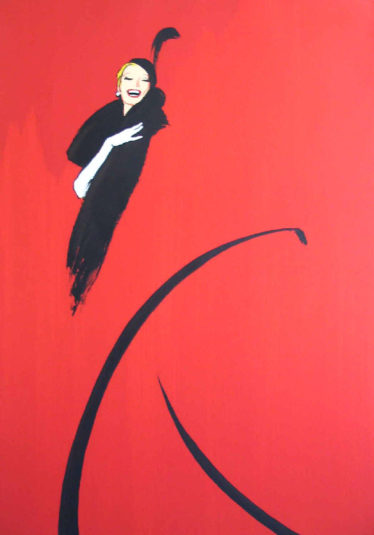 René Gruau©
Rouge is the color of Fraternité: When I think of the words "rouge" and "Paris", I smell Hermès Rouge parfum: quintessential (sic) lustrous sophistication housed in a curvaceous baroque red and gold flacon, elegant and ageless as France herself. Rouge is self-possessed, worldly and always soigné: one feels well-dressed even if it's all you choose to don that day. Perfumer Akiko Kamei created the first version of Hermès Rouge in 1984 with Raymond Chaillan: it was known as Parfum d'Hermès then. I have both versions, including the 2000 Rouge (likely reformulated since) which smells like a magnificent aldehydic woody floral chypre despite its current listed materials.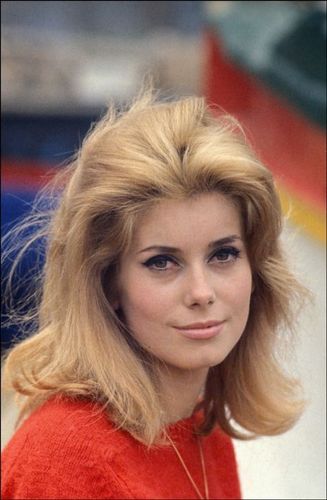 Catherine Deneuve ​Via fanpop.com
Green notes sparkle, suggestive of galbanum, hyacinth and balsamic vetiver. It's hypnotic – not narcotic in nature, more Catherine Deneuve than Simone Signoret. Warm, cool, endlessly alluring and chic: France to a T. Notes: iris, rose, ylang ylang, resins, sandalwood, vanilla, cedarwood, labdanum, myrrh, amber -Ida Meister, Sr. Editor
Art Direction: Michelyn Camen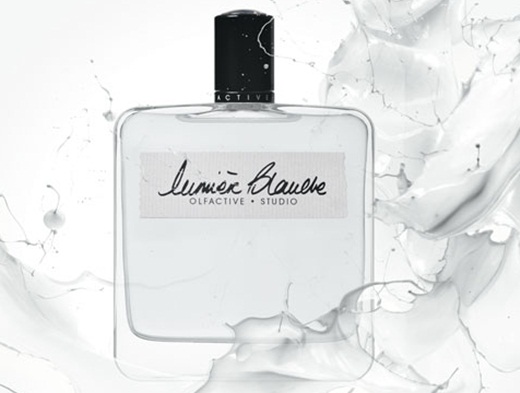 Thanks to Céline Verleure we are offering the "blanc" in our Bleu, Blanc et Rouge Parfums draw… 100 ml bottle of Olfactive Studio Lumiere Blanche for a registered reader in the USA, EU or Canada. Remember you must be a registered reader. Be sure to register here .Please leave a comment with your thoughts on our selections of Bleu, Blanc et Rouge Parfums for Bastille Day and where you live. Draw closes 7/16/2018
We announce the winners on our site and on our Facebook page, so Like Cafleurebon and use our Blog feed…or your dream prize will be just spilled perfume