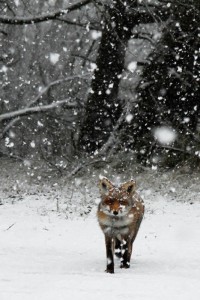 Winter Fox vi flickr Michelyn©
Temperatures take a nosedive, bare silhouettes of balletic trees display themselves to great effect; comforters, flannels, pashminas and fuzzy socks resurface for the season. Soups, stews, all manner of baked dishes are irresistibly appealing. MAMA WANTS SKANK! Not just ANY skank, thank you very much; we crave the classiest, headiest, most decadent perfumes which will cosset us and deliver that Scandinavian hygge we lust after. If I can't have the Northern Lights or an ice palace, I'll have to settle for perfume. Again. Embarrassment of choice. Let's explore two perfumes which fill the bill nicely: Dawn Spencer Hurwitz's ferally elegant FOXY(2017) and Roja Parfums Fetish Parfum Pour Homme (2012).
DSH Perfumes FOXY: She's my second skin for winter perfumes. Or pelt, if you prefer. Dawn has crammed every animalic she could put her pretty nose upon for a realistic portrayal of the red fox combined with a boozy, whiskey/apple effect and a good snootful of spice and resin. There's leather, too; mustn't leave THAT out. I don't know if I'd rather curl up in my lair and snooze or dance in the snow, chasing critters which only I (and that owl up there in those branches peering down at me) perceive lurking beneath the frosted snowy crust. Notes: African stone tincture, apple whiskey, ginger snap accord, peach skin accord, white cognac, ambergris, brown oakmoss, castoreum, costus, cumin, fossilized amber resin, French beeswax, labdanum, leather, mitti, sable fur accord, benzoin, white oak, carnation, grandiflorum jasmine, Juhi jasmine absolute, liatrix, Spanish orange flower absolute, orris, spice notes, white thyme
Roja Fetish Pour Homme Parfum: Since it's my fantasy, I get to call the shots. I'm lolling about inside a vintage Bentley adorned in a sable lap robe, a silver engraved flask, fine company (if that's what they're calling it these days)…and no other garnishment. Oooh, that smooth leather interior, the well-maintained seasoned luxury car aroma, a waft of petrol and my sleek deft-fingered paramour… How could one possibly feel the cold under such circumstances??? Oh, I neglected to mention – I WAS wearing a Venetian mask. Well, ONE of us was. Notes: lemon, bergamot, lime, neroli, jasmin de Grasse, violet, fig, cardamom, elemi, pink pepper, patchouli, oakmoss, vetiver, benzoin, vanilla, labdanum, leather, ambergris, musk –Senior Editor, Ida Meister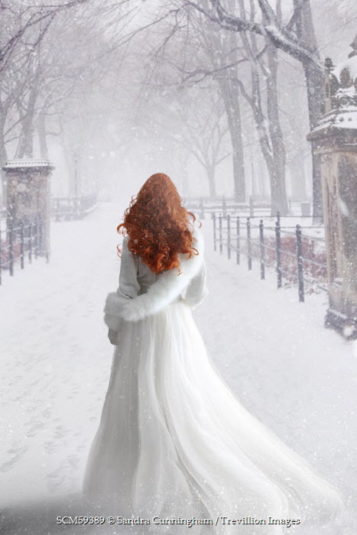 Sandra Cunningham©
Tonatto Profumi Palosanto is a lovely woody, cosseting scent based on the milky, anisic scent of palo santo, or holy wood. None of my winter perfumes work better for me as both sophisticated scent and gentle restorative. This has been a hard few months, and I have been wearing Palo Santo before I do battle with stressful events. It is instantly comforting, giving the illusion of heat as it opens. Creative director and nose Diletta Tonatto marries the wood's characteristic licorice savor with milky, roasty scents that conjure the nursery with her line's characteristic elegance. The result is a fragrance that moves with ease from dressy party to bedtime with a good book. When you feel in need of some gentle beauty on a wintery grey day, Palo Santo will warm even the most tired heart. –Lauryn Beer, Senior Editor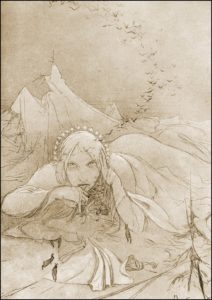 Alphonse Mucha Winter
When the overheated dry house-air of winter desiccates my skin and overwhelms my spirit, I am compelled to open a window of freshness and feel a breath of springtime and choose unlikely winter perfumes such as Parfums Dusita Melodie de L'Amour Extrait de Parfum. Pissara Umavijani's award winning 2016 beauty that begins with a bouquet of cool, white flowers – pristine, elegant and uncluttered, reflecting the poetry of the perfumer's father: "My feeling for you is like a flower blooming in an empty room." – Montri Umavijani. Parfums Dusita Melodie de L'Amour slowly ripens into an understated, not quite full blown, dewy gardenia supported by woody crisp cedar shavings. The smooth, sensuous heart of Parfums Dusita Melodie de L'Amour remains sleek and fluid for several hours before settling into a luxurious musky peach, glazed with honeyed broom and sparkling with scattered petals of muguet and jasmine. Notes: Gardenia, tuberose, white flowers, wild honey, cedarwood oil, musk, peach, Italian broom, lily of the valley and Indian jasmine.
Olympic Orchids Salamanca was created by perfumer Ellen Covey in 2012, inspired by her visit to the ancient Spanish university town of Salamanca, located between Madrid and the Portuguese border. Salamanca is a perfume designed to take the chill off the coldest winter day with suggestions of oiled leather, the scent of fecund earth, summer grass and wildflowers. Olympic Orchids Salamanca opens with a sweet and smoky accord, a bit like fire fueled with high clay content paper. As Ellen Covey's evocative Salamanca develops, attar of mitti reproduces the effect of water evaporating from wet stones. After a couple of hours, the smoke and steam clear away, revealing a midsummer meadow thick with hay, dotted with dusty immortelle and sweetened by honeyed mimosa. Notes: French hay absolute, tonka, mitti, vetiver, immortelle absolute, African helichrysum oil, labdanum absolute, opoponax, leather and yellow mimosa absolute. Gail Gross – Senior Editor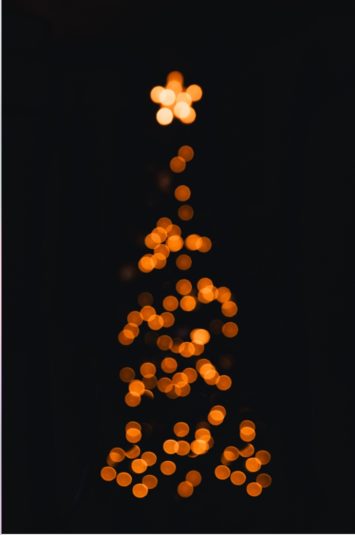 Caleb Woods Unplash©
Nishane Munegu is one of my favorite winter perfumes. Wearing Nishane Munegu feels like being safe indoors in December while the snow is piling up outside. Imagine being curled up with a clove-studded orange pomander hanging somewhere near. A cedar wood box of scarves and mittens is on a bench in the front hall with leather ice skates lined up next to it. Mulled wine is warming on the stove. The vaguely churchy smell of the advent wreath candles is in the air. Munegu is warm, dry and spicy with lovely floral notes ghosting in the background that round it out beautifully. It's the epitome of winter perfumes in just one bottle.-Marianne Butler, Sr. Contributor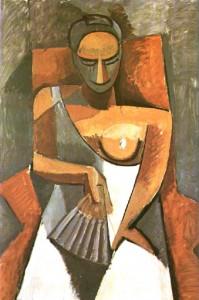 Picasso Seated Woman with a Fan
Herein lies the 'Rub' as Hamlet was known to say, I am bathed in almost Solsticical sunshine, heat and cicadas reverberating and I transport myself at Editors behest, back to a misty Paris with the threat of snow in a leaden sky to delve deeply into the layers of artic air and reset my compass to all points North. 'Others have seen what is and asked why, I have seen what could be and asked why not' Pablo Picasso. A quote that speaks in voluminous tone of the residing of Winter as it entombs the Life in frozen coils, in these words the breath of Hope. Risen from the tumultuous genius of Pablo Picasso, in turn the explorer of the extrovert and introvert, no stranger to the ebb and tides of the year mirrored in self. Tiffany Jeans of Auckland based perfume house, Curionoir, gifts Pablo. A lucid dance on skin, it bears witness to a promise of change, the only constant, and evidenced in the course of the river of Pablo's life.Lemon, Frankincense, Freesia and Mimosa entrance and arrive to instantly cheer and with every scent, a footfall thaws beneath my tread. In time, the warmth exudes to continue the vow to dispel Wintry chills. Even in what we fear and retreat from are the seeds of the redemption. Cuban Tobacco Leaves, softly smoky and smouldering and Coriander light up an inner embering to see through the months of glacial stillness. Solace is enduring, a misty exhale of Vanilla and Tonka Beans painted on the palate of air around me, brushstrokes on canvas of Wintry Breath. Contributor- Danu Seith-Fyr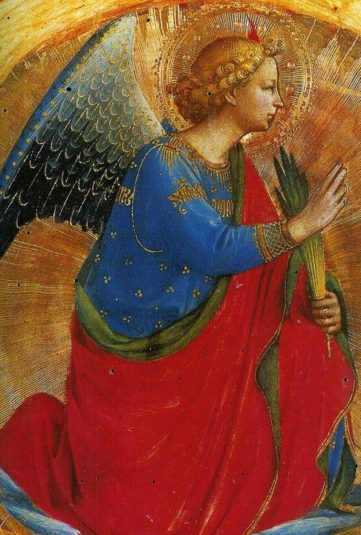 Fra Angelico Annunciation Gabriel Perugia Triptych 1437
Cold seems to be arrived all of a sudden after a quite mild fall here in Milan and these days the freezing air is calling for the snow. The colder it gets, the more I feel the voice of amber angels whispering to my heart with their warm breath. An amber angel that I missed so much so that recently I got another bottle is Mona di Orio Ambre from the collection Les Nombres d'Or. I love the way Mona shaped this golden angelic powder swirling around you far from the classic vanilla/labdanum accord but set it on Tolù balsam instead, an iconic raw material that's a key ingredient in classic ambers, and even in Shalimar. This makes amber gorgeously powdery, balsamic with addictive cinnamon hints that enhance the slightly medicinal-leathery facets of cedarwood, the second wing making this angel fly high. Just a whiff of ylang ylang feels like the healing caress of this good spirit protecting me from the hateful winter.-Ermano Picco, Editor
Winter has settled in for the long run. The weather radar maps all show storm fronts lined up for ever it seems; a veritable conga line of ick waiting to wallop us here in the Pacific Northwest! The wood-stove burns all day now, the soups are simmering on the stove, candles are lit, and perfume-wise I am of two minds. Do I want warm and comforting winter perfumes for inside or bracing and fresh for those moments I can get out the door and take a walk…..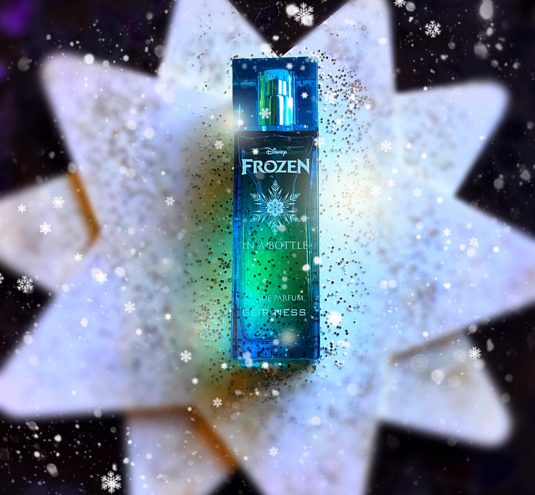 Image by Robert H
For those times between storms when the sun deigns to peek through and the outside beckons, I reach for a perfume that surprised me as much as it may surprise you: Disney's Frozen in a Bottle. Now before you shout "let it go" and run away, you should know that Frozen the fragrance was created by Geir Ness an extremely reputable Norwegian perfume company which is best known for their two eponymous perfumes; Laila For Women and Geir Ness For Men. Frozen the perfume is the scent of Norwegian winter air, crisp and bright, icy blue and absolutely lovely. It's perfect for a walk in bracing temperatures and thin winter sun. It smells like snow-shoeing through northern woods, or skating on an icy pond. Trust me when I say it surprised the hell out of me. Notes: Lily-of-the-valley, rose, amber, wildflowers, lavender.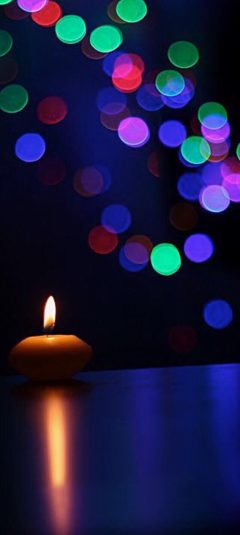 Robert H
When the weather outside is frightful, and warming winter perfumes beckon like a cashmere sweater, nothing will do but sitting in the warm glow of the wood-stove wearing generous splashes of 4160Tuesdays Centrepiece Extrait, one of the truly great winter scents by London Perfumer Sarah McCartney. Centrepiece is one of the few perfumes that I start wearing in the autumn and continue right through to early spring. The epitome of dipped-in-honey-luxury-in-a-bottle, Centrepiece Extrait is a winter fragrance that wraps you in loving fragranced arms and doesn't let go. Tropical florals lathered with unctuous honey with gourmand lashings all add up to a sublimely blended perfume. Opening the bottle and spritzing still take my breath away. Every single time. Notes: Honey, green tea, frangipani, musk, cedar, vanilla sorbet and chocolate.- Robert Herrmann, Senior Editor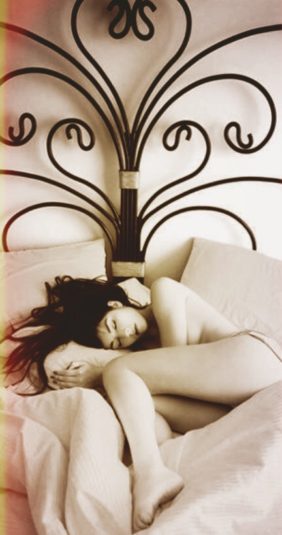 via flickr apped by Michelyn
I actually love the cold weather and inhaling the brisk air that magically rids the city of nasty garbage aromas and exhaust fumes. Don't like? Yellow snow. And black ice. Navigating NYC City streets in the dead of winter is a hazard and at night I prefer to stay indoors wafting my favorite winter perfumes that wrap me in their scented cocoon. Atelier des Ors Lune Feline opens as a lush spiced vanilla. Lest you think it's another (yawn) vanilla gourmand, inhale the intoxicating aromas of green cardamom and cinnamon which unfold and surround me in an oriental puff of powder. Enter the "feline"; something wild and animalic prowls silently on its golden amber paws before the musky balsamic dry down. Sultry, sensual, Lune Feline is an exotic beauty, one of the winter perfumes I own that pulls me in and won't let me go. If you can only own one vanilla fragrance,Atelier des Ors Lune Feline would be it.–Michelyn Camen, Editor-in-Chief
Disclosure: The 11 winter perfumes came from our personal collections or were sent for consideration; opinions are our own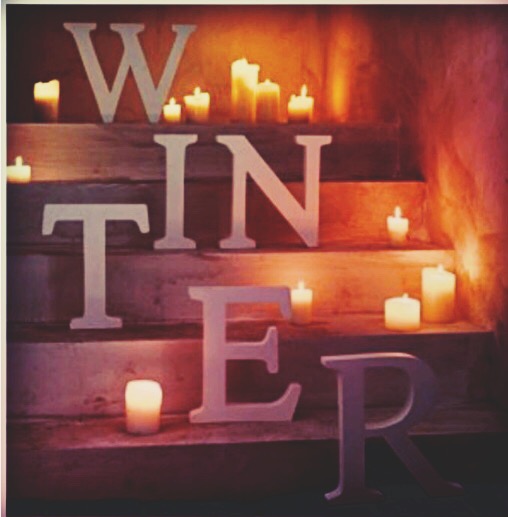 via tumblr apped by Michelyn
For our Best Winter Perfumes Draw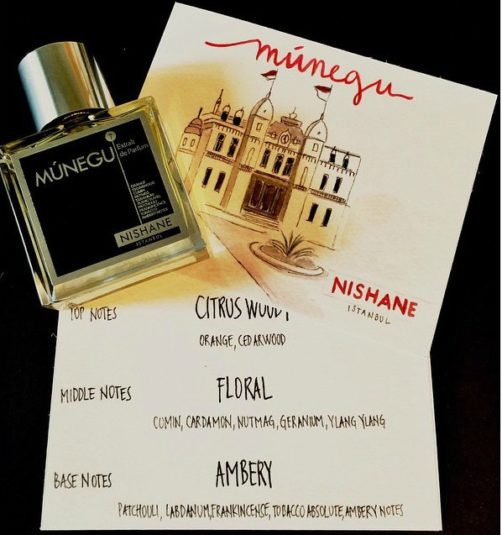 Worldwide: With gratitude to our friends Murat and Mert at Nishane for 50 ml of Munego extrait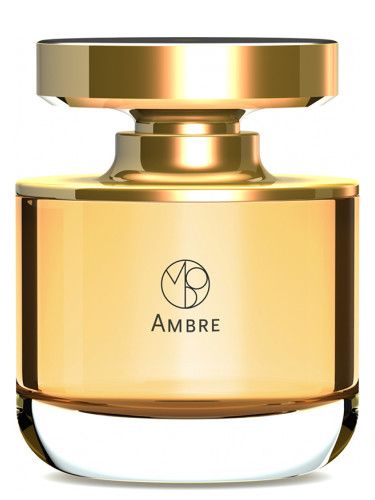 Worldwide: Thanks to our friends at Mona di Orio for 75 ml of Ambre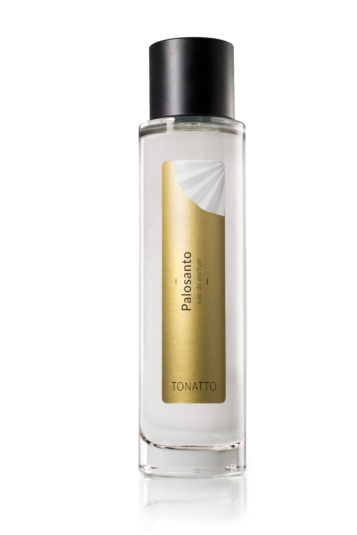 EU, USA and Canada: Grazie Diletta Tonatto for 100 ml of Palosanto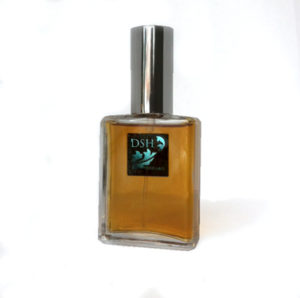 Worldwide: From the evergiving Dawn Spencer Hurwitz we have a 10 ml pulsepoint roller pen of Foxy (not shown)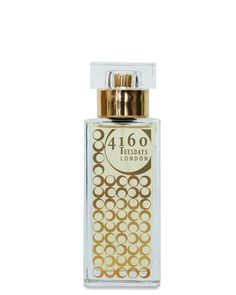 UK and USA only: Thanks to Sarah McCartney of 4160 Tuesdays we have a 50 ml bottle of Centerpiece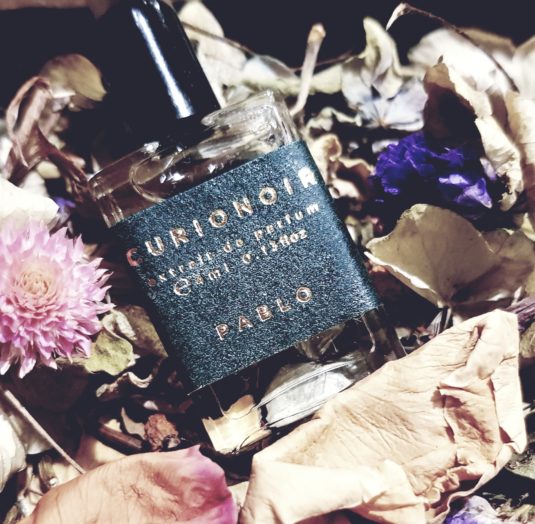 Curionoir Pablo Danu Seith- Fyr©
Worldwide: From the very generous Tiffany Jeans of Curionoir we have a 4ml bottle of Pablo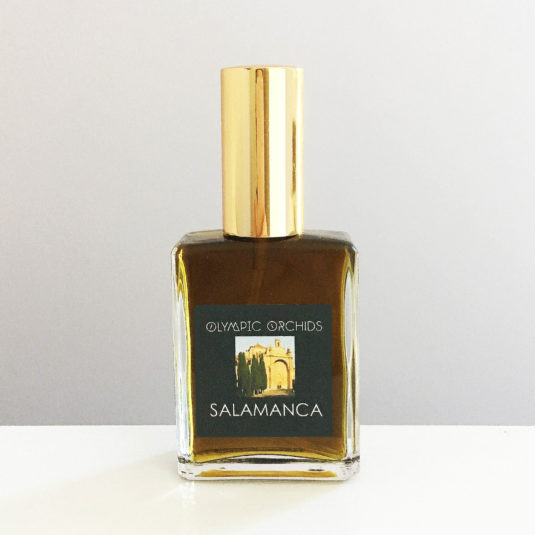 Worldwide: Thank you to Ellen Covey for 5 ml of Salamanca or 30 ml if you are in the USA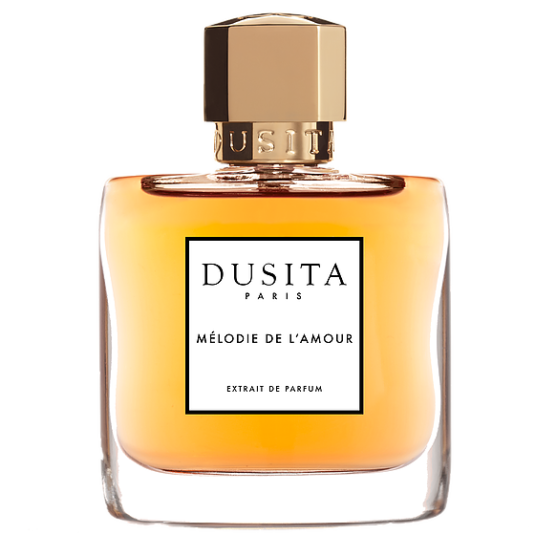 Worldwide: Merci tres chere Pissara for 50 ml Extrait of Melodie d' Amour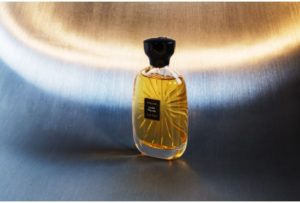 EU, USA and Canada: Merci tres cher Jean Phillipe Clermont for 100 ml of Atelier des Ors Lune Feline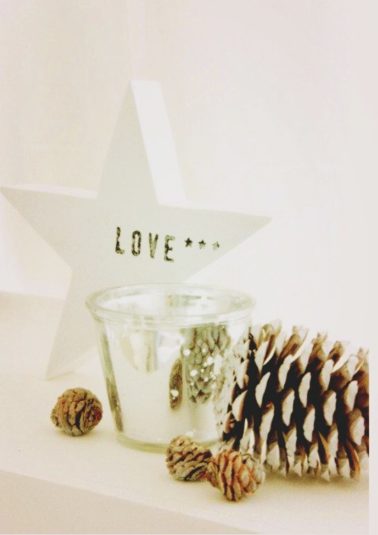 To be eligible for the best Winter Perfumes 2018, you must be a registered reader (register here) or your comment will not count). Please leave a comment with how you feel about cold weather– like it or loathe it, your favorites from Best Winter Perfumes list and WHY, your choices from the 9 offered should you win and where you live. Draw closes 12/24/2018
We announce the winners only on site and on our Facebook page, so Like Cafleurebon and use our blog feed…or your dream prize will be just spilled perfume.