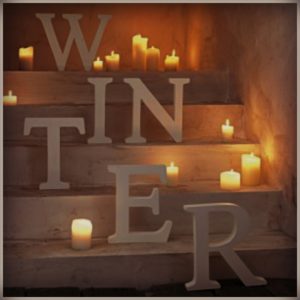 In the Northern Hemisphere, the Winter Solstice begins tomorrow December 21st, and many of us are dreaming of a White Christmas. In NYC, the fluctuating temperatures are making us cray cray; it is freezing one day and balmy the next. This year I am hoping for a White Christmas, although I think the last time it snowed (a blizzard really) on Christmas Day was 2010. No matter if you love or loathe the cold weather, here are ten of our Best Winter Fragrances 2017 that will warm even the chilliest of hearts.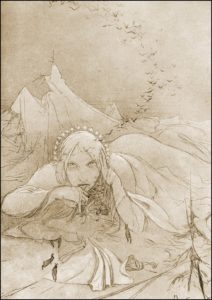 Alphonse Mucha Winter
The dark days of winter can be depressing to say the least. If I can't get away for a vacation I find that perfume can brighten my days with a different outlook, a completely new perspective or vivid memories of winter fun. This winter I find myself "time traveling" with two favorites, one quite new and the other very old. Nuit de Noel is a beloved fragrance from Caron first created by Ernest Daltroff in 1922. It's one which many of the perfume-obsessed ritually trot out for one week in the year: Nuit de Noel. Do you crave the exquisite orientalism which made Caron so revered? The vintage is a complex creature with that legendary De Laire Mousse De Saxe base (composed of geranium, licorice/anise, isobutyl quinoline, iodine and vanillin): the finest rose, jasmine, ylang ylang and lily-of-the-valley recline disgracefully upon spicy notes underscored by iris, oakmoss, sandalwood and vetiver. You are unequivocally opulent and seductive. Mmmmmmmmm. Just do it. Do it more than once a year, too…
Current day deliciousness may be found in many fine fragrances. I'll gladly share one which has garnered full-family-hearty approval and numerous compliments from complete strangers –Hendley Perfumes Bourbon (Hans Hendley, 2015). Fabulous for the holiday season or anytime you choose (a lovebomb at bedtime), Bourbon ticks all the boxes of oriental desire, managing to feel both vintage and contemporary. Is it animalic? Oh yes. And woody, spicy, boozy, ambery and leathery. Bourbon incorporates all of these facets with grace and generosity; there's no muddiness or kitchen-sink aspect to it whatever. Although it is presented as a spray, you needn't go there if it's subtlety you crave: I simply unscrew the little cap and dab away where I want to be inhaled. A little goes a long way with outrageously good longevity; a few drops in your hair invites unbridled nuzzling. Notes: bergamot, orange zest, toasted oak, cognac, Bourbon vanilla, benzoin, tonka bean, labdanum, gaiacwood, castoreum, oakmoss and musk. – Ida Meister, Senior Editor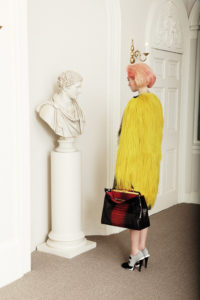 Photo, Alice Rosati for Citizen K International Magazine, Winter, 2012-2013©
Rouge Bunny Rouge Embers (Shyamala Maisondieu) 2013: When the sky darkens early and the air turns grey, I gravitate to resinous, smoky fragrance. A new favourite is Rouge Bunny Rouge's Embers, which smoulders with its warming blend of labdanum, styrax, and spices, rising up from a smooth balsamic bed. The name does this lovely incense perfume justice: if those last crackly sparks of the hearth fire had a scent, this would be it –Lauryn Beer, Senior Editor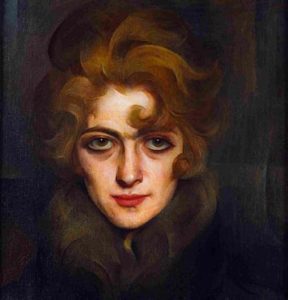 Marchesa Luisa Casati Mario Natale Biazzi​
Not one to acquiesce in the face of winter's onslaught, Mona di Orio's Myrrh Casati (Melanie Leroux, 2014) is my accompaniment, as I rebel at Winter's turning. It is exhilarating breath exhaled into night air, juxtaposed with the heated scent of furs on flesh. Notorious and rebellious, its very opulence defies the surrounding harshness of the season. The invitation to defy the blast of Winter is evident in the radiant spice enveloped in cardamom, a torrid creamed saffron and licorice. Melting pot of benzoin, patchouli and incense rise as beneficent wraiths, ethereal and encompassing my skin which yearns all the more for the Myrrh that is the undying age old tone of resinous, embalmed Immortality . Notes: Peruvian red berries, pink pepper, Guatemalan cardamom, saffron, licorice, Siamese benzoin, myrrh and incense from Somalia, Indonesian patchouli, Indian cypriol nagarmotha, guaiac wood from Paraguay. -Danu Seith Fyr, Contributor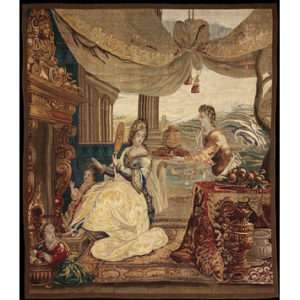 Winter, Lodewijkvan Schoor
Jul et Mad Mon Seul Désir was created by Stéphanie Bakouche in 2017, inspired by a famous and much copied Flemish tapestry from the late middle ages.The woody sweetness of nutmeg and the nostalgia of smoky leather of Mon Seul Désir transport me to another time and place, perhaps to the Flanders of long ago. Nutmeg, one of my favorite notes in perfumery, is lifted and focused with a touch of pink pepper and mandarin. Golden threads of warm peachy-ripe osmanthus are woven into the dry nutty effects of coriander, while the richness of oudh creates an almost courtly sense of abundance and luxury. The sensuality of the rich background, strewn with sweet woods, amber, benzoin and musk, offer a fascinating texture reminiscent of the art of tapestry and the crafts of worlds and days long forgotten. Notes: Nutmeg, mandarin, pink pepper, osmanthus, coriander, oudh, benzoin, musk, guaiac wood, amber and leather notes.
Guy Laroche Fidji, in its original version, is a 1966 beauty brought to us by the legendary perfumer Josephine Catapano. My first experience of Fidji was in 1975 in a small boutique in northern Italy. This morning, as I open my current, in use bottle of the vintage parfum, I am once again magically transported to the Cervinia of the 1970s. Instead of the tropics suggested by the name, I smell snow and the crisp air of the mountain village resort and see the afternoon sunlight slanting through the windows of the tiny shop where I took my first breath of one of my all-time favorite perfumes. Fidji is for me a scent for all seasons but I find it especially enjoyable during the winter months. Whenever I wear Fidji I recall sunny days spent on powdery slopes and starry nights dancing with long lost friends. Fidji is my "paradise found". Notes: Galbanum, hyacinth, bergamot, lemon, carnation, orris, jasmine, rose, ylang-ylang, vetiver, musk, sandalwood and oakmoss.–Gail Gross, Senior Editor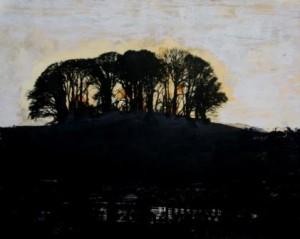 Three Italian Winter Trees via tumblr
This time of the year always moves me for many reasons including memories about people, places and smells. I find myself always wearing perfumes created by Mona di Orio and lately Lux has been my joy in the darkest days of the year, uplifting me with its sparkling citrus and comforting me with the warm embrace of balms. Notes: Sicilian lemon, Litsea cubeba, petitgrain Bigarade South Africa, Haitian vetiver, Moroccan cedarwood, Mysore Sandalwood, Musk, amber, Siamese benzoin, bourbon vanilla and cistus labdanum –Ermano Picco, Contributor
Maison Francis Kurkdjian Oud Silk Mood Extrait de Parfum, Sebastian Jara, Sr. Contributor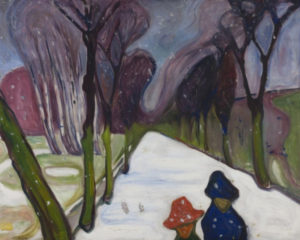 Edvard Munch, New Snow in the Avenue,1906
When the autumn weather changes and the cold of winter start to settle in, our thoughts turn to warming and comforting scents. Many of us set aside our fresh warm weather citrus-centric perfumes in favor of cozy olfactive hugs; scents that seduce with amber and gourmand notes. Here are two of my favorites:
The Different Company: Un Nuit Magnetique (Christine Nagel) 2014: Un Nuit Magnetique is my secret weapon during the holidays; the compliment-getter that turns heads and stops people in their tracks even if like me, you might consider yourself long past the "head-turning" age. I call this fragrance my "special chypriental" a fruity-floriental with decidedly chypre aspirations. Un Nuit Magnetique smells both timeless and contemporary; a dash of ginger-spiced citrus and blueberry in the top, on-point florals entwined with beautiful plum notes in the middle, and all supported by a truly yummy base made winter-warm with dashes of benzoin, soft as silk musk, and creamy amber and woods. Guaranteed to bring visions of sugarplums to any long winter nap. Notes: ginger, bergamot, blueberry, egyptian jasmine, turkish rose, tuberose, plum, benzoin, patchouli, amber, musk and woody notes.
L'Erbolario Lodi Meharees: Often compared to Malle's Musc Ravageur but at a tenth of the price, Meharees is a great bargain scent that is the quintessential spiced "cashmere sweater"; that scent that wraps you in winter warmth and joy. Described as the scent of the Sahara, Meharees is a lovely fruity mélange with a toasty amber and slightly synthetic-smelling musk base. Is it high perfumery? Not really, but at approximately $45.00 for a 50 ml. bottle it's a screaming deal for a perfume labeled as a "niche-slayer" and at that price you can spray with abandon and stay snug all winter long. Notes: Bergamot, Orange, Rose, Cinnamon, Dates, Ginger, Cedarwood, Guiacwood, Sandalwood, Patchouli, Vanilla, Amber, Moss, Musk. –Robert Herrmann, Sr. Editor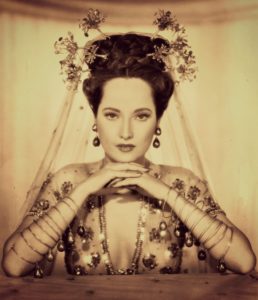 Merle Oberon, English-Indian actress digitalized MC
Plush, lush and opulent, Ormonde Jayne's Tolu (Geza Schoen and Linda Pilkington, 2002) reminds me of the great Oriental fragrances of years gone by, but reimagined for the 21st century. Rich and resinous, Tolu opens with a mélange of orange blossom, clary sage and frankincense. Within the hour, I journey to an Indian Spice Market and inhale the intoxicating aromas of cloves, cinnamon and sweet tonka beans. Frankincense reappears surrounded by a puff of powder, then something wild and animalic prowls silently on golden paws before the luminous amber drydown. Sultry, sensual, Tolu is an exotic beauty of a perfume that pulls me in and won't let me go. Tolu melts into my skin like the sun on an unexpected warm winter day. Notes: Juniper berry, orange blossom, clary sage, orchid, Moroccan rose, muguet (lily of the valley), tolu balsam, tonka bean, golden frankincense, amber–Michelyn Camen, Editor-in-Chief
Disclosure: The perfumes came from our personal collections or were sent for consideration; opinions are our own
Art Direction-Michelyn Camen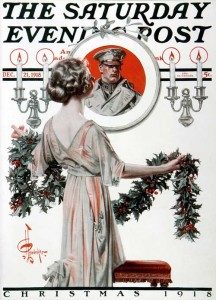 Saturday Evening Post – Christmas 1918 – Illustration by J.C. Leyendecker
For our Best Winter Fragrances 2017 Draw: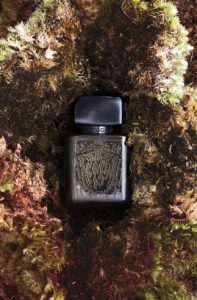 Worldwide: With gratitude to Rouge Bunny Rouge for 50 ml Rouge Bunny Rouge Embers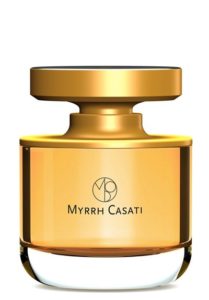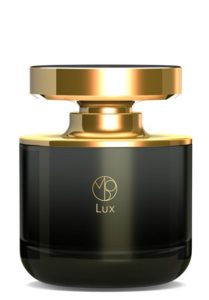 Worldwide: Thanks to our friends at Mona di Orio your choice of 75 ml Mona Di Orio Myrrh Casati or Mona di Orio Lux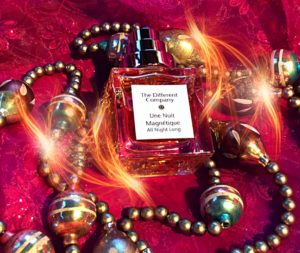 The Different Company Un Nuit Magnetique photo by Robert
Worldwide: Merci to The Different Company for Une Nuit Magnétique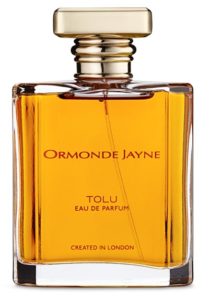 USA and EU Only:Thanks to Ormonde Jayne London and Europerfumes, the US distributor 50 ml of Tolu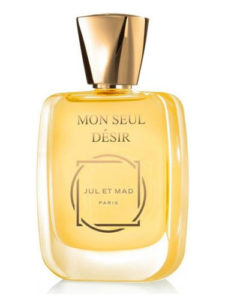 USA Only: Thanks to Indigo Perfumery 50 ml of Mon Seul Desir Extrait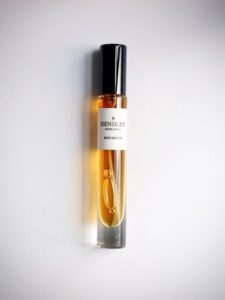 USA: Thanks to Hans Hendley we have a 9 ml travel size of Bourbon
To be eligible for the Best Winter Fragrances 2017 draw, you must be a registered reader (register here)or your comment will not count. Please leave a comment with how you feel about cold weather– like it or loathe it, your favorites from our Best Winter Fragrances 2017 list, your choices from the seven Best Winter Fragrances 2017 offered should you win and where you live. Do you think there will be a White Christmas in NYC in 2017? Draw closes 12/24/2017
We announce the winners only on site and on our Facebook page, so Like Cafleurebon and use our blog feed…or your dream prize will be just spilled perfume.