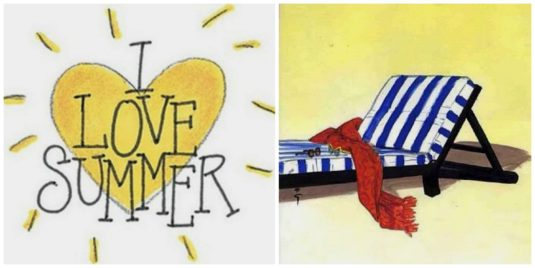 Our Top 10 Best Summer Fragrances (art Rene Gruau and Stock)
We are a diverse bunch at CaFleurebon; our editors and contributors hail from Italy, New Zealand and Australia as well as every time zone in the USA. Summer is summer no matter where we live and these are the top ten perfumes we chose for this year's Best Summer Fragrances, from new releases to those we have loved for years.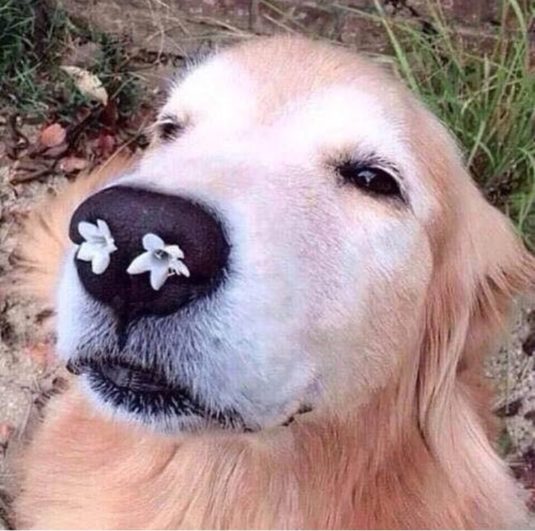 via Tumblr
Having just experienced the driest and warmest May in the Pacific Northwest in recorded history, we all had high hopes for June. Oh well, hope springs eternal and keeping with tradition, the "June Gloom" has settled in and "Junuary" is right on schedule. However nothing can keep me from reaching for summer perfumes regardless, so let's get this party started!
First up in my best summer fragrances is an absolutely delightful bottle of olfactive magic from St. Clair Scents called "First Cut", a paen to the time-honored rural tradition of the start of the hay baling season. Baling hay is a tricky business and completely dependent on the weather. As luck would have it, perfumer Diane St. Clair started baling her fields on the East Coast the very same day our neighbor started baling the field in front of our house here on the West Coast. Synchronicity, and a perfect excuse to reach for my bottle of First Cut, Diane St. Clair's photo realistic scent-interpretation of a pre-baled pasture. First Cut is a dry and heady fragrance full of nature; tall grasses, hay, soil, all sweetened by an extraordinary hay absolute and meadow flowers. It is akin to lying down in a hayfield and letting the aroma wash over you. For those of us who live in rural communities it is the perfect reminder of why we do, for urban dwellers it is a gentle and scented nudge to get outside and breathe. Notes: Bergamot, Yuzu, Rosemary, Basil, Tomato Leaf Absolute, Lavender Absolute, Rose De Mai, Rose Geranium, Immortelle Absolute, Hay Absolute, Tobacco Absolute, Oakmoss, Vanilla Absolute
On warm days, I love nothing better than a refreshing splash of Guerlain's 2016 release "Dimanche á la Campagne" (Sunday in the country), an herbal and floral infused Eau de Cologne that's as refreshing as a tall glass of ice cold lemonade on an August afternoon. It reminds me of a spicier, greener version of my beloved Guerlain Cologne du 68, (now sadly discontinued, but still widely available online).The Dimanche bottle is 250 ml. so there's certainly enough to add to an evening bath before bed, but my favorite use is a hack I came up with, for after a day in the sun. After a long afternoon spent working on my tan, and after after showering off the suntan oil, I shower-moisturize with organic Almond oil into which I've added a splash or two of Dimanche á la Campagne and a few drops of standardized organic eucalyptus oil (which adds a beautiful "zing") et voilá! Soft great smelling skin. The perfect aromatic end to a lazy summer Sunday. Notes: Bergamot, aromatic herbs, orange blossom, white musk
-Robert Herrmann, Senior Editor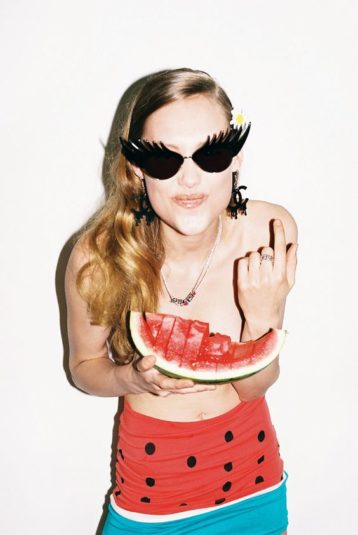 Juicy Fruit – photographed by Viktor Vauthier©
Shay & Blue Watermelons quenches the most persistent summer thirst with a burst of watermelon and green mandarin. I know that summer has arrived when the local stores start stacking watermelons in the aisles. This summer, in addition to the irresistible slices of red, juicy crispness and the ever so satisfying crunchy, wet inner rinds, I will be enjoying the Shay & Blue fresh and explosive Watermelons fragrance. Shay & Blue creative director Dom De Vetta and perfumer Julie Massé offer the thirst quenching effects watermelon in their signature blue bottle, the color alone suggesting a welcome, refrigerated antidote to the heat. Beyond cool, Shay & Blue Watermelons offers tastes and textures that take me back over 50 years to childhood summers on the east coast of Florida. For at least two hours, Watermelons' opening notes of icy, sweet watermelon, brisk, tannic green tea, green mandarin and aquatic cucumber evoke fresh summer mornings hanging around on windy beaches, noontime picnics with friends and the consumption of countless watermelons (and, of course, spitting out thousands if not millions of slippery residual seeds!) Lazy afternoons were spent napping in the shade of beach umbrellas or beneath live oaks, relaxing to the buzz of the cicadas and grooving to the smooth funky sounds of my summertime music favorites, Herbie Hancock's Watermelon Man on his 1962 LP "Takin' Off" and Mongo Santamaria's 1963 subsequent Afro-Cuban take on the same. The heart of Shay & Blue watermelon serves up a humid evening of lush, slightly metallic honeysuckle cut with the earthy green of vetiver. This sensuous and languid, aspect Shay & Blue Watermelons lasts for another couple of hours before my memories of those long ago summers slowly vanish in an aquatic mist of melons, violets and green, wet grass. Although it is new to me it is one of the best summer fragrances on the market. Notes: Watermelon, green mandarin, honeysuckle, green tea and vetiver.
Gail Gross, Senior Editor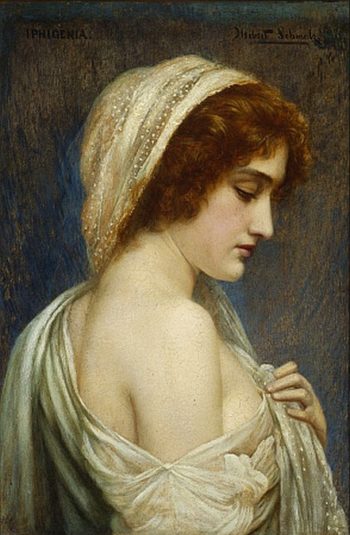 Iphigenia (Daughter of Agamemnon), Herbert Gustave Schmalz. 1892
Abel Golden Neroli (Frances Shoemaker and Isaac Sinclair): 'Joie de Vivre', Lust for Life, this is a most exuberant all natural perfume, held in a sculpted elegance. A summation of the heated expansion of Summer. The complete abandonment that we feel at the Sun's Zenith. Golden Hours encapsulated, arms stretched wide to greet the warmth in a mutual embrace. Lay within a Citrus Orchard surrounded by the heated exudants of heated orange flesh melded with warmed skin. Neroli and Matcha Tea offering a bright luminous introduction that continues to dazzle throughout to a perfection of the harmonic, Petitgrain, Ylang Ylang, Jasmine and Sambac. Shafts of Light that elevate Spirit in the wearing. An exalted sense of the physical scent transcending the flesh. Ethers of Sandalwood vapours intertwine with the viscous richness of Vanilla to finish with the flourish of the Season.
Danu Seith Fyr, Contributor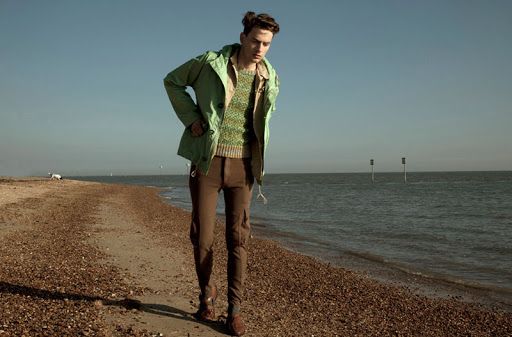 H& M 2016©
Goldfield & Banks Pacific Rock Moss: During the warmer months of summer I like to wear refreshing fragrances that uplift my mood. Australian niche fragrance house Goldfield & Banks has a fragrance called Pacific Rock Moss, which does this. Evoking the blue colour of the Pacific Ocean, the fragrance has a fresh, watery theme with a subtle hint of sea salt. Aromatic sage has been blended with geranium, giving a bright rosy effect. Pacific Rock Moss has a calming effect and smells lovely on all genders. A wonderful addition to any best summer fragrances list.
Clayton Ilolahia, Guest Contributor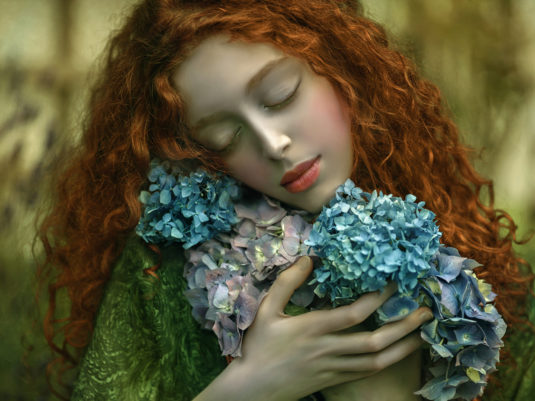 Stock Photo
When you crave an elegant, sexy hot weather floral that makes you feel pretty even on the most torpid summer days, Tonatto Profumi Viburnum is cream and strawberries for the skin. Radiant, lactonic night blooming jasmine gets touches of violet, carnation and iris, and a sly, juicy strawberry adds a lighthearted aspect. While jasmine is undoubtedly the star here, Viburnum's seamless construction – a hallmark of Tonatto fragrances – gathers the jasmine and other flowers into a lovely garland to wear on a warm night. Notes: Night blooming jasmine, violet, iris, lily, strawberry, carnation, tuberose, vanillaand white musk.
Lauryn Beer, Senior Editor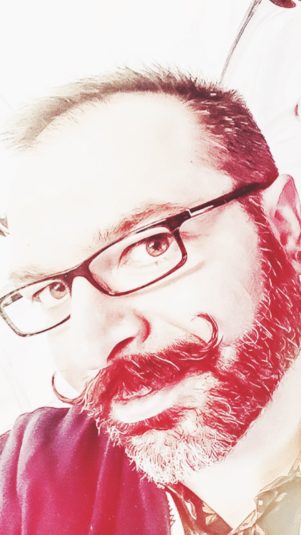 Summer has not yet exploded here in Milan, but I can't wait to bathe in my hesperidic perfumes at best. Meanwhile I'm still enjoying samples of the Perris Montecarlo citrus trio built around the amazing raw materials from Capua 1880, Reggio Calabria. My favorite one? I surrender to the peppery, almost lip-smacking blast of Bergamotto di Calabria. The opening has astringent pleasure of the Calabrian gold hand sponged the old way which reminds me of the tart bergamot marmelade. Since once bergamot wasn't eaten, that adds somehow a gourmand modern vibe to that also empowered by the longlasting support of timur pepper, a pepper commonly used in Nepal dishes to enhance a grapefruit freshness to them. This exotic chilling bite keeps my nose craving for it more and more in the heat .Notes: Petit grain, neroli, fresh ginger, jasmine absolute, Orange , absolute, pepper, Iris, sandalwood, musk, vetiver, patchouli.
Ermano Picco, Editor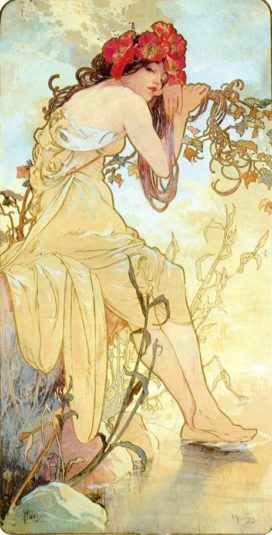 Summer by Alphonse Mucha©
Choosing a favorite perfume or a few always feels like King Solomon offering to cleave the baby in half in order to appease two mothers wishing to claim the same child!!! At risk of offending others, I choose Mandy Aftel's Aftelier Velvet Tuberose and Dawn Spencer Hurwitz's Parfums des Beaux Arts Parfum de Grasse for my best summer fragrances.
Aftelier Perfumes Velvet Tuberose (Mandy Aftel): When you wish to unleash your inner Goddess, all you need is a dab of this. A beloved friend gifted me last year with a silver compact of this treasure (it's a solid perfume) – and that's no hyperbole. Unctuous, sultry celestial blooms warm upon summer-heated flesh with obliging festivity. They are ensconced in sandalwood and adorned with jammy fir – how much better do you want it? Most solid perfumes possess neither the tenacity nor the potency of Velvet Tuberose. It's perfect for languishing wantonly on a sweltery day garbed only in the reproductive organs of the flowers…
DSH Perfumes Parfum de Grasse (Dawn Spencer Hurwitz): Perfumed paean to that part of France (well, one of them – perhaps my very first) which claimed my blood in the early 1970s and refused to release me. It's a summer symphony, so classic and never boring: bergamot, neroli, mimosa! Carnation, rose, jasmine, iris – all wedded to a swoony base composed of beeswax, sandalwood, vetiver and oakmoss. Subtle enough that it may be dabbed, but it is glorious when sprayed with abandon in your hair, upon the overheated nape of the neck, your pillowcase. As with floral couronnes at Midsummer, one may place it beneath the pillow and dream of lovers to come.
Ida Meister, Sr. Editor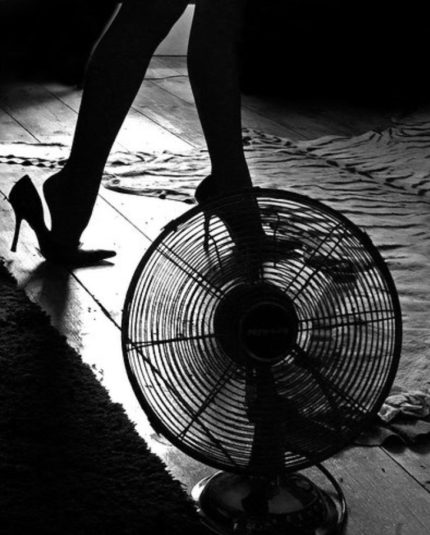 Jules et Mad Stilettos on Lex (Dorothee Piot) is the first chapter in the "coupe de foudre" (love at first sight) romance between Madalina Stoica-Blanchard and Julian Blanchard (Jules et Mad) who met in New York City when Madalina worked there some years ago. Like Madalina I worked in the beauty industry and have my own love story…almost. I lived not too far from Lexington Avenue, and yes I met a handsome stranger. I dropped my dry cleaning as I was getting into an elevator and he picked it up and asked me for my phone number just as the doors shut. I never saw him again but each time I wear this sophisticated fruity floral, I remember that brief encounter and forget about how much I hate summer in the city- the stench of decaying garbage, the sweaty commuters on the LIRR. Opening with a tart pear note, and a hint of citrus, you hear the click click of lily of the valley and rose for a moment before the main entrance… delectable ripe plum dusted with a hint of powder followed by boozy davana which makes me dizzy with delight (not heat). There is a whisper of vintage perfumes of the past but it is truly a contemporary fragrance, complex but never overpowering nor too sweet. Stilettos on Lex is a modern chypre for those of us who have trouble wearing chypres or for those of you who think that all fruity florals are ubiquitous, mindless creations. Wear this and start your own love affair. Always on my best summer fragrances list. Notes: lemon, pear, davana, plum liquor, lily of the valley, violet leaves, rose, heliotrope, iris, carnation, musk, Madagascar vanilla, Indonesian patchouli and cedar
Michelyn Camen, Editor-in-Chief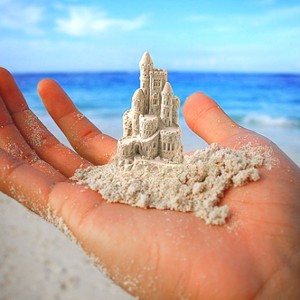 via Tumblr
We have a Best Summer Fragrances draw (8) as follows: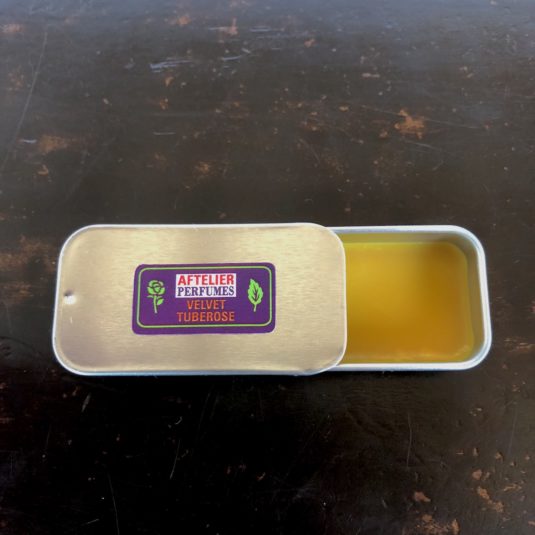 Worldwide: Thanks to Mandy Aftel we have a deluxe sample of Aftelier Perfumes Velvet Tuberose (all natural)
Worldwide: The ever giving Dawn Spencer Hurwitz is offering 10 ml of Parfum de Grasse (98 percent botanical)

USA, EU and Canada: From Dom De Vetta 30 ml of Shay and Blue Watermelons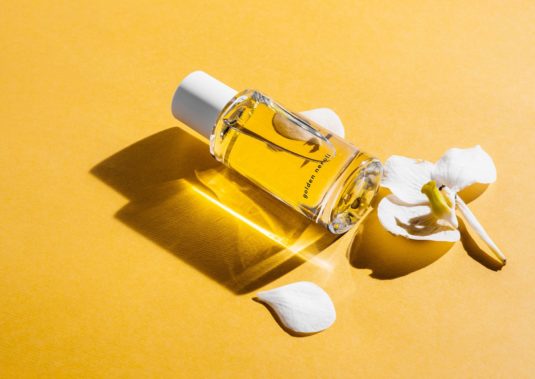 USA, EU and Canada: 50 ml Abel Golden Neroli (all natural)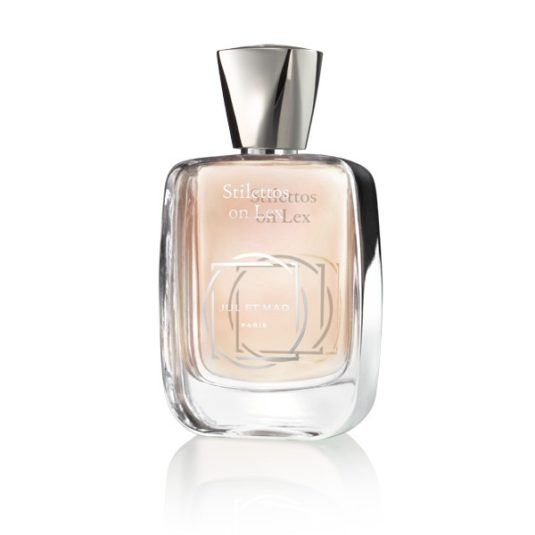 USA, EU and Canada: 20 ml bottle of Jules et Mad Stilettos on Lex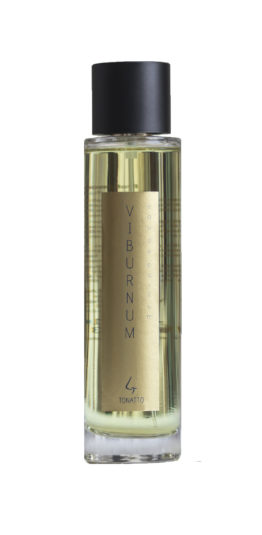 USA, EU and Canada: Grazie mille to Tonnato Profumi for 100 ml of Viburnum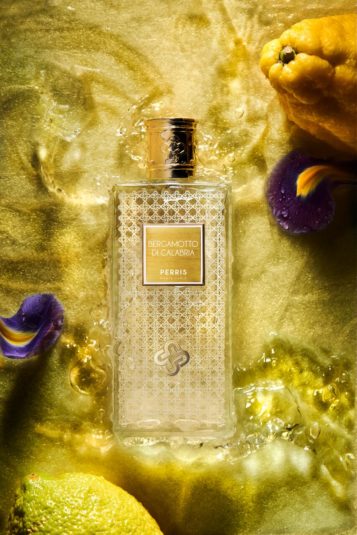 Robert Greco©
USA, EU and Canada: from our friends at Perris Monte Carlo 100 ml of Bergamotto di Calabria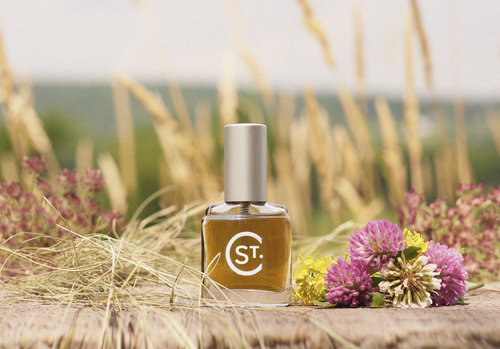 USA only: Thank you Diane for a bottle of St. Clair Scents First Cut
Please be sure to register. To be eligible let us know what appeals to you about our Best Summer Fragrances, where you live and which you would like to win and why (choose as many as you want and you are eligible for). One of your choices MUST be all natural!! Draw closes 6/17/2018
We announce the winners only on our site and on our Facebook page, so like Cafleurebon and use our Blog feed…or your dream prize will be just spilled perfume.