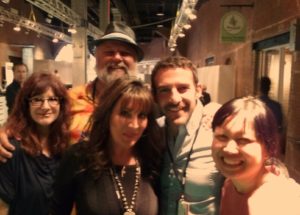 Lauryn, Mark Behnke of Colognoisseur, Michelyn, Carlos and Kim Van Dang
If you were in New York City this weekend and noticed a redhead with a dazed smile on her face wandering in a blissed-out stupor in Chelsea that was probably me after the 2016 Tranoï New York: Parfums show.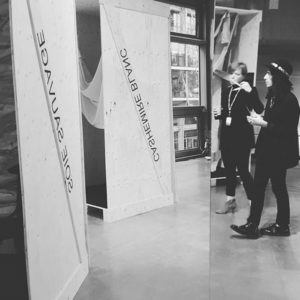 Tranoï Parfums (photo Tranoï)
Fifty-four niche, natural and artisan fragrance companies and distributors showed off their creations in ultra-hip space The Tunnel on 17-19 September. Tranoï – which means "between us" in Italian — is a Paris-based perfume and fashion trade show specializing in what is "truly different, international creativity and outstanding, high-quality talent." Tranoï has now brought their show to New York and I am very glad they did.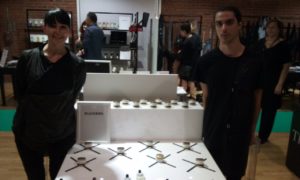 Blackbird Perfumes with Nicole Miller
Getting to know some beautiful lines I had read about but not yet tried such as Tiziana Terenzi, Berdoues, Jovoy, and the gorgeous candles from Belle fleur, was a delight, as was discovering impressive lines I was unfamiliar with, such as Blackbird from Seattle and Jeroboam and Nasu Parfum from France.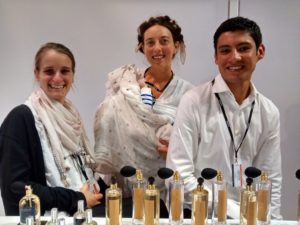 Tonatto Profumi and Diletta Tonatto
One of the highlights was having the chance to sample the entire Tonatto Profumi line – all well-structured, high-quality perfumes – while chatting with Tonatto's lovely CEO, Diletta Tonatto (Side note: Diletta has the most chill 4-month old baby I've ever met, Bartolomeo!). While I cannot possibly do all the talented artists at Tranoï justice, here's a rundown of some of the highlights and insights I came away with (along with plenty of delicious swag, but more about that later).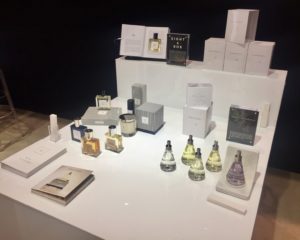 Photo of Nomenclature booth
Trends
Making a big impression was the revival of synthetics, from Anne Sophie Behagel's exquisite use of prunol in David Jourquin's new Cuir Venetien to the four perfumes from year-old fragrance line Nomenclature, which make exclusive use of high-quality synthetics. Both brands demonstrate just how multifaceted and intriguing they can be in the hands of masters such as Anne-Sophie Behagel, Frank Voelkl and Patricia Choux.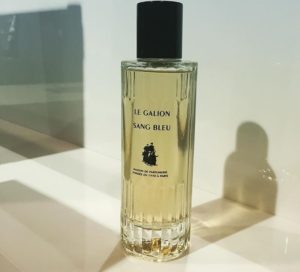 Le Galion Sang Bleu via Le Galion
Fougères are also back (of which Le's Galion's Sang Bleu is an outstanding example), as is the widespread use of cypress, a particularly changeable green note that can come over sharp, leafy or coniferous. Unusual aquatic scents, often combined with mineral and unexpected plant notes, were also cropping up in several lines including Beaufort's Fathom V and Art de Parfums' Sea Foam.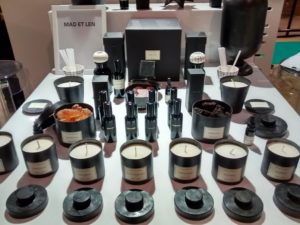 Mad et Len
Perhaps my favorite development was the use of non-traditional carriers that allow a seamless integration of art and fragrance. The disembodied porcelain noses in hand-cast jars by Singapore-based A Dose of Something were an unexpectedly surreal transport for the mind-blowingly beautiful scents they contained, while Mad et Len's scented lava rocks and crystals were like smoldering perfumed cinders. Also, the quality of many of the home fragrances was extremely impressive.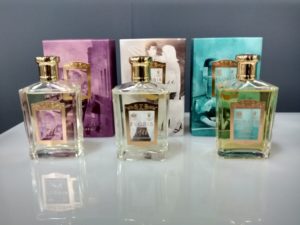 New Floris Perfumes
New on the Scene
The Fragrance Journals are three new perfumes from Floris that represent London in scent snapshots during three decades: 1962 (citrus woody), 1976 (woody oriental) and 1988 (green woody).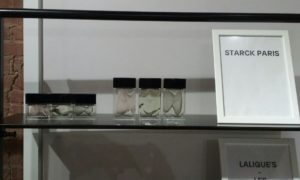 Starck Paris
Also debuting were three fragrances from Stark Paris, the new perfume line from designer Philippe Starck. Peau de Soie, Peau D'Ailleurs and Peau de Pierre are each based on memories of Starck's mother's perfume shop when he was a child and are designed to be unisex.-Lauryn Beer, Editor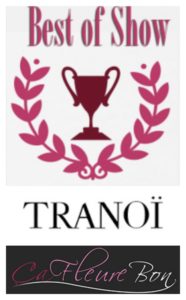 There were some truly memorable fragrances at Tranoï and more than a few stood out. After much debate, Michelyn and I chose some of our favorites from a strong field for Best of Show: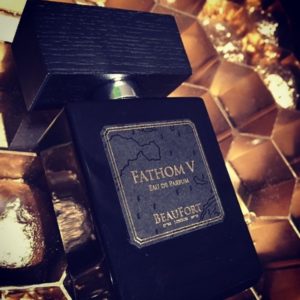 FATHOM V EDP BEAUFORT BEST OF SHOW
Lauryn and Michelyn: Best New Fragrance: Fathom V, Beaufort London (Leo Crabtree)
Beaufort founder and perfumer Leo Crabtree (also the drummer for British band The Prodigy) told me frankly that Beaufort's fragrances are meant to provoke a strong reaction. At first I wasn't sure what to make of his new perfume, Fathom V, which hit like a cold wave when I smelled it on paper. But when I wore it, I could not stop sniffing my wrist for hours – it is that compelling: coldly mineral with strange but beautiful florals, sweepingly majestic and unlike anything else out there. Both Michelyn and I chose this as our Best New Fragrance.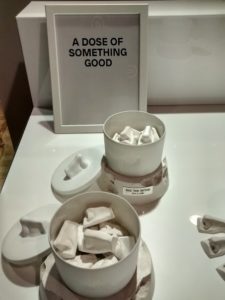 A Dose of Something Good Booth
Lauryn and Michelyn: Best New Line: A Dose of Something Good.
While these are home scents and not perfumes, they are wondrous. Indigo Violet is an absolute stunner, the most intense violet I have ever encountered – like smelling a forest of wild violet on a bed of purple velvet. Kamadeva's Arrow is akin to standing beneath a champaca tree in full bloom with the scent of blossoms, green leaves and bark weaving together seamlessly. The line is available only in Singapore and Japan right now, but the talented self-taught perfumer behind the brand, Robert Upton, more than deserves a shot at the US market. And please produce these in perfume, too!
Lauryn: Best Home Fragrance: Mad et Len Terre Noire.
In its exquisite artisanal black container, this earthy, smoky fragrance would be equally at home in amongst leather-bound volumes in an old library or in a minimalist industrial loft. And the black lava rocks, looking like petrified morels, are killer.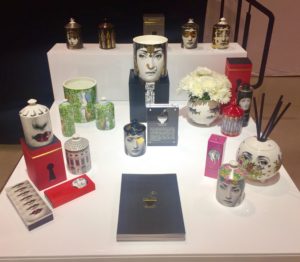 Michelyn: I have a tie. Fornasetti's evocative Otto created by Oliver Polge for Piero Fornasetti. Otto has an aromatic scent redolent of incense, orris, cedarwood and Mediterranean herbs. I am mesmerized by the enigmatic face of Lina Cavalieri.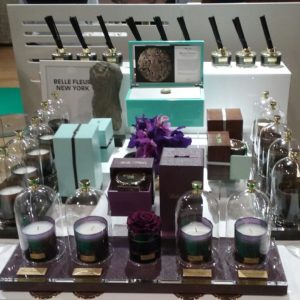 Belle Fleur candles and diffusers are throughout my home and the candles are truly perfume in wax. Mayan Tuberose adds a bit of opulent exoticism to my environment. This is a huge wave of tuberose which envelops you like a floral comforter. Vanilla and sandalwood add a needed counterpoint so that you don't just get lost in the garden.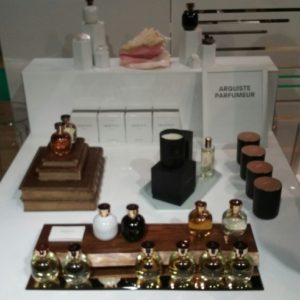 Arquiste at
Lauryn and Michelyn: Best Male Scent: El by Arquiste. (Rodrigo Flores-Roux) This is machismo in a bottle. Carlos Huber and Rodrigo Flores-Roux have created a 70s retro yet thoroughly modern sex bomb that is all man. We both give a honorable mention to Sang Bleu by Le Galion, a beautifully constructed herbal fougere based on an unfinished fragrance by Paul Vacher from the 1970s.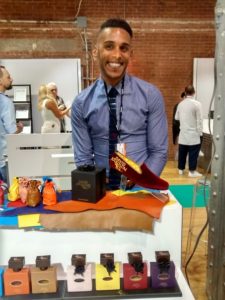 David Jourquin
Lauryn: Best Female Scent: Cuir Venetien by David Jourquin (Anne Sophie Behagel).
Cuir Venetien smells like the thinnest, softest, finest-quality suede with a fascinating deeply plummy note that morphs from time to time into peach. Just lovely. Honorable mention must go to Apeiron by Tonatto Profumi, a deliciously lactonic comfort scent with a glamorous side that makes the best use of tonka bean I've encountered in some time. Both David Jourquin and Tonatto Profumi share an enviable distinction of having not one bad scent in their entire line. I liked or loved every single one. Bravo and brava!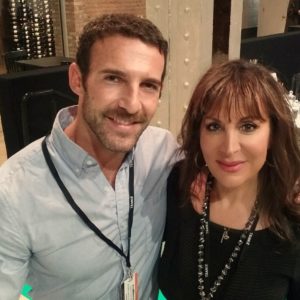 Carlos Huber and Michelyn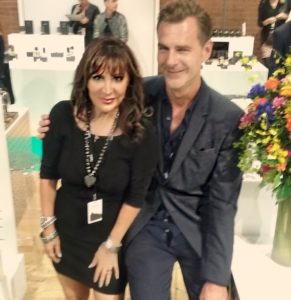 Michelyn and Franck Salzwedel of Elisire
Michelyn: I have a tie between Arquiste Ella and Elisire EAU PAPAGUÉNA. Both are exotic and ever so glam. Carlos Huber told me that initially Rodrigo Flores Roux wanted to use a cool French Blond for the inspiration for Ella, but Carlos had Gia Carangi, the dark sultry 70s model who held her own in a sea of blonde glamazons in mind. When I sprayed on Ella, Carlos quipped that he can picture me back in the day, strolling the beach wearing stilettos, a next to nothing bikini, full maquillage and a cigarette held in beautifully manicured hands.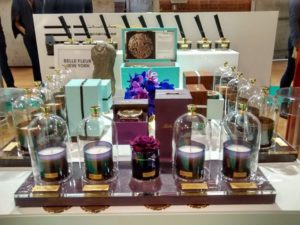 Lauryn and Michelyn: Best Booth: Belle fleur
Belle Fleur makes some of the loveliest candles on the planet and their display was right in line with their scents (of which there were a number of standouts, including Kyara Clove, Rose Immortelle, Mimosa Magnifica and Indochine), taking the prize for most beautiful display. Glass bell jars covered the elegant candles and stunningly preserved flowers (that dark velvety rose!) augmented the table, making this was the most luxurious, eye-catching booth at Tranoï.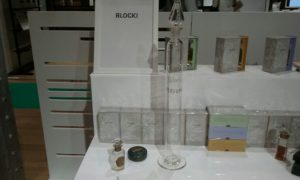 Michelyn: Honorable Mention goes to Blocki Perfumes which displayed fragrances over a hundred years old created by John Blocki.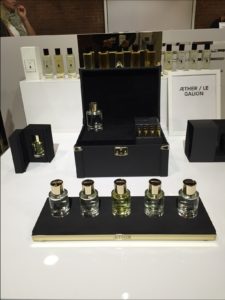 Le Galion booth
Lauryn and Michelyn Best Revival: Le Galion.
It is wonderful to see French line Le Galion, famous in the US mostly for mid-century superstar Sortilege, and, amongst vintage-loving perfumistas, for Jasmin, possibly the most gorgeous full-bodied jasmine soliflore ever made. Back in circulation will be old favorites such Snob, a classic white floral that can hold its own against Joy, while joining the line is a terrific new fougere, Sang Bleu. Michelyn agrees and was thrilled to see Nicolas Chabot after their two ships passed in the night at Esxence this past March.
Michelyn: Honorable Mention to Blocki's Tammy and Tyler DeLeBar for reviving the first American Perfumery, with three generations of perfumers harking back to 1850 when John Blocki emmigrated from Prussia.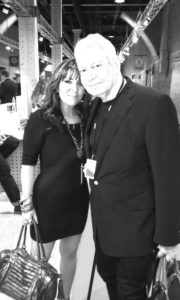 Michelyn with Michael Edwards The world's leading perfume expert
Michelyn​: Secrets and Spoilers. Michael Edwards, the world's leading Perfume Expert, evaluator and author of Fragrances of the World is working on a new book on the history of American Perfumery. Nomenclature, Blocki with Kevin Verspoor and Belle Fleur with Ralf Schwieger will all be introducing stunning fragrances in 2017.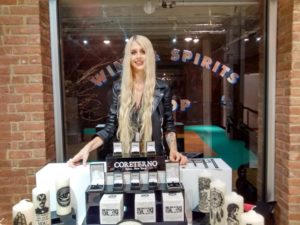 Francilla Ronchi,Coreterno
Lauryn: Tester we wanted to take home with us: Coreterno Extreme Feelings I Could Never Explain 4-wick candle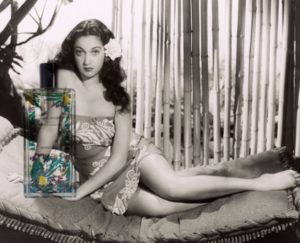 Berdoues Vanira Moorea Collection Grand Cru collage with Dorothy Lamour
Michelyn: Berdoues Vanira Moorea Collection Grand Cru. I love my vanilla fragrances and this one transports me to a tropical island, an orange blossom pinned in my hair. If ever a fragrance captures the glamour of Dorothy Lamour wearing her trademark sarong this is it. And that bottle.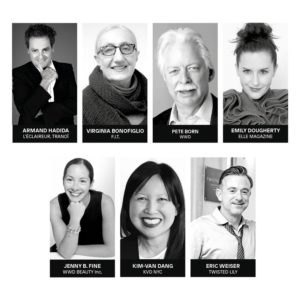 Armand Hadida,Founder, L'Éclaireur and Artistic Director, Tranoï, Virginia Bonofiglio Professor and Associate Chair Cosmetics and Fragrance Marketing, FIT, Pete Born, WWD Executive Editor, Beauty, Emily Dougherty, Beauty Director, Elle Magazine, Kim-Van Dang, Owner of luxury fine fragrance branding + distribution company KVD NYC, Jenny B. Fine Editor, WWD Beauty Inc. and Eric Weiser, Co–Owner of Twisted Lily Fragrance Boutique + Apothecary, Brooklyn, NY(Photo Tranoï)
Kudos to Tranoï for organizing the New York Parfums show. Thank you for also serving champagne, wine and apertivos. We hope more exhibitions take note.
— Lauryn Beer, Editor and Michelyn Camen, Editor in Chief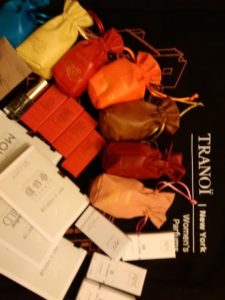 Thanks to the generosity of many of the perfumers, distributors and Creative Directors at Tranoï, we have a special swag bag chock a block of samples from the show for a registered reader in the US. To be eligible please leave a comment with what you enjoyed about Lauryn's summary or Michelyn and Lauryn's picks. If there is a scent you most like to try let us know! Draw closes 9/24/2016
All photos by Lauryn Beer, Rob Barbiero and Michelyn unless otherwise noted
We announce the winners only on site and on our Facebook page, so Like Cafleurebon and use our RSS option…or your dream prize will be just spilled perfume