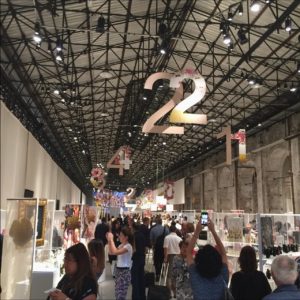 Photo: Ermano
The 14th Edition of Fragranze will be remembered for Numbers &Flowers, but also for electric fans and Ice cream as the end of summer heat literally melted all attendees at the Leopolda Station. Fans were lit everywhere, perfumes floating wafting around all. But with so many new launches and new brands, it wasn't an easy task to smell them all. I did the ebst I could and may have missed a few, as the scent rose , I was led by nose to pick the Best of the show.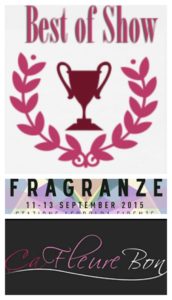 CaFleureBon Best of Show at Pitti Fragranze Ermano's picks
So here we go with my personal selection in alphabetical order.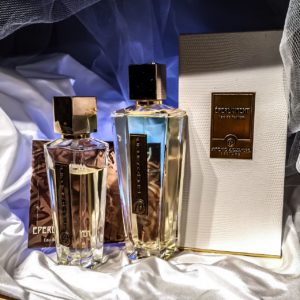 ANTONIO ALESSANDRIA PARFUMS – Eperdument
ANTONIO ALESSANDRIA PARFUMS – Eperdument edp
As always Antonio's inspiration is deeply rooted in beautiful Sicilia and here it offers the chance to give a new take on the neroli/orange blossom theme. Eperdument is the freshest offering from the line but also a clever aromatic-the scent of salty breezes backed by a touch of tuberose keeps it sophisticated yet naughty enough, true to Alessandria's dazzling signature.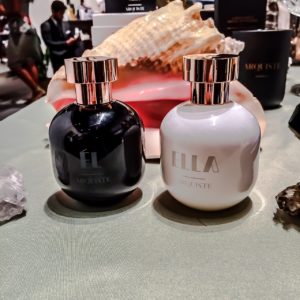 ARQUISTE –ÉL and ELLA was chosen as a favorite by all three of our Pitti Fragranze writers
"We aren't always grey and unisex, we can be black and white, male and female. So I felt inspired to portray a man and a woman in Acapulco." says Carlos Huber to my question about why a specific masculine and feminine introduction to the line. Then he showed me inspirations of Glam Clubs, Halstonettes and Mexican beaches. ÉL and ELLA encapsulate some major fragrance trends right now: lavender, florals and 1970s. I particularly enjoyed ÉL, a hairy-chested fougère that opens with beautiful lavender and geranium on top; Rodrigo Flores-Roux's skill made it brighter and a touch more floral than its ancestors like Paco Rabanne pour homme keeping it really current.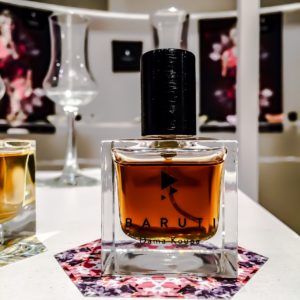 BARUTI – Dama Koupa
BARUTI – Dama Koupa parfum
The Queen of hearts is cruel in Wonderland but in Perfumeland she's a beautiful girl engaging your senses with iris and liqueurs. Dama Koupa means Queen of hearts in Greek and was created by Spyros Drosopoulos for his fiancée. The juice is a lovely perfume hiding behind macaron porcelain sweetness all the violet, green, yeast and cocoa powder facets of orris root. A slightly animalic ambery liqueur of beeswax and fir balsam makes it heady and glues it to the skin for ages. Together with Tinder this goes straight in my top faves from the line.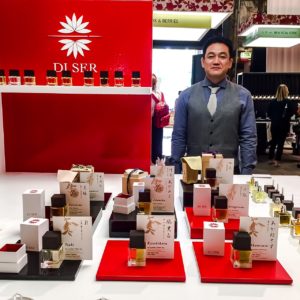 DI SER Yasuyuki Shinohara and DI SER Hasunoito
DI SER – Hasunoito parfum
The revelation of Pitti Fragranze for me was the Hokkaido based company DI SER (which means something you can sense but you can't see). Founded in 1999 as a pharmaceutical and cosmeceutical producer, they later started to create fragrances focusing on typical Japanese perfumery raw materials: shiso, yuzu, hinoki, and agarwood. I was highly impressed by Hasunoito (lotus flower stem), a stunning perfume featuring a floral heart of delicate rosa rugosa and hypnotic boronia over a utterly chic savoury chypre base I thought contained algae absolute. Perfumer Yasuyuki Shinohara explained to me it's because of a special salty agarwood quality, which makes it so much more interesting. I hope to see this soon on the shelves in Europe as my sample is almost drained and Japan is so far away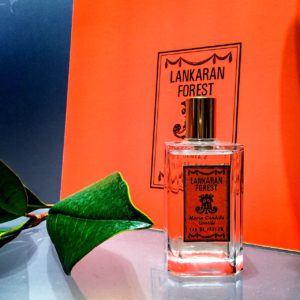 Maria Candida Gentile Lankaran Forest.
MARIA CANDIDA GENTILE – Lankaran Forest edp
Citrus has never disappeared actually but in a long run of thick ambers, Ouds and gourmands, they were laying in the shade. Now they seem to be back on the radar and Lankaran Forest is a bright example. Since the opening a glorious, tangy sweet orange shines. The heart gets fruitier, backed by the balmy greeness of fir, salty woods and a pinch of smoked black tea. I've never been to Azerbaijian but a Russian woman who was sharing my paper blotter was impressed by the salty trail that took us straight to the Caspian sea coast. I think that the Azerbaijian Tourism Office should hire Maria Candida Gentile as she created an impressive olfactory advertising.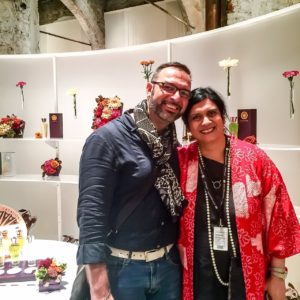 Neela Vermeire Rahale was a top choice of all three Pitti Contributors
NEELA VERMEIRE CREATIONS – Rahele edp
Inspired by the first explorers starting trades between India and France during Louis XIV kingdom, Rahele is the new gem another collaboration betweenNeela Vermeire and master perfumer Bertrand Duchaufour and is more Western influenced than past NVC scents . It immediately beguiles with a luminous citrus opening that brings out the milk dashed green tea facets of osmanthus, the blooming pillar of the perfume that reinterprets another 1970s classic theme. The base is smooth, dusted by baroque make-up hints of cinnamon and violet giving way to silky chypre base making me think of apricot tinged saris in wooden cases ready to be shipped to the old world.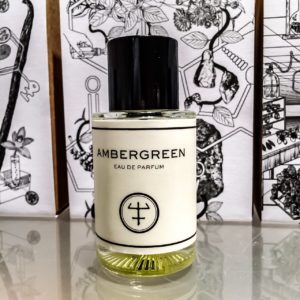 Olivier &Co Ambergreen
OLIVER & CO. – Ambergreen edp
Over the past few years green notes have made a huge comeback but they're really difficult to work with and even more so to reinvent. Oliver Valverde provided with Ambergreen one the the most creative green perfumes lately blending a full bunch of aromatic plants just picked from the backyard. There's spicy coriander, almost floral basil, crunchy celery (another '70s long lost note) and the vitaminic fruitiness of carrots over a sunkissed amber. It's the smell of summer in a farm's kitchen: think of freshly washed vegetables over a blue-white check table cloth. Almost a green gourmand, it's so exhilarating we can forgive a little roughness.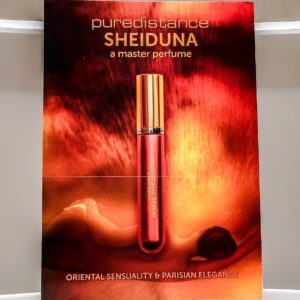 Puredistance Sheiduna top pick of Ermano and Danu
PUREDISTANCE – Sheiduna parfum
Strongly connected with eastern femininity (She, Sheika), desert warmth (dunes) and seduction, Sheiduna plays uniquely in the safe territory of enveloping sweet ambers. Pulpy citrus, beautiful jammy roses verging it to a classy floriental, dates and dried fruits, just a hint of spices and of course a full bodied ambery trail. Everything you expect in the menu is here, but mastered so flawlessly by Cécile Zarokian (who already gave us more than a winner speaking of big ambers) to make it worth joining the Puredistance line as their first oriental.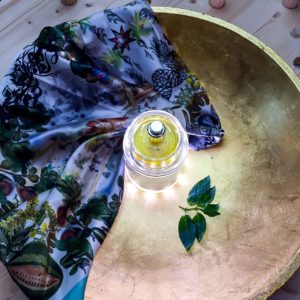 32 N 08 E Terroir de Marrakech
RICHARD LUSCHER BRITOS – 32 N 08 E Terroir de Marrakech
Last year in Florence, Serena Britos showed me a mod, speaking about the nana mint from Morocco and saying they were working on it with perfumer Delphine Thierry. Meanwhile she had a baby (congratulations!), so this time it was her sister Ludmilla showing me the final result. Terroir de Marrakech natural perfume explores the sweet, peppery and floral freshness of nana mint in the context of a green tea base. The surprise is the watermelon accord adding a cheerful juiciness in the midst: it's incredible how new technology used naturals compare to the past and Mme Thierry cleverly took advantage of this to send you straight to the Medina.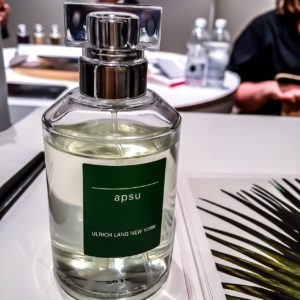 Ulrich Lang New York Apsu (MC is glaring at Uli right now trying to get a sample)
ULRICH LANG NEW YORK – APSU edp
Referring to ancient Babylonian sacred waters from underground, APSU is the latest beautiful addition from Ulrich Lang. Thanks to some beautiful captives from Firmenich, Apsu renders a lush vegetation with mystery flowers and fruits all drenched in a subtle mist. As I sprayed, I was immediately brought back to the Kew Gardens, with giant tropical strelizia, dewy leaves and light breaking through the Palm House. It's an exotic beauty, but also a very modern one, like a Eden garden for A XXI century Adam and Eve rather than a wild rainforest. Why not dare to pick the forbidden fruit and get a bottle!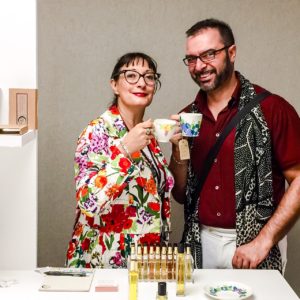 Sarah McCartney of 4160 Tuesdays having tea with Ermano
Honroable mention goes to 4160 TUESDAYS's founder Sarah McCartney. Dressed in a flowerpower colorful coat, red lips and British cheekiness, she totally rocked the show looking like an adorable Alice in Wonderland at a Mad Tea Party where you could sip perfumes from odd teacups. She showed me her own line, and then Sarah led me to smell the upcoming Zoologist perfume Macaque which is a big thumbs up. Think everything monkeys in a zen temple would love: apples, incense, honey, tea… so offbeat but so good.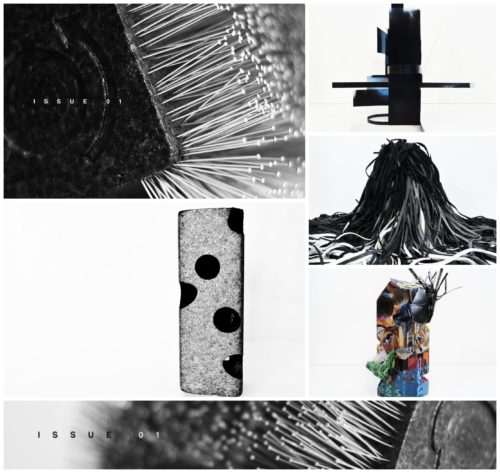 all rights reserved CaFleureBon Francesca Gotti (collage by Mc) Milena Altini, Aron Demetz, Giulia Marchi, David Monteleone and Ermano Picco
Another honorable mention goes to Issue No. 1, the artistic project, one of those launched one year ago at Pitti now summed up in a stunning publication. Issue No. 1 collects a series of collaborations with artists, influencers and simple perfume lovers play with the iconic polystyrene block. Like a scrapbook, inspiring notes face the pureness of art director Francesca Gotti's shots capturing the works of Milena Altini, Aron Demetz , Giulia Marchi, Mustafa Sabbagh and others. If perfume is the 8th art, it's always good to see perfume that speaks to other arts!
Contributor, Ermano Picco and Author of La Gardenia nell'Occhiello
Contributions by Michelyn
ALL PHOTOS BY ERMANO PICCO FOR CAFLEUREBON
PHOTOS BY FRANCESCA GOTTI CANNOT BE REPRODUCED WITHOUT HER PERMISSION AND WAS SHARED WITH US BY SIGNORA GOTTI
Please read our Pitti Fragranze 2016 posts by Ermano here, Danu here and Ainslie here