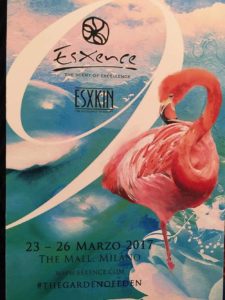 Courtesy of Esxence
Esxence is always a blast of new brands and new launches making the four days a sniffathon for even the most experienced or jaded journalist. This is my seventh edition of the nine and what strikes me this year is the more time passes, the more that I enjoy the time I can spend talking to people, learning from the conferences and enjoying scents and having fun at parties.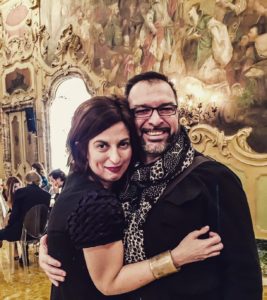 Ermano with Isella Marzocchi, the publicist for many exciting brands
As for parties the Oscar goes this year to the Xerjioff Party at Palazzo Visconti. The atmosphere was incredible, with people enjoying beautiful music, entertainers in costume, wine and delicious finger food but above all the amazing decorations of the salons where Giuseppe Visconti, the eccentric founder of Gi.Vi.Emme perfumes (that gave birth to contemporary Italian perfumery), and his son the director Luchino.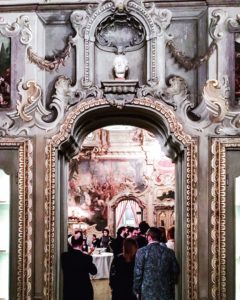 Thank you Sergio Momo for this great opportunity to see this rarely accessible space; connecting with perfume, history and beauty.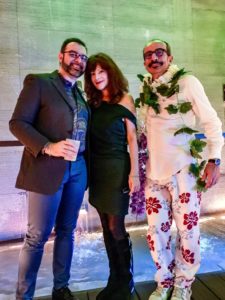 Ermano with Lauryn Beer, Editor of Cafleurebon and Massimo Nobile at The Garden of Eden Gala
If the Garden of Eden this year had a tiny space for lunch (no tables, only standing!) at The Main Mall at least the organizers made up for this with The Garden of Eden Party at Spazio Gessi.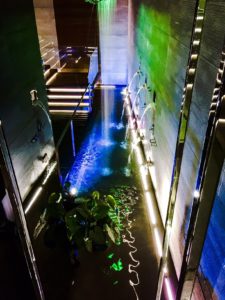 Entrance to The Garden of Eden Party at Esxence
Stained steel, glass walls and water showers and falls were amazing letting people play with their floral attire in a cyber-garden '90s disco atmosphere. Music also was amazing and it was nice to have some fun also with Lauryn Beer, who I had never met before.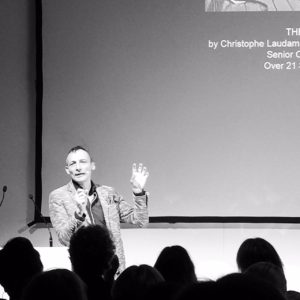 Christophe Laudamiel Manifesto Conference
As for conferences, the most anticipated by me surely was Christophe Laudamiel's Manifesto. It was amazing listening to Christophe breaking down prejudices, especially about synthetics. His olfactory games using synthetics to conjure up mult-facets, letting people understand the many possibilities that artificial raw materials add to the natural palette literally charmed the audience.
Sarah Colton Bad Girl with Bad Boy Ermano
Also the following discussion conducted by Sarah Colton (so much fun sniffing around with you bad girl!) and Karen Marin (Parfums Givenchy) was engaging and many people in the industry gave their experience on spreading perfume culture and the benefits of it in many fields from commerce to medical therapy.
As for new launches, the number of booths have grown, so I think it's impossible to visit all of them even in four days; I hope people and perfumes I missed will kindly excuse me. I'm sure we'll have more chances in the future.

If the green trend has come to maturity with a mint boom, the bourgeoning trend for florals explored osmanthus and magnolia in many ways. What will I be wearing this summer? This is my personal selection of the ten must "smell" from the show, plus a few special mentions.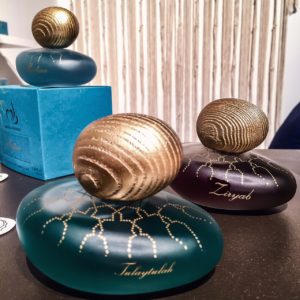 MAJDA BEKKALI Mudejar and Ziryab: After exploring Toledo with the almondy sweetness of orange blosson in Tuhlajtulah, Majda Bekkali completes her andalusian collection with two new addition: Mudejar and Ziryab. Inspired by light playing through the Moors elaborate architecture, the first is a modern citrus chypre combining lively grapefruit to the savoury African stone. It's in the latter though, a true gem, that Robertet rising star perfumer Richard Ibanez blends a rich oud woody base together with the most exquisite green floral sap of tulips symbolizing the long lost genius of Ziryab who gave birth to flamenco.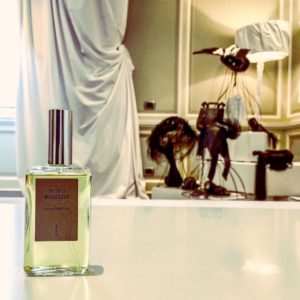 NAOMI GOODSIR Nuit de Bakelite: The lift doors open at the Principe di Savoia Hotel 7th floor. Early in the morning before Esxence officially began. I was the first to enter "Insomnia", Naomi Goodsir installation featuring Parisian artist Tzuri Gueta green silicon roots. Everything is rolled in immaculate sheets like in White Nights. Too much adrenaline can do that, and that's exactly what I felt getting to my nose Nuit de Bakelite. Like a bug, Perfumer Isabelle Doyen slips into the plastic, unopened blossoms of a tuberose stem to extract this fierce, galbanum laden obsessive green. Outstanding.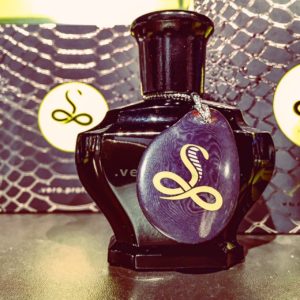 VERO.PROFUMO Naja: Vero Kern celebrates ten years of fearless creativity, unashamed beauty and emotion in perfumery releasing Naja, the Jubilee tobacco scent. She still surprised me in many ways. Naja, the serpent-perfume touches me, it hugs me it's around my neck and it's totally addictive. Inspired by shamanic powers of tobacco and the symbolic energy of the cobra, this beautifully odd tobacco loaded with linden blossom and leathery osmanthus is like an uplifting therapy, and I guess people feel that because I had so many compliments while wearing it at the Esxence party.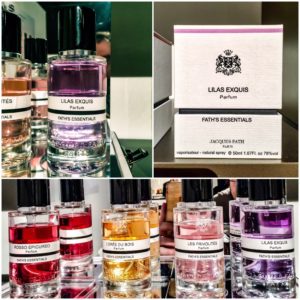 JACQUES FATH Lilas Exquise:When I learned first about Lilas Exquis and the inspiration art director Rania Barakat Naim gave to perfumer Luca Maffei, I couldn't help but thinking to Bettina Graziani in a lilac satin dress posing to the camera with her nose up in the air. Out of the usual flowers, this hyper-realistic lilac soliflore vividly renders blossoms drenched in raindrops and French joie de vivre. Empowered by outdoorsy and leathery facets of violet leaves, I wouldn't be surprised to smell it also on dandies as a floral summer cologne.
Anatole Lebreton with Ermano
ANATOLE LEBRETON Grimoire:The garden on Eden for a while turns into a forest covered in strange mists and obscure spells. C'est la faute à Merzhin? No, it's because of Anatole Lebreton and his Grimoire, the book of spells. Some kinds of lavender are very close to labdanum and can be magic with incense. That's the spell, a luminous mix of lavender and herbs cutting through the dusty yellow pages embalmed by an hermetic mix of incense and sensual spices. Subtle yet powerfully evocative.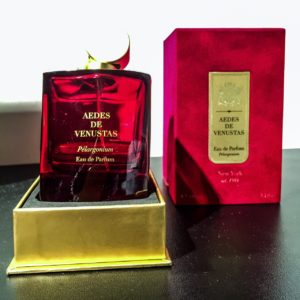 AEDES DE VENUSTAS Pelargonium: Halfway a fresh rose and crushed leaves, Egyptian geranium has been featured in some successful perfumes during the last years, so I was really curious to smell Aedes de Venustas's take on it. Nathalie Feisthauer sets the green, powdery freshness of Pelargonium in a peaceful veranda in summer at noon playing with the silvery, almost sage-like, amber facets through light and shadow with the Sichuan Pepper's lemony sparkle and vetiver duskiness. There's just a light breeze carrying hints of the signature incense aloofness from far.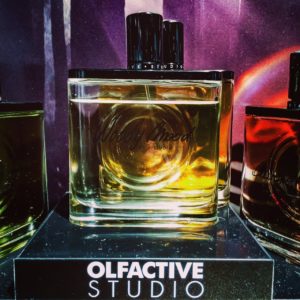 OLFACTIVE STUDIO Woody Mood: Inspired by "Redwood Alien", a picture Roger Steffens took back in 1973 portraying a wood drenched in overexposed light and red reflections, Woody mood takes out of the X-Files another olfactory alien, the masculine confidence of coniferous woods. Perfumer Bertrand Duchaufour builds a red sequoia impression with the piney, slightly animalic sap of Jatamansi (Himalayan nard), warm spices and leathery resins that reminds us the mastery he showed playing with incense in many of his greatest hits.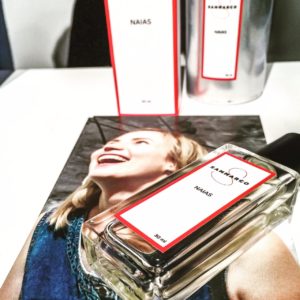 SAMMARCO Naias: Born from the ideal encounter of a noble soul and violets, Giovanni Sammarco latest addition Naias is more than a perfume. It is a violet chameleon swirling in spiced saffron and fruity-floral facets rendering the completion of a young woman. Its warm, rosy cheeks textured in velvety osmanthus make you want to kiss her pulpy, sweet lips keeping your nose wanting for more.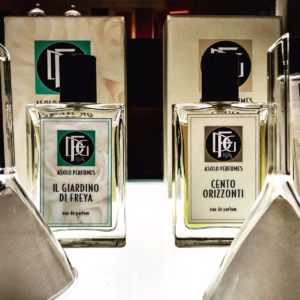 DFG 1924 Asolo Collection: Asolo is a place close to Treviso that's been chosen for its beauty by queens and nobles since the Renaissance. It is also the name of the top offer from DFG 1924, a new brand debuting retracing the footprints of the founder's grandfather, pharmacist Giustino Dalla Favera. Perfumer Roberto Dario built beautiful green nectars inspired by the garden of explorer Freya Stark and by the words of poet Carducci describing the wanderlust. Cento Orizzonti (hundred horizons) with its mix of 70s retro powdery hints and savory modern herbs definitely conjures up a morning walk looking those Alps landscapes.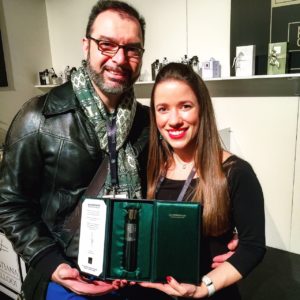 Ermano with Mary Gooding of PUREDISTANCE
PUREDISTANCE Warszawa: Having been exclusive for one year at Perfumeria Quality in Warsaw (to be released worldwide end of november 2017), the inspiration behing Warszawa came from the impression photographer and Puredistance founder Jan Ewoud Vos had when he met the Missala Family who run the exclusive shop downtown. Warszawaca opens with the freshness of green violets, the perfume grows warmer and feminine with a jasmine and broom creamy floral bouquet empowered by a powdery peachy chypre trail as gentle as the true heart of polish people. Classic and classy as only Master perfumer Antoine Lie could release it.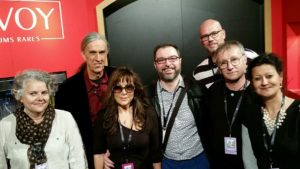 The Perfumers of Parfumeurs du Monde: Perrine Scandal, Michel Roudnitska, Eric Gigidot, Thierry Bernard and Isabelle Gelle with Michelyn and Ermano (Photo by Rob)
Special mention to PARFUMEURS DU MONDE, a sustainable perfumery project I have followed since Michel Roudnitska told me he was helping Shiphibo Amazonian tribe to grow Piri Piri, a local perfumery raw material for his Aqua Nativa. The idea was embraced by an amazing group of foolish, soulful creative perfumers in different areas. The result are amazing natural perfumes featuring unusual raw materials. Try Thierry Bernard's TSINGY for a surprising take on tiaré tropical mellowness.
Another Special mention goes to NOBILE 1942 Exclusives available soon at Roja Dove Boutique at Harrods: inspired by Marco Polo's legendary Silk Road, perfumer Antonio Alessandria concocted two beauties. Hormutz is a lavish green floral across ripe gardenia and datura while Balkh is an emerald tinged oriental seen through incense fumes.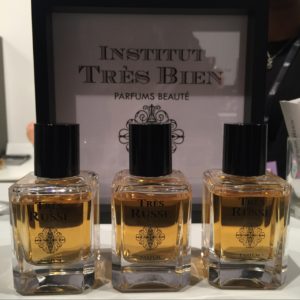 A welcome back goes to the reissue of INSTITUT TRÈS BIEN Très Russe. Less citric on top and sweeter in the base, this classic from the house won't disappoint many fans who used to wear and love the brand and this perfume.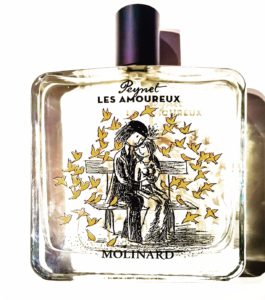 Last but not least, the cheap thrills best of show goes to MOLINARD PARFUMS Les Amoureux de Peynet. Parisian born, the famous cartoonist Raymond Peynet lived close to Grasse and used to go to Molinard to buy Habanita for his wife. As a tribute to his iconic lovers, this joyful citrus cologne built around crispy grapefruit is a bargain for the price and a must have even only for the lovely flacon. For a summer in love.
-Ermano Picco, Contributor and Author of La Gardenia nell Occhiello
ALL PHOTOS BY ERMANO UNLESS OTHERWISE STATED©
Thanks to many perfumers (some not represented here) who generously gave Michelyn extra samples of over 40 fragrances that were introduced or exhibited at Esxence, we have a draw for a registered ÇaFleureBon reader for the EU, U.S. and Canada for a lovely gift bag of new or soon to be released perfumes from Esxence. To be eligible please leave a comment with which of the fragrances sound the interesting to you and where you live. Did a few of Ermano's top picks ring a bell from our previous reports? You can comment once again and if you missed Part 1 and Part 2 you can do so there as well Draw closes 4/5/2017
We announce the winners on our site and on our Facebook page, so Like Cafleurebon and use our RSS FEED…or your dream prize will be just spilled perfume.