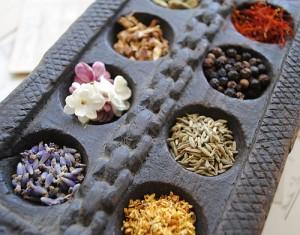 Photo Courtesy of Roxana Illuminated Perfume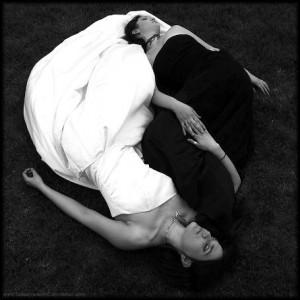 2010 heralded my personal entry into the world of online perfume writing and I have been enjoying every fragrant minute of it. My background is 15 years of study in essential oils, natural perfumery /aromatherapy, herbal medicine and cosmetics. Fragrance writing is a gift I give to myself after years of working in the herbal and natural products world.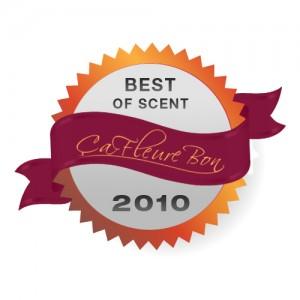 Primarily natural perfumery is my focus however I have coined a new word this year BI-SCENTUAL. The definition of BI-SCENTUAL is the guilt free enjoyment of both 100% natural and blended fragrances. I invented this word after discovering the "heroic" nature of synthetic perfumes and the positive effect they can have with one's emotional and spiritual state. As an herbalist dedicated to the overall health of the individual this came as a surprise to me and an opinion I'm sure will not be shared by many in my field of natural product formulation. I now believe in the aroma beneficial effects of certain synthetics as similar to the heroics of western medicine. When it comes to slathering my whole skin in fragrance I am most comfortable with 100% natural. I am more conservative with my blended fragrances and sometimes use them not on my skin but on my clothes (such as the potent Tauer Perfumes). We live in a time of high stress all around our beautiful planet and perfumes have the unique power to help our emotional state whether what we need is grounding (earth), more passion (fire), better relationships (water), cleansing and detoxifying (air), or spiritual guidance/protection (spirit) These elements are the 5 sacred things and a beautiful way to work with fragrance. My following picks for best of 2010 are only a fraction of the fragrances I tried and loved. Here are some of the most potent aroma juices launched this year.
"Air I am
Fire I am
Water Earth and Spirit I am"
-Pagan Chant from the group Reclaiming in San Francisco
Air: Purity/ Breath Chakra 6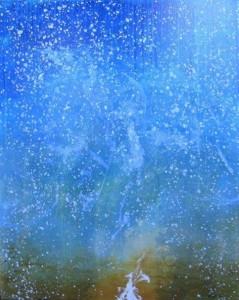 My choice of green perfumes to represent the element air is based on the healing and purifying value of such fragrances. My experience of these beautiful fresh scents is that they lighten up a dulled state of mind and help create a cleansed state of being.
Trefle Pur Cologne Absolue Atelier Cologne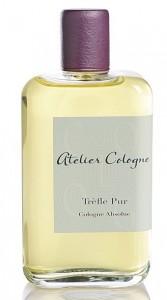 Fresh cut clover grass, violet leaves, green woods, dewy earth combine to make this beautiful musky cologne an "every morning" scent. Trefle Pur has my thumbs up as the best in the Atelier Cologne collection (I also love Grand Neroli) and one of the best fragrances of the year.
Notes: bitter orange, basil, clover absolute, violet leaves, Tunisian neroli, patchouli, moss, musk.
Trevert Mandy Aftel for Aftelier Perfume. 100% natural.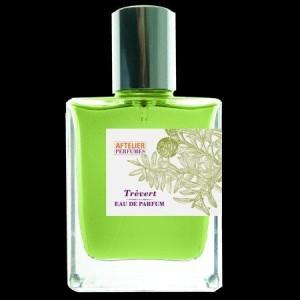 Rare wild Big Sur mountain herbs grace this delightful bouquet I love to dab on my overworked brow. I place a drop on my third eye and on my temples for instant relief. Of course mints are known aromatherapeutically for their pain relieving qualities… Trevert is a soft green scent of a most beautiful verdant color.
Notes: Pine absolute, grand fir, flouve, clary sage, tuberose, tarragon, fresh herbs.
Earth: Grounding/ Material Accomplishment Chakra 1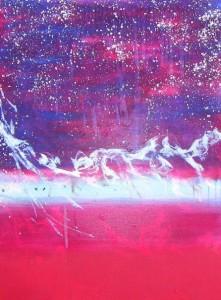 Cuir et Champignon (aka Leather and Mushroom) DSH Perfumes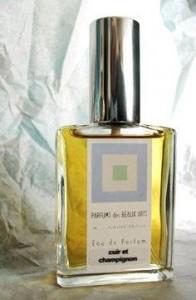 Smokey, mysterious, masculine, sexy and raw; DSH perfumes delivers a scent for the archives, a new classic.
To quote Perfumer Dawn Spencer Hurwitz "I have had this dream of making a mushroom perfume for many years now…always in search for just the right balance to create an earthy and yes, delicious, aroma experience with a feel that is true to mushroom but also that of a true 'perfume'. Now I have found it, the balance and counterpoint: leather. Cuir et Champignon embodies all the soft and inviting qualities of white button mushrooms, then leads you to a more hidden place where the darker mushrooms grow and on to rich rawhide and dusty leather".
Notes: Leather, mushrooms, sandalwood..and more…
Kewdra by Anya McCoy for Anya's Garden Perfumes. 100% natural.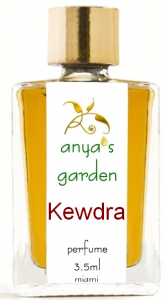 Anya McCoy's scent Kewdra is named after Kudra the heroine of Tom Robbin's novel Jitterbug Perfume. I have read this novel several times and have to say my little Mona Lisa smile reveals my "hat's off" agreement with Anya's interpretation of this classic heroine.
Kewdra is a very sexy sultry 1st -2nd Chakra perfume concentrating on a "down and dirty" theme with lots of earthy musky mushroom like scents suggesting sexual fluids and golden honeyed florals giving rise to the image of a healthy fertile woman. I heard that Kudra likes to get down with the God Pan. But you didn't hear it from me…
Notes: Kewda flower, Chinese gardenia, golden boronia, musk.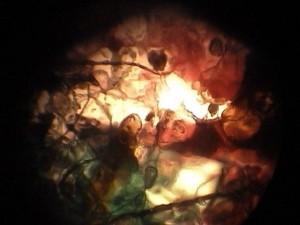 Mitti Attar Evan Healey. 100% natural.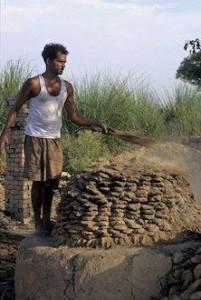 From her travels Evan Healey has brought to the US a collection of traditional Indian Attars and Ruhs of exceptional quality. What could be a more grounding scent than actual earth? Mitti Attar is baked earth from the mystical Ganges River hydro-distilled by a master distiller into pure sandalwood oil. This is the sweet, musky scent of the earth and expresses a grounded physicality and *helps to calm a fearful disposition.
Fire: Passion/ Desire Chakra 2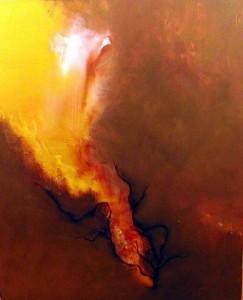 Vampira Moon Garden Perfume by Opus Oils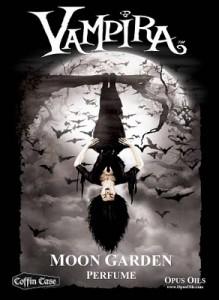 A highly erotic floral jasmine oriental this love potion "take no prisoners" … so much so that it inspired a poem from me named after the scent Vampira http://www.cafleurebon.com/?s=vampira&x=6&y=7
Notes: Night scented flowers, jasmine, black violet, orange blossom, tarragon, amber,vetiver, sandalwood, civet, vanilla, white musk
C for Men Clive Christian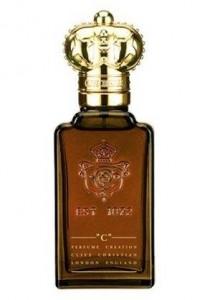 A most sophisticated and satisfying blend of leather/tobacco/wood that lasts and lasts… my image is of sinking into the softest leather armchair and being snuggled for hours.
Notes: tea, green leaves, lemon, mate, elemi, mandarin, jasmine, cardamom, raspberry, rose, cinnamon, clove, cistus, saffron, orris, pink pepper, oudh, amber, cedarwood, tobacco absolute, musk, vanilla, leather, cypress, treemoss, styrax, costus, tonka bean, olibanum, guaiacwood.
Eau D'Epices von Tauer Perfumes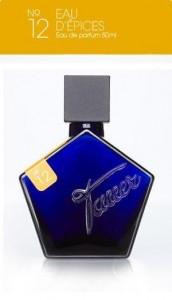 Eau D'Epices rocks a bed of spices over fiery ambroxan to light even the most stubborn of fires. This is a heroic love potion for men and women.
Notes: An Indian basket of spices with cinnamon, cardamom, clove and coriander. Red mandarins, orange blossom, jasmine, orris root, incense, cistus, ambergris, tonka beans and vetiver.
Water: Emotionality/ Heart Chakra 4
Bed of Roses by Laurie Stern for Velvet and Sweet Pea Purrfumery. 100% natural.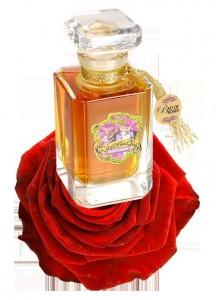 Bed of Roses is sexy, timeless, ageless and universal. It is a rock song, a classical piano, an aria, a song straight from the heart. I loved it so much it inspired this poem I wrote for it on Ca Fleure Bon
http://www.cafleurebon.com/velvet-sweet-peas-purrfumery-bed-of-roses-rockstar-rose/
Notes: 7 rose oils and absolutes, tuberose, boronia, orange blossom, mandarin peel, rose leaves, cognac, sandalwood.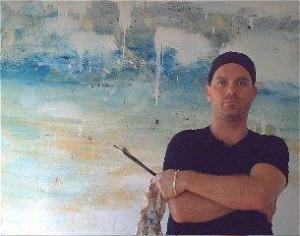 Christmas and Cookies By Bowie Feeley and Amanda Feeley for Esscentual Alchemy. 100% natural
I picked Christmas and Cookies as a heart therapy perfume not only for its expert construction and delicious full baked aroma but also because the spirit behind it is the heartfelt love of a nine year old boy. Here a child who loves Christmas, who has never felt neglected or left out, who has nothing but good memories of this time, expresses it in the notes he picked out and his mother blended. I am as surprised as anybody that this perfume works. This scent is a healer for wounded Christmas souls, Bravo Bowie!!!
Notes: 5 types Vanilla bean tincture, Butter CO2, Black Tea absolute, Beeswax/Honey Tincture, White Rose Attar in Sandalwood,Cinnamon, Antique Nutmeg, Balsam Fir, Strawberry
Soulgasm by Traci Paraday for Sasha Varon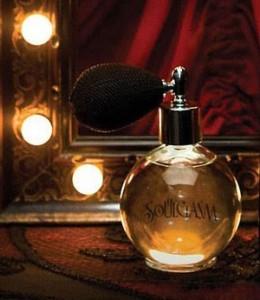 Traci Paraday concocted a winner for me with her perfume Soulgasm. This scent on my beautiful 20 year old daughter starts out very sweet and fruity and within ½ hour turns toward the floral remaining a sweet fruity floral for hours. This perfume "smells like my daughter" and her personal chemistry does wonders. I have given Emma Lee many fragrances but this is the one I exclaim "what are you wearing!?" because it smells so delicious on her.
Notes: Fruity floral of Peach, Anjou pear, freesia, black currant, jasmine, lily, woodberry, musk, amber, vanilla.
Spirit: Universal Connection/ Enlightenment Chakra 7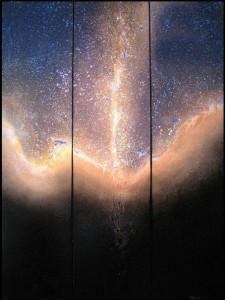 Bennacht by Amanda Feeley for Esscentual Alchemy. 100% natural.
Bennacht, old Irish for blessing or benediction is meant to be worn to uplift your soul. It is a blessing to spirit that is very much carried through in its purity, simplicity, sweet white satin feel. It reminds me of a wedding dress or a soft new white cashmere baby blanket or shawl. I feel blessed and purified when I apply this fragrant jus.
Notes: Bennacht Botanical Perfume is a blend of hydro distilled floral attars, and two hydrosols.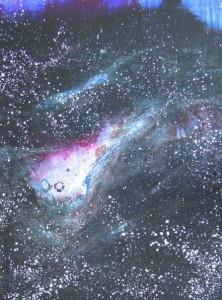 Stargazer Eau De YOSH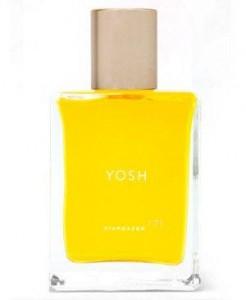 Inspired by the intoxicating stargazer lily this charming fragrance has a mystical and timeless quality. This perfume has good longevity so your Stargazing can last all night.
Notes: Kenya lily, white ginger.
Barakath/Universal energy Chakra 9 Aura
Omniscent Eau de YOSH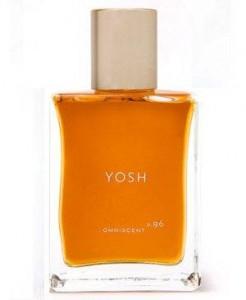 Yosh Han's irresistible aura perfume Omniscent reveals she is no beginner in the esoteric sciences. Yosh understands that the auric field moves beyond the crown chakra into the infinite (in some mystical books the Barakath). Magnetic and versatile the ethereal Omniscent is also spicy and robust.
Notes: Gardenia, tuberose, fig, pink grapefruit, lilac, violet, khus, Tunisian opium, sandalwood, vanilla, basil, aloe vera, pink pepper, geranium.
Disclaimer: Besides YOSH who attributes numerology and chakra values to her perfumes the other perfumers do not (to my knowledge) do the same. I have picked the chakra values for the scents based on 15 years of aroma study and 25 years of esoteric education.
*authors belief
http://www.aftelier.com/trevert-eau-de-parfum-spray.html Trevert Eau De Parfum
http://www.ateliercologne.com/store/atelier-cologne/trefle-pur-cologne-absolue.html for Trefle Pur Cologne Absolue
https://www.evanhealy.com/products/fragrance for Mitti Attar
https://www.dshperfumes.com/index_pdba.asp for Cuir et Champingnon
http://anyasgarden.com/ for Kewdra
http://luckyscent.com/ Eau D'Epices Tauer Perfumes
http://www.clive.com/ C for men Clive Christian
http://www.opusoils.com/ Vampira
http://www.purrfumery.com/ Bed of Roses
http://www.artfire.com/modules.php?name=Shop&op=listing&product_id=2440133 for Christmas and Cookies Esscentual Alchemy
http://sashavaron.com/ Soulgasm
http://www.artfire.com/modules.php?name=Shop&op=listing&product_id=2343076 Bennacht, Esscentual Alchemy
http://luckyscent.com/ Eau De YOSH Stargazer and Omniscent
Op
ening picture for use in all the Best of 2010 participating blogs by Roxana Villa.
http://jaredknight.com/JKFA/HOME.html original Artwork and "portrait" of the artist.
–Monica "Skye" Miller, Senior Editor
Please remember to visit the other participating blogs in the "Best of 2010" project, co-ordinated by Trish of Scent Hive, linked below:
Scent Hive
Smelly Blog
Roxana Illuminated Perfume
DSH Notebook
I Smell Therefore I Am
EauMG
A Rose Beyond the Thames
All I Am a Redhead
Schreibman's Live
Portland Fragrance Examiner
Persolaise
Sorcery of Scent
The Non-Blonde
For Our Natural Draw: There are two full size flacons from Skye's favorite natural perfumes picks and two potential winners.
If you want to open your Heart Chakra try Velvet and Sweet Pea Purrfumery's Bed of Roses. Trying to stay grounded? Opt for Anya's Garden's Kewdra
Draw is for full size flacons: a 3.5ml bottle of Anya's Garden Kewdra (Created for the Mystery of Musk Natural Perfumer's Guild Internet Project) and a 5mL bottle of Bed of Roses (Created for Raphaela's Roses by Laurie Stern)
Please leave a comment below indicating which draw you want to be entered in. The draw will close on January 2nd at 10 am est.