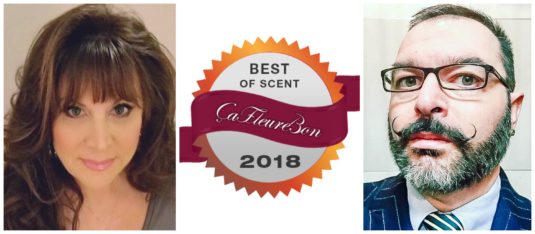 Best Fragrances of 2018 Category Winners by Michelyn and Ermano
For as long as ÇaFleureBon has been giving end of year Best Fragrance awards (2010), (2011), (2012), (2013), (2014), (2015), (2016) and (2017) there was always the question, "was this a good year for perfume"? Can we even judge Best Fragrances? What one editor loves another might not like…but instead of judging we look at the Best Fragrances of 2018 Annual wrap up as truly personal choices of fragrances that moved us, were well constructed and transported us.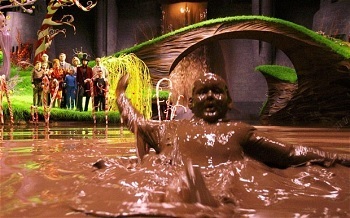 Augustus Gloop almost drowned in Willy Wonka's sea of chocolate (Tim Burton version)
This year it was the best of times and also the worst of times. It is the first year that I dreaded the sight of the FedEX, DHL, Colissimo, USPS and UPS boxes and envelopes, right around October. Like last year, I was overwhelmed by the number of new releases, but somehow I sniffed my way through 500 fragrances (many in Milano), and my colleague Editor Ermano Picco over 550 ( quite a few from Pitti and Esxence); we felt like Augustus Gloop from Charlie in the Chocolate Factory, greedy for new scents but ultimately almost drowning in a sea of perfume as we made our way through hundreds of 2018 new fragrances (Lord help us so many debuted in December). I am sure we missed some gems. Dear Perfumers and Fragrance Companies: late releases work for the Oscars because we tend to forget what was in the theaters earlier that year. We didn't forget, and in fact our noses burnt out mid-November and the 30-40 new fragrances that crossed our desks in December alone were stressing us. This year's Best Fragrances of 2018 will be a four day event. Tomorrow Ermano and I will announce our respective top ten Best Fragrances of 2018, followed by Ida and Robert's Best Fragrances 2018, Lauryn and Gail's Best Fragrances of 2018 and Danu and Despina's Best Fragrances of 2018. There will be draws aplenty. –Michelyn Camen, Editor-in Chief
.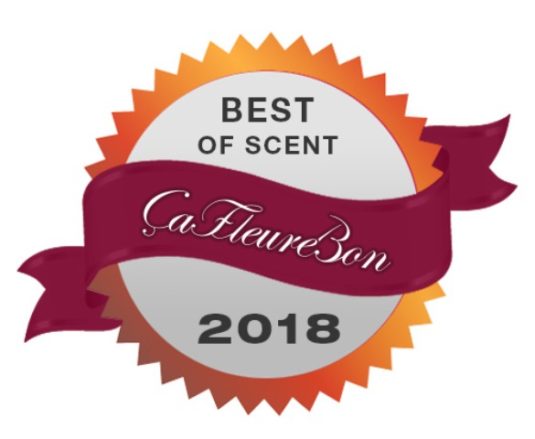 Best Trends:
Master perfumers with their own lines. Noteworthy is the beautiful Ella K by Sonia Constant, Olivier Cresp with Akro Fragrances and Michel Almeraic for Parle Moi de Parfum. Sparkling citruses and a return to elegant classics as well as fragrances with soft sillage attracted me. The desert was popular this year as an inspiration for scents of place. Crowd Funding for small perfumeries; great idea and many of us gave gladly. I have been collaborating with indie perfumers as a creative director since 2011 (I do not earn a penny from any of these, just saying) and have noticed the increase of other fragrance personalities and influencers beginning to work with indies and masters as well. I also thought that small scent boutiques like Perfumology are doing a great job of not only selling but creating lovely fragrances, so this is a concept that makes my Best Fragrances of 2018 list. -Michelyn
Time to move on: Beast Mode… hate the term and I don't want a perfume to attack, snarl then tackle those around me. Unboxings… save a tree!!! Another peeve is when brands launch in Europe before the USA, or vice versa. Oh and those exclusive to particular retailers, and of course those retailers don't ship to your country. Hello scent mules! Never underestimate the acquisitive nature of an avid perfumista.-Michelyn
Bespoke and semi-bespoke perfumes. I mean hideous customizations and "magic potions" made in front of the customer by just adding a few drops of this and that.-Ermano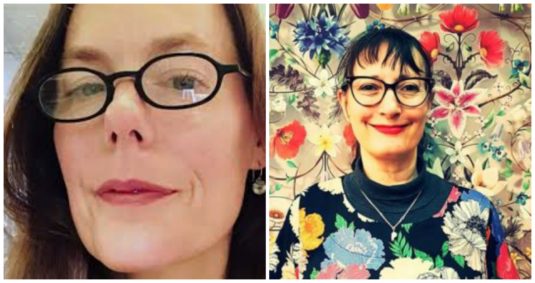 Dawn (L) and Sarah (R)
Hardest Working Person in Perfume:
It is a tie between Dawn Spencer Hurwitz of DSH Perfumes and Sarah McCartney of 4160Tuesdays: From Dawn Spencer Hurwitz, (watch for a few to make our Best of Fragrances 2018 lists):Lilas de Minuit, DSH Je Suis la Lune, Shimotsuki, Paper*White, Taj Garden, Lis Oriental, Summer Cologne, Figue Interdite, Eau Cerise, Bakul Medjool, Essenza dell'Ibisco – LE, Oudh Noir – LE, Aoud Blanc – LE, Uptown Moonshine, official re-releases: Musc Eau Natural – LE, Burnt Sugar Vanilla, Quilcene, Socaire, Bella Flor for Curie Fragrances and Colorado for American Perfumer.
From Sarah McCartney: CaFleureBon x White Queen, Truth Beauty Freedom Love, A Curious Essence, (very small edition for the University of London Living Literature event on Frankenstein), Freeway, Eat Flowers, Amberama, Amber Mambo, Le Jardin de Monsieur McGregor. Over the Chocolate Shop, Scenthusiasm, Take Me to the River, Wash Me In the Water, Kiss Me Quick(ly) special edition for Dulwich Picture Gallery's and Atlante for Sarah Baker Perfumes- (watch for a few to make our Best Fragrances of 2018) Michelyn
Perfumer Francois Demachy who created about 20 new launches for Dior among commercial and exclusive lines, aside sourcing raw materials. He almost earns my compassion as I can imagine the pressure and diktats from the marketing and knowing all of this will get out of the shelves in a few seasons. –Ermano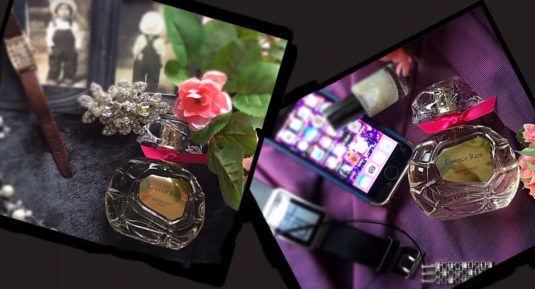 Photo Robert H
Best Fragrance Of The Year:
Houbigant Essence Rare by Jean-Claude Ellena.-There's nothing more amazing than to see a Master at work, but a Master reworking his own concepts, is like listening to Bach elaborating on his own melodies, unfolding each time new unexplored nuances, a step ahead instead of sitting in the past. Both Ermano and Michelyn think it is the Best Fragrance of 2018. That is a first for us.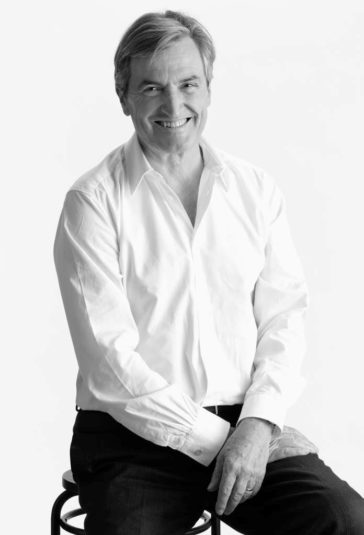 Best Perfumer:
Jean Claude Ellena– Ermano

Rodrigo Flores Roux and Quentin Bisch of Givaudan
Tie between two Givaudan rockstars: The Master Perfumer Rodrigo Flores Roux of Givaudan for an exceptionally stellar year with Barbershop from Hawthorne, A Fuego Lento Frassai, Green Tea Fig E. Arden, Sydney Rock Pool by Arquiste, Nest Wisteria, Vainillas y Resinas Arquiste for El Palacio de Hierro, l'Ame Perdue de Le Galion, Tribal Waters Santi Burgas.. three of them "A", "N" and "Tastic)", Flores by Rodrigo Flores-Roux perfumer's edition by Jafra, Incense City (fantatstic!!) by All Saints and Megalium by Carner Barcelona – Michelyn Camen, Editor in Chief
Quentin Bisch has gone from a rising star to super nova this year: Azzaro Wanted By Night, Bottega Veneta Parco Palladiano Collection Quercia, Bottega Veneta Parco Palladiano Collection Salvia Blu, Chloe Nomade, Ex Nihilo Cuir Celeste, Jasper Conran Naked Man, Jean Paul Gaultier Le Male In The Navy, L'artisan Parfumeur Mandarina Corsica, Liquides Imaginaires Desert Suave With Nisrine Grillé, Nuxe Le Matin Des Possibles, Paco Rabanne Pure Xs For Her , Parfum De Marly Delina Exclusif, Van Cleef And Arpels Collection Extraordianire Neroli Amara, Victor &Rolf Magic Collection – Invisible Oud, Ysl Collection Le Vestiaire Des Parfums – Blouse, Zadig & Voltaire Girls Can Do Anything.
Each demonstrates the ability to create memorable perfumes that cross all markets and target demographics. No compromising!- (list of fragrances were given to me by the perfumers)- Michelyn Camen, Editor in Chief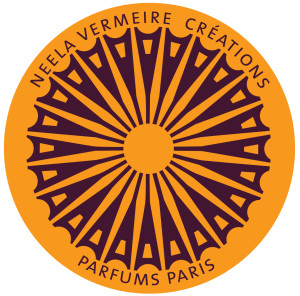 Best Independent House (hires outside perfumers): Neela Vermeire who released a shimmering rendition of silk through perfume, Niral, but also brings to a broader audience the beauty of a strong artistic vision in perfumery that is able to bridge Eastern and Western culture. –Ermano and Michelyn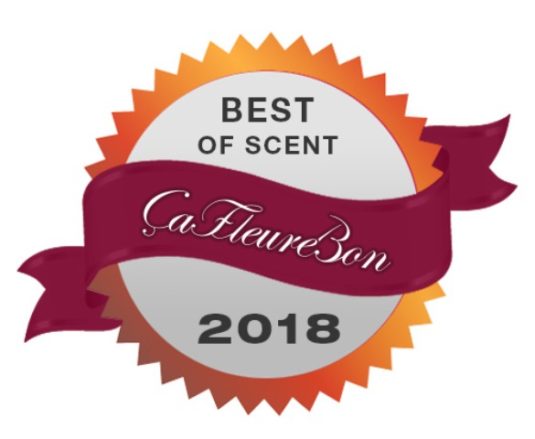 Best Fragrances of 2018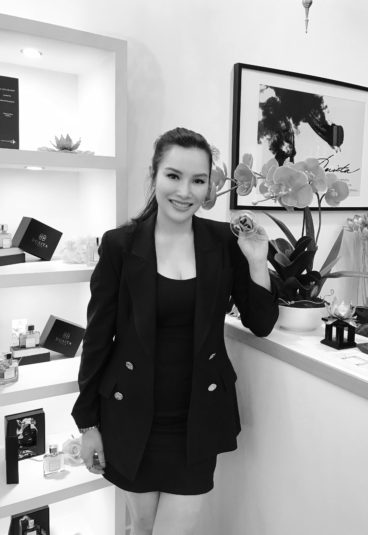 . Pissara Umivajani of Dusita
Tie-Best Artisan House: Parfums Dusita and D.S. and Durga.
Pissara Umavijani's new boutique is a triumph for an artisan; she now offers classes and her beautiful perfumes displayed exquisitely. Her fragrances Erawan and Fleur de Lalita were officially launched in 2018 as well. Erawan won a Russian FIFI. –Michelyn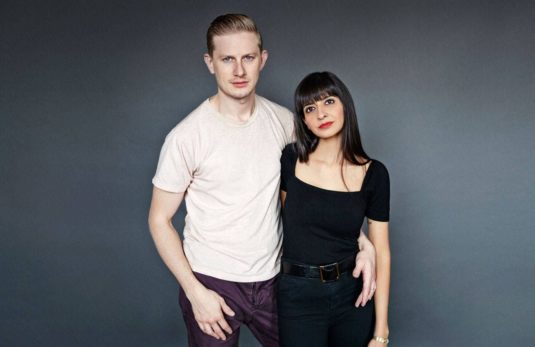 David Seth Moltz and Kavi Durga
I love that David and Kavi of D.S.and Durga created air fresheners, (move over Playboy with their bunny air refresheners and those pine horrors) as well as candles and the anything but your average amber scents: Amber Kisu and Amber Teutonic.
Best Natural Perfumer: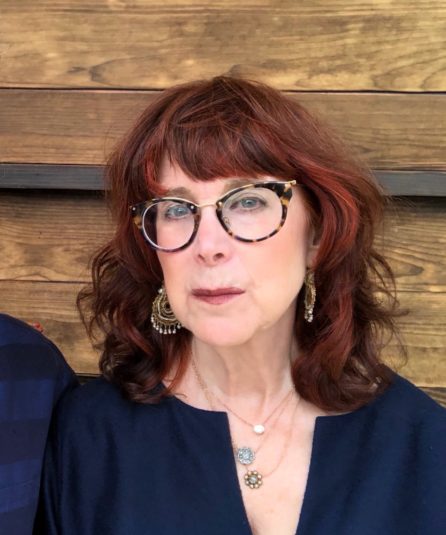 Mandy Aftel of Aftelier Perfumes: Alchemy and Antique Ambergris are liquid art and equally exquisite… and among the best I have smelled of over 70 naturals this year. Mandy Aftel continues to reign as the Queen of Green. –Michelyn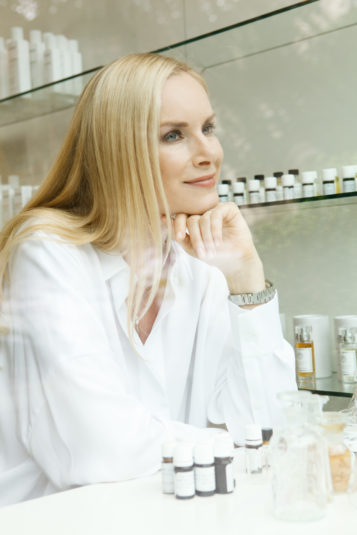 Tanja Bochnig of April Aromatics. Tanja Bochnig of April Aromatics. Pink Wood with its unique take on the rose-oud theme exploring Mittel European traditions, she released this year the best natural iris perfume I've ever smelled with Irisistible. –Ermano
Best Natural Perfume House:
Abel, the Amsterdam based house created by Frances Shoemack continus to dazzle with Green Cedar and Nurture–Michelyn
April Aromatics –Ermano
Best Natural Perfume: Hyde by Hiram Green. This. Is. Leather. Hands down one of the best fragrances of 2018 –Michelyn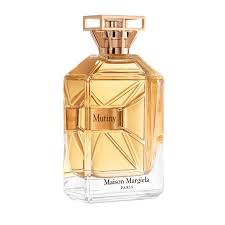 Mutiny Martin Margiela Best of Fragrances 2018 flacon
Best Bottle:
I really loved the new Margiela Mutiny bottle. There's something classically elegant about it, and yet it channels the Margiela love for exposed (de)construction, especially in the architectural golden cap connecting to the vision of a deconstructed floriental housed inside. –Ermano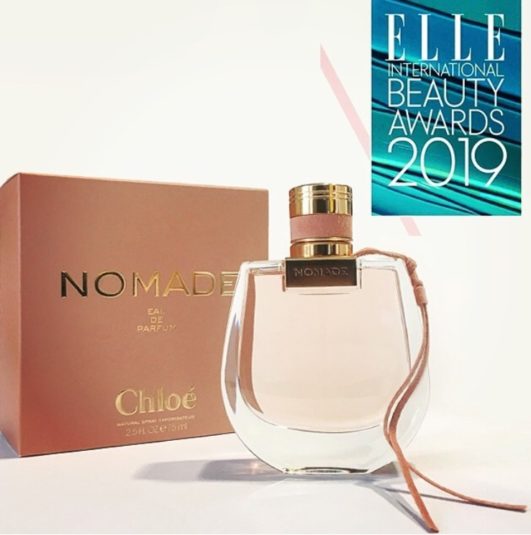 Best Designer Fragrance:
Chloe Nomade– Quentin Bisch's future classic was composed with only 7 proprietary Givaudan ingredients and somehow he magically created a modern chypre that is one of the best fragrances of 2018; I am not the only one that thinks so as 75 Elle Editors worldwide agree-Michelyn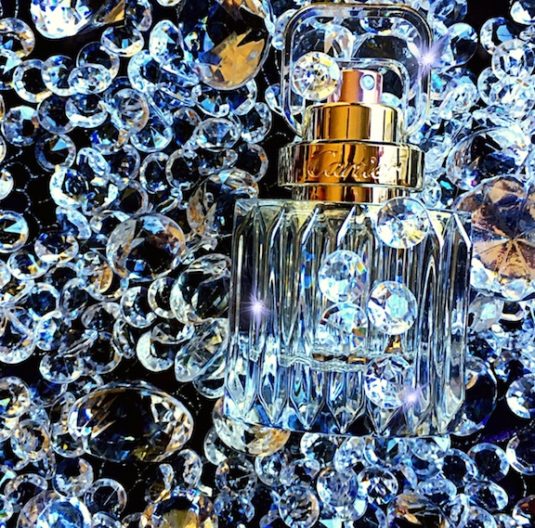 Photo by Robert H
Cartier Carat –How brilliantly Mathilde Laurent twisted a classic rose theme to make it appeal to chic youngsters.-Ermano
Best Limited Edition:
It doesn't happen often that an iconic flacon featured in arts and design to change its "dress". So my pick is Chanel No. 5 Red Edition 2018– Ermano
DSH Perfumes Essenza dell'Ibisico from the new Heirloom Elixirs is a tuberose for those of us who can't wear tuberose. Dawn dialed back the indoles, amped up the plum and fruit intonations. Exceptional and rare.–Michelyn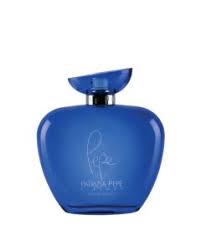 Worst Bottle:
Speaking of bottles, this year was scattered with releases mostly dressed in classic deco lines and adorned by refined details. Kitsch lovers could enjoy some weird moments though, like the shake it-shake it duo Patrizia Pepe Jeans Woman and Man –Ermano
Everything was fairly safe ths year…. Where's Niki Minaj when I need her?-Michelyn
Best Bang For The Buck:
H&M's new line composed by (rising star in the making Givaudan Nisrine Grillié and perfumer Olivier Pescheux. Easy accords masterfully rendered at 5$ per 20ml or 13$ per 75ml.-Ermano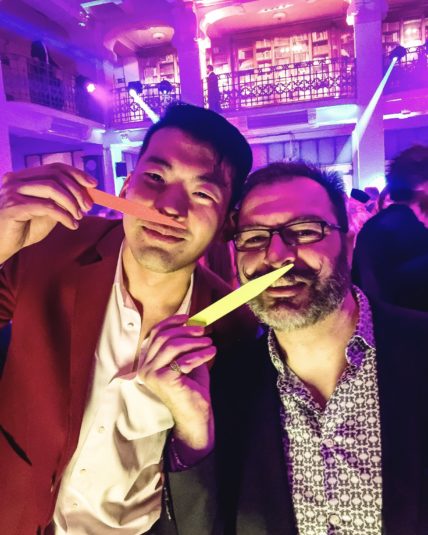 Alex Lee of Mane with Ermano
Rising Star:
Alex Lee of Mane. His first creation Rinascimento couldn't be better marking a top notch start in the exclusive line of Salvatore Ferragamo. This fragrance unfolding a classic white floral bouquet twisted by a special green pepper extraction is a perfect balance of tradition and innovation, wearable yet distinguished. And Michelyn hears he's working on a new perfume for a well-regarded niche house.-Ermano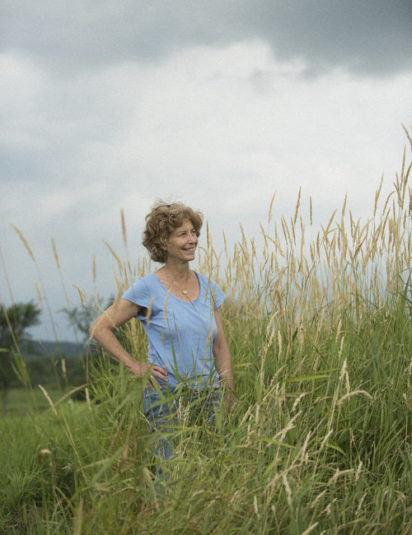 Diane St. Clair of St. Claire Scents, a dairy farmer and artisan perfumer from Vermont outshone classically trained perfumers with the beauty of her Gardener's Glove, First Cut and most recently Casablanca.-Michelyn
Best (Fragrance) Book:
Spritzing To Success by Annette Green: The memoirs of the intrepid woman who created The Fragrance Foundation 40 years ago is one of the most inspiring books I have read this year, including non–perfume books. An industry outsider who reshaped the fragrance world, helped legitimize perfume as art as well as commerce, Ms. Green was blazing trails on behalf of women in fragrance before gender equality was a buzzword. –Michelyn
Les Parfumeurs, avec Christian Dumais-Lvowski – Harper Collins which collects an amazing conversation with some prized master perfumers like Isabelle Doyen as well as some young scent stars like Quentin Bisch. –Ermano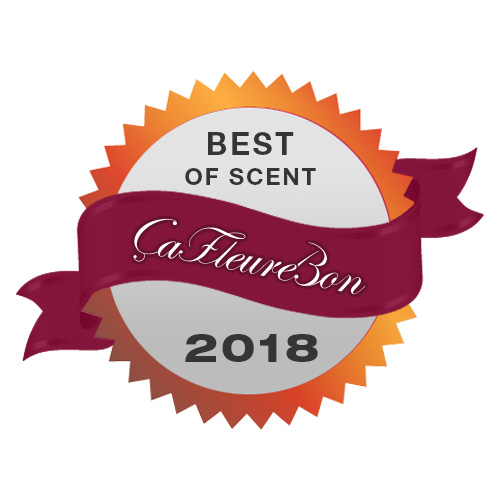 Best Fragrances of 2018
Best Collaboration:
"A World through scents" collaboration between Symrise perfumers and Nez, la revue olfactive team and White Queen by 4160 Tuesdays perfumer Sarah Mc Cartney and Cafleurebon Editor in chief Michelyn Camen for the 8th anniversary of Cafleurebon –Ermano Picco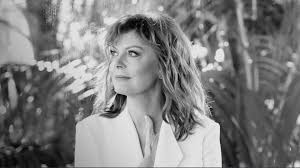 Best Ad:
Jil Sander Sunlight Woman. A classic ad in B&W which somehow effortlessly escapes being a cliché. It features a radiant 72 years old Susan Sarandon naturally playing in front of the camera of a young photographer. Her charismatic voice tells about being a woman and the final lines is "I can be in the shadow or in the light, but the true light its inside".-Ermano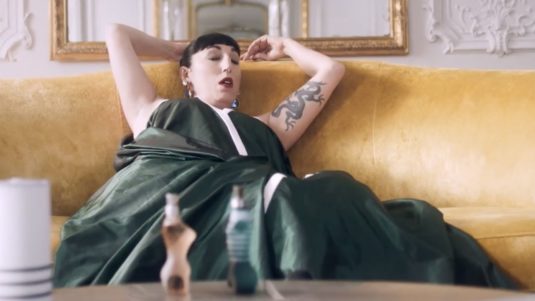 Jean Paul Gaultier's new video ad campaign for Classique starring Rossy de Palma and male model Jonah Bhurjack is offbeat and hilarious. Any perfumista who owns an Alexa will laugh until their sides split. CouCou #jeanpod –Michelyn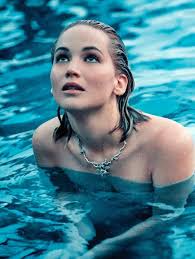 Jennifer Lawrence for Dior Joy
Worst Ad:
Dior Joy. Even the joyful blonditude of Jennifer Lawrence looks like she's annoyed by such poor content going on. –Ermano
Agreed. J. Law doing an imitation of Charlize Theron in another annoying ad from Dior circa 2011-2018-Michelyn
Best Celebrity Fragrance: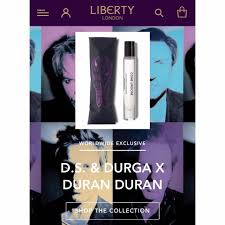 DS & Durga + Duran Duran Come Undone, Hungry Like The Wolf, Skin Divers, You Kill Me With Silence for Liberty of London-Ermano and Michelyn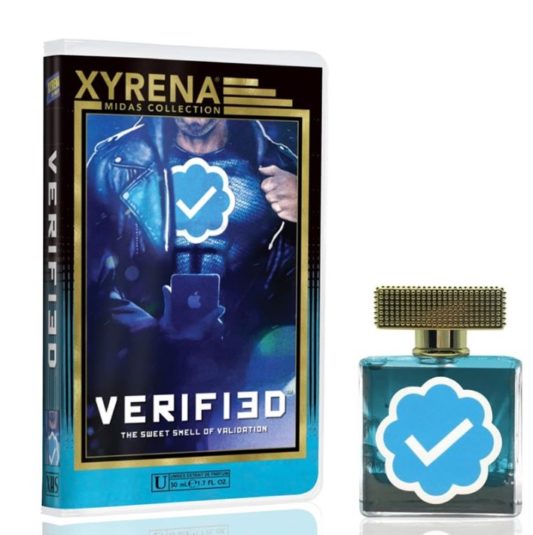 Worst Celebrity Fragrance? Is also my best Celebrity Fragrance!!! Xyrena's Creative Director Killian Wells pokes fun (I think) at the "Influencer phenomenon" on Instagram, Twitter and YouTube with Verified, a perfume targeted to "the elite few who are verified celebrities and public figures" (you know the ones with the blue check mark next to their names). The most exclusive fragrance for the digital era is such a ridiculously great idea and such a questionable riff on Celebrity fragrances that it is both my Best Fragrances of 2018 and Worst. –Michelyn
Best perfume you want to drink or eat:
4160Tuesdays Over The Chocolate Shop is THE BEST CHOCOLATE FRAGRANCE EVER. Wearing this I don't feel it's all that bad to be Augustus Gloop. Dip me in chocolate and hand me the golden ticket.-Michelyn
Rubini Tambour Sacré, with its nutty, spiced and honeyed bittersweet coffee liqueur is something I would definitely spend my winter afternoons sipping.-Ermano
Best Flanker:
Terre d'Hermès Eau Intense Vetiver and Gucci Bloom Nettare di Fiori-Ermano
Azzaro Wanted by Night by Quentin Bisch– Michelyn
Best Fragrance Name:
Serge Lutens Le Participe Passé, ireferring to the Serge Lutens early years heritage. –Ermano
Etat Libre D'Orange Les Fleurs du déchet aka I am Trash. –Michelyn
MVP (Most Valuabe Perfume Person):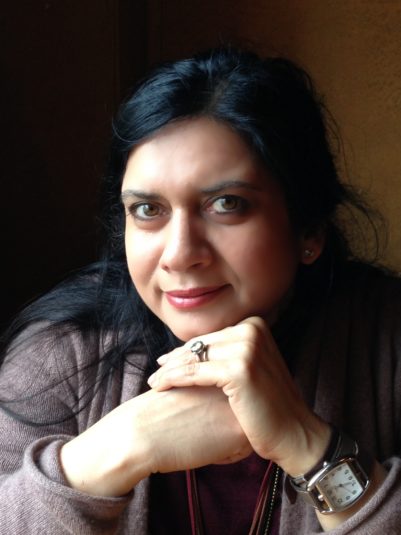 A special mention goes to Neela Vermeire for her strength and passion steering her brand with great coherence while combining creativity, uncompromising quality and wearability. We definitely need more people like her going fearlessly with passion their way. –Ermano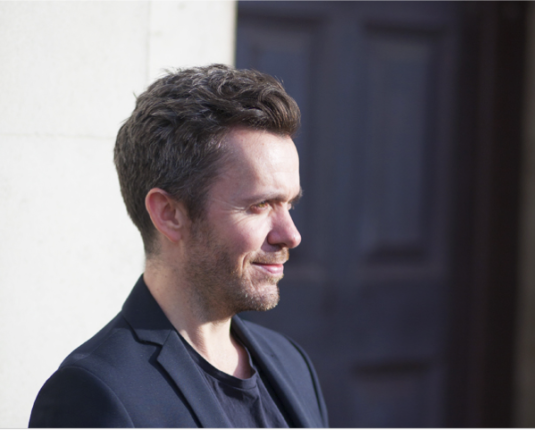 This year Nick Steward of Gallivant earns my MVP as he has gallivanted to 47 cities big and small all over the world. Nick works so hard and his attention to detail and dedication to the Gallivant brand is exceptional. -Michelyn
Best Buzz: Jacques Fath L'Iris de Fath brought back to life by the young duo Patrice Revillard and Yohan Cervi, alias the Maelstrom team. After a few years of work and issues, brilliantly turning the project into an open challenge and involving a panel of experts (among which Ermano) to judge the pest submissions, Jacques Fath creative director Rania Naim succeeded to meet the expectations and to get L'Iris de Fath on everyone's lips.- Ermano and Michelyn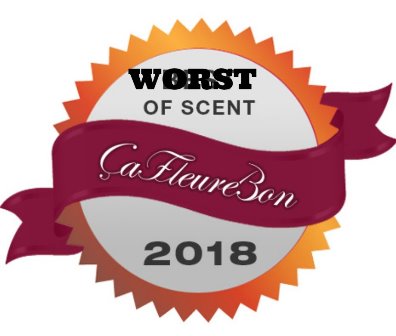 Worst Name:
People at Tom Ford / Estéè Lauder for Lost Cherry. –Ermano
I didn't think the name was so despicable, since Lost Cherry is also a lipstick I have been wearing for a few years by Charlotte Tilbury. I also think the fragrance was f*ng fabulous. The mind boggles at Kilian for Let's Settle The Argument like Adults… in the Bed Naked. Targeted to millennials and available at Sephora, condoms are not included. Just Wrong!!- Michelyn
Worst Fragrance (or most disappointing …) :
We didn't have great expectations for Dior Joy, but hope sprang eternal. Something smelled unpleasant right from the start. Having acquired Jean Patou, possibly to capitalize on the name of the glorious "Costliest perfume of the world", we were so disappointed by this generic, not terribly imaginative fruity floral targeted to millennials. On the bright side, we think M. Demachy did a good job technically –Michelyn and Ermano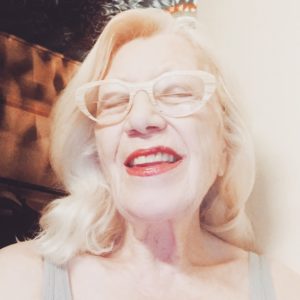 Vero Kern passed away December 18, 2018
Hall of Fame:
Vero Kern. Witty, fun, incredibly talented and compassionate, everything about this woman was utterly authentic and the world of perfumery will miss her so much. We loved all her creations, even the ones that sung less on my skin because they are just like her nevertheless, authentic and uncompromising. –Michelyn and Ermano
Honorable mention to YouTube fragrance reviewer Mr. Sillage. His enthusiasm and joyful nature, his eagerness to learn and share will be missed –Michelyn
Hall of Shame (…less than impressed…):
Dior for buying the glorious Jean Patou brand just to use the name Joy on a boring and useless scent
Best Creative Director: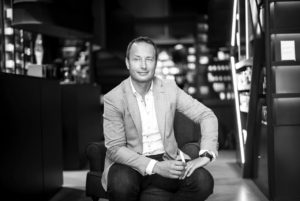 Etienne de Swardt of Etat Libre D'Orange for the idea of a perfume from leftovers focusing on sustainability.-Ermano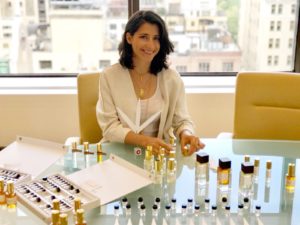 Natalia Outeda of Frassai: Last year we were the first to write about the new brand Frassai Parfums; Blondine, Tian Di, Verano Porteño and this year Rodrigo Flores-Roux returns with one of the year's best, A Fuego Lento. Add young perfumer Givaudan Roxanne Kirkpatrick's Teisenduu and a House is born. I am really impressed by Natalia and looking forward to 2019.-Michelyn
Best Fragrance you never heard of:
The Zoo NYC Spacewood, which despite its name happens to be a radioactive green floral from Mars built on natural mimosa extract. How does it smell? Like a Shirley Bassey electro-remix of course. The creative mind behind it is DreamAir NYC, alias the always innovative perfumer Christophe Laudamiel.-Ermano
Many readers HAVE read about Spacewood, so I am going to offer up JusBox No Rules, homage to the punk song and created by Master perfumer Antoine Lie. Warm Cinnamon, leather jackets and safety pins-Michelyn
–Ermano Picco, Editor and Michelyn Camen, Editor in Chief
For our Best Fragrances of 2018 Part 1 Draw open to all ÇaFleureBon registered readers (be sure to register or your comment won't count: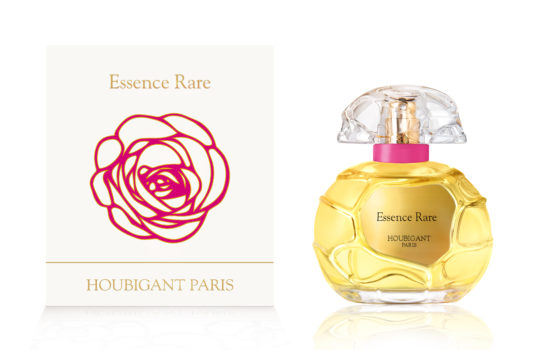 International: Houbigant Rare Essence, EU, USA and Canada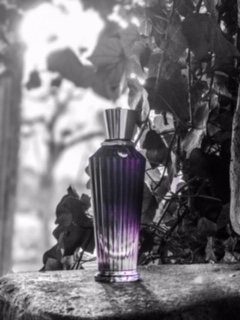 International: Neela Vermeire 60 ml Niral, EU, USA and Canada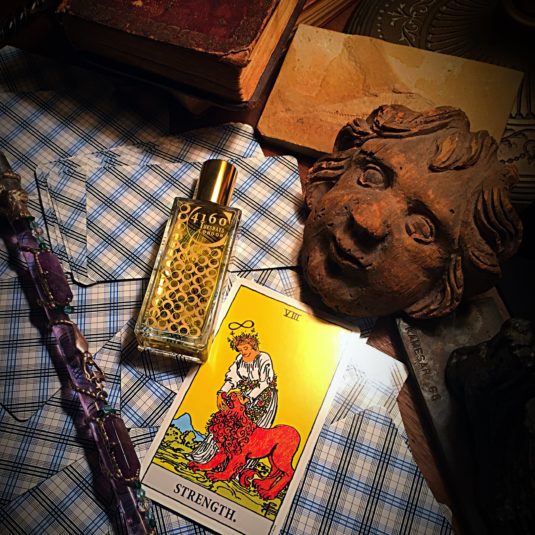 photo by Robert H
UK and USA: 50 ml of CaFleureBon x4160 Tuesdays White Queen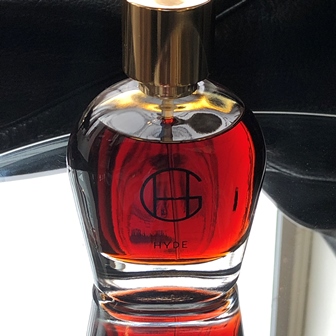 photo Indigo Perfumery
International, EU, USA and Canada: 50 ml of Hiram Green Hyde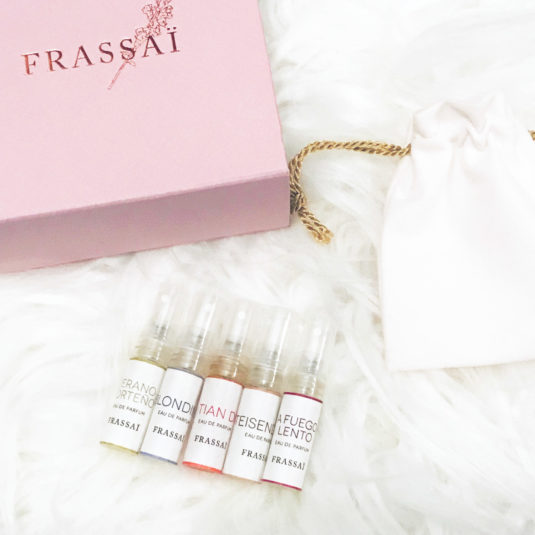 Best of Fragrances 2018
USA: Frassai Discovery Set of Parfums Blondine, Tian Di, Verano Porteño, A Fuego Lento and Teisenduu
Draw closes January 1, 2019
There will be draws every day, and each comment you leave will increase your chances of winning. What did you think of our Best Fragrances of 2018, (and our Worst). Which Best Fragrances of 2018 that are being offered here would you like to win and where do you live?