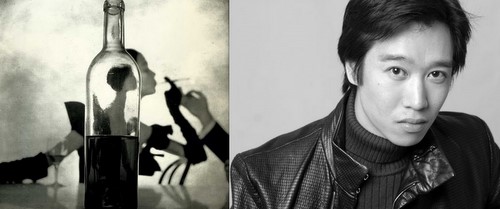 Christopher Chong, the creative director of Amouage, has given CaFleureBon an exclusive look at the newest fragrances from Amouage, Honour Man and Honour Woman. Before I get to my review Mr. Chong was gracious enough to answer a few questions about Honour Man and Honour Woman and take us Behind the Bottle.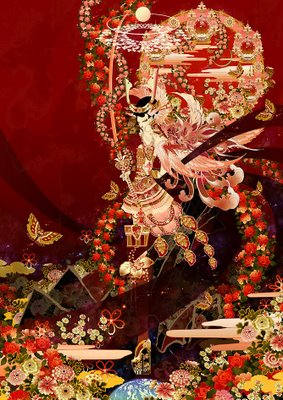 Christopher, can you tell me about the newest releases from Amouage, Honour Man and Honour Woman?
CC: The final act of Madame Butterfly is the inspiration behind both fragrances. They are not about the Japanese culture. They are about the elements of love, betrayal and reconciliation.
In the Honour fragrance story, I authored a sequel to Madame Butterfly in which it is a filial elegy to the memory of her suicide. Her son who is now the same age as her when she killed herself revisits the scenario in his mind by forming a narrative with her spirit in order to reconcile the conflict that he has had with himself and her death.
The inspirational music is Madame Butterfly's final aria "Con Onor Muore —"To Die with Honour",—Composer Giacomo Puccini and that is where the name of the fragrances came from.
This story I authored is a continuation from the previous one, which is Memoir.
Honour Woman – White Floral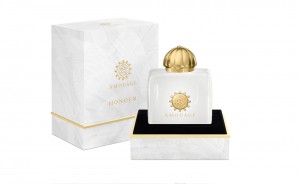 Top: Pepper, Rhubarb Leaves, Coriander
Heart: Jasmine, Tuberose, Gardenia, Lily of the Valley, Carnation
Base: Vetiver, Frankincense, Amber, Opoponax, Leather
Honour Man – Spicy/Woody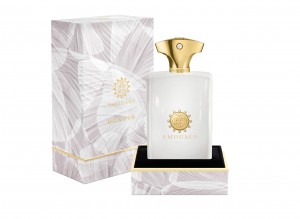 Top: Pink Pepper, Black Pepper
Heart: Geranium, Elemi, Nutmeg
Base: Patchouli, Frankincense, Cedarwood, Vetiver, Tonka Beans, Musk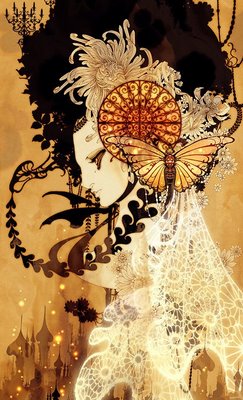 Who is the nose for Honour and as Creative Director how do you go about choosing a nose to realize your vision?
CC : Nathalie Feisthauer is the perfumer for Honour Man. Alexandra Carlin and Violaine Collas are the perfumers for Honour Woman. As Creative Director, I am very much hands on. I set the mood, theme and story for the perfumers. We select ingredients, construct accords, formulate and reformulate together. I am very demanding. So, as long as the perfumers can understand my passion and obsession, then we know it would be a productive collaboration. It also helps tremendously when the perfumer goes that extra mile to try to understand my mind and thinking. For example, Alexandra Carlin went to the Opera Bastille to see the current production of Madame Butterfly in order to get a much more in-depth understanding of the story and music. In short, communication is my key criteria when it comes to selecting a perfumer.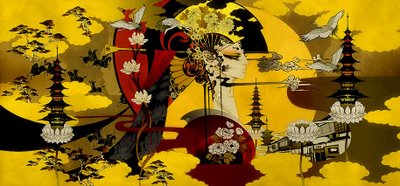 Madame Butterfly is about the clash of culture between East and West is there anything in Honour which reflects that or is it meant to be a more personal reflection?
CC: The most obvious connotation of Madame Butterfly has to do with imperialism. I could spend a long time discussing this geopolitical and historical discourse between East and West, which makes a very interesting and challenging forum. The semiotics of Madame Butterfly obviously have many layers of meanings and interpretations. Sometimes we try to over analyze too much and forget about the simplicity and beauty of the object or music.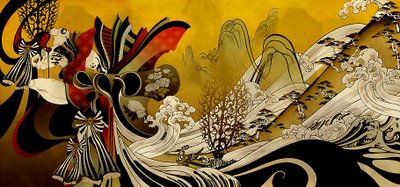 Are you an opera fan and is Madame Butterfly one of your favorites if you are?
CC: I was trained as a classical and opera singer before I entered the perfume industry. So, you can say that I am an opera buff. I love most of Puccini's and Verdi's works. Yes, it is one of my favorites because of its 'verismo' style that it still remains relevant today with regard to themes such as falling in love and getting abandoned. It is the universal elements of love, suicide and betrayal in the opera that inspired both Honour fragrances.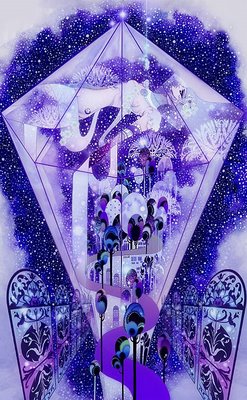 How has the construction of Honour Woman and Honour Man been influenced by those themes?
CC: Honour Woman is a white floral fragrance inspired by the tragic predicament of Madame Butterfly. The white floral is used to signify the discourse of Butterfly's love. Tuberose is used to represent danger. Jasmine is attachment. Gardenia is secret love. Lily of the Valley is purity of heart. White carnation is innocence and faithfulness. On another level, the white floral represents a tragic love in which honour, fidelity and innocence have been betrayed – the death of the soul. A resin base of frankincense, amber and opoponax is used to represent the tragic end of Butterfly's "To Die with Honour".
Honour Man is a spicy and woody fragrance invoking memories of the past signified by a mixture of disturbing and conflicting accords starting with a spicy burst of pink pepper and black pepper. Geranium and elemi are used to represent a filial elegy to the honour and memory of Madame Butterfly. A woody base evolves with a musky allusion to this story of reconciliation.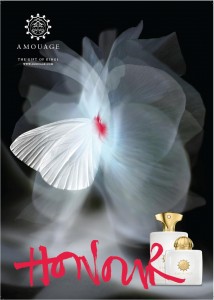 Christopher, thank you for "Honouring" us with a chance to see behind the bottle on these brand new fragrances from Amouage.
Now it is my turn to go inside the bottle and review both of these new Amouage releases.
Honour Man
As Mr. Chong states above Honour Man is a woody spicy fragrance full of contrasting accords.Perfumer Nathalie Feisthauer chooses to use a set of orthogonal notes to realize the vision of Mr. Chong. The spicy opening is all pepper in both its pink and black forms. It is joined fairly quickly by elemi which adds a resinous vector before the green aspect of geranium and the sweet spiciness of nutmeg add conflicting olfactive disonnance. The first time I wore Honour Man on a very hot day this disonnance was a little off-putting. It reminded me of my first trip to the opera as a young man and finding it a little off-putting, as well. In the case of Honour Man, and opera, it took a second examination to find it more interesting. The second time around it was a cooler day and the different facets of green, resin and spice melded more effectively while still imparting a bit of conflict. The base has no such problems as the well-known fragrant harmonies of patchouli and frankincense along with cedar bring Honour Man back into more common territory. As the drydown continues the musk lightly present early on take a more prominent role adding a nice rounded ending to Honour Man.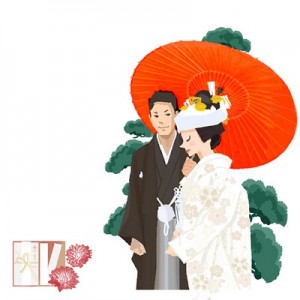 Honour Woman
Perfumers Alexandra Carlin and Violaine Collas take Mr. Chong's charge to present the "tragic predicament of Madame Butterfly" as a story of white flowers which we get to in the heart of Honour Woman. Prior to the appearance of the florals Mmes Carlin and Collas choose an unusual opening of rhubarb, coriander and a pinch of pepper as an olfactive overture to get our attention. The rhubarb and coriander add an almost vegetal nature to the early going. The white flowers start arriving forthwith in rapid succession starting with tuberose, then a fully indolic jasmine, the sharper floral facets of gardenia, the metallic tang of lily of the valley, and finally the clove-like nature of carnation. One after the other they arrive and build to a white flower crescendo, like a coloratura soprano hitting her high note after building to it. If you love white flowers the heart of Honour Woman is for you as Mmes Carlin and Collas have skillfully combined them into an aria containing all that I love about these notes. Honour Woman lingers on this high note for quite a long time on my skin before, almost begrudgingly, giving way to allow opoponax to usher Honour Woman to the base of frankincense, amber, and vetiver. I know according to the note list above there is supposed to be leather in the base but try as I might it never seems to appear on my skin.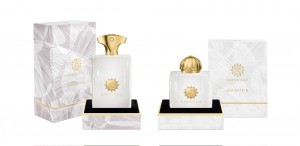 Honour Man and Honour Woman have outstanding longevity over 24 hours on my skin. They also both have above average sillage, people around you will know you are wearing these fragrances.
After knowing the inspiration as Madame Butterfly it was hard not to see Honour Man as the very conflicted Lieutenant Pinkerton who wants to live a life forbidden but is always trying to keep control. In the same way Honour Woman presents Cio-Cio San as a person of great honour who lives true to her heart and in that living chooses "To Die with Honour". Thankfully the tragedy of Madame Butterfly has led to the triumph of both Honour Man and Honour Woman.
Thanks to the generosity of Christopher Chong and Amouage we have FIVE SAMPLE SETS of both Honour Man and Honour Woman to giveaway. To be eligible for the draw leave a comment "Honouring" someone or something , in general or for this past Memorial Day or your favorita opera or Amouage fragrance. To DOUBLE your chance to be selected go to our Facebook Behind the Bottle CaFleureBon Q&A page. and Like the page. Draw closes June 1, 2011 EST
Disclosure: This review was based on samples provided by Amouage.
–Mark Behnke, Managing Editor
(Michelyn Camen, EIC and Art Direction; all artists are Japanese)