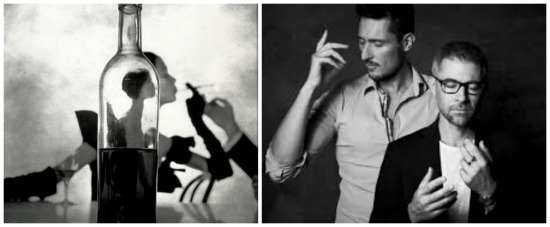 Behind the Bottle with Riccardo Tedeschi and Alessandro Brun Creative Directors of Masque Milano
One of the most highly anticipated releases of the year just may be Masque Milano L'Attesa a collaboration between award winning perfumer Luca Maffei of Atelier Fragranze Milano. The debut of L'Attesa is March 31 at Esxence The Scent of Excellence, but we have a peak into the creation of the latest scent opera and the unveiling of the new bottle.
Michelyn Camen: So many of our readers are looking forward to L'Attesa. Is this a new opera?
Alessandro Brun and Riccardo Tedeschi: "L'Attesa" does not open a new opera. On the contrary, it is yet another piece of our jigsaw, nicely fitting with all the previous ones. With Terralba, Montecristo, and Russian Tea, we recreated the "smellscape" of some of our personal experiences (a walk through the Mediterranean shrubland; the living-room of an old Tuscany villa; the Russian Tea ritual in Saint Petersburg). That was the First Act of our scented opera. Tango and Romanza are part of the Third Act, dedicated to Sentimental Relationships. L'Attesa celebrates the expectation of a Romance – or a tango dance. Can you see it now? The fil rouge connecting the Champagne-Iris of L'Attesa, the Artemisia-Narcissus of Romanza, and the Amber-Jasmine of Tango is – plainly put – LOVE.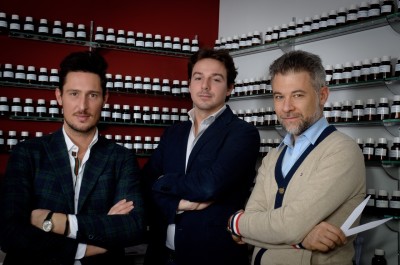 Riccardo, Luca and Alessandro at Atelier Fragranze
M.C.: It was Christian Dior that said "Make me a Fragrance that smells like LOVE". I cannot think of a better brief… this is true. How did you meet Luca Maffei and how did your styles mesh in the creation of L'Attesa?
Alessandro Brun and Riccardo Tedeschi: Back in 2009, when we started working on Masque, Luca was one of the first people we worked with. He was so young at the time – barely 24. We also were at the beginning, and we made many experiments together. For some years we didn't get in touch – he spent a period in Grasse for a training and apprentice period, and when he got back we noticed that Luca developed an altogether different approach in perfume making – more mature, more professional. Or maybe, he just found his own style.
We must say that developing L'Attesa was not an easy feat. First of all the brief was packed with challenges: recreating the yeasty smell of champagne; working with Iris, one of the most difficult raw materials to handle in perfumery. And then we had to find a way between the soft and elegant style of Luca and the bold and daring style of Masque Milano. After almost one year of untold modifications, two raw materials (that Luca found, thanks to his never-ending quest for new materials) – beer CO2 extract and Iris absolute. You have to smell them, they are incredible. But this is another story…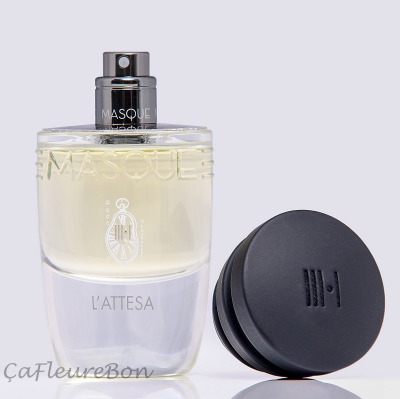 M.C.: Why did you change bottles? Did you hire a designer?
Alessandro Brun and Riccardo Tedeschi: A-ha, so now here on CaFleureBon and at Esxence we will be presenting our brand-new bespoke bottle. There was no special designer. We [Alessandro and Riccardo] are the creative directors and designer, and therefore we simply put down to paper the shape (both of bottle and stopper) that we had in mind since the beginning. And therefore the question really is why didn't you start from the beginning with the bottle you designed? The main answer is Budget. Many small niche perfumery houses, especially in their first years, cannot afford a bespoke bottle. So we started with a standard bottle (we used a Bormioli cylindrical bottle) and personalized it a little bit with the hand-aged pewter label on top and the pattern at the back. Finally one year ago we realised the time had come to take this bold step. We first approached small glass-maker, since we were afraid that we wouldn't be very appealing for the big manufacturers. Then we decided to give it a try, and we approached Bormioli Luigi [one of the top players in the world of luxury glass perfume bottles]. Working with them – a company with a century long heritage, and in particular having appointed for our project a supervisor with 35+ years of experience – was enriching, to say the least.
M.C.: How important is it in your opinion that perfume brands have a signature bottle?
Alessandro Brun and Riccardo Tedeschi: We are of the opinion that all top niche fragrance houses should have their own signature bottle. Think about Andy Tauer …and his Pentagon. Villoresi? Hexagon. L'Artisan Parfumeur? Heptagon. Now Masque has its signature design – with the three parallel horizontal lines already characterising our previous cap.
M.C.: Will you continue to acknowledge the composers?
Alessandro Brun and Riccardo Tedeschi: Yes, although the bottle is smaller there still will be the round plaque at the top with the name and of course on the box.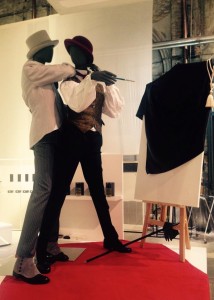 At Pitti Fragranze the mannequins reperesenting Romanza (Victorian Narcissus) were considered lewd and removed (Photo Ermano)
M.C.: We loved Romanza, (it won a CaFleureBon best of scents 2015 award). Why hasn't it been released to retail and when can we look for it?
Alessandro Brun and Riccardo Tedeschi: Finding some of the raw materials in the formula and letting the oil sit down for an appropriate maturation and maceration period took longer than expected. We had the chance to speed it all up a little bit. But then we asked ourselves, what is the point to rush to the market with something less than perfect? And so, let the market wait until everything is ready. We can finally announce that Romanza will ship to our distributors in late April, in the new bottle.
M.C.: How did it feel to work with two Italian perfumers (Cristiano Canali for ROMANZA [Victorian Narcissus] and now Luca Maffei?
Alessandro Brun and Riccardo Tedeschi: We are Italian as can be. So proud to be born, raised and working in the cradle of arts. So, of course it feels great.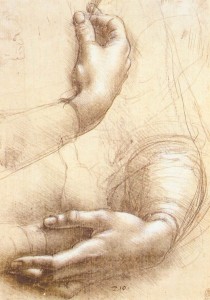 Leonardo de Vinci Study of Hands 1474
M.C.: So many small Italian niche brands seem to springing up, especially over the past several years and garnering critical acclaim. There a Renaissance in Italian perfumery. Thoughts?
Alessandro Brun and Riccardo Tedeschi: Yes of course! There is a renaissance in Italian Artistic Perfumery. We call it "Neo Artistic Perfumery", and we really hope to have the chance to tell you more about this in the near future. In the meanwhile, you can have a look at our manifesto at www.neoartisticperfumery.com
Happy 6th Anniversary CaFleureBon from both of us… Alessandro and Riccardo. We wish you many more great years.
Thanks to Masque Milano we have an avant premier sample of L'Attesa and Romanza for a registered reader anywhere in the world. To qualify, please leave a comment with what excites you about L'Attesa your thoughts on the new bottle design, your favorite Masque Milano fragrance. If you want your comment to count twice please LIKE CaFleureBon Behind the Bottle on Facebook. Draw closes 3/27/2016
Editor's Note: Alessandro and Ricardo will be in NY for Sniffapalooza Spring Fling April 30 -May 1. The premier is Esxence The Scent of Excellence March 31-April 31, 2016
We announce the winners on our site and on our Facebook page, so Like Cafleurebon and use our RSS option…or your dream prize will be just spilled perfume