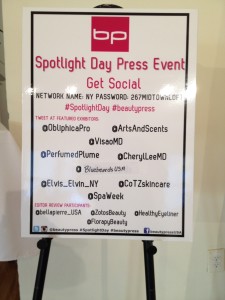 Beauty Press Spotlight Press  Event (Photo:Hernando)
On September 8th, I attended the beautypress SPOTLIGHT DAY held at Midtown Loft & Terrace (on Fifth Avenue).  A brief primer on beautypress: launched in Europe in 2000 and in the US in 2009, it is the largest international PR network for the beauty industry. It is a digital communication tool utilized by leading brands to connect directly with beauty editors across the cosmetic markets in the US and Europe. SPOTLIGHT DAY is held three times a year and showcases 10-12 presenters to a wide variety of editors. The range encompass fragrance, hair care, skin care, nail care, beauty and health and wellness brands.  This past  SPOTLIGHT DAY featured two fragrant participants, Perfumed Plume and Arts& Scents.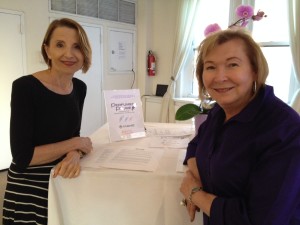 Mary Ellen Lapansky and Lyn Leigh of The Perfumed Plume Awards (photo Hernando)
The Perfumed Plume Awards for Fragrance Journalism is a new independent initiative conceived by two fragrance industry insiders, Mary Ellen Lapsansky and Lyn Leigh (formerly of The Fragrance Foundation). The goal is to recognize editorial excellence in a wider variety of categories  awarding the best in creative storytelling and visuals that capture the heart of fragrance as an art form. Lyn explained to me that the awards will be modeled after the prestigious Prix Jasmine Awards (originally in France, now defunct) and the Jasmine Awards in the UK. The first award ceremony is scheduled for Spring 2016. Sponsors and Partners include: MANE, Perfume & Flavorist, GCI and The Art and Olfaction Awards.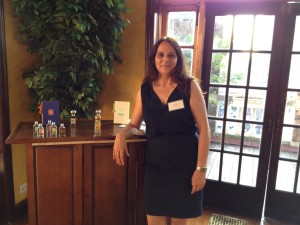 German Artisan perfumer Manuela Pfannes-Voelkl  Art&Scents (Photo: Hernando)
Arts&Scents The Art Of Creation, is a small artisanal brand based in Fürth, Bavaria Germany founded by Manuela Pfannes-Völkel in 2010. Originally launched with ten fragrances and number  over twenty in the collection. The fragrances are diverse and categorized in collections-Elements, Easy Day, Travel All Over, Magic Potions, The Woodland Enchanted Series, FairyTales as well as special projects.     Fellow countryman Ulrich Lang  of Ulrich  New York offered her a spot at January 2014 Elements. Later that year, Manuala presented at Sniffapalooza Spring Fling. It was a pleasure  to see her again in New York.  Manuela told me of the latest good news; the September issue of Vogue UK chose her fragrances Cuero de Mexico and Pan Tierra were chosen for Fall Editorial.
During the day, I had the pleasure of was meeting Manuela's mentor, the esteemed Virginia Bonofiglio (Chairperson, Cosmetics & Fragrance Marketing, Fashion Institute of Technology). Virginia was Kevin Verspoor's perfumery teacher and is a Board Director of The Perfumed Plume.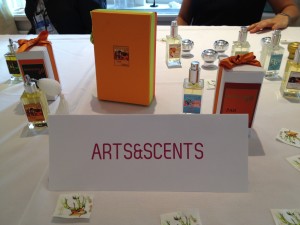 Arts&Scents display at BeautyPress Spotlight Day (Photo Hernando)
Manuela's German heritage combined with influences from her years living in Mexico blend masterfully in the colors, scents and stories she presents us. This is what makes her line special.  "The right perfume is readily able to address all the senses and awaken all the feelings. It has its unique, special and absolutely unforgettable effect. As every new relationship secretly involved in emotion and delight. Love will never be old fashioned; it just has so many interpretations." Manuela Pfannes-Völkel.
–Hernando Courtright, NY Special Event Contributor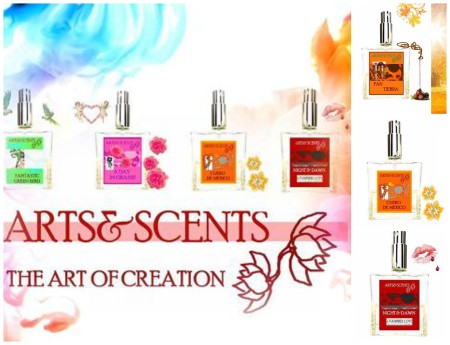 Thanks to the generosity of Manuela Pfannes-Voelkl we have a worldwide draw for our registered readers of their choice of either 50 ml of Night and Dawn A Vampire's Love, (notes include pink lychee, white tobacco blossom, passionfruit, vanilla, tuberose and sandalwood), Cuero de Mexico, Pan Tierra NY Steel Flowers or sampler set of 4 x10 ml. To be eligible please leave a comment with what you think of the new Perfumed Plume Awards, what you learned about Manuela Pfannes-Voelkl and Art&Scents, where you live as well as the fragrance you would like to win. Draw closes 9/15/15.
We announce the winners on our site and on our Facebook page, so Like Cafleurebon and use our RSS option…or your dream prize will be just spilled perfume