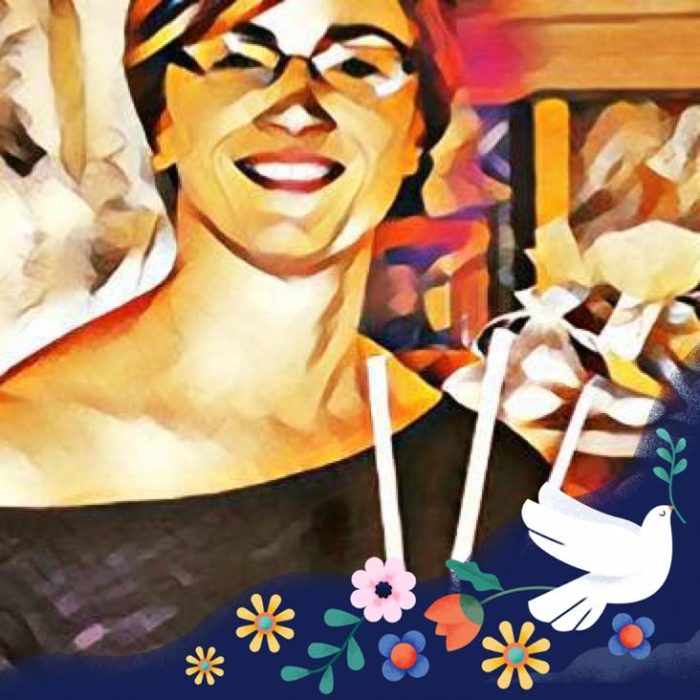 Virginie Roux via Facebook
I have long been an admirer of Virginie Roux and perfumer Jean-Claude Gigodot's Au Pays de la Fleur d'Oranger perfumes: they possess the capacity to summon the pleasures of Provence/Les Alpes Maritimes for me with indelible immediacy. It has given much joy to have purchased quite a few over time, worn and shared them with many who love them as I do for their intensely poetic nature. It was marvelous to see Eau de Virginie awarded the Art and Olfactions Award this year in the independent category.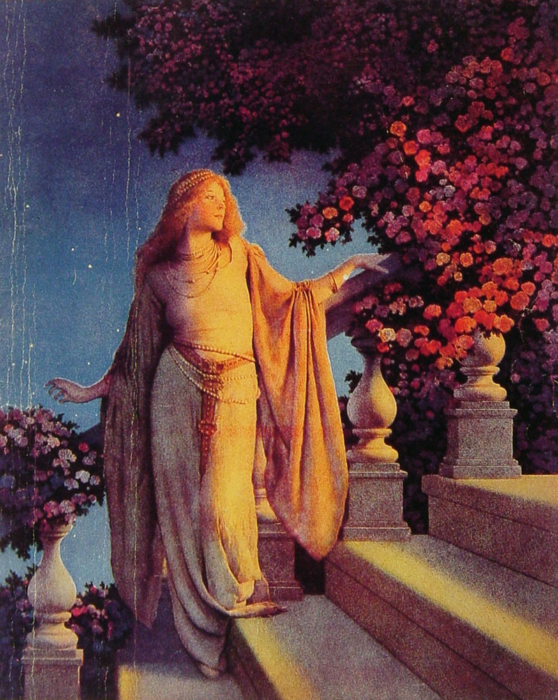 Golden Hour. Maxfield Parrish
Last year may have been viewed as the Year of the Tuberose, with so many spins on this intoxicating, troubling blossom having been rendered by mainstream, independent and niche concerns alike. They ran the gamut from fairly tame and crowd-endearing (Twilly d'Hermès) to edgily fabulous (Naomi Goodsir Nuit de Bakelite). Eau de Virginie is not a fragrance I want to classify; I'd far prefer to enjoy its luxurious exuberance and joie de vivre instead. My instincts buzz with the sense that it had to be created by a full heart, for it gleams with light and brilliant shades of cream and yellow with ochre underlining it all as olfactory pentimento.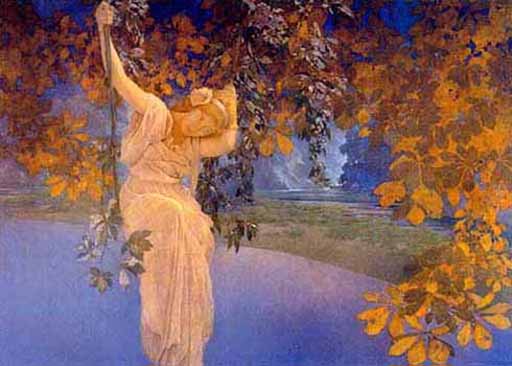 Maxfield Parrish Reverie©
If one is possessed by a penchant for effusive florals they will run towards it with open arms; if intense floralcy is not their bent, they may shy away. Either way, Au Pays de la Fleur d'Oranger Eau de Virginie is a force of nature. Imagine, if you will – armfuls of blooms, each one vying for attention like so many singers clamoring for acclaim at once. What a fracas (all puns intended – although this fragrance bears no resemblance whatsoever, I couldn't bring myself to resist)! It brings to mind Paris' infamous conundrum in Offenbach's La Belle Hélène: "Au Mont Ida trois Déeses, se querellaient dans un bois, Quelle est, disaient ces Princesses,la plus belle de nous trois?" ~ La Belle Hélène(On Mount Ida three goddesses bickered in a wood:"Which amongst us is the most beautiful of all?").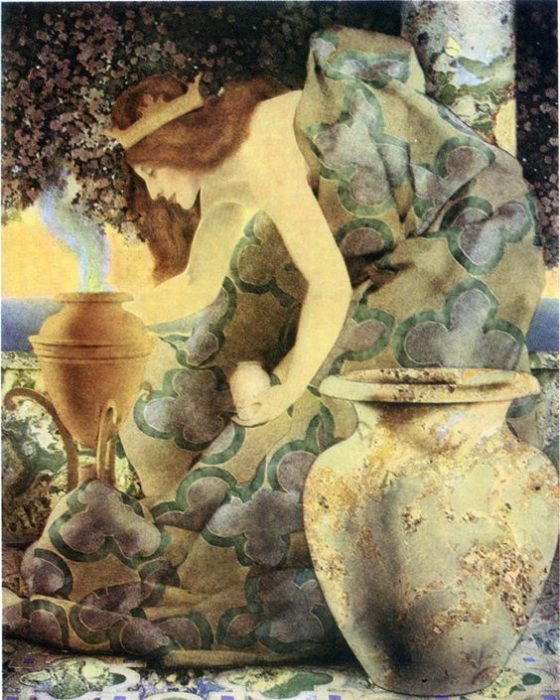 Maxfield Parrish©
We are most certainly not Paris and don't have to shoulder the burden of beginning the Trojan war, fortunately – so no one need choose a favorite flower. After all – didn't Alfred de Musset (in his poem to Victor Hugo) enjoin us all 'to love many things so that we would know which we love best?' He did. Au Pays de la Fleur d'Oranger Eau de Virginie is uninhibitedly, shamelessly floral in a celebratory manner – from the juicy spicy trumpet flourish which announces the entrance of glowing animalic florals ranging from feathery and fluffy to creamy and buttery. Each has its hidden claws, these beauties. They fill one with indolent languor and sense of ease of limb: we are clearly in the softest supima cotton hammock slung nonchalantly between two venerable olive trees, sipping pastis on a sweltering afternoon. Oh, the mimosa! Those exquisite tropical blossoms one has lovingly potted which dot the veranda. I still have that sandalwood fan which a dear friend gave me, lacy, intricately carved with a red silk tassel which dangles; it is most welcome on this sultry day.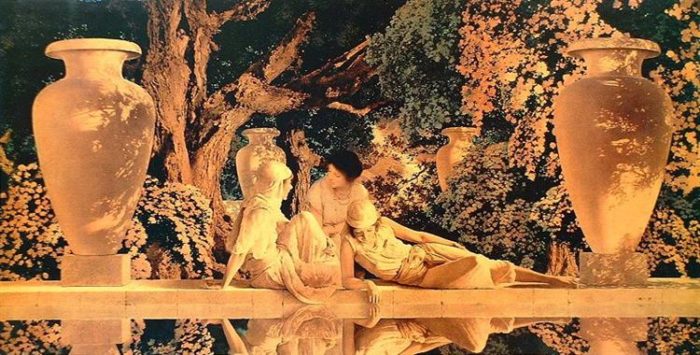 The Garden of Allah by Maxfield Parrish©
Somehow, somewhere – there is more than just sandalwood at play: a darker woody presence, unnamed – which thrums in the background and keeps pace with the heavy sweet air surrounding us in narcotic haze. It is not mentioned but is felt nonetheless, a sprinkling of mystery which seasons the ebullient bouquet to which we (and those in our wake) are privy. The Golden Afternoon. Notes: bergamot, cardamom, pink pepper, mimosa, tuberose, gardenia, ylang-ylang, sandalwood,vanilla, sweet notes.
Sample generously provided by Paula Weiser-Vasquez of Beauty Frontier. My nose is my own…
~ Ida Meister, Senior Editor
~ Art Direction: Michelyn Camen, Editor-in-Chief-The art of Maxfield Parrish, known for his neo-classical studies and saturated hues came to mind reading Ida's review. The brand is pronounced "Oh Pay de la fleur d'orange-ay for those who do not speak French)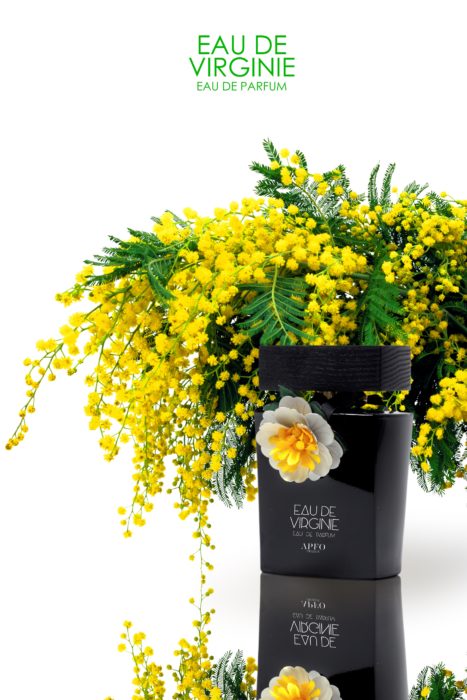 Au Pays de la Fleur d'Oranger Eau de Virginie via Virginie Roux©
Thanks to the generosity of Virginie Roux, we have one 100 ml bottle of Au Pays de la Fleur d'Oranger Eau de Virginie for one registered reader (register here if you have not already done so) in the EU, USA and Canada. Please leave a comment saying what appeals to you about Au Pays de la Fleur d'Oranger Eau de Virginie based on Ida's review and where you live. Draw closes 5/18/2018
We announce the winners only on site and on our Facebook page, so Like ÇaFleureBon and use our Blog feed…or your dream prize will be just spilled perfume