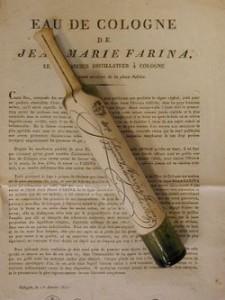 As the weather turns warmer, I usually wear my classic eau de colognes. Most meet my expectations; fine if not extra-ordinary colognes with a typical citrus opening followed by a mix of subdued herbal, spice, or floral notes resting on a base of vetiver or sandalwood. It is a classic recipe that has stood the test of time.
The one drawback most perfumistos will mention about their eau de colognes is they don't last as long as the other fragrances they own. This is usually true because the concentrations of the perfume oils in eau de cologne are, most often, the lowest of any fragrance.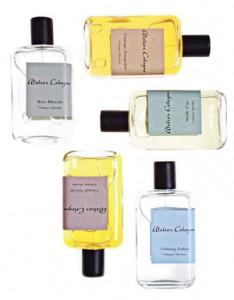 Now Atelier Cologne are here to give us the best of all worlds with their initial offering of five Cologne Absolues. These Cologne Absolues carry anywhere from 15-20% essential oils and this makes them closer to eau de parfum strength if you go by the guidelines. These Cologne Absolues feel like eau de cologne in construction and like eau de parfums in longevity and sillage.
As a team, three perfumers are responsible for interpreting the collective vision of fragrance veteran Ms. Sylvie's Gantier's new brand. The five Atelier fragrances were composed by three master perfumers; Jerome Epinette created Bois Blonds, Trefle Pur, and Oolang Infini; Cecile Krakower formulated Grand Neroli; and Ralf Schwieger created Orange Sanguine.
We love this collection and believe its a standout and you will find your signature spring fragrance in one of the five. (Michelyn brought most of her clients and anyone who asked her opinion to the small counter at Bergdorf Goodman, during the Sniffapalooza Spring Fling, where we all had the the honor of meeting Ms. Gantier and M. Epinette).
In review:
Bois Blonds is a lovely study of neroli, incense, light wood, musk and vetiver. It is a mix of strong notes kept on the light side and becomes seductive and opulent the longer it develops.
Trefle Pur surrounds its core of pungent violet with orange, cardamom, and basil in front and musk and patchouli behind. The violet is the linchpin which holds this all together.
Oolang Infini is a snapshot of India during the Raj as the opening has a cool gin and citrus opening followed by an afternoon tea heart of smoky oolong before retiring to the wood paneled drawing room for a whiff of tobacco. This is the most masculine trending of the five, I think.
Grand Neroli mixes a green neroli with a light galbanum before letting vanilla bring it to a soft close. This is the most feminine of the five in my opinion. (Editor's Note: If Anna Maria de la Tremoille, the 17th century princess of Nerola, who used the sweet, citrus fragrance on her gloves, stationery, lace shawls, ribbons, and in her bath was transported to the 21st century, this would be what she would wear.)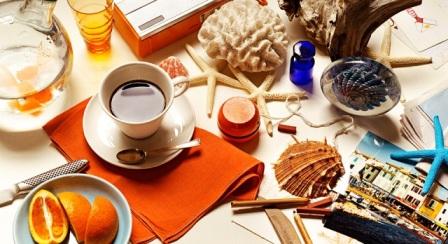 The fifth fragrance in the collection is Ralf Schwieger's Orange Sanguine.
Imagine the sensual pleasure of eating the the juicy pulpy flesh of an orange. Now, think of other 'orange' fragrances you have smelled. Most of the time the more astringent notes of the peel are used which carry less sweetness; the few fragrances that do choose to go this route usually modulate the sweetness right away. Hr. Schwieger chooses to instead let the sweet orange pulpy accord be joined by that astringent orange peel accord with a slight bitter bite to it.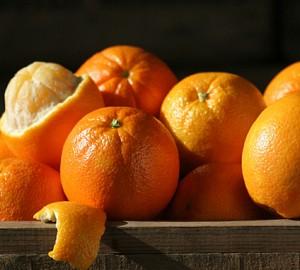 This makes for what I think of as a whole orange experience as it feels as if I am peeling and eating an orange and the juice is dripping off my chin. The opening moments of Orange Sanguine capture this beautifully. The heart is the rose-like quality of geranium with the greener aspects of that note accentuated so it is only lightly floral and the green goes very well with the more acidic qualities of the orange. The base is sandalwood and amber and it is smooth and creamy which makes for a soothing closing on my skin.
Orange Sanguine has excellent longevity and above average sillage. This is not what you are used to when wearing a cologne.
Orange Sanguine and all of the Atelier cologne fragrances pay homage to their eau de cologne heritage in their architecture and look to the future by showing that the eau de cologne style does not have to be an ephemeral moment in time but, as we have written before ,"Absolue-tly" bottleworthy.
For those who don't live in the New York City area these fragrances are available at Luckyscent.com.
Disclosure: This review was based on a bottle of Orange Sanguine and Oolang Infini purchased at Bergdorf-Goodman and the samples of the other three obtained with that purchase.
For thoseF
Fortunately, for those of us who don't live in the Metro New York area, Aftelier Colognes are now available online on www.luckyscent.com, so you can try before you buy.
– Mark Behnke, Managing Editor