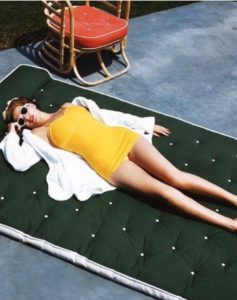 Rita Hayworth, 1940
In the USA, Labor Day Weekend is the unofficial beginning of Fall. The stores are already stocked with tweeds, boots, coats and beauty companies have been touting their fall collections since July. But September is a fickle month and temperatures can soar or plummet. Either way, here are my self-tanner, beauty and perfume picks as we begin the slow march into autumn.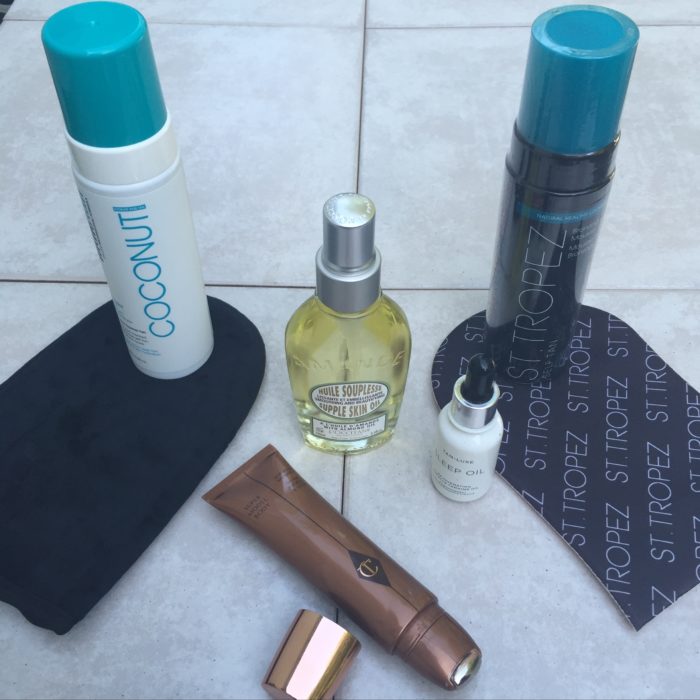 Keep Glowing: I love the look of a tan year round. As someone who has used self-tanners for over 20 years I have tried just about everything on the market from drugstore to specialty. Here are a few of my favorites:
St. Tropez Dark Tanning Mousse: Goof proof, fast drying, intense color, steak free, green undertones means a browner less golden tan, no offensive odor, tinted so you can see if you missed any areas. Three free (no parabens, phtlates, sulfates). As the weather turns chilly, a deep, dark tan looks out of place. Instead of waiting 4-8 hours, I leave it on for 2-3 hrs for a medium tan. ($44/ 6.7 ounces).
I have written and reviewed Tan-Luxe extensively. I recently started using the Tan-Luxe Sleep Oil, which contains organic tanning agents, so your faux glow has no odor. This is a "double duty" delight, since it also skincare and has anti-aging and hydrating properties. Apply up to 6 drops to your face before going to sleep (wash your hands thoroughly after application) and you wake-up with a light-medium glowing tan. Available at ulta.com $49.00
Australian owned Minetan, is a fairly new player in the consumer self-tanning arena, but I am impressed; it is salon quality. The products help you achieve the hue you desire… from olive to golden to dark brown to red-brown. It is a one hour tanning mousse, but leave it on for 3 hours for a darker shade. Their website is great; it recommends the self-tanning product best suited for you by asking you about your natural skin tone and the depth of color you want to achieve. I chose the Coconut Water Tan for its hydrating properties; although a little light for me, I tested it on a friend with paler skin and it gave her the perfect summer glow, without any orange tones. The price is very accessible $34.95/200 ml and the results excellent. There is a sale for 20 percent off that ends tonight. LABORDAYTAN
I also recommend using a non greasy body oil, such as L'Occitane Almond Supple Skin Oil, enriched with camelina oil, high in omega-6, and over 50% almond oil. With a spray top, it absorbs easily into the skin, adding a bit of shimmery glow, which is particularly lovely on arms, décolleté and legs. Added benefit- mix it with a loose bronzing powder for added illumination. Almond Supple Skin Oil prolongs my faux tan an extra day or two -no parabens, no phtlates. ($50)- 100ml Available at Sephora.com
Charlotte Tilbury SuperModel Body Highlighter does for your tanned legs and arms what face highlighters bring to your complexion, soft shimmer in all the right places. There is also the extra benefit of caffeine and other tightening and firming ingredients in the formula. You just roll it on and smooth in places you want even more glow. Watch the video here and say goodbye to pantyhose for another month. $65/2 oz.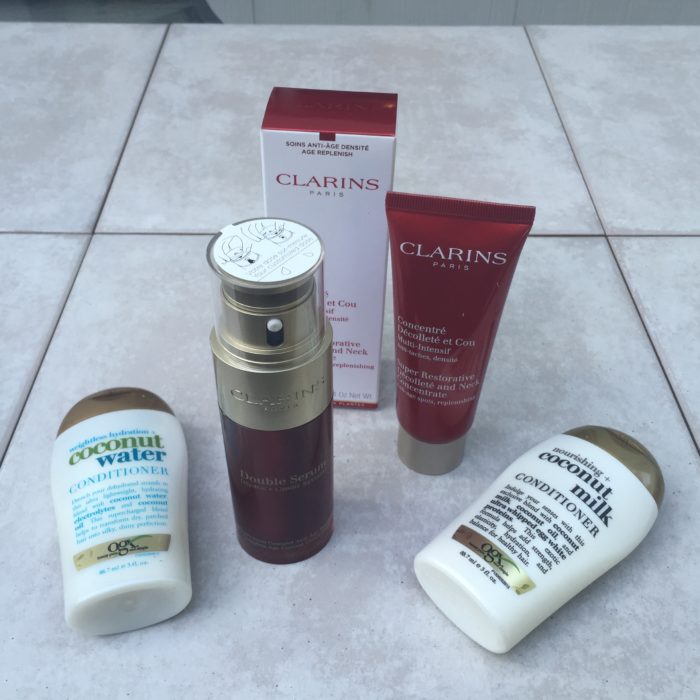 Replenish and Repair: Apres Summer skin needs TLC. No matter what your skin concerns; it is a fact your face, neck, hands and décolleté are usually the first areas to show aging.
New from Clarins is Double Serum The Next Generation which uses new technology and added ingredients to improve their best selling and award Double Serum , which was introduced in 1985. The secret sauce is Tumeric… which you may know from your spice cabinet or even as an ingredient in perfume. The molecule curcumin is a powerful anti-oxidant and anti- inflammatory and has been used in Asia for thousands of years. The new double chamber packaging has a dial pump, you control the amount released. If you skin is dehydrated use two drops. A little goes a long way. I haven't found a better everyday moisturizer and my skin looked more radiant and my complexion more even within two weeks. 1.6 oz /$122 www.clarins.com
Each year the skin on my neck looks a bit more slack, the skin less firm. I use Clarins Super Restorative Décolleté and Neck Concentrate, which also targets any age or sunspots on your upper chest. Clarins is famous for their use of natural ingredients (the products are not all natural, just a heads up) and this light cream formula uses organic Harungana and organic Montpellier Rock-rose extracts .2.4 oz/$108 www.clarins.com
I exercise a lot in the summer outdoors and my normal hair becomes stressed and dry. I also travel a lot. OGX Coconut Milk Conditioner is a great companion; it smooths and adds lustre without weighing my hair down. Cruelty free Full size products available at Ulta.com 7.99.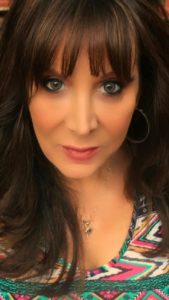 I used all the color cosmetics, OGX Coconut Milk Conditionerand Clarins skincare products in this photo. Self Tanner on face is Tan-Luxe Sleep Oil
Enhance: A soft coral pink lip is a great transition color and personally I wear this shade year round. My favorite is Charlotte Tilbury K.I.S.S.I.N.G Coachella Coral, which is full coverage, moisturizing and has a satin finish. The perfect color to pop your put for minimal day looks and is subdued enough for fall's smoky jewel tone eyes. Available www.charlottetilbury.com $34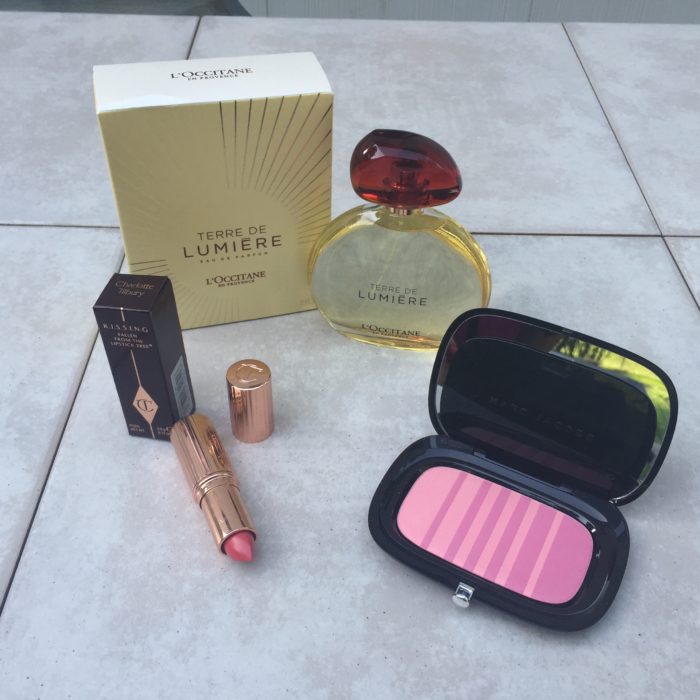 Nobody I ever met blushes tangerine or plum. To mimic the pink color you achieve if you sat in the sun, try Marc Jacobs Lush and Libido Air Blush Soft Glow. The two shades of pink a light rosy pink and a brighter hue complement each other and look totally natural. $42
And for perfume? L'Occitaine Terre de Lumiere is the first "gourmand" fragrance for the French House. Givaudan perfumers: Calice Becker, Shyamala Maisondieu and Nadège Le Garlantezec capture late summer in a bottle with golden honeyed lavender and soft musk that lingers on the skin for 24 hours. The drydown of almond and tonka lends enough heft to see you through sweater weather. The scent of the golden hour as the days grow shorter and dusk approaches. $78/50 ml
Disclosure: I received these products for consideration; the opinions my own. Photos: CaFleureBon @
Michelyn Camen, Editor-in-Chief