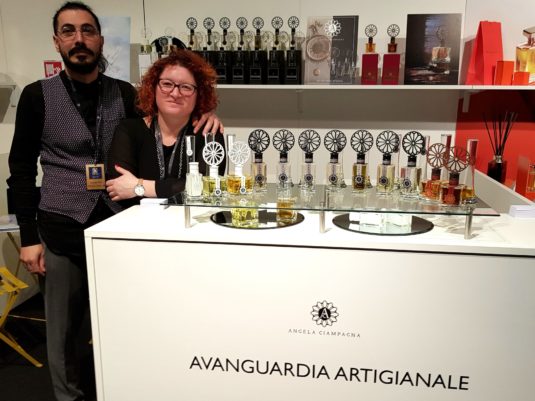 Angela Ciampagna and Enrico, Esxence, Milan, 2018 Danu Seith-Fyr
My introduction to Angela Ciampagna Materia and Angela Ciampagna Miracula from the De Vita collection was the gift of the filter papers from the production, scented sheets of the birthing process, gifted by the warmth of friendship from Angela and Enrico at Esxence, Milan 2018.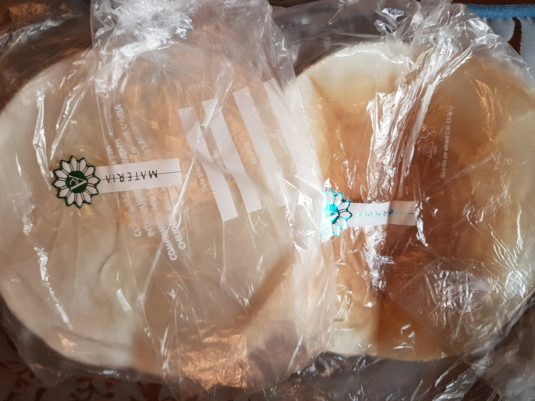 Production Filter Papers, Angela Ciampagna Materia and Miracula 2018 Danu Seith-Fyr
Alongside the first fragrance of the Collection, Laetitia, they have threaded the path of life, woven from three strands, two notes presented here of an absolute chord, a scent of the weaving.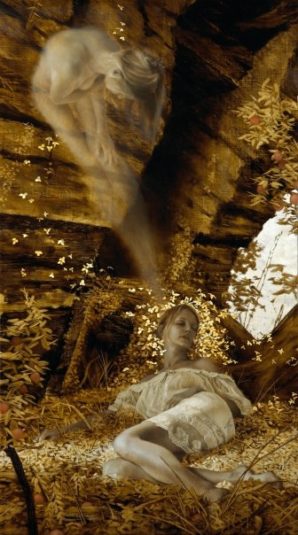 Eidolon Brad Kunkle
Angela Ciampagna, the yearning of Earth for Spirit and the task of Spirit to move in Earth. Materia – Earth bound yet yearning to soar in the unbounded clarity of Spirit, Miracula – the flight of spirit yet in it a longing for Earth.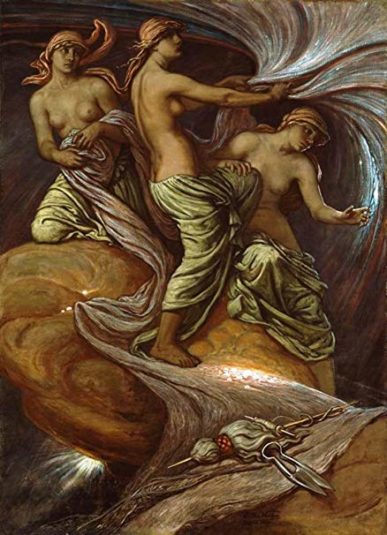 The Fates Gathering in the Stars Elihu Vedder 1887, Rubiyat of Omar Kahayyam, Private Collection Danu Seith-Fyr
Classical Antiquity resides in these fragrances.The Fates, the Parcae, Nona, Decuma, and Morta, all three weaving the warp and weft of our unique trails. Profoundly mesmerising, lighter than skin, deeper than skin. Placed on flesh they simultaneously, rise above and sink inward. I am intrigued at the progression of Life, mirrored in these Extrait de Parfums.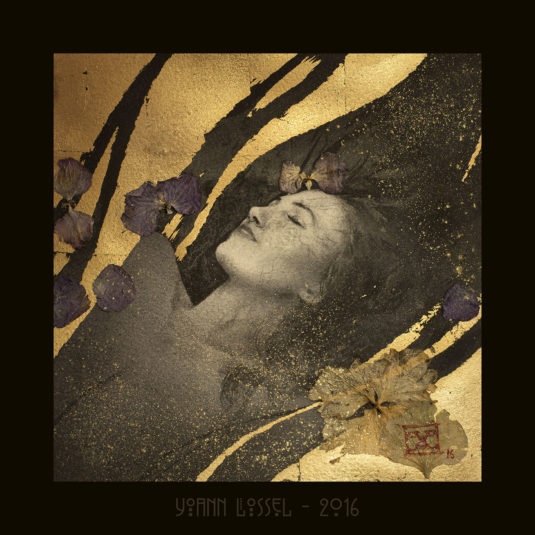 Pysche Yoann Lossel 2016
Angela Ciampagna Miracula: A Drop of Humanity: An effervescent opening of Sicilian Lemon, pure and clean, the scent of emotion, of our humanness. Dewy, watery, etheric Cyclamen, delicate and strong, a silken web spun that appears fragile and vulnerable yet is opposite. Life bound in earthy flesh, vessel for the perfumed Soul, that makes us more than physical matter. A Tuberose of wishful silkiness akin to the touch of youthful flesh, in ecstasy a heart that brings me to tears, akin to a religious experience. It immerses itself into flesh recesses in its searching of reunion. I am immersed further and further into its precious Heart, held gently by the base, velvety Vanilla and Musk Tonkin tends to wonderment at the beauty in the mundane… I am physically moved to tears inhaling this glory. A burgeoning awe of life is woven in its strands. Notes: Sicilian Lemon, Cyclamen, Green Chord, Indian Tuberose Absolute, Ambrette, Amber Chord, French Vanilla Concrete, Musk Tonkin Chord, Tropical Woods Chord.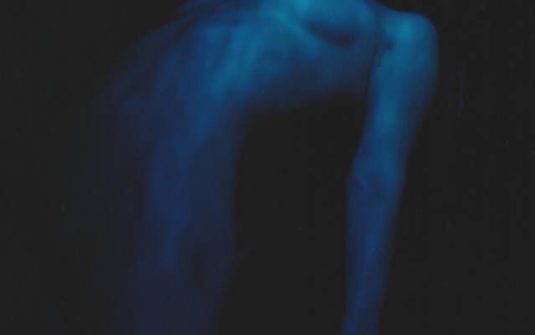 Davis Ayer
Angela Ciampagna Materia, To the Earth: In the dying embers of the closing of Life, there is a call to return. "media vita in morte sumus, media morte in vita". Resinous and sweet in Balsamic's there is a Calling, like a prayer, trace of essences that invite to stillness. Earthy and cossetting. In this drawing to Earth once again, Cistus is embracing, a gathering of all the threads of a life in a Silence, the sanctity of a Grace, liminality to be surrendered too, the laying down of Life caressed by Sandalwood and Patchouli. Sacred scents that invoke the temples where Death and Life converge in the Immortal. Notes: Balsamic Woody Chord, Moroccan Cistus Absolute, Musk Chord, Metallic Chord, Indian Sandalwood, Malaysian Patchouli.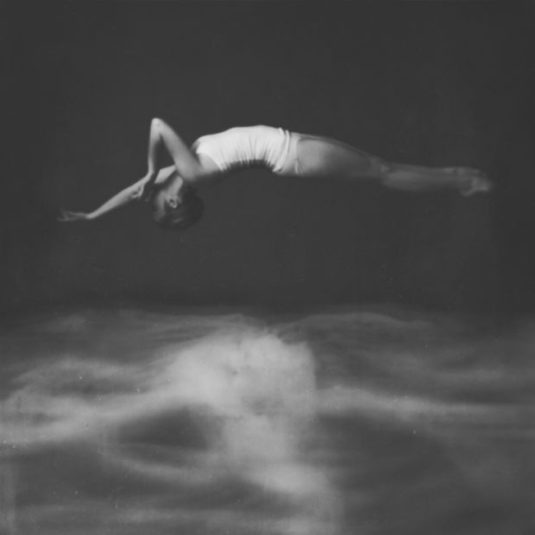 Set Free Josephine Cardin 2015
"Let me sleep, for my Soul is intoxicated with love and Let me rest, for my Spirit has had its bounty of days and nights; Light the candles and burn the incense around my bed, and Scatter leaves of jasmine and roses over my body. Embalm my hair with frankincense and sprinkle my feet with perfume, And read what the hand of Death has written on my forehead."- The Calling, Kahil Gibran.
Synergy is at work. All three in the collection are contained in all the others, a Precious Tripycth of Sacred Proportions.
Disclosure: Angela Ciampagna Materia and Angela Ciampagna Miracula Samples received with thanks from Angela Ciampagna
Nose and opinions, I own.
Danu Seith-Fyr, Contributing Writer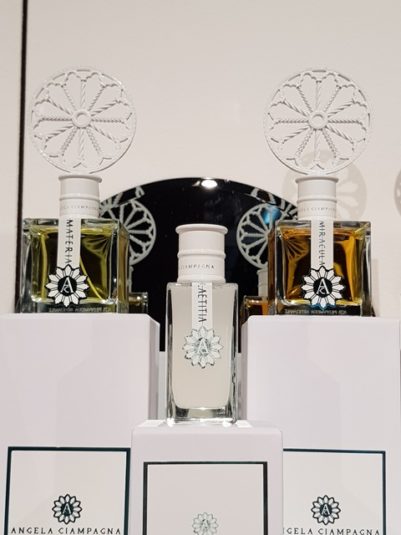 Angela Ciampagna Materia and Angela Ciampagna Miracula
Thanks to the generosity of Angela Ciampagna we have a 100ml bottle, readers' choice of Angela Ciampagna Materia or Miracula to one registered reader anywhere in the world, so be sure to register if you have not done so. To be eligible please let us know what you thought of Danu's review of Angela Ciampagna Materia and Angela Ciampagna Miracula, which you would choise should you win and where you live. Draw closes 9/17/2018
We announce the winners only on site and on our Facebook page, so Like ÇaFleureBon and use our Blog feed…or your dream prize will be just spilled perfume.