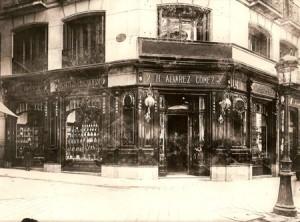 During the recent Sniffapalooza Fall Ball 2010, on Sunday, we spent some time downtown strolling through the smaller boutiques. When we got to MiN Apothecary & Atelier I got a real treat as I was introduced to a new fragrance line I had never tried. One of the raisons de etre for MiN Apothecary & Atelier is to re-introduce European lines which are underrepresented in North America. Just prior to Sniffapalooza they had been traveling in Europe and the line they brought back and were introducing to us on that Fall Sunday was from Madrid, Alvarez Gomez.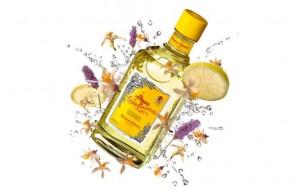 Alvarez Gomez is a perfumery which was founded in 1899. Their most well-known product is their Agua de Colonia Concentrada. As the name intimates this is indeed a classic Eau de Cologne but with a distinctly Spanish kick to it. The traditional citrus (bergamot/lemon) and herbal components (rosemary/thyme) are there, along with a mix of Spanish and English Lavender. It is after the very lemony opening stages that you get the little twist that Alvarez Gomez throws into the traditional eau de cologne recipe, eucalyptus. The vaporous minty eucalyptus really adds a nice kick to this before the herbs and lavender take control again. If you are a lover of Eau de Colognes this is one worth trying because the eucalyptus variation makes it different from other Eau de Colognes.

After we were done I was handed a gift bag which contained a mini-coffret of another Alvarez Gomez set of fragrances. It said "Las Flores de Alvarez Gomez" and inside there were six eau de toilette soliflores: Jazmin, Violeta, Lilas, Rosa, Verbena, and Clavel (Carnation). As much as I enjoyed the Colonia the soliflores were all very nicely executed. They were reminiscent of what I imagine the flower waters that Dandies of the late 18th century scented their handkerchiefs with. All of the "Las Flores" are light and surprisingly long lasting. The one that really caught my attention was Clavel. Carnation is an often encountered ingredient in perfumery known for adding a clove-like floralcy to a composition. I had never had the opportunity to enjoy it as a soliflore. I know there are some out there, like Ayala Moriel's Carnation Soliflore, which I need to try. There are other fragrances which are also described as Carnation soliflores, like Caron Bellodgia, Etro Dianthus, or JAR Golconda but there are definitely other notes there which accentuate different aspects of the Carnation. Las Flores de Alvarez Gomez just presents each flower on its own in a formulation where you get to experience it with no other note added. It is that experience, with Clavel in particular, that really allowed me to get to know carnation the note without any other note interfering. As Clavel mellowed on me throughout the day I found the clovey aspect became more prominent and the floral aspect receded and that gave me some insight into how carnation behaves as part of larger compositions. I also found that as a soliflore this shift from mostly floral to mostly spicy made it seem less like a solo-note formulation and thus much more interesting to me. The other Las Flores are all very good and if you like the flower named on the label I think they will be enjoyable to those aficionados. For me Clavel and its introduction to carnation will be the one I want to return to.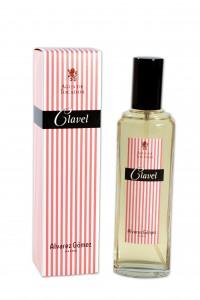 Disclosure: This review was based on samples obtained during Sniffapalooza Fall Ball.
-Mark Behnke, Managing Editor