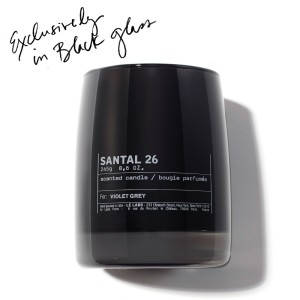 Violet Grey, a fabulous e-commerce beauty site is one of my guilty pleasures. I confess to watching Makeup Artist's Jo Baker's The Espresso Smokey Eye and Chiseled Cheekbone Tutorials 3x. I may be the Editor in Chief of a *mostly fragrance* blog but I love make-up and do quite a bit of free lance articles on skin care and color cosmetics for print and online magazines. The beauty brands are curated by Hollywood Makeup Artists (Violet Grey carries the cult Koh Gen Bro) are perfect for those of us who want an instant beauty fix and expert advice
What they have been lmissing until this week is something scented. A Limited Edition of Le Labo's Santal 26 100 percent soy candle (the original candle came before Frank Voelkl's sexy interpretation of the Marlboro Man, Le Labo Santal 26 perfume) is swathed in anything but basic black… it is outfitted in smoky bold black glass that wafts the sophisticated scent of amber, coco, vanilla, cedar, musk, sandalwood and twenty other secret ingredients.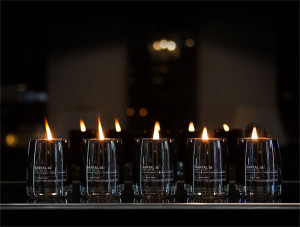 Le Labo Santal 26 for Violet Grey
I contacted Fabrice Penot about the change in Santal's outfit, after all trading in worn out jeans for a tuxedo needs an explanation. His reply," Cassandra Grey invited us to her party… We decided to go but the dress code was black tie so even santal 26 had to dress up".
For those of us who love a a little style with our Le Labo, grab it before it's gone.
–Michelyn Camen, Editor in Chief