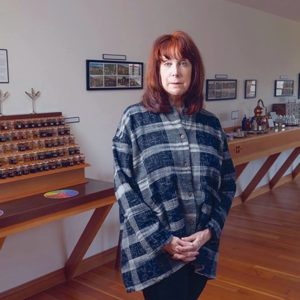 Mandy Aftel in her Aftel Archive of Curious Scents and Museum (photo for CaFleureBon)
Mandy Aftel, the Queen of Green – has just released one of the most sumptuous, lasciviously lovely tuberose perfumes I have smelled in years (and I've smelled a few over the last 50 years or so!):
Mandy hand designed the case for Velvet Tuberose
Aftelier Velvet Tuberose, a solid perfume which possesses considerable longevity, luscious texture and arrives sequestered in a hand designed case. Consider it the only acceptable olfactory opiate of choice this season.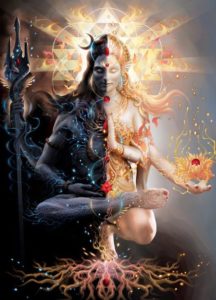 Tantric Marriage via geoglyphiks.com
Let us consider the wedding…Mandy presides over a tantric marriage between the fleshly and the divine. Our object of desire (tuberose) swoons into the attendant arms of mitti attar, one of my numerous favorite aromatic materials. Mitti arises from parched earth awaiting the rains before monsoon season. Only the finest sandalwood is distilled with arid soil, producing an odor which is deeply affecting, like a rebirth of fruition and promise. Friends who find themselves a bit homesick for their Indian childhood love to discover it once again in a drop of this precious viscous attar.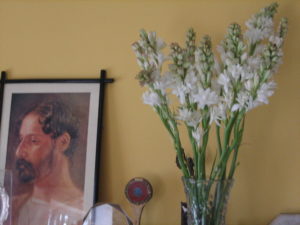 Image Onefinalblog.com
Tuberose has such history and legend associated with her. It is believed that she originated in Central America and is indigenous to Mexico – and it was thought that Spanish galleons carrying these flowering plants found their way to India and China, although precisely how remains a mystery. The Aztecs believed that its scent connected the living to their ancestors (and called it the bone-flower, due to its shape); Indians fretted that its seductive aroma would lead young girls astray.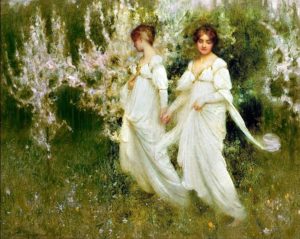 Innocence (detail) 1899 by Arthur Hacker
This night-blooming beauty found itself banned during Queen Victoria's era, as it was feared that vulnerable young women might spontaneously climax under its spell, while Hawaiian brides wore crowns of tuberose and pikake to bring joy, harmony and intimacy to the nuptial bed. Tuberose has been utilized for its antifungal properties, sedative, warming, anti-spasmodic and aphrodisiacal qualities homeopathically and ayurvedically.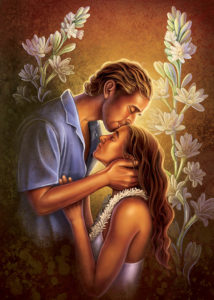 Painting Anne Wetheim©
What alchemy occurs when these two marry? The delicate juiciness of pink grapefruit bonds with jammy fir, imbuing Velvet Tuberose with sylvan sweetness. White florals are indisputable bridesmaids to our waxy, buttery Night Queen arrayed in indolent deshabille. No one does the erotic state of undress quite as infamously as our narcotically potent, sweet-with green-and -menthol tones Queen of the Night. It feels fitting that she find an irresistible consort in the company of Prince Mitti, he of nobility in the quotidian, bearer of fertility and refreshment after droughty climes. Only one as confident and surefooted as he may show her to best advantage; how she clings lovingly to his gentle mighty arm as they proceed towards their common destiny strewn with wanton blooms well-watered and grounded. They will weather future storms with nary a blink of the eye.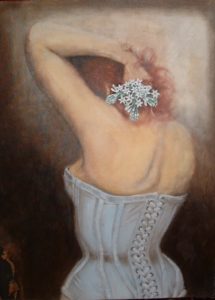 Dangerous Pleasure by Belinda Durrant©
I adore tuberose's chemical complexity; it imparts a multifaceted scent profile. Upon the skin, Velvet Tuberose fascinates: satiny aged sandalwood distilled with dry earth feels intuitive blended with our spicy, mentholated, outrageously sweet blossom. Natural indoles, salicylates are smooth and naughty by turns, abetted by voluptuous white florals and garnished with balsamic forest hues. Velvet Tuberose is a generous perfume full of life. It will sing whether it is warm or cool; the concert will prove an intimate one, at that – yet linger with tender indiscretion. Top notes: pink grapefruit, grand fir, transparent florals; Middle notes: tuberose absolute, tuberose wax, heady white flowers; Base notes: creamy sandalwood, damp earth, spun sugar in a base of virgin coconut oil.
Many thanks to Mandy for my sample! My nose is my own…
~ Ida Meister, Senior Editor
~ Art Direction: Michelyn Camen, Editor-in-Chief
Thanks to the generosity of Mandy Aftel of Aftelier Perfumes, we have a draw for a double sized sample of Velvet Tuberose for one registered reader worldwide. Please be sure to register. To be eligible please let us know what appeals to you about Ida's review, where you live, your favorite Aftelier fragrance, and your thoughts on the concept of tuberose and mitti attar. Draw closes 11/26/2017
We announce the winners only on our site and on our Facebook page, so like Çafleurebon and use our RSS feed…or your dream prize will be just spilled perfume…