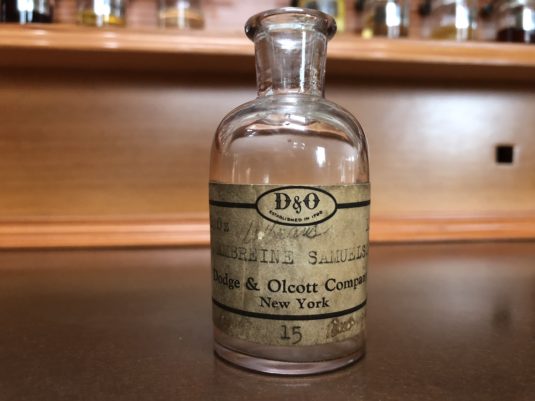 Mandy's 100 year old Antique Ambreine from Dodge & Olcott Incorporated (1798-1948)©
What joy: my very first fragrant mailing to our new wee digs was a sample of Mandy Aftel's celestial new solid perfume Antique Ambergris. I practiced self-discipline by leaving it undisturbed and in a 'safe' place until I was able to give it the full attention it merits (anyone who lives to smell understands how challenging that is. The temptation to rip into the box greedily is a powerful one – especially if you love ambergris as I do). Heightened anticipation made this morning's discovery all the more delicious. The new Aftelier perfume's soul is that of 100 year old Antique Ambreine from Dodge & Olcott Incorporated (1798-1948), whose catalogs spanned all manner of concerns – just look at what they encompassed: chemicals and chemical products, cosmetics, farm equipment and supplies (including dairy and poultry equipment), foods and beverage products and processing equipment (including brewing; distilleries; beer; wine; etc.), garden and lawn equipment and supplies! Among them, these figured prominently – essential oils, vanilla, flavor bases, perfume bases, aromatic chemicals, balsams, gums, oleoresins, and insecticide concentrates.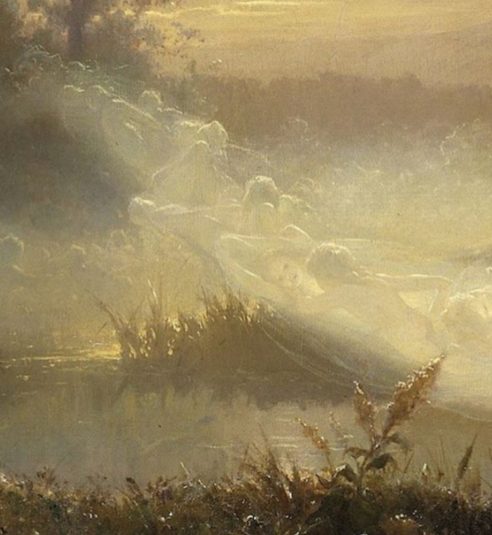 Dancing Fairies August Malmstrom©
Ambreine is a naturally-occurring terpene responsible for the siren song enticement of sperm whale vomitus – the result of ingesting giant squid beaks. Excreted either as vomit or feces, it initially smells like both/either until it floats upon the oceans for many years – thus maturing and developing a vastly differing character with outstanding fixative properties. Ambergris is tinctured in alcohol or oil and utilized in dilution, usually of 3-4%. It can be described in so many ways: marine, salty, musky, carnal, faintly rosy, mossy, damp. Mandy attributes 'phantom notes' one experiences in Antique Ambergris to the alchemical relationship between several of her aromatic components; we smell spice, ghostly florals barely drawing breath, salinity, reliquary canonical incense, sylvan murmurings. Precisely because the perfumer employs aged and venerable absolutes their innate qualities are magnified, honed and deepened considerably.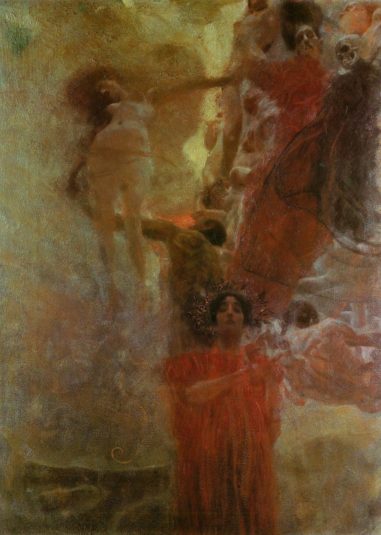 Oil Sketch for Medicine by Gustav Klimt©
Aged cypress absolute possesses a gourmand sweetness at once verdantly conifer, confiture and oceanic with terpenic mentholated tones of its own. When combined with the companionably full-bodied antique civet, floral nuances shimmer and meld with a woody amber bouquet; coumarin contributes spicy warmth (one cook in our house thought it resembled cinnamon) and its dried sweet herbal hay character.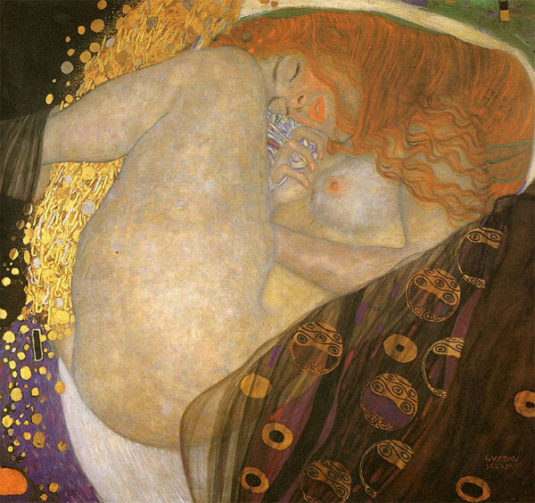 Gustav Klimt Danae©
Like a masterfully-cut gemstone, all facets are unveiled as Antique Ambergris slides across the flesh: intimate to the wearer and the beloved, and no less enchanting for that subtlety. It warms like Baltic amber in the eager palm – a glowing moment trapped for all time to the delight of the multitude. I find Aftelier Perfumes Antique Ambergris to be a voluptuous pleasure, the more precious for its history and provenance – but it would stand staunchly on its own merit regardless. Notes: antique ambergris — amber, warm, round, sweet, marine, woody; antique civet — animalic, tender, floral, multi-layered; aged cypress absolute — jammy sweet, warmth of the forest; coumarin — powdery softness
Many thanks to Mandy and Foster for my sample of Aftelier Perfumes Antique Ambergris. My nose is my own…
~ Ida Meister, Senior Editor and Natural Perfumery Editor
~ Art Direction: Michelyn Camen, Editor-in-Chief
Thanks to the largesse of Mandy Aftel of Aftelier Perfumes, we have a draw for a deluxe sample of Aftelier Perfumes Antique Ambergris for one registered reader anywhere in the world. Please be sure to register. To be eligible please let us know what appeals to you about Ida's review of Aftelier Perfumes Antique Ambergris, your favorite Aftelier fragrance and where you live. Draw closes 8/23/2018.
We announce the winners only on site and on our Facebook page, so Like ÇaFleureBon and use our Blog feed…or your dream prize will be just spilled perfume.