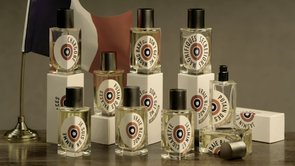 Expect the unexpected from Etat Libre D'Orange, one of the few Fragrance Houses, where there are no taboos. Ogilvy & Mather-South Africa produced a "cheeky" film, just for fun, that captures the "Oh So French" sexy, outrageous and anything goes spirit of Etat Libre d'Orange. It will be shown at the Cannes Advertising Awards. Etat Libre D'Orange did not pay for this film nor is it an ad (the Free State of Orange is a reference to brand owner Etienne de Swardt who is South African by birth).
In the words of Etienne de Swardt, Creative Director of Etat Libre d'Orange: "Let's rock and roll and GO. ELO is still a land of creative freedom and once again we prove it with this film. ELO is and will stay the most Avant Garde perfume brand, "LA FEMME EST L'AVENIR DE L'HOMME" (The Woman is the Future of the Man), an exercise in style delicate and naughty with perfumes and panties".
Ooh La La…We love it, how about you?
–Michelyn Camen, Editor in Chief