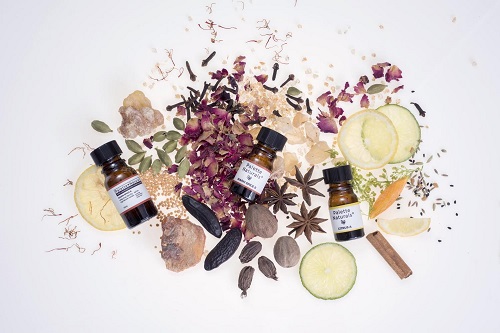 On August 18, six students of natural perfumery were treated to an advanced education by perfumer Miriam Vareldzis of Palette Naturals on an unusually balmy Saturday afternoon in Portland.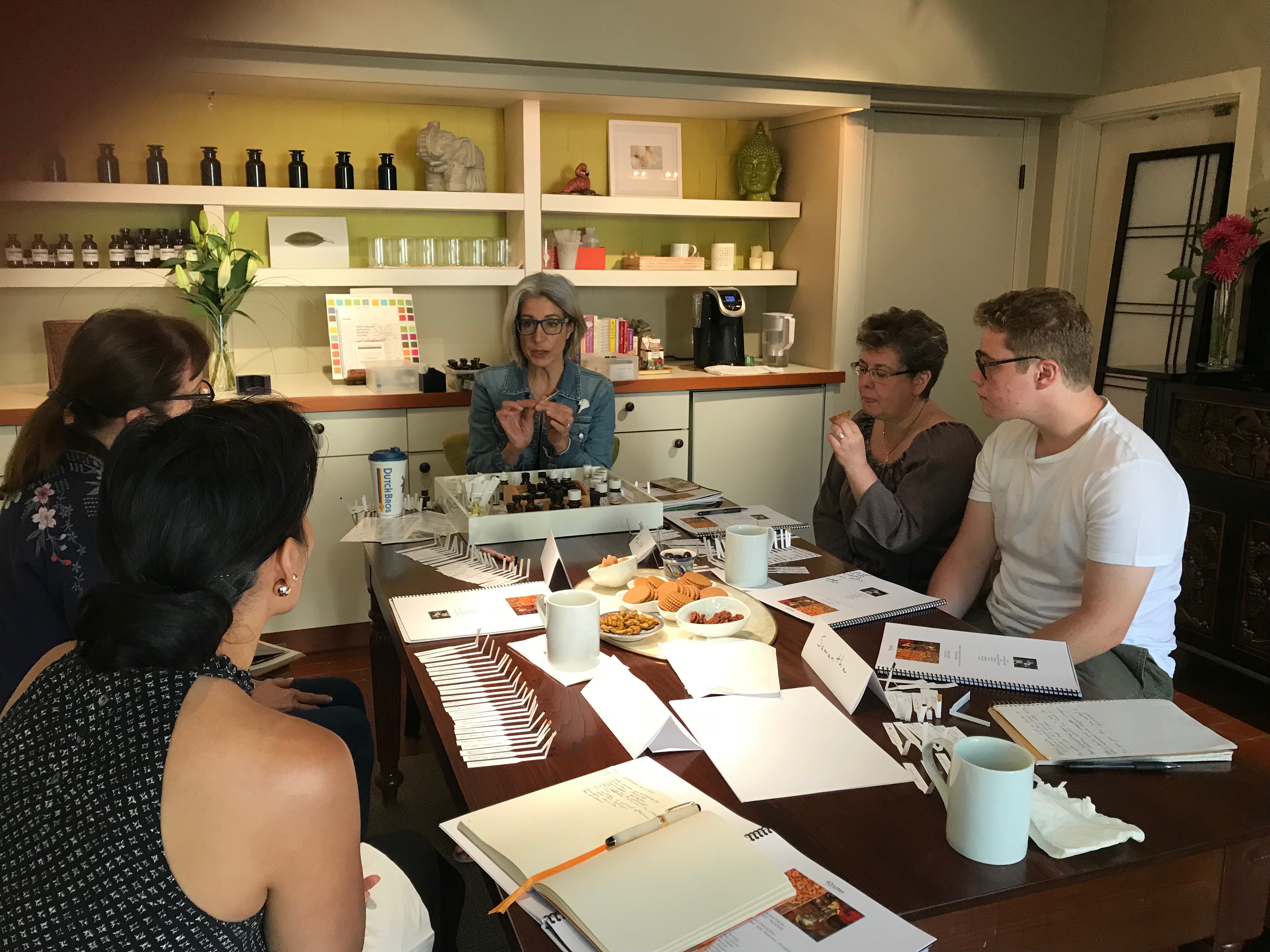 Photo by Sam of the Palette Naturals class
Taught in her zen-like studio in Northwest Portland, Miriam presented her training session 'A Journey through the Genealogy of Scent' to a class that ranged in skill from a perfumer working on her first collection to a teenager with no experience who brought his equally inexperienced mom along for the scented ride.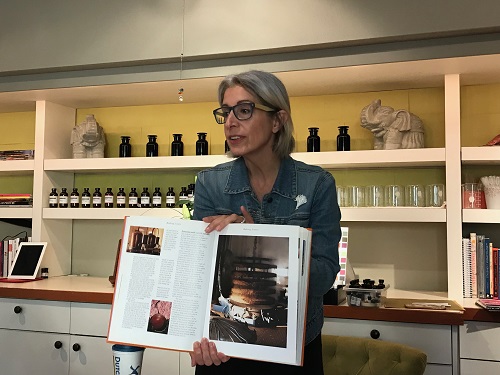 Photo by Sam Miriam Vareldzis of Palette Naturals
Perfumer Miriam Vareldzis is no stranger to CaFleureBon readers. She launched seven perfumes in 2010 through her 40notes Signature Collection and rarely has such a tightly curated line of indie perfumes received as much professional praise on the perfumer's breakout offering. In addition to being the 2011/2012 recipient of the Gold, Silver and Bronze awards in the first Taste TV LA and San Francisco Artisan Fragrance Salon, it was named one of the "Official Luxury Fragrances" of the 4th Annual Taste Awards and honored by Michelyn Camen, Editor in Chief as "Best Collection" when it debuted. In my 20s, I went through a "return to Mother Earth" phase and funneled my perfume passion into exploring natural perfumery, but the experiment wasn't successful. What I found was mainly oil blends whose skin-hugging sillage underperformed, and many had an odd medicinal tint I couldn't overcome. Thankfully, the decades since have brought new ways to wrangle natural ingredients into high-quality perfumes, and Miriam Vareldzis of Palette Naturals is a master of taming wild essences.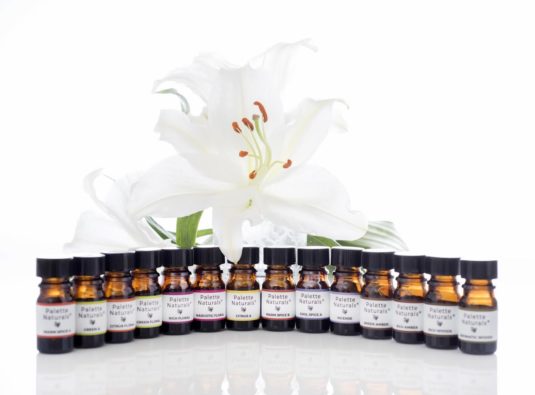 Our sojourn through naturals began with Miriam Vareldzis explaining the change in focus from 40notes to Palette Naturals®, her newest creative endeavor. The market demand for natural products has risen as consumers realize ingredient transparency protects their health. This shift in the famously secretive fragrance industry opened a space for Miriam to introduce her collection of 100% natural blending accords using exquisite raw materials that provide the visibility consumers increasingly seek.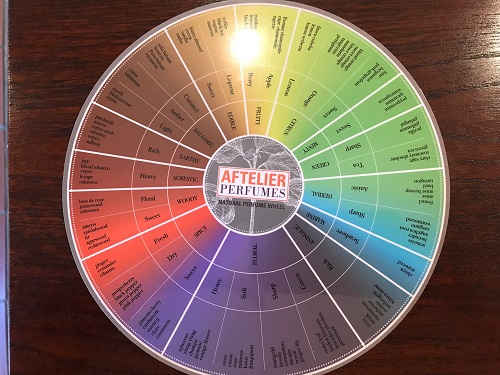 Aftelier Natural Perfume Wheel© created by Mandy Aftel photo by Sam
Miriam spoke about extraction processes and handed around the Aftelier Natural Perfume Wheel© created by Mandy Aftel to better understand the industry's vocabulary. With my fervent interest in both writing and perfumery, I was pleasantly surprised to discover a new word describing fragrances with pastoral, agricultural origins like hay and oakmoss—agrestic. For example, I would say the unctuous tobacco scent of the osthmanthus absolute Miriam shared was as agrestic as a farmer's barn.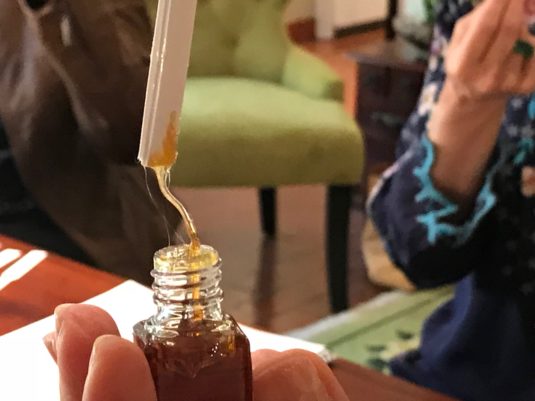 Galbanum Dip photo by Sam
Another ingredient that could be argued to belong in the agrestic family is galbanum, described by Miriam as, "High summer mowing the lawn and you've spilled some gasoline." Galbanum is a gooey ingredient, however don't mistake form for function as galbanum absolute smells sharp enough to cut glass.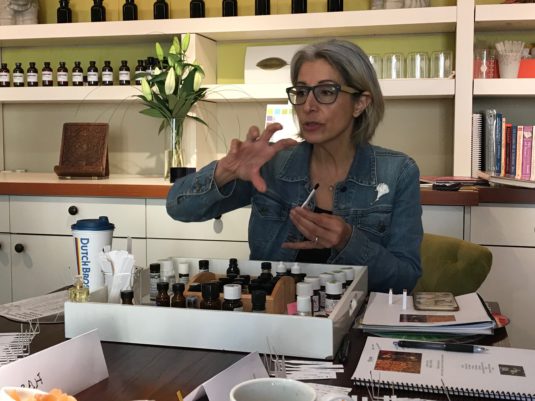 Photo by Sam
We moved on to fennel, an aroma that carries a faint marine scent often imparted by aldehydes. Having always considered aldehydes a laboratory chemical, I asked Miriam where else aldehydes are produced in nature and she explained that citrus contains natural aldehydes.The frankincense and labdanum accord was the closest thing I have ever smelled to capturing what I would call the scent of the color black. Rich, cozy, and calming is the best way I can describe the Palette Naturals® Incense Accord. Vetiver as a raw ingredient retains an attractive, clean earthiness. Indonesian vetiver has a smoky quality compared to Haitian vetiver's desert-dry roots, and Miriam reminded us that the sourcing of ingredients is quite the big deal in the business of perfumery for exactly these sorts of subtle distinctions.
Did you know there is a perfume ingredient made from the distillation of roasted seashells? Well that was news to me! Choya Nakh is traditionally from India and is made by slowly roasting seashells in a clay pot. The result is a dense smoky-marine that purportedly pairs well to mute the sweetness on blends containing amber, leather, and resins.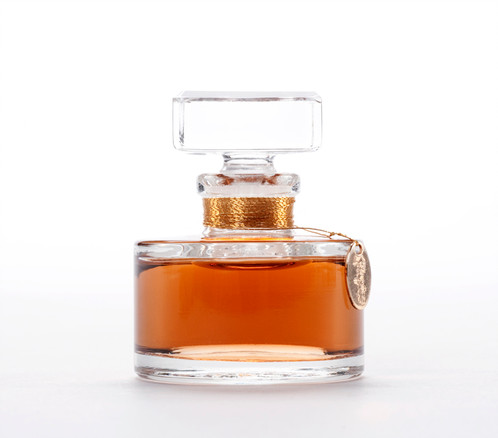 40notes Oudwood Veil
We closed the afternoon with a tour of the original 40notes Signature Collection. For me, the clear winner of the line is Oudwood Veil, the best oud perfume I have ever smelled. Usually oud turns me off with its overbearing strut of rotten matter, however being delicately handled by the talented Ms. Vareldzis and placed in 100% pure fractionated coconut oil removed the funk and revealed a luminescent woodiness.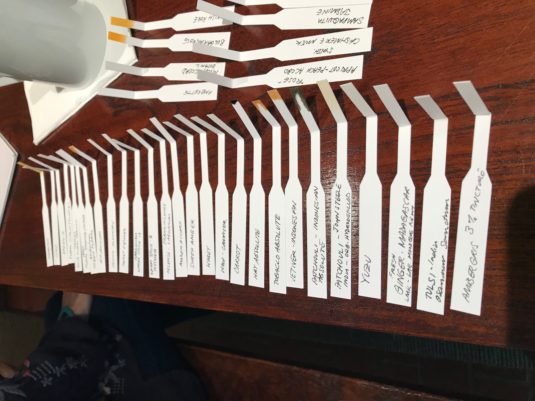 After being introduced to the modern wonders of natural perfumery with Miriam's sage guidance, I think I'm ready to take another dive into this wing of the perfume world I had dismissed years ago. Natural perfume ingredients have come a long way since the 1990s, and thanks to Miriam Vareldzis of Palette Naturals, my appreciation for them has grown as well.
Miriam continues to offer 'A Journey through the Genealogy of Scent' workshops for anyone who wants to deepen their understanding of the natural side of the scent industry, so keep an eye on your chance to register for one of the upcoming classes. You can also experience creating your own perfume on September 15th at Indigo Perfumery who has a curated selection of Palette Naturals accords
Samantha Berg, Contributor