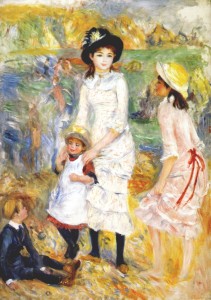 Children by the Sea in Guernsey by Renoir (1883)
There once was a girl who liked nice things, a bouquet of wild flowers in a glass canning jar, scented drawer liners, and handmade wreaths of lavender that she always wanted to make as gifts, but never got around to. She had one secret obsession though, and that was to find the perfect signature scent. The girl often would chose a perfume simply because she liked how it smelled, but always came up short, and although there were some iconic fragrances that she longed for, she knew nothing about the enchanted world of niche fragrances. One day she met a fey friend who shared the same love of perfume. The friend spoke of perfumers that were unfamiliar to the girl such as Laporte and Goutal, and the girl felt good that she found an ally in her search for the perfect scent. It was during this time, that her friend shared the scent of Mulberry. Cristina arrived at the door with a gift, the Art Deco flacon was homage to a time and place that I wanted to know more about, and as I began to wear L'Aromarine Mure Musc my perspective on fragrance began to change.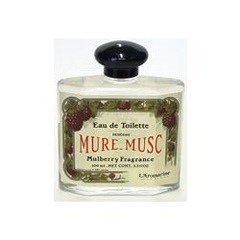 My memory of L'Aromarine's Mure Musc is a flirty one, it is a Mulberry fragrance that has a brightness to it, a tartness, like a sugarless jam and its overall quality is warm and comforting. Soon after Mure Musc, I discovered the simple pleasure of the blackberry note, which is rich, sweet, slightly sour and honeyed. This smell above all others instantly transported me back to endless summer days of childhood, the ease of sundresses, bare feet and fingertips stained purple-blue. I would pluck blackberries from the thorny bush, and taste their sweetness warmed by the sun, and smell their jammy tautness, a moment of total freedom and innocence. I would visit this feeling again after my first trip to Aedes de Venustas when I left with my first bottle of L'Artisan Parfumeur Mure et Musc in hand. I wore its mix of blackberry and musky notes for years.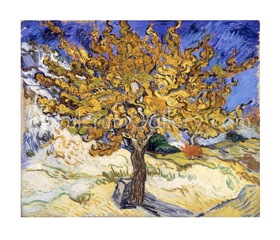 Mulberry Tree by Van Gogh (1889)
A few days ago, I headed outside to my garden and found myself staring at the Mulberry Tree that resides there, as I stared at the tree, I began to think about the time before I knew anything about raw materials, synthetic and naturals, accords, and classifications. As I sat there, I remembered the bottle that my friend gave to me so many years ago, and how I proudly displayed the EdT on my dresser back then. I also thought about how many fragrances I have encountered since then, and how metaphorically different my dresser looks now. Now I can see things that are less obvious and have more dimension and depth, and this has allowed me to revisit and stay attracted to blackberry as a woman.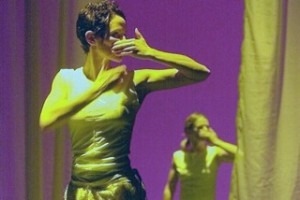 Cristina Latici, Choreography, Chameki Lerner
The following two perfumes I carry into my future: Caron L'Accord 119, and Byredo Parfums Accord Oud. L'Accord 119 with its notes of Blackberry, Cassis, Black Pepper, Jasmine and Amber create a fragrance that is warm, sensuous, and grown-up, however its germ manages to stay current, but brings me back to that simple time. Let's remember that Cassis is made from blackcurrant leaf and bud, its scent is green and smells a bit like, ahem, cat pee. Wearing Accord Oud is almost indescribable, when I where it, it feels that it is an extension of my body, just the way an instrument is an extension of a musician's body. Top Notes are Blackberry, Saffron, Rum Heart Notes: Leather Accord, Clary Sage Base Notes: Patchouli, Powdery Musks.
–Valerie Vitale of Soliflore Notes, Contributor