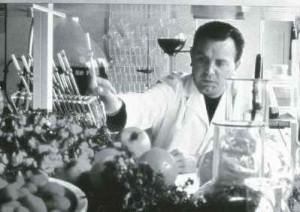 An ode is a poem or prose that sings the praises of someone or something. In the early years of the twenty first century Yves Rocher released four perfumes (and a few flankers) that were truly above and beyond the quality and style of most direct marketing companies and attempted to capture these four very intangible ideals. This man began his company in 1956 selling a homemade celandine crème door to door and giving a free gift to anyone who bought something from him. He built this grass roots business into an empire still thriving today. YR is one of (if not the) best-selling natural cosmetics company in Europe, and gifts of varying levels are still given to customers with every purchase. I have read that Comme une Evidence is second in sales, in France, only to Chanel No5. Mr. Rocher passed away in 2008, but left behind a wonderful legacy. This line, along with many of their others, is now discontinued but worth seeking out…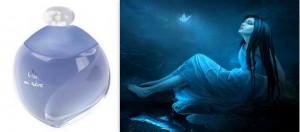 Ode au Reve (or "Ode to a Dream") is my favorite of these four perfumes. A hypnotic opening of sandalwood and cedar embrace you on the first spray, as a whisper of night blooming jasmine teases and enchants. A heart of gurjun balsam (a resin from an eastern Indian tree) and labdanum (rock rose resin) add a truly dreamlike mystical feeling that is very incense rich and exotic, as the lovely jasmine expands. The final drydown of a smoky, yet sheer, vanilla and musk creates something infinitely unique and sensual. This was released as an Eau de Toilette; however, my personal favorite is the Elixir de Parfum concentration. This limited edition version (available for a short while in 2005) combined sandalwood and rose tree leaves in the top notes with moss absolute and vanilla in the heart resulting in something stronger and smoother, but somehow sharper at the same time. The drydown of the Elxir is just white sambac jasmine and it is more floral than the EDT, yet infinitely deeper. These are both like a dream where even the construction of the scent has been turned topsy-turvy and has become surreal. Reve is the most "masculine" of the four, for sure, yet this perfume smells great on a man or a woman!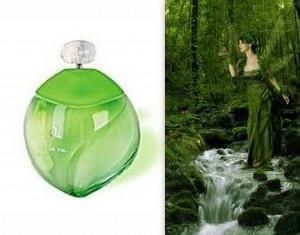 Ode a La Vie (or "Ode to Life") is a celebration of growing green things and a hymn to Nature itself. An opening that combines rich galbanum resin and an ethereal water bamboo note illustrates how nature is at once strong and powerful, yet subtle and elegant. A heart of violet leaves, cyclamen (Persian violets) and water lily evoke a sense of being in a wooded clearing near a still pond surrounded by dainty flowers, aquatic plants and lush vegetation. This scent is verdant and sheer, but not overly aquatic or watery. A subtle finish of Virginia cedar and sandalwood with a hint of clean musk reinforces the "forest feel" without becoming overly woody or sharp. La Vie is definitely the most Zen-like of these four fragrances and it will appeal to those who love fresh vegetal scents, and makes me think of a quiet bamboo forest, babbling brooks and quiet contemplative nature walks. Despite its floral heart, this scent is utterly unisex and is elegant in its simplicity. A perfumed snapshot of Nature, this captures both its majesty and power without ever becoming "too much" or in your face.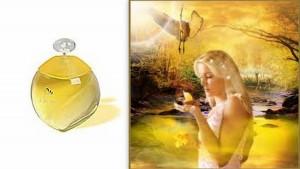 Ode a la Joie (or "An Ode to Joy") could be described as a "fruity floral", but it is so much more. This blends citruses (bergamot, mandarin orange and lime) with sharp pineapple and succulent peach nectar resulting in something juicy and delicious yet refreshing. Bright and sparkling, but luscious and full, it dances on that thin line between fruity sweet and sharply citric gracefully and makes it looks easy…even fun. As the heart notes open, an ethereal (almost transparent) jasmine and a delicate Casablanca lily skip hand-in-hand adding a sheer floral aspect to the fruits and making you feel like the sun is shining on your face. If sunshine had "a scent" this would be it for me. Warm, sweet, bright and energizing, Joie makes me want to take off my shoes and run barefoot through the grass, while eating summer fruits and letting the juice run down my chin. The ultimate finish here is a rather powdery (dry) musk, cedar and what YR calls a "sun note". I do not know what they used here but they did, at least for me, capture the "feeling" of summer and the sun in a bottle. This scent is sweet, indeed, but never gets cloying or saccharine. Soon the flowers grow weary and the fruits are all eaten and the sun sets on another day. Cedar still holds that warmth, close to the skin, when it is all said and done. This is a true joy to wear, for me, in the EDT. For the spring, in 2006, YR released an Eau d'Ete version with the same notes in a more "sheer" formulation (and frosted bottle) with no alcohol. It is not as sweet as the EDT but is every bit as delightful and this will appeal to those who like lighter and less sharp perfumes of this sort.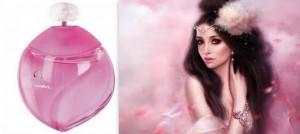 Last, but not least, we have Ode a L'Amour (an "Ode to Love"). Amour is the most feminine of the four; it is composed of an opening of crisp apple seasoned with Sichuan peppercorns. It takes the delightful feeling of falling in love and equates it with a fresh fruit with hints of intriguing spice, echoing the emotion that is part innocent and also part "naughty". As the heart beats faster (as it does when one is in love), warmer fuller more fleshy fruits like damson and Mirabelle plums exude a juicy and tantalizing aroma. Without using any true "floral" notes (in the EDT) this perfume evokes the feeling of romance, walking on air and falling "head over heels" perfectly. A perfume devoted to love and its splendor, with no roses yet truly defines it essence?? Amazing! This finishes with warm caresses of golden amber and sweet muskiness. An Elixir de Parfum was also released (in 2005) that took the apple away in favor of black cherry blossoms and pepper in the top, left the innocent Mirabelle plum in favor of the darker damson and added heady opulent ylang ylang. Amber still lined the finish but this time with cistus resin, as opposed to musk. The Elixir was, to me anyway, what a Geisha would smell like. It was oriental, gorgeous and full of secrets and mystery. Two other flankers were also released for this. "Tendrement" (Tenderly) was more gourmand and focused more on the sweet innocence of love, and how it blossoms. "Passionement" (Passionately) concentrated more on the spiciness of love, its secret delights and consummation. Both of these were released for Valentine's Day and were only available as 30 ml EDT splashes. Love has inspired more than anything else, throughout man's history, so it is perhaps fitting that L'Amour has the most flankers and lasted longer than any of the other Odes.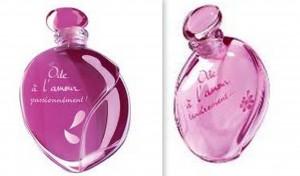 All of the flacons for this line are wonderful. They resemble pebbles or stones and fit rather ergonomically in one's hand. Each one is color coordinated to the ideal: pink for love, blue for a dream, yellow for joy and green for life. The sprayers have no caps and each has "shoulders" on the bottle (in the sprays) in a darker shade than the juice. Each one has a place, carved out of the glass on the front, for the thumb. All of these have silver script with the name on the front and lay on their flat backs. The Elixirs come in metallic iridescent opaque bottles. The splashes are clear glass with tight fitting plastic lined glass stoppers. This is a most excellent line of perfumes. Almost niche in how they are presented and "feel", eloquent in how they capture their inspirations and aesthetically pleasing on all levels.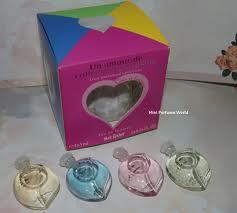 All good things, they say, must come to an end. I was saddened when informed these would be discontinued, yet filled with happiness to know I had them in my collection. As is often the case, in perfume, many things are not appreciated when they are available. And, it is often said, a true genius is not always recognized in his own time. Yves Rocher was a genius and these perfumes are his olfactive odes to all that is wondrous and beautiful in life.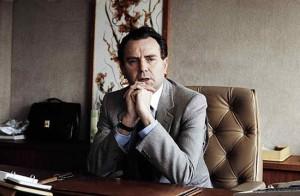 These were reviews are from full bottles in my personal collection.
–John Reasinger, Weekly Contributor