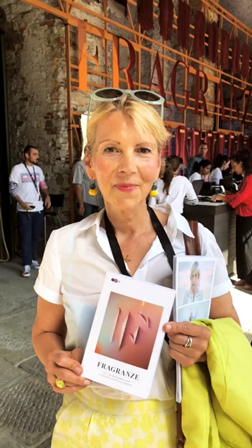 Pitti Fragranze 2018: Sarah Colton at entrance of Pitti Fragranze. (Photo Credit Copyright © Sarah Baker)
Emptiness was perhaps THE word circulating at Pitti Fragranze this year. Empty spaces in the usually bustling and crowded corridors, and in the conference rooms, where standing room only has previously been the norm. Empty spaces in the usually crowded cafeteria, and at the cocktail party. Perhaps most importantly, the word emptiness, or lack of creativity and originality was circulating on the lips of Pitti Fragranze 2018 attendees to describe many of the fragrance offerings.
Pitti Fragranze 2018: Andy Tauer's Instagram post of September 19, 2018 wrote of the scent of fear
A statement published on Instagram by Andy Tauer, owner of Andy Tauer, a carefully curated, unique, and mature niche fragrance brand, offered further insight on this emptiness: "The scent of Fear: At the Pitti Fragranze you would expect that the air of a niche fragrance fair is filled with delightful scents beyond the ordinary. In reality, it was more like the scents that you get anywhere, from department stores to perfumeries: functional building blocks. Why? My guess is that too many are scared to be original and too few are using quality ingredients. Entering the fair was olfactory depressing there was a palpable scent of fear." Of course, Andy's statement did not refer to ALL the fragrances, nor to all aspects of Pitti. It did, however, accurately describe many.
Searching for explanations for this state of fear at Pitti Fragranze 2018, I called on memory and the opinions of a few trusted friends.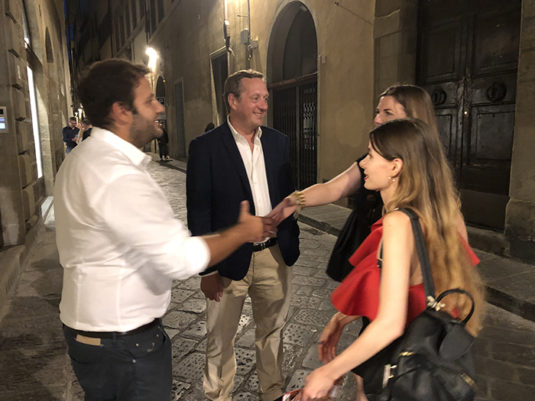 The Scent of Fear-Pitti Fragranze 2018: François Hénin, Sarah Baker owner of Sarah Baker Parfums, and Yana Lysenko, blogger, in front of Wang Valley concept store in Florence.
A Bit of History
Since its beginnings 16 years ago Pitti Fragranze has been the Queen of Autumn, THE niche fragrance salon of the season with its ideal date and location. A right of passage for any brand entering the market. As François Hénin, owner and founder of the brand Jovoy Paris put it, "What brand owner or buyer can decently resist a weekend in Florence in early September? Italy is the largest European niche fragrance market, the weather is beautiful, the food is fabulous, you can walk everywhere, and mid-September is an ideal time for Pre-Christmas sales." Yet, over the past few years, the population has been shrinking and shifting. Why is there the scent of fear?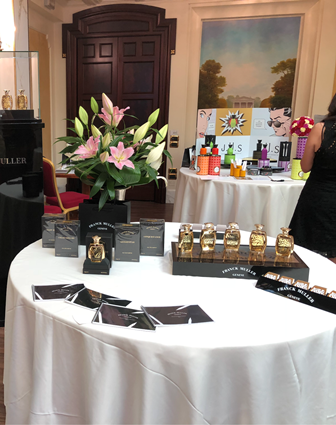 At the Officina suite at the Hotel Montebello Splendide Franck Muller display
.Moving 'Off Campus'
For one thing, a growing number of established distributors and brands are choosing not to show at Pitti Fragranze and instead are moving 'off campus' to alternative locations in Florence. Last year, I visited two 'off campus' sites where Italian distributors Officina and Olfattorio had set up camp in luxury locations. Here clients and journalists could be pampered with VIP services such as catered meals, snacks, and relaxed individual attention. This year at Pitti Fragranze 2018, I spent even more time 'off campus'. Officina was set up for the second year in a row at the Hotel Montebello Splendide with its brands Robert Piguet, Compagnie de Provence, Etat Libre d'Orange, Franck Muller, J.U.S, Nicolai, and others.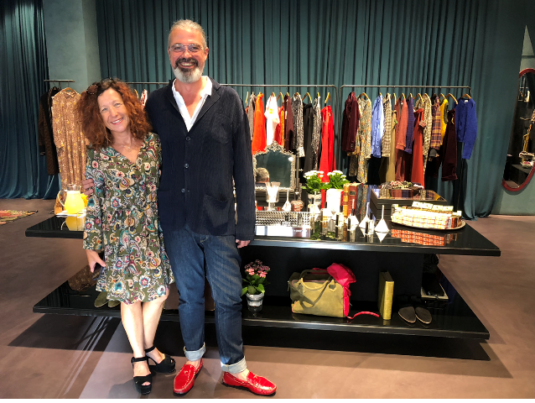 Histoires de Parfums owner Gerard Ghislain and Marina Crosa at Momoni shop in Florence.
The French brand Histoires de Parfums, was set up at the Momoni clothing boutique in central Florence. Owner Gerard Ghislain said, "We have been exhibiting at Pitti for more than 6 years. We are mature and have our own network. This year we chose not to exhibit at Pitti and to only exhibit at Momoni, a store within a 10-minute walk of Statione Leopolda, and where we sell our fragrances This was much less expensive for us, and offered a pleasant alternative for our clients. It also brought potential clients to the shop, so it was good for them and good for our reputation with them."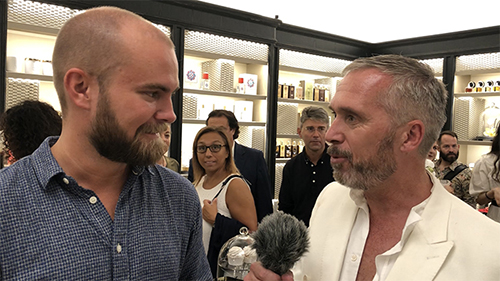 At the launch of the new Campo Marzio 70 boutique in Florence, Mona di Orio CEO Jeroen Oude Sogtoen chats with in-house perfumer, Frederik Dalman.
I visited the Florentine concept store, Wang Valley, at the invitation of François Hénin where Essenses Italia, the Italian distributor for François' brands Jovoy and Jeroboam, had set up a 24 hour pop-up shop. Meanwhile, the distributor Campo Marzio 70, instead of showing at Pitti, chose to launch its new Florence boutique on the Saturday night of Pitti. The party a knock down drag out affair!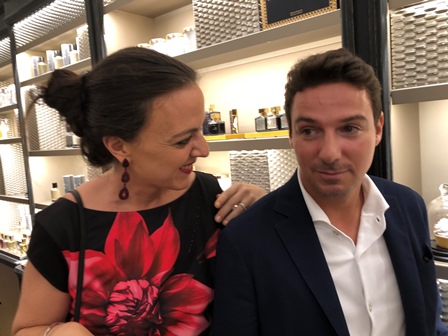 At Campo Marzio 70 boutique perfumers Stephanie Bakouche and Lucas Maffei
A Tale of Two Cities
Even before arriving in Florence, I had been hearing from an alarmingly large number of niche brand owners that they were not planning to come to Pitti or Florence at all this year, and instead were planned to go to Cannes two weeks later to coincide with the dates of TFWA, the annual Duty Free and Travel Retail Global Summit. Similarly to the off-campus situation at Pitti, only a few of these brands were actually going to officially exhibit at TFWA, while most were planning to set up shop in rented apartments or on yachts for meetings and parties with clients. Granted, the number of niche brands doing this has been increasing over the past several years, but most were also exhibiting at Pitti Fragranze. Speaking off the top of my head, long-time Pitti brands who did not exhibit this year and plan to attend Cannes are: Jovoy, Ulrich Lang New York, Neela Vermeire, Histoires de Parfums, Etat Libre d'Orange, Robert Piquet, Masque Milano, etc.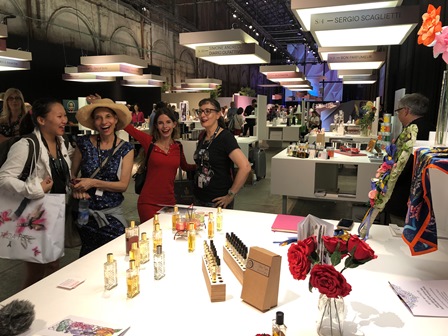 At the 4160Tuesdays stand, Sarah McCartney brand owner and perfumer chats with fragrance reviewer Yana Lysenko
A primary reason for this is the new proximity of the TFWA dates. Whereas previously, TFWA was held closer to the end of October, the date has been inching forward over the past two years, essentially poaching on the mid-September Pitti dates which have been fixed for more than a decade.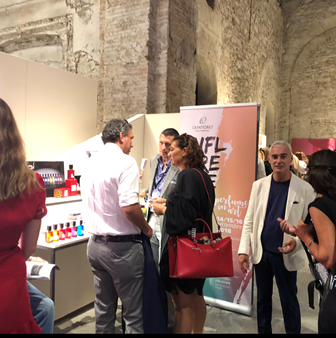 Olfactorio stand at Pitti with Alexander Vreeland at Diana Vreeland Parfums talking with clients.
Alexander Vreeland, owner of Diana Vreeland Parfums, who exhibited at Pitti and will also be in Cannes, explained it this way. "The proximity timing wise between Pitti Fragranze and TFWA is so close that many stores do not want to make both trips. Those stores seem to choose Cannes." Alexander went on to explain, "Many stores have selected the niche brands they want to develop and are not really searching for additional ones. Therefore, the stores that go to Pitti are searching for new brands while many stores are learning how to grow sales from their current portfolio in lieu of adding additional collections."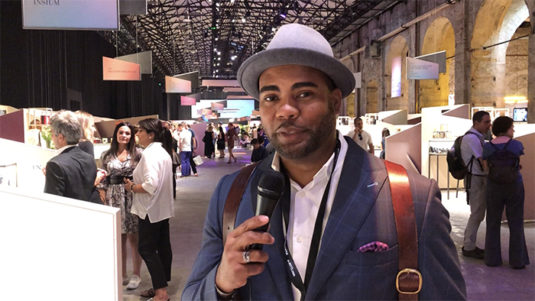 Maurice Locke co-owner of Osme Perfumery in Miami
Where does this leave the rest of the brands? And where does it leave retailers, distributors, buyers, and trade-fair organizers? In all this change and uncertainty, one thing is certain. Only a small percentage of niche brands are getting the lion's share of the attention. Meanwhile many, too many, brands play it safe with unimaginative offerings, when by definition and responsibility they should be pushing the edges of creativity and taking risks.The massive numbers of these safe fragrances clutter the market and shows, confuse the public, and draw criticism in a field that can't absorb them. Michael Edwards, whom Evelyn Lauder once dubbed "The perfumer expert's expert", has been telling us this for years in his lectures and annual Fragrances of the World publications.
François Hénin who in addition to owning the Jovoy fragrance brand, also owns Jovoy retail shops in Paris, London, Quatar, and Dubai, and thus speaks with the authority of an experienced retailer, offers this advice to anyone contemplating the creation of a new perfume line: "The glory days of niche fragrance, during which pretty much anybody could present an idea, and eventually survive and maybe even thrive — is OVER ! Guys, stop wasting your money if you don't have anything exceptional to say. Stop imagining that the cake is so beautiful that you are going to get a big part. That's not true. To succeed as a niche fragrance brand in today's market takes a sizeable investment, a clear business plan, and most importantly, a truly original and creative product and story. Don't send me one more chypre, mulit-floral, or oud that smells like 50 other fragrances."
Back to emptiness. And replacing the scent of fear with the scent of hope.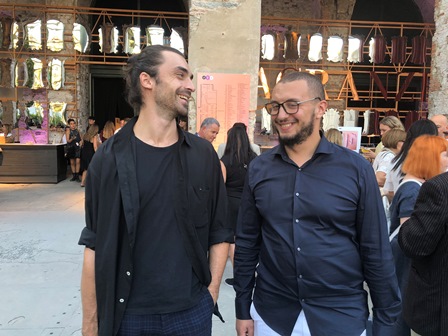 Jules Dinand bottle designer and and Mohamed Rebatchi at cocktails… Maison Rebatchi was one of many we reported about who brought some refreshing newness to Pitti
Anyone who has ever been involved in creative process knows that emptiness is a central ingredient, and that sometimes one needs to wait in emptiness for the well to fill up.I have faith in the kind of emptiness we are experiencing now if we, as a community, can take it upon ourselves to constantly weed and protect the sacred spaces of emptiness from fear and greed. There will no longer be the scent of fear…but of innovation. And on a positive note, I did find several really exciting fragrances at Pitti Fragranze 2018 – full of vitality, character, depth, and even humor. I'll tell you about them next time or please read Danu's Pitti Fragranze 2018 recap, Sebastian's and Ermano's (part 1 and 2).
Sarah Colton, author of Bad Girls Perfume and Contributor
Note: We have reporting about the evolving world of niche since the summer of 2010 and the need for innovation and creativity. Please read our article here. Please read our Independent Perfumery series featuring seven indie perfumeries who are changing the olfactive landscape here .
With special thanks to Sarah Baker of Sarah Baker Parfums for her assistance with photos