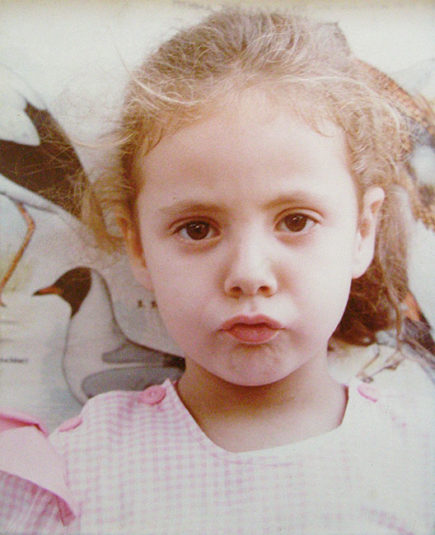 Despina at age 7, in "post-spilled perfume" mood!
As a child of 7, I felt deeply misunderstood by adults. My passion for cinema was misinterpreted as a mere wish to watch cartoons, resulting in me being caught in our living room after 2 in the morning, attempting to watch a film noir on TV. My interest in astronomy earned me a bed set with spaceships and stars. And my fascination with perfume could hardly be satisfied with a toy atomizer and baby cologne, which had nothing to do with those magic liquids in pretty bottles on my mother's dressing table!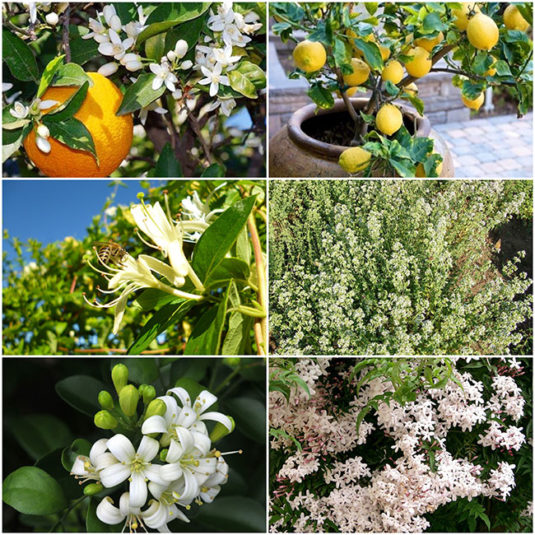 Childhood olfactory memories of Greek nature (Collage: Despina Veneti)©
My olfactory awakening started with the varied smells of the blessed Greek nature. Intoxicating jasmine and honeysuckle, blooming lemon and orange trees, thyme and oregano growing wildly at the edge of highways.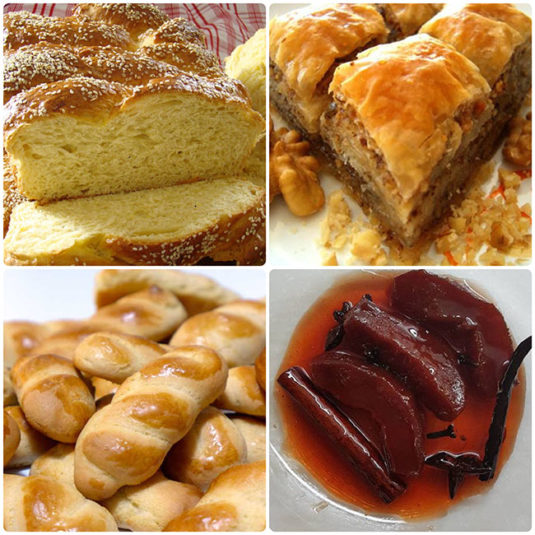 Childhood kitchen smell memories (Collage: Despina Veneti)©
Long before gourmand-scented candles became a staple, our house already smelled of freshly baked cookies and cakes, roasted apples and quinces, vanilla, cardamom and cinnamon.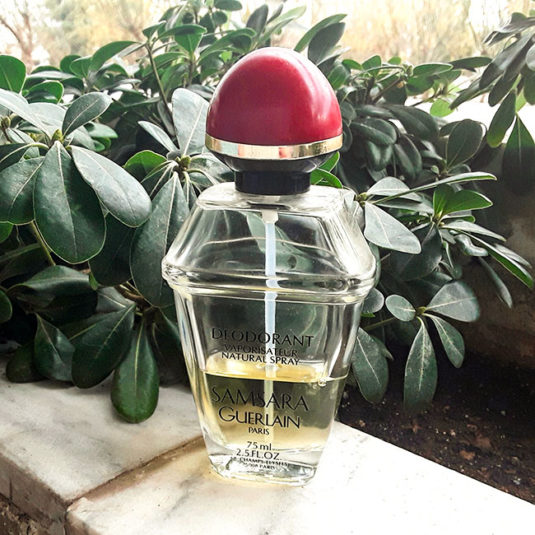 Despina's first bottle of Guerlain Samsara
Naturally, my first contact with perfume was through my mother's favorites in the 80s: Dior Poison, Ungaro Diva, YSL Opium. My first real perfume, Narcisse by Chloé, was gifted to me by my father at the age of 15. He picked it mainly due to the attractive packaging, and although I did not fall in love with the juice, it will always have a special place in my heart. The first perfume I bought for myself was Guerlain's Samsara (the shop-lady convinced me that at 16 I should be getting its lightest – then called "Deodorant"- version, which I immediately regretted).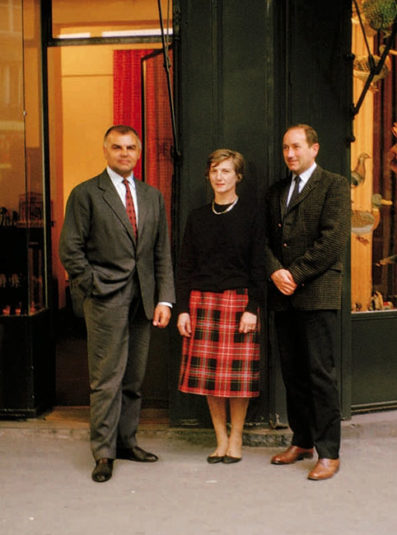 Diptyque's three founders, Yves Coueslant, Christiane Montadre-Gautrot, and Desmond Knox-Leet (Photo: Diptyque)©
Thinking falsely I knew all about current perfume offerings, I wasn't prepared for the eye (or rather nose!) opener that arrived inside a family friend's suitcase from London; it was 1996, and Diptyque wasn't yet available in Greek stores (although its founders, interior designer Christiane Montadre-Gautrot, painter Desmond Knox-Leet, and set designer Yves Coueslant, all loved Greece, and were so often inspired by it). Diptyque L'Ombre Dans L'Eau was my first contact with the world of niche perfumery, and a personal favorite ever since.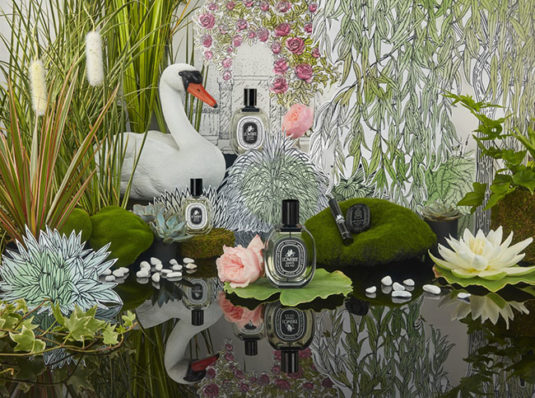 Diptyque's media campaign for the 35th anniversary of L'Ombre Dans L'Eau (Photo: Diptyque)©
Translated as "Shadow On Water", the fragrance's name might create a false impression of aquatic notes. Its poetic title, however, refers to the scent of a green garden at the edge of the water.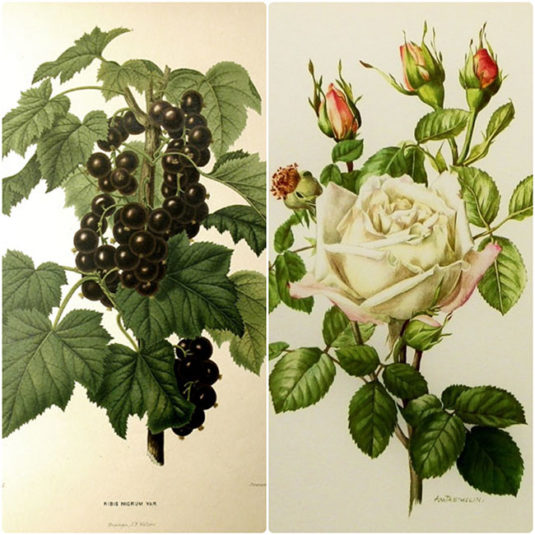 Botanical prints of blackcurrant leaf and roses
The first spritz of Diptyque L'Ombre Dans L'Eau was a revelation: I had never smelled GREEN like that before – Cabotine and Tendre Poison both attracted me, but such a realistic natural smell was unprecedented to my nose. The blackcurrant leaf was enhanced by (the totally unexpected) tomato leaf, while the rose – slowly but steadily emerging – resembled the wild rose bushes I knew well. The fragrance amazingly captured not just the rose buds, but the whole plant. It felt like being in a soaked garden after an early summer rain! Utterly charmed and uplifted by this new fragrant encounter, I kept my scarf where I sprayed Diptyque L'Ombre Dans L'Eau unwashed as long as possible, and I made sure the family friend understood my – not so discreet! – hints that a bottle would make the most wonderful surprise for my next birthday. Six months later, I was indeed "surprised" with one!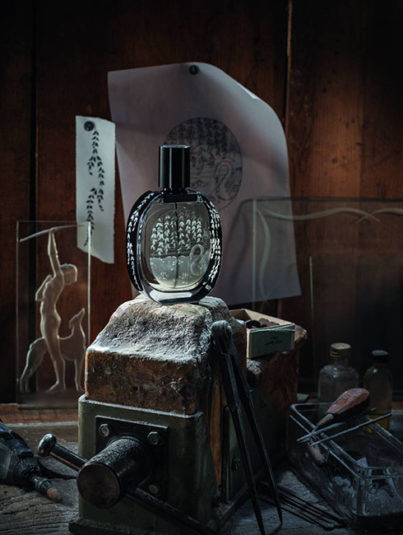 Diptyque L'Ombre Dans L'Eau in the 2015 special collector's engraved bottle (Photo: www.puretrend.co)©
L'Ombre Dans L'Eau was created in 1983 by Serge Kalouguine, an experienced Fragonard perfumer, after the specific request of Diptyque's creators for an olfactory marriage of blackcurrent leaves and roses. The story behind its creation combines love for nature, chance, memories and friendship. Dido Milroy-Merwin was a friend of Diptyque's founders. One day she found herself blown away by the smell of roses and blackcurrants together. Diptyque's blog, "memento", recounts the story behind the perfume's collaborative creation: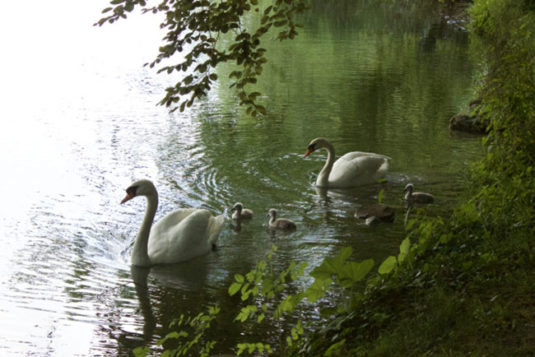 Swans on water at the Fontainebleau Gardens, France (Photo: www.chronically-overdressed.com)©
"When Dido Merwin explained this fortuitous and joyful fragrance to Christiane Montadre, a picture popped up in her head, a powerful memory, a sensation from childhood when roses and blackcurrants were naturally in harmony with each other, the image of her parent's garden. Dense and bushy, fringing the forests of Fontainebleau, this little garden bordered a canal. Fruit trees of all kinds – blackcurrants, raspberries and redcurrants flourished alongside a vegetable patch and masses of flowers including lilacs, snowdrops, primroses, hydrangeas, lupins, pink carnations, pink lily of the valley and a profusion of roses… At the bottom of the garden the banks of the little stream were shaded by trees and she occasionally glimpsed a swan gliding nonchalantly by."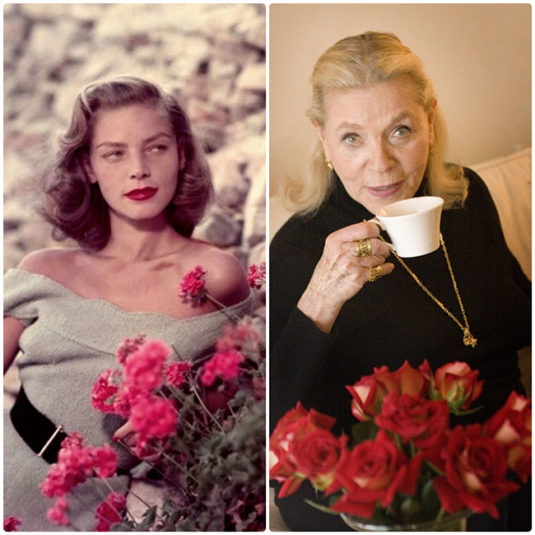 Lauren Bacall with flowers (Photos via tumblr collage by Despina)©
Diptyque L'Ombre Dans L'Eau was a pioneering fragrance which has achieved modern classic status in the 35 years of its existence. It has captured the heart and imagination of numerous men and women, among whom Lauren Bacall and Billy Idol.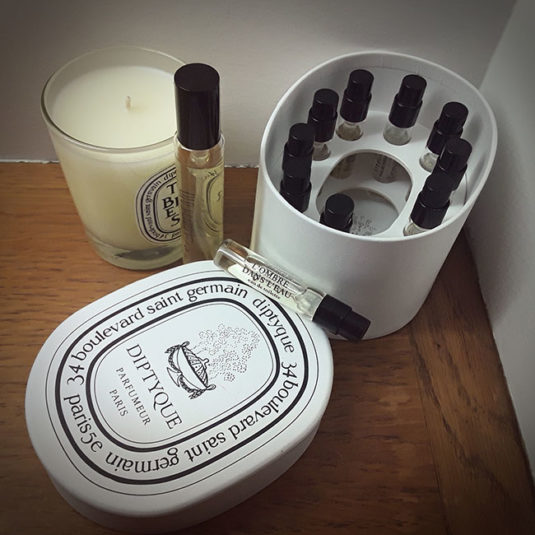 Despina's Diptyque travel essentials
Even if due to its success it is not as unconventional a choice as it once was Diptyque L'Ombre Dans L'Eau hasn't really lost any of its euphoric charm; same as Diptyque hasn't lost its flair for surprising accords and contemplative scents.
– Despina Veneti, Contributor