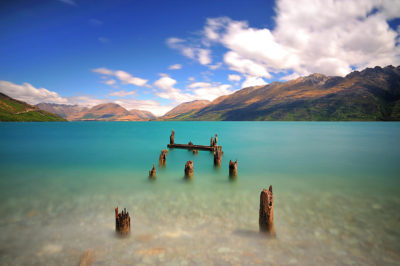 Broken Pier at Sea, photo by Anthony Ko
Heat wave in July. The air is so thick with humidity it is like breathing in molasses and it's a wonder the cicadas have the energy to buzz. In this torpor, perfume can feel overwhelming. But if you're bored with the usual citrus splashes, the ever-inventive, never literal Pierre Guillaume composed three transporting, under-the-radar scents for Parfumerie Generale in 2006, that hum like a cool bass line in the heat. And I'll bet you a bottle of eau de cologne most of you don't own them.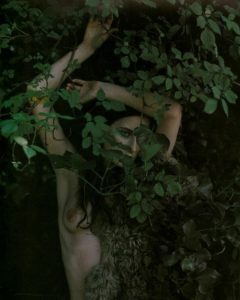 Greensleeves, photo by Tim Walker for The Face
09 Yuzu ab Irato is a delicious blend of Eastern and French scents. It is dominated in its opening stages by yuzu – a Japanese citrus with a complex aroma that is equal parts lime rind, clementine and candied lemon –blended with fresh herbs and green leaves. It opens with an exhilarating splash of golden yuzu that is quickly underpinned by a green crunchiness of leaves. Yuzu ab Irato's development is rapid, the sweet-sour yuzu top note soon harmonizing with myrtle, thyme and a speckling of mint. At this point, the perfume becomes a lovely echo of la garrigue, the sun-baked, aromatic brush of southern France. The composition is airy yet substantial, and the way it continues to weave back and forth between Asia and France is small magic.
Woman with teacups painting Rodney Plano
A bouquet of lemon verbena cuts through the top notes of 12 Hyperessence Matale, a gorgeous dry tea scent with none of the sweetness that characterizes many others. This is a gutsy, aromatic black tea, an intensification of Guillaume's original L'eau Rare Matale, with greater emphasis on citrus and aromatic notes that balance the astringent, dried flower scent of the tea leaves. After the zesty kickoff, spicy black pepper dances into the middle notes, soon tempered by cedar and light musk. As Hyperessence Matale dries down the smoky quality of the tea emerges, balanced with pepper and woods. Sip iced oolong in the shade of a gracious old tree on your skin.
The Fig Tree, Spencer Gore, c.1912
For a perfumer known for his way with gourmands, Guillaume can rein in the sweet neatly.16 Jardins de Kerylos, homage to Greece by way of the South of France, is no ordinary fig scent. It is an extraordinary realistic rendering of a green fig tree, bottled: the fig-sap on the ripened fruit, the verdancy of the leaves, the bark of the branches, each aspect in parallel like the strings of a lyre. It is somewhat fleeting, with a subtle imprint of fig and woods lingering on the skin. But don't deprive yourself the joy of smelling it afresh with another dab.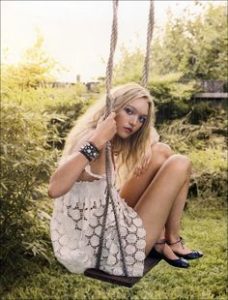 Gemma Ward by Corinne Day for Vogue UK July 2006
Now, find a hammock, close your eyes and listen to the rustle of a garden breeze. These fragrances will take you there.
— Lauryn Beer, Sr. Contributor
Disclosure: I received my samples from Parfumerie Generale; opinions my own
Editor's note: Our reviews on Parfumerie Generale are amongst our most read since our inception in 2010. Many readers comment that they cannot find the brand near them. I urge you to order the Origami Discovery set when it is back in stock of 29 x.06 fragrances for $50. This is how we support our independent perfumers. Pierre is one of the few perfumers who offers coffrets of most of his fragrances. I believe this is very important to try before you buy and I spoke about the subject at Esxence 2016 when the panel of niche perfume spokespeople were inexplicably resistant. Most Parfumerie Generale fragrances can be found on Luckyscent.com and at Osswaldnyc.com in the USA-Michelyn Camen, Editor in Chief.

09 Yuzu ab Irato, 12, Pierre Guillaume, Hyperessence Matale, 16 Jardins de Karylos
Thanks to the generosity of Pierre Guillaume and Parfumerie Generale, we have a reader's choice of a 30 ml bottle of Yuzu ab Irato, Hyperessence Matale or Jardins de Kerylos for a registered reader anywhere in the world (you must register click on the link here. To be eligible, please leave a comment with what appeals to you about PG's Yuzu ab Irato, Hyperessence Matale and Jardins de Kerylos based on Lauryn's reviews and if you have a favorite Parfumerie Generale perfume. Draw closes July 30, 2016
Follow us on instagram @cafleurebon and PG @pierreguillaume_parfumeur
We announce the winners only on site and on our Facebook page, so Like Cafleurebon and use our RSS Feed option … or your dream prize will be just spilled perfume